This Mung Bean Soup or Ginisang Munggo is a Filipino favorite that is really healthy and packed with vitamins and lots of nutritional benefits. Try my thick and creamy version and love it...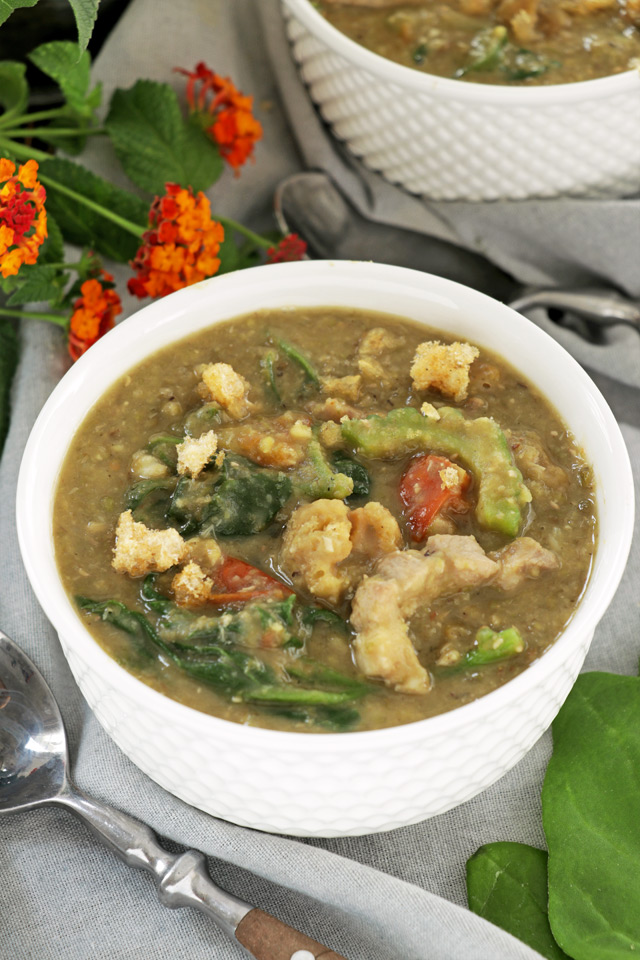 It has been a while since I made this Mung Bean Soup or Ginisang Munggo as we call it. I was checking my old post and decided to edit my recipe a bit. Only to include some other ingredients that were missing from my German kitchen. But are now easily available to me being back in the Philippines. To make it more authentic and special.
I am keeping the old text as it is about some fond memories of the times I shared with the good friends I made while I was in Germany.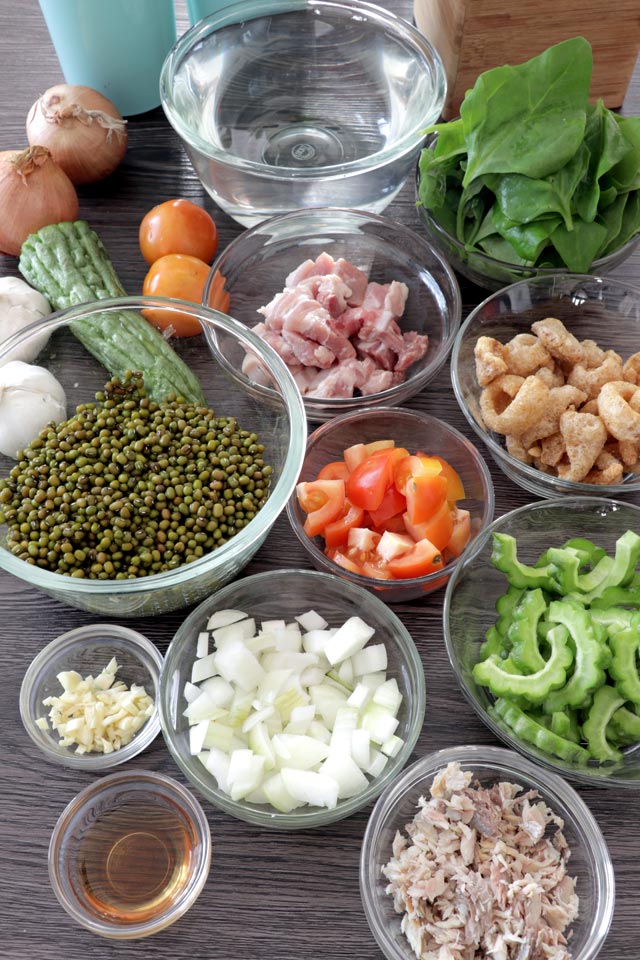 I miss a lot of Filipino food being away from home, and Munggo is one of them. But not anymore since a friend of mine, who is also a Filipina, invited me over her place with our other friends for a Filipino lunch!
She served Ginisang Munggo or Mung Bean Soup with other equally missed dishes! It is truly a feast whenever we have this get together.
It is not like I do not cook Filipino food at home. I actually do quite often but sharing them with another Filipino makes the food extra special and more enjoyable.
Filipino family meals are typically loud with a lot of chatting, telling stories or even sharing jokes and 'chismis' (gossips). And growing up in a family of seven, it can really get loud sometimes, especially since my Papa loves telling jokes and he can really tell them!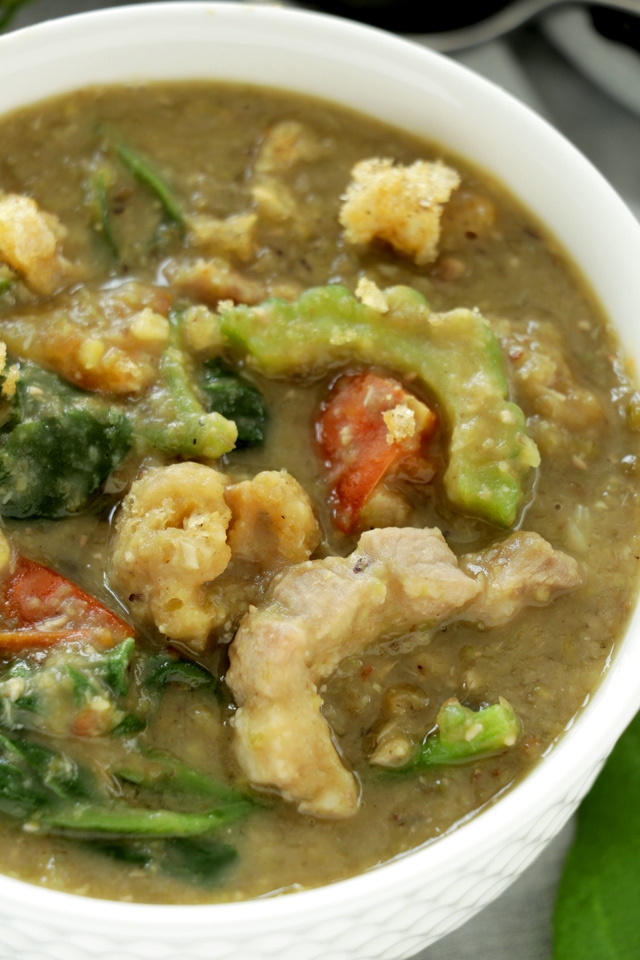 So somehow, having these gatherings, we get to recreate that homey atmosphere. Specially since we are miles away from our real home.
Monggo beans are not a common commodity here in Germany. But I learned from my friend that I can get them from the Asian shop where we also buy some foodstuff. After our lunch, she gave me some of the soup to take home (typical for Filipinos). Armin and I had them for dinner.
I was surprised that he liked it so much. He said it is almost like the "Linsensuppe" (Lentil soup) they have here in Germany. The next time I cooked it myself, he asked me to put slices of sausage to his bowl of soup and it was also good!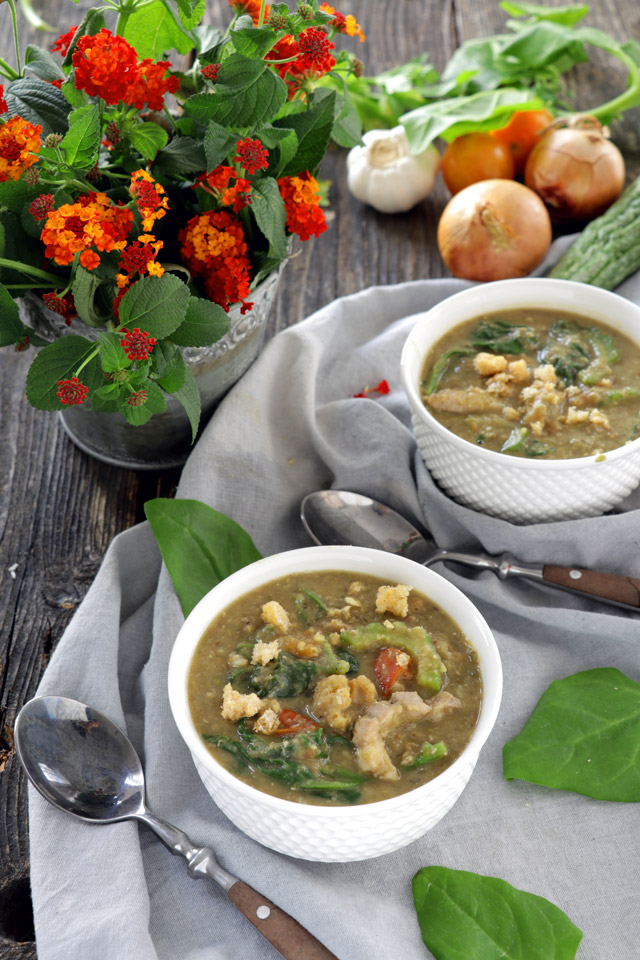 Thick and creamy Mung Bean Soup
My version of this soup, like my Mama's, is pureed and really thick.
The mung beans will expand and soften when it cooks and some of the skin from beans will float. You can remove them using a strainer if desired but not really necessary if you will puree it.
My Mama used to do it manually by mashing the cooked mung beans through a strainer. Thank God for hand blenders though! It makes it a breeze to puree mostly anything you can think of and easier clean up too. If you do not have one, a regular blender will do.
I like it best with young leaves of ampalaya or bitter gourd but since it is not available in Germany, it also tastes delicious with spinach and I used the ones I just harvested from my container garden.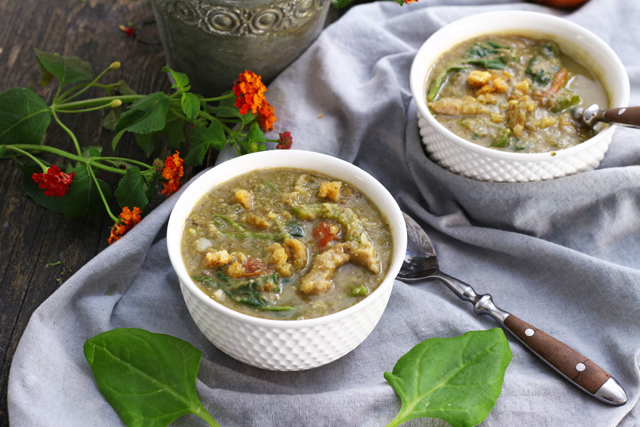 Other Filipino Soups to enjoy
Printable Recipe
Mung Bean Soup (Ginisang Munggo)
This Mung Bean Soup or Ginisang Munggo is a Filipino favorite that is really healthy and packed with vitamins and lots of nutritional benefits. Try my thick and creamy version and love it...
Ingredients
2

cups

mung bean

(Monggo Beans) - washed and drained

5-7

cups

water

2

tablespoons

oil

½

cup

pork belly

- sliced thinly

3

tablespoons

fish sauce

or 1 tablespoon salt

2

cloves

garlic

- minced

1

medium

onion

-chopped

2

pieces

tomato

- sliced

2

cups

bitter gourd

(ampalaya) - optional

1

stalked

celery

-chopped

½

cup

smoked fish meat

(tinapa) - shredded

1

cup

pork rind

(chicharon) chopped in smaller pieces

2

cups

spinach

- or bitter gourd leaves
Instructions
In a pot, boil the monggo beans in 5 cups of water over medium heat. Once it boils, cover the pot and reduce heat to low and let simmer until tender about 30 minutes.

Transfer the content of the pot in a deep bowl if using a stab mixer or in a blender, pulse to make a puree.

On the same pot, heat oil and cook the pork belly until browned and fat is rendered.

Add garlic, onion, and tomatoes and saute until tender. Add fish sauce and cook for another minute. If using salt, it may be added on the last step instead.

Add the pureed Monggo beans to the pot. Add 1-2 cups of water if it is too thick. When it starts to simmer, add the bitter gourd, celery and smoked fish. Let it simmer for another 2-3 minutes.

Lastly, add the pork rind (chicharon) and spinach. Season with salt if needed. Turn off heat.

Transfer to your soup bowl and serve while hot with rice.
Nutrition
Calories:
931
kcal
Carbohydrates:
47
g
Protein:
35
g
Fat:
67
g
Saturated Fat:
23
g
Cholesterol:
95
mg
Sodium:
870
mg
Potassium:
1329
mg
Fiber:
12
g
Sugar:
5
g
Vitamin A:
1175
IU
Vitamin C:
34.2
mg
Calcium:
131
mg
Iron:
5.9
mg