Biscocho or 'biskotso' is a Filipino version of biscotti. It is toasted bread that is usually topped or coated with butter and sugar. But this version uses condensed milk instead.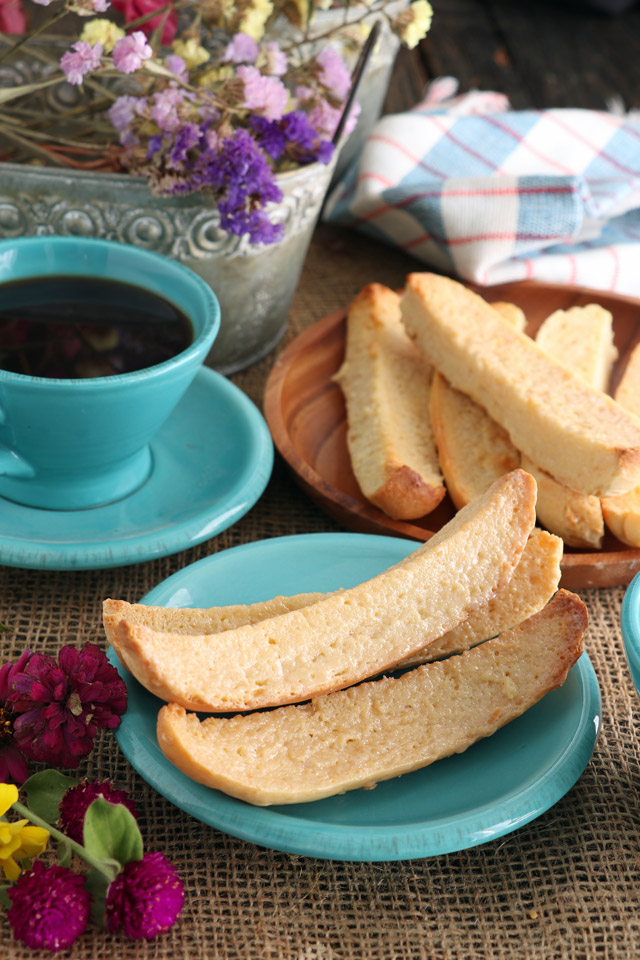 A lifetime ago, when I was still working as an accounting assistant for a freight forwarder (first job ever!), our hub in Iloilo sent us some packs of Biscocho (shipping free of course). I do not remember what brand it was or if it was even branded at all. But the taste of those mildly sweet and milky, hard bread is forever etched in my mind. And this is my attempt to remake them.
What is Biscocho?
A twice-baked pastry, usually from stale bread, that is coated with butter or margarine and dusted with sugar.
Its name might have been derived from the Spanish word 'bizcocho', which pertains to a kind of sponge cake, or 'broas' as know to us locally. But Biscocho itself is 100% Filipino.
Biscocho is widely available in the Philippines. Well, in fact,  it has several variants depending on where you are in the country. But it is more commonly known as an Iloilo delicacy.
Biscocho goes very well with your favorite hot beverage and can be taken at any time of the day—may it be as a breakfast or afternoon snack and even as a dessert.
Biscocho only requires just a few and primary ingredients which are already likely to be found in your kitchen. For starters, you just need bread as your main ingredient. A day or two old works best. The other ingredients are butter, sugar, or sometimes garlic for coating.
For this recipe though, I am using condensed milk instead of sugar. It gives it an added milkiness and just the right amount of sweetness.
What bread to use?
Biscocho is called a twice-baked pastry for a reason, and that is to remove the bread's moisture effectively.
For best results, it is recommended to use a day-old bread since it is starting to dry up on its own. Different kinds of bread can be used for making Biscocho.  The most common ones would be Pandesal, Ensaymada, Monay and  white loaf bread.
Since I wanted to make it as close to the ones I had years back, I decided to make everything from scratch. I remember the bread to be buttery so I used the pandesal recipe I have and added a little more butter. I also shaped and cut it similarly, like a hotdog bun cut lengthwise into four.
How to cut bread for Biscocho?
Thick bread requires a longer baking time. It is recommended that you sliced your bread in not more than ½ inch for ideal baking time.
If you're using a loaf bread, you can choose to trim the edges or not, as it won't matter. But if you want an extra crunch at the edges, then leave it as it is.
There are different types of Biscocho in the Philippines, and they all vary in shapes. Just like that, you can choose to slice you Biscocho in any way you desire—may it be the shape of the usual sliced loaf bread, in lengthwise form, or even in cubes or circles.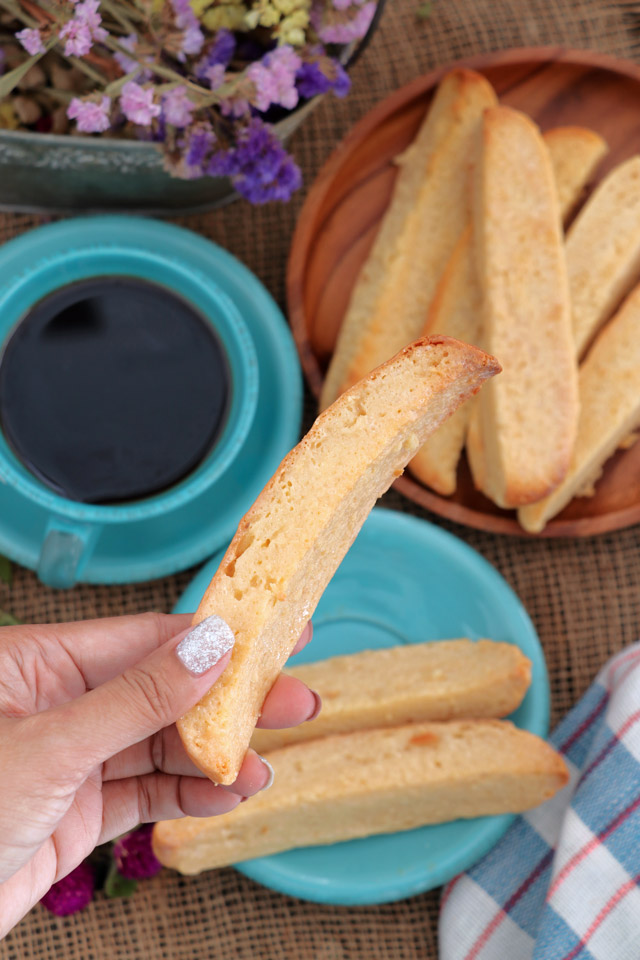 How to store Biscocho?
Keeping Biscocho in an airtight container at room temperature can last for about 2 weeks. You can also choose to store Biscocho in the refrigerator for longer storage life that can last for a few more months.
To serve Biscocho from storing, you can leave it in an airtight container until it reaches room temperature, or you can warm Biscocho in a microwave for about a minute and heat it in a low to medium power.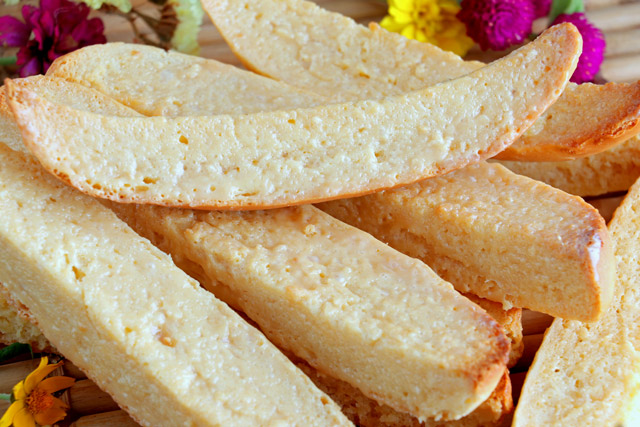 Printable Recipe
Biscocho from Scratch
Biscocho is a Filipino version of Biscotti. Slices of bread, usually stale bread, are coated with butter and sprinkled with sugar then rebaked until they become dry and crunchy.
Ingredients
DOUGH:
1

cup

milk

¼

cup

granulated sugar

1

teaspoon

salt

3

tablespoon

butter or margarine

3

cups

all-purpose flour

1 ½

teaspoon

instant dry yeast

1

medium

egg
Instructions
In a bowl, combine milk, sugar, salt, and butter. Stir until sugar and salt are dissolved. Warm in microwave until luke-warm. Remove from microwave and add the egg and beat several times until well blended.

In a big bowl, mix together flour and yeast. Pour in the liquid mixture over the flour and mix until a dough forms.  Knead the dough on a clean surface dusted with flour until it becomes smooth and elastic, about 7-10 minutes.

Form the dough into a ball and place the dough in a greased bowl and cover with a kitchen towel or plastic wrap and place it in a warm area and let it rise until it doubled in size. Depending on how warm it is, could take 30 minutes to an hour or longer.


Punch down the dough and divide into 4 equal parts using a knife or dough slicer. Roll each into a log about 6-inch long. Arrange the pieces on a baking sheet and cover with a clean kitchen towel. Leave them to rise for another 10-15 minutes.
While waiting, preheat oven 370° F /185°C.

Bake for 15 minutes or until the sides are a slightly brown. Remove from the oven and let cool down. Cut each piece into 4 equal parts, lengthwise.

Place them in a bread box or simply cover with a dry kitchen towel. Leave them at room temperature for a day or two (or longer) to dry out and harden. You may also proceed to the next step without drying them out but adjust for longer baking time.

Arrange the pieces on a baking sheet lined with parchment paper. Brush a thin layer of softened butter or margarine on each piece on the cut sides. Next, brush them liberally with condensed milk.

Bake for 20-30 minutes or until the edges are slightly golden and condensed milk has become glossy but no longer tacky. Bread should also dry out and become crunchy.
Notes
If you are using fresh bread, then you need to bake them longer at low temperature until the bread dries up and hardens. Bake at 100C for about 1 to 2 hours.
Nutrition
Calories:
190
kcal
Carbohydrates:
27
g
Protein:
5
g
Fat:
7
g
Saturated Fat:
4
g
Cholesterol:
30
mg
Sodium:
213
mg
Potassium:
96
mg
Fiber:
1
g
Sugar:
9
g
Vitamin A:
220
IU
Vitamin C:
0.2
mg
Calcium:
51
mg
Iron:
1.2
mg