A perfect combination of sweet and tart, this strawberry rhubarb pie with crisp crumb topping is simply delicious!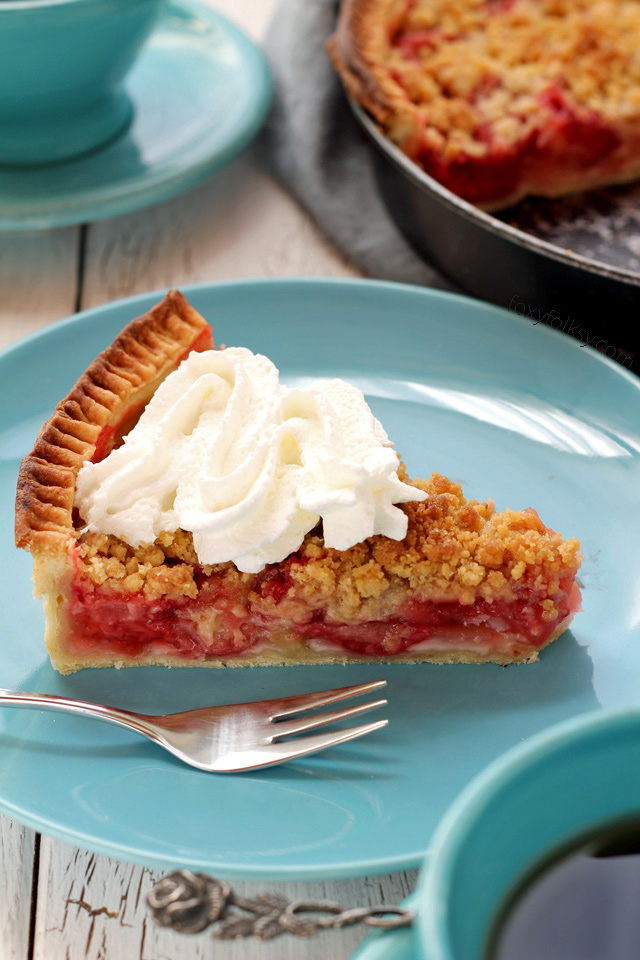 One of my favorite things about spring is watching the plants and trees wake up from its winter slumber. The ground starts to be covered in green, the trees are getting their new leaves and spring flowers are in full bloom. All that and... rhubarb! At last, rhubarb is again available!
I just can't get enough of this beautiful yet weird plant. Like, how do you even classify it? I was in the grocery store buying some but I had to weigh it in to get the price. They have this touchscreen weighing scale in the produce section where you just have to search and select the item you want to weigh, then you place the item on the scale and it will print a sticker with the price. So, I was standing there thinking should I search it in vegetables or in the fruit options? I chose veggie, but I was wrong! They have it under fruits. So is it a fruit??? I still cannot wrap my head around the idea.  
Last year I made almost the same pie but instead of strawberries, I paired the rhubarb with blueberries. You can check the recipe here---> Rhubarb Pie with blueberries.
I do not have a problem of making a pie with just rhubarb but I am doing this combo thing because of Armin who does not like rhubarb (why ever!!! (*with eyes rolling*)). But he really seems to like this strawberry and rhubarb pie and the one with blueberries too!? 
Oh and if you are thinking to yourself that the crust looks a bit toasted...yeah I may have forgotten to check on my pie while baking because I was multitasking at the time...but I like burnt edges anyway.  
Printable Recipe
Strawberry Rhubarb Pie
A perfect combination of sweet and tart, this strawberry rhubarb pie with crisp crumb topping is simply delicious!
Ingredients
PIE CRUST
1 ¼

cups

flour

¼

block (½ stick/ 2oz./ 57g.)

cold butter

- cut into small cubes

2

teaspoons

sugar

1

teaspoon

salt

2-4

tablespoons

ice water
FILLING
4

stalks

rhubarb

- ends trimmed, cut crosswise into ¾-inch pieces

2-3

cup

fresh strawberries

- quartered

3

tablespoons

cornstarch

½

cup

sugar

2

tablespoons

sugar
CRUMB TOPPING
¾

cup

flour

⅓

cup

brown sugar

¼

block (½ stick/ 2oz./ 57g.)

cold butter

- cut into small cubes
Instructions
In a bowl, mix the rhubarb with 2 Tablespoon of the sugar and then transfer them to a colander to remove some water before using. Do this at least an hour before baking.

In a mixing bowl, mix together the flour, sugar, and salt. Cut in butter using the mixer by pulsing until mixture resembles coarse meal, with a few pea-size pieces of butter remaining. You may also use a fork or a bread knife does do this.

Add water a tablespoon at a time, pulsing until dough is crumbly but holds together when pressed. Press the dough together to form a ball.

Place the pie dough on a floured surface or on a rolling mat and roll it out thinly into a circle with a 14-inch diameter. Gently fold them in half and then in a quarter. Then place the folded dough on a 9-inch pie form with the pointed part exactly at the middle of the pan. Carefully unfold the pie dough and gently press dough into the bottom and sides of the plate without tearing it. Using kitchen shears, trim dough to a 1-inch overhang; fold under, and press gently to seal. Crimp edges if desired. Refrigerate for 30 minutes to an hour.

While waiting, prepare the filling by tossing together the rhubarb, strawberries, sugar and cornstarch in a bowl. Set aside until ready to use.

In a medium bowl, mix flour, brown sugar. With your hands, work in butter until large, moist clumps form. Chill, covered, until ready to use.

Preheat oven to 400°F/180°C. Pour the filling into the pie shell and sprinkle evenly with the crumb topping. Bake with the rack at lowest level until topping and crust are lightly browned, about 40-50 mins. (If topping or crust begins to brown too quickly, tent with foil.) Cool completely before serving.
Nutrition
Calories:
241
kcal
Carbohydrates:
55
g
Protein:
3
g
Fat:
0
g
Saturated Fat:
0
g
Cholesterol:
0
mg
Sodium:
296
mg
Potassium:
174
mg
Fiber:
2
g
Sugar:
27
g
Vitamin A:
25
IU
Vitamin C:
23.2
mg
Calcium:
40
mg
Iron:
1.7
mg