Golden flaky pastry crust with soft and velvety slices of coconut meat in a rich and creamy filling. This Buko Pie is perfect as a dessert or all-day snack over a hot cup of coffee, tea, or your favorite cold drink!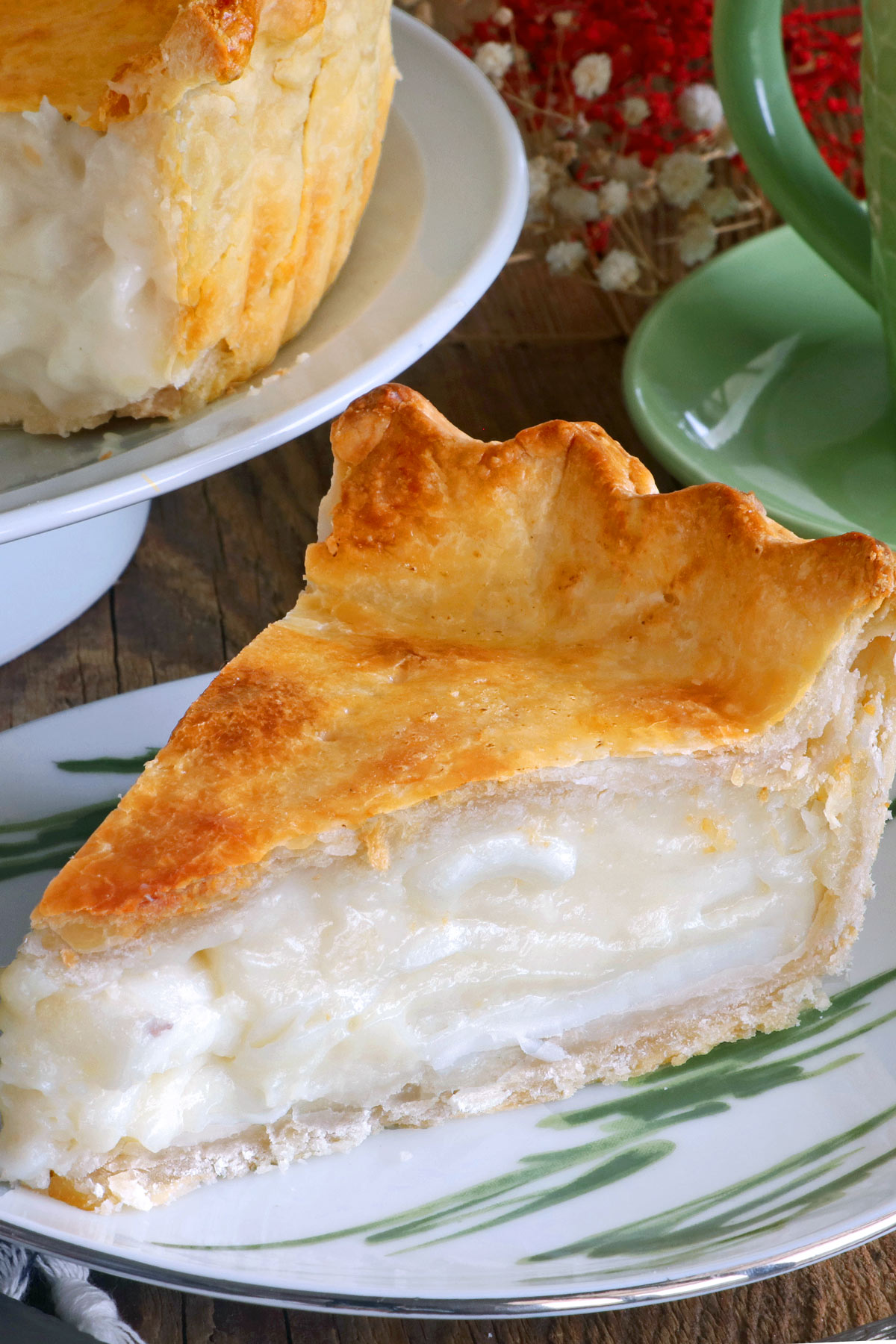 What is Buko Pie?
Buko Pie is a classic Filipino pie made with fresh young coconut meat and is encased in a flaky pie crust. It is one of the favorite pies in the Philippines, particularly in Southern Luzon, wherein the province of Laguna is quite popular for.
It is a must-buy "pasalubong" whenever someone goes on a trip to Laguna or Tagaytay to bring home to family and friends. There are several stalls selling them, some more popular than others. Nowadays, buko pie is also made and sold in a variety of flavors including ube (purple yam), langka (jackfruit), and pandan (screwpine). Once there, prepare yourself also to be enticed to buy other delicacies such as espasol (sticky rice),kesong puti (Filipino white cheese), and many more.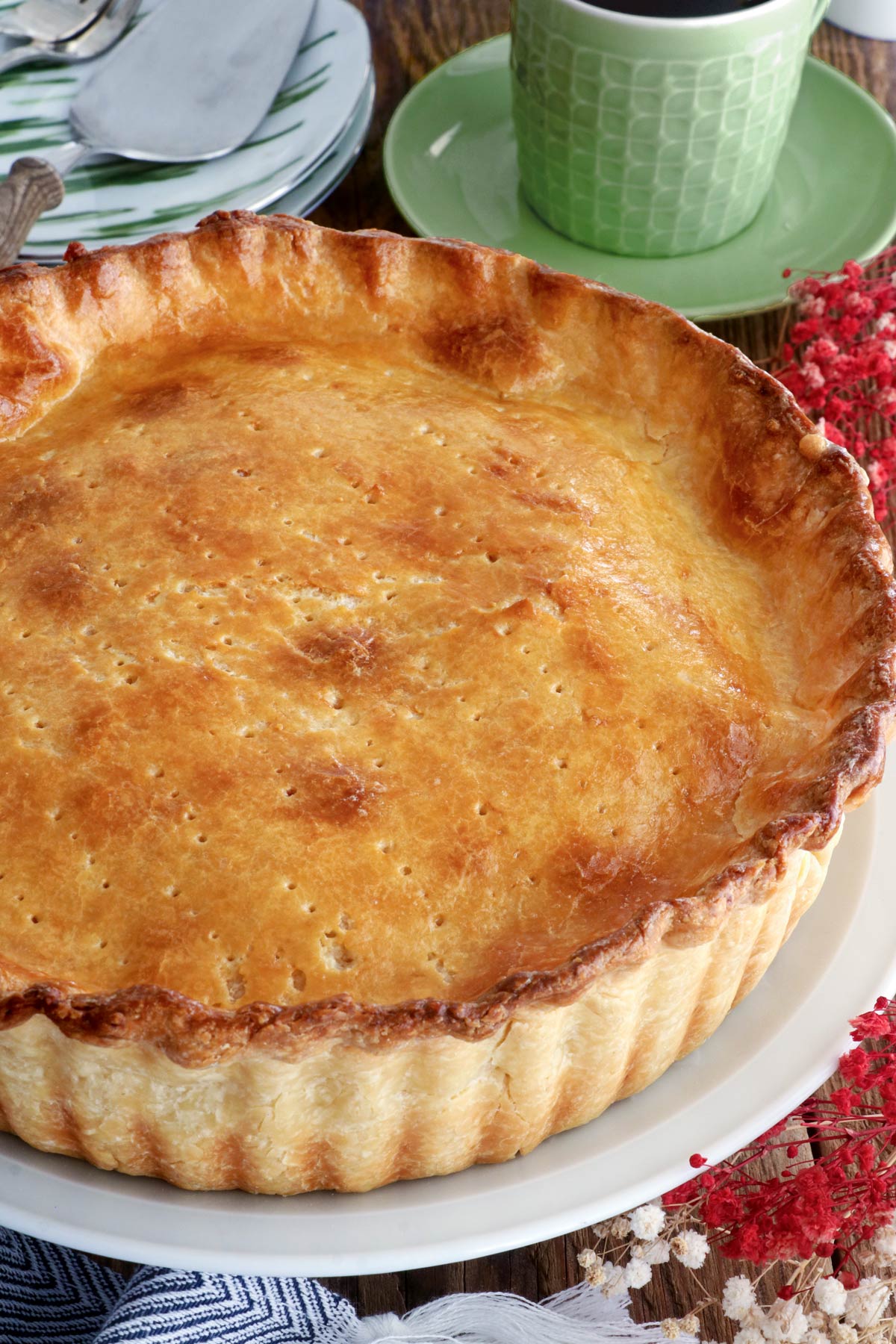 History of Buko Pie
This Filipino pastry was inadvertently created by the Pahud sisters, who own the Orient Buko Pie Bakeshop in Los Baños, Laguna. While working abroad, Soledad Pahud picked up the skill of making apple pies. When she returned to the Philippines, the Pahud sisters thought of starting a bakeshop business. She attempted to recreate the American dessert with the help of her sisters. However, apples were rare and expensive in those days, so with the suggestion of Apolonia, one of the Pahud sisters, they improvised by using coconuts, which were abundantly available in the province. The rest, as they say, is history!
Ingredients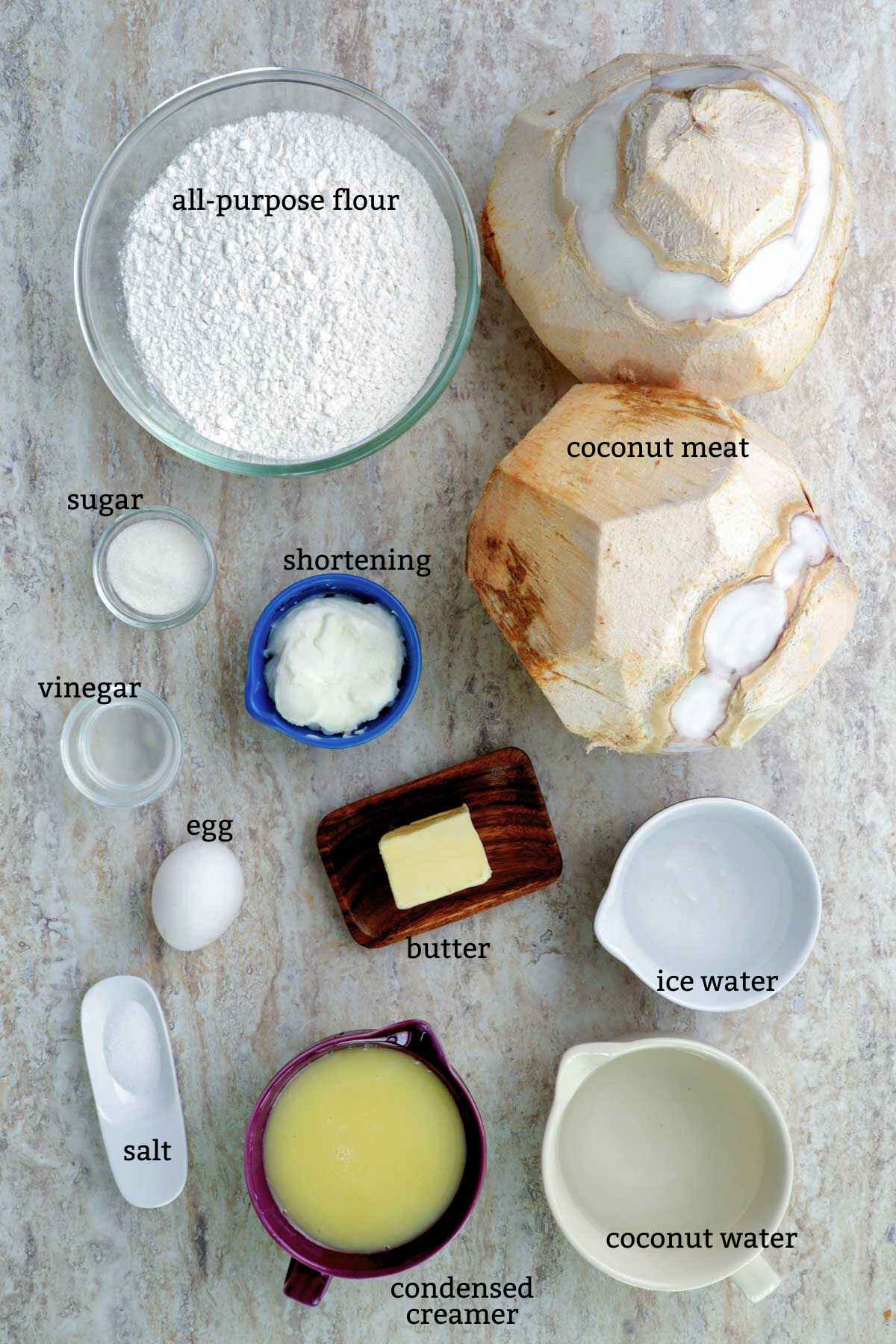 For the Flaky Pastry
All-purpose flour - or plain flour has just the right amount of protein that is great for making flaky pastry. Avoid high-protein flour like bread flour which may result to a tough or chewy crust. Low-protein flour like pastry flour is ok if you're more experienced with making pie crust as it can be a bit difficult to roll without cracking or splitting.
Salt & Sugar - to enhance the flavor of the pastry.
Shortening - I find that using shortening gives the dough a flakier texture as it does not easily melt especially in a warm environment so the layers form better while baking. If not available, you may also use lard.
Cold butter - although shortening is great for making flaky pastry, butter tastes much better. You have to keep the butter cold and it is best to work with dough quickly and lightly to avoid overworking the gluten. We used unsalted butter but if salted butter is what you have then skip the additional salt.
Ice water - A technique used to keep the dough cold while working on it, preventing the fat from warming up any further and melting into the dough.
Vinegar - The presence of acid prevents the formation of gluten, making the crust extra soft and flaky.
For the filling
Sweetened condensed creamer - Aside from adding sweetness, it also gives the pie a richer and creamier texture than using just sweetened condensed milk. If you want it lesser sweet, opt for the 2-in-1 kind, sweetened condensed milk and cream combined.
Young coconut meat - Use tender coconut meat that is neither too soft nor too firm or tough.
Coconut water and flour - are combined to create a slightly sweet and flavored slurry to thicken the filling.
For the egg wash
Egg and Water - This mixture is brushed over the top crust to give it a golden brown and shiny finish. It also gives it a bit of a crisp.
Tips in making Buko Pie
Choose young coconuts that have a substantial amount of meat and are tender. Ask the coconut vendors in your local markets if you're unsure which coconut to use.
To make your buko pie with lovely, chunky bits, scoop out the coconut meat using a spoon. You can also use a coconut meat scraper if you prefer smaller pieces.
In making the pie crust, make sure to use cold butter (but not frozen) and ice-cold water and to keep the dough cool at all times before baking to ensure a flaky crust. Click the link for more tips on making a flaky crust.
Handle the dough as quickly and as little as possible to keep gluten formation to a minimum so it will not become tough.
Do not skip preheating the oven before baking the pie as it needs the (high) heat to turn the fat in shortening and butter into steam that creates multiple layers or flakes.
Remember to create vents or holes on the top crust to give way for the steam. If the steam is trapped inside it will cause the top crust to balloon and once it sets it will create a hollow gap.
Use a pie pan with removable bottom for easier removal as this can be a heavy pie.
Storing Notes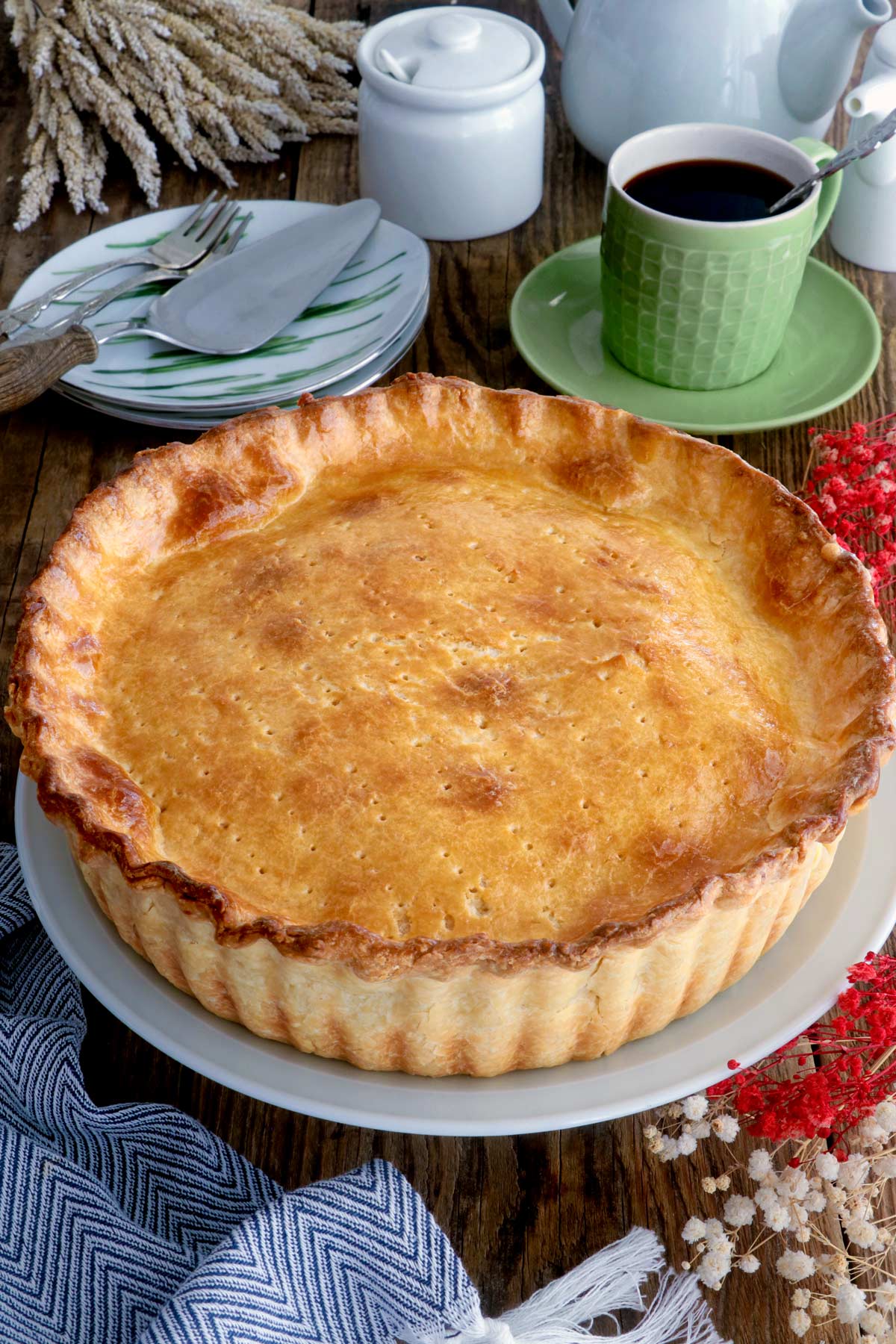 Wrap leftover Buko Pie in plastic film, or aluminum foil, or place it in an airtight container. You may keep it in the fridge for up to 3-4 days.
You may also store it in the freezer and extend its shelf life. Slice the pie into individual servings, arrange them on a baking sheet, and freeze until firm. Place them in resealable bags or freezer-safe containers for up to 4 months.
To reheat, thaw the Buko Pie at room temperature for about an hour. Reheat the pie in the oven at 375°F for 20 to 30 minutes, or until it is warm.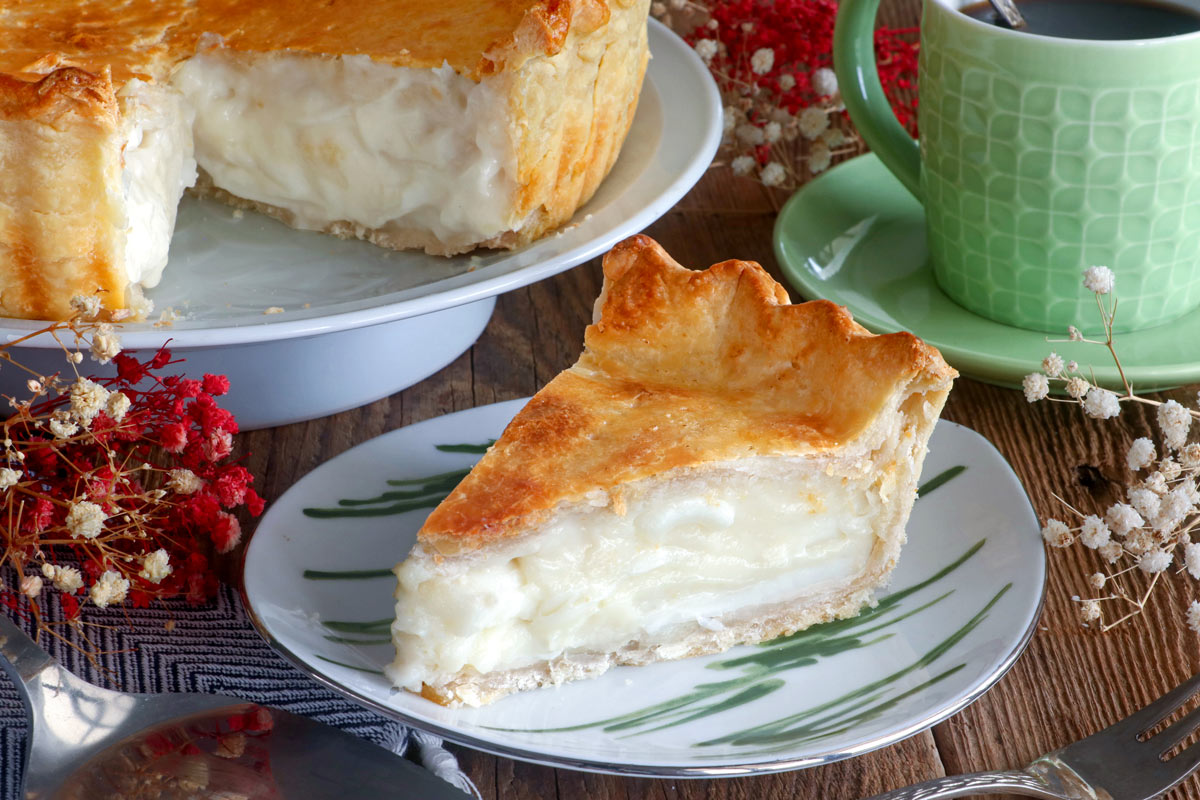 Printable Recipe
Buko Pie Recipe
Enjoy tender, velvety slices of coconut meat in creamy, moist filling enclosed in a savory, flaky crust. Buko Pie is perfect as a dessert or all-day snack over a hot cup of coffee, tea, or your favorite cold drink!
Ingredients
FLAKY PASTRY
3 ½

cups

all-purpose flour

1

teaspoon

fine salt

2

tablespoons

sugar

¾

cup

shortening

¼

cup

cold butter

½

cup

ice water

2

tablespoons

vinegar
FILLING
1

can (300ml)

sweetened condensed creamer

5-6

cups

young coconut meat slices

1

cup

coconut water

½

cup

flour
EGG WASH
1

small

egg

1

tablespoon

water
Instructions
Make the flaky pie crusts
3 ½ cups all-purpose flour,

1 teaspoon fine salt,

2 tablespoons sugar,

¾ cup shortening,

¼ cup cold butter

In a mixing bowl, sift in flour, sugar, and salt and mix. Cut the shortening and cold butter into the flour using a pastry cutter or fork until it is broken down into small pea-size pieces.

2 tablespoons vinegar,

½ cup ice water

Add the vinegar to the ice water and mix. Gradually add the cold water while mixing the flour until it forms a slightly crumbly dough. Try to press it together to form a ball. It should stick together but it should not be too wet/soft. Divide the dough into 2 and form each into a ball. Let them rest for 15 minutes on a cold counter or in the fridge.

Take one of the dough and place it on a floured surface. Add a bit more flour on top and roll it out thinly using a rolling pin wide enough to cover your round baking pan including the sides. If it starts to stick to the pin, dust the surface of the dough with flour. Fold it into half and then again to a quarter. Lift the dough and place the pointed part at the middle of the pan and then gently unfold. Press it gently against the bottom and sides of the pan. Cut excess dough over the pan edges. Place the pan with dough in the freezer for now.
Make the filling
1 cup coconut water,

½ cup flour

In a bowl, whisk together the flour and coconut water to make a slurry.

1 can (300ml) sweetened condensed creamer,

5-6 cups young coconut meat slices

In a pot or sauce pan over low heat, add the sweetened condensed creamer and coconut meat. Once it starts to simmer, gradually add the slurry white mixing.

Continue to cook while mixing until it becomes very thick. But do not over cook into a paste as it will go on thickening as it cools down and later again in the oven. Remove pot from heat and let it cool down a bit, about 15 minutes.

While waiting, roll out the other remaining dough on a floured surface wide enough to cover the top of the round pan and a bit more.
Assembly and Baking
Start to preheat oven at 180°C/360°F.

Take out the prepared round pan with pie dough and fill it with the coconut meat. You may need to scoop out the meat using a fork or tongs and lay them flat in layers to avoid making holes/spaces. Spoon some of the thickened sauce in between layers of coconut meat.

To cover, roll the 2nd dough around the rolling pin. Then unroll it on top of the filled pan starting from one edge towards the other edge to fully cover the top. Pinch and flute the edges as desired.

1 small egg,

1 tablespoon water

In a small bowl, whisk together the egg and water. Brush away any flour left on the top dough. Then brush it with the egg wash.

Poke several small holes on the top dough using a fork or the tip of a knife so the steam can come out while baking, else it may create a hollow dome underneath the top crust.

Bake in a preheated oven for 40-50 minutes or until golden brown. If browning is not even or too light after 30 minutes, brush again with egg wash. If too brown then tent it with foil.

Remove the pie from the oven and let it cool down for an hour or two to set before serving. Serve warm or cold.
Notes
I used a

9 x 2 inch round pan for this buko pie recipe.
Nutrition
Calories:
845
kcal
Carbohydrates:
90
g
Protein:
13
g
Fat:
50
g
Saturated Fat:
28
g
Polyunsaturated Fat:
7
g
Monounsaturated Fat:
12
g
Trans Fat:
3
g
Cholesterol:
51
mg
Sodium:
460
mg
Potassium:
530
mg
Fiber:
7
g
Sugar:
34
g
Vitamin A:
345
IU
Vitamin C:
4
mg
Calcium:
171
mg
Iron:
5
mg