These classic Filipino steamed rice cakes, 'puto', are perfect with a hot cup of coffee for a delightful filling snack or breakfast.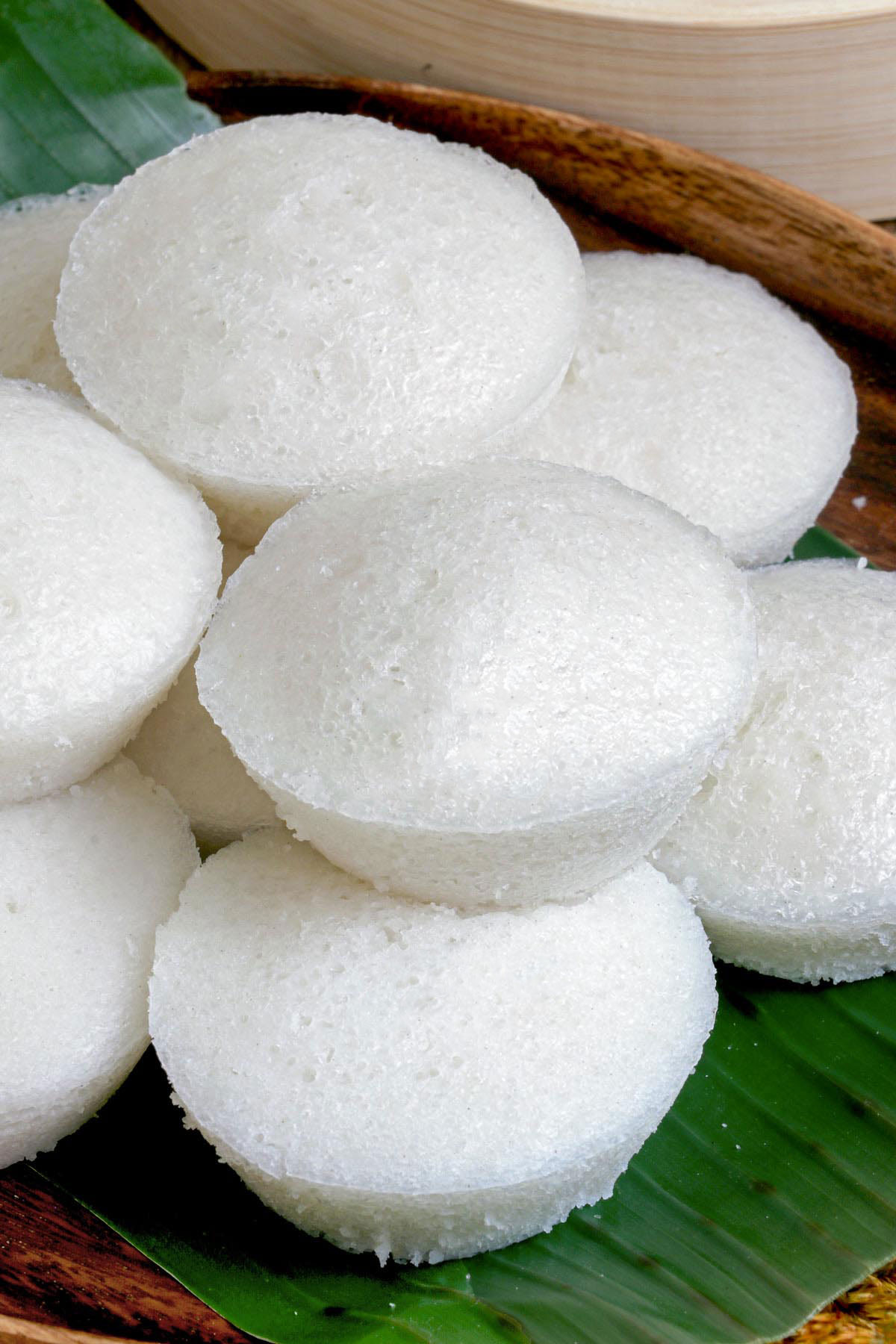 What is Filipino Puto?
Puto or sometimes called Putong Bigas is a traditional Filipino steamed rice cake made from galapong or rice dough. Also referred to as putong puti (white puto) because of its stark white color, it is one of the most popular types of puto in the Philippines.
This puto recipe is so simple to make with just a few ingredients and easy-to-follow steps. The traditional way of making puto involves using slightly fermented rice done by soaking it overnight. The rice is then ground using stone mills with some water and sugar to make the batter known as galapong. But nowadays, making puto is much simpler as rice flour is easily accessible.
Puto is a popular accompaniment for savory dishes like Dinuguan (pork blood stew) or pancit (rice noodles), as it gives a slightly sweet flavor that compliments the said dishes. You can also enjoy these soft, fluffy, and delicious steamed rice cakes as an all-day snack with a cup of hot coffee or chocolate or even as a dessert!
Ingredients needed for this Rice Puto Recipe
Rice Flour - if rice flour is unavailable, you can make your own galapong by soaking rice overnight in water and then making it into a batter using a blender. You may also use all-purpose flour or cake flour, but note that the taste and texture will be different.
White Granulated Sugar. You may also use caster sugar if preferred.
Baking Powder & Instant Yeast - these are used as leavening agents. The yeast will give you that fermented rice flavor without the long waiting time.
Coconut Milk - you may use whole milk as an alternative if coconut milk is unavailable.
Hot water helps in dissolving the dry ingredients faster.
Oil aids in making the steamed rice cakes stay moist.
Anise seeds are optional but I recommend trying it as they lend a sweet and licorice flavor.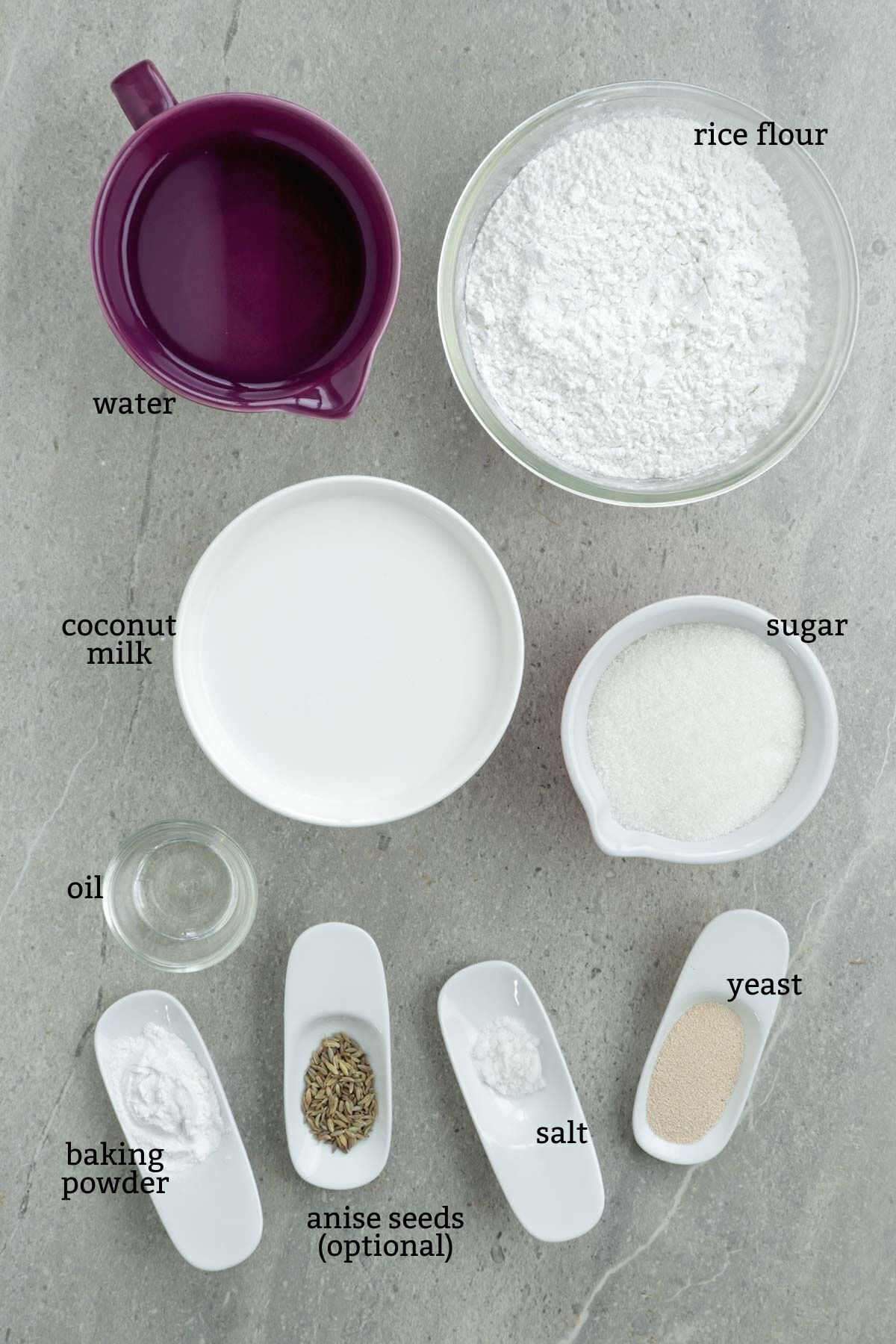 Secret to fluffy soft Puto
Never skip the resting time. I made it several times and believe me, letting it rest for a few minutes makes a whole lot of difference. This is very important if you want to have that pillowy soft puto. You will only need to rest it for 20 minutes or up to 30 minutes. You will notice that the batter will get foamy and thick at the 20-minute mark. At 30 minutes, it becomes more bubbly and more volume.
I recommend resting the batter after pouring it on the molds so you won't disrupt the rising process by transferring it later, resulting in deflated or flatter rice cakes.
Don't forget to use lukewarm liquid to activate the yeast.
Tips in cooking this Puto Recipe
Make sure the steamer water is boiling before placing the prepared puto molds in the steamer basket.
To avoid condensation water from dripping onto the steamed rice cakes, cover the steamer lid with a clean kitchen towel or cheesecloth.
If you want a cracked top on your puto, cook under medium-high heat. For an even and smooth top, cook over low heat. You may have to adjust the cooking time though.
You may use silicone molds for easy release of the puto.
Avoid opening the steamer lid until the cooking time is done. To check the doneness of the rice cake, insert a toothpick in the center; if it comes out clean, the steamed cake is done.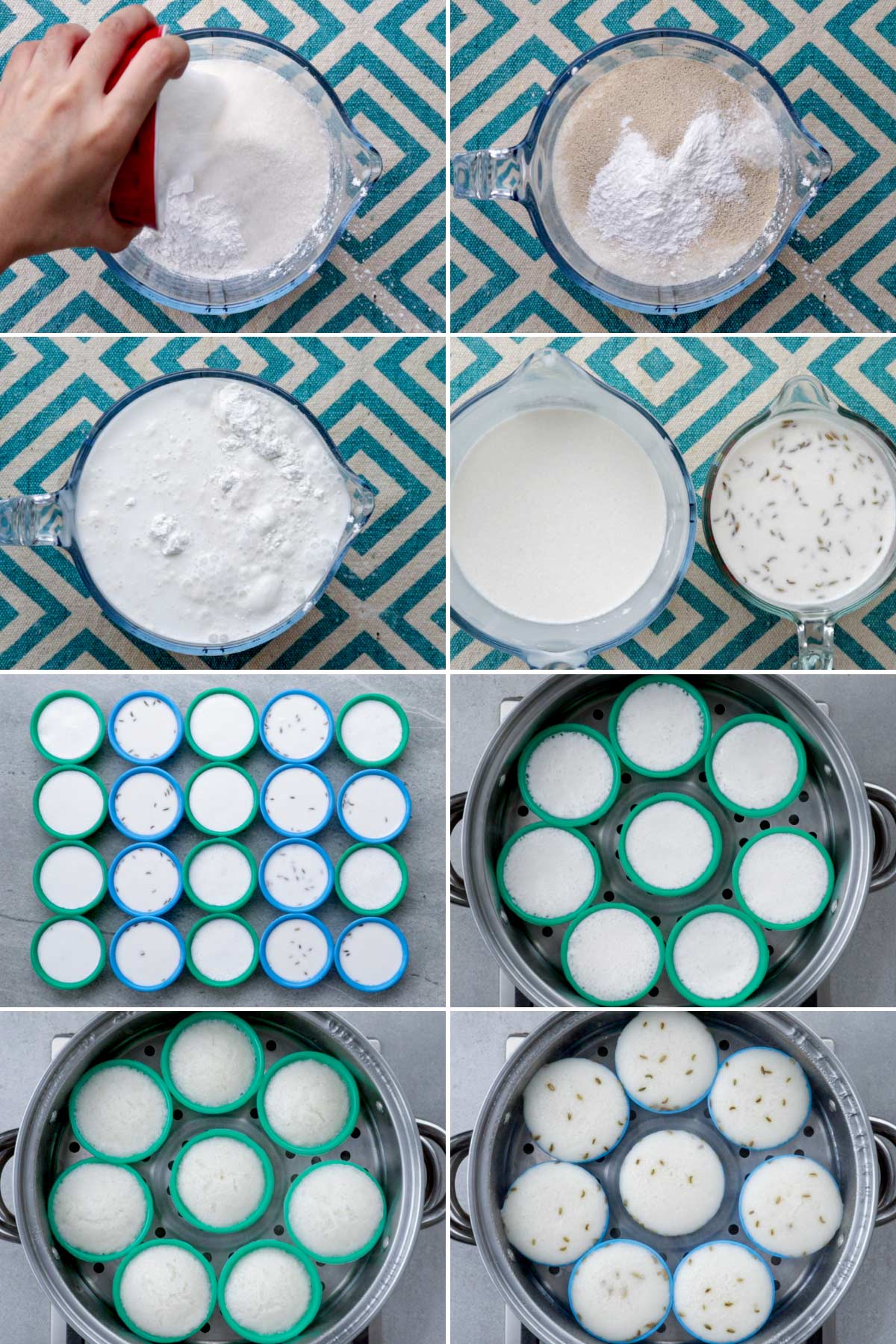 To Serve & Store
Serve Putong Puti with a hot cup of chocolate or coffee for a delicious midday snack or breakfast. Make it a complementary side for Dinuguan, Pancit, or Sopas.
Place leftovers in an airtight container and refrigerate for up to 3 days or freeze for up to 2 months.
Reheat in the steamer for about 3 to 5 minutes until softened or pop in the microwave for a few seconds.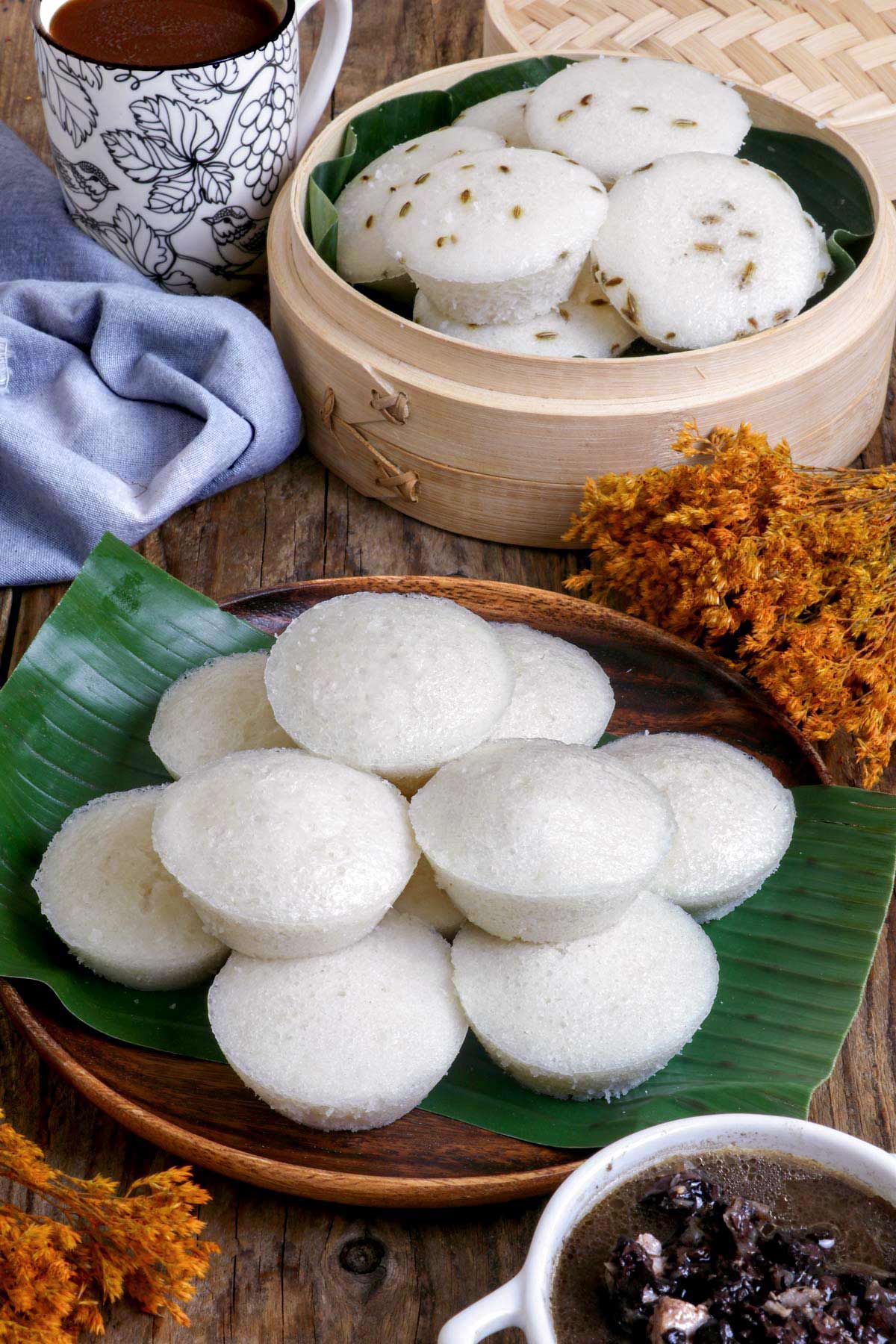 FAQs
Why is my puto not fluffy?
You may have overmixed the batter making the air bubbles that make the puto fluffy disappear. Another reason may be the baking powder or instant yeast that you used.
Why is my puto soggy?
Water droplets from the steam will make the puto soggy. Make sure to line or cover the steamer lid with a cloth or kitchen towel.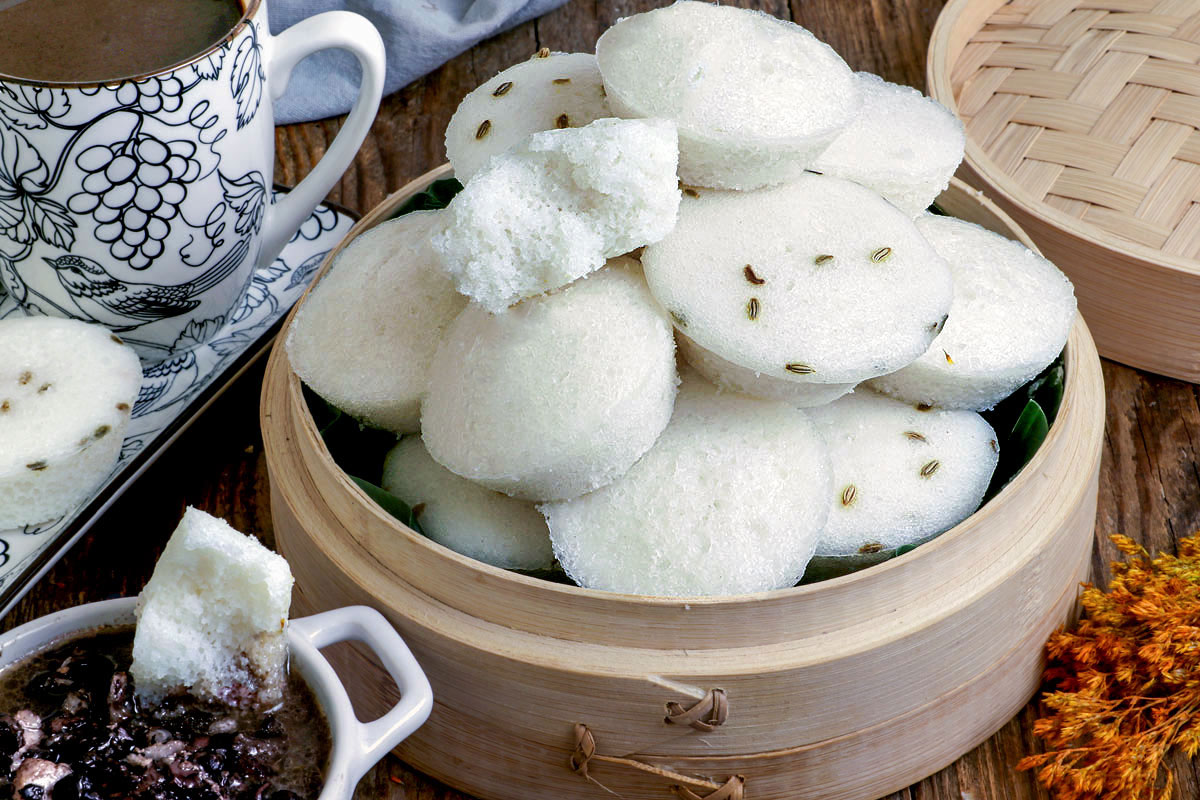 Make this puto recipe now and let us know how it turns out!
Printable Recipe
Puto Recipe
Learn how to make the classic Filipino steamed rice cake or Puto using simple ingredients and know the secret to make sure they come out fluffy and airy but moist.
Ingredients
2

cups

rice flour

¼

teaspoon

salt

¾

cup

white sugar

2

teaspoons

baking powder

2

teaspoons

instant yeast

1

cup

coconut milk

1

cup

hot water

1

tablespoon

oil

1

teaspoon

anise seeds and a bit more for topping

(optional)
Instructions
2 cups rice flour,

¼ teaspoon salt,

¾ cup white sugar,

2 teaspoons baking powder,

2 teaspoons instant yeast

Combine all dry ingredients in a large mixing bowl.

1 cup coconut milk,

1 cup hot water

Mix coconut milk and hot water to make it lukewarm. You can also combine both and heat to lukewarm. Add this to the dry ingredients.

1 tablespoon oil,

1 teaspoon anise seeds and a bit more for topping

Add oil and anise seeds, if using, and mix, using a spatula or whisk, until completely blended. The texture will be a bit runny at this point.

Let it rest for 10 minutes and then gently mix several times, you will notice that the texture becomes thicker.

Transfer the mixture to the molds or pan and let it rest for another 20 minutes.

5 minutes before the batter is ready, prepare the steamer. Fill the bottom pot with enough water and bring to boil. If you desire to have the cracked top, use medium heat, Lower the temperature to low to bring the water to a gentle simmer to get a smooth top .

Place the mold in the steamer basket and cover with the lid, lined with cloth. Steam for 15-20 minutes or until inserted toothpick comes out clean.

Remove the mold from heat and let it cool down a bit before unmolding.
Nutrition
Calories:
212
kcal
Carbohydrates:
38
g
Protein:
3
g
Fat:
6
g
Saturated Fat:
4
g
Polyunsaturated Fat:
1
g
Monounsaturated Fat:
1
g
Trans Fat:
1
g
Sodium:
55
mg
Potassium:
156
mg
Fiber:
1
g
Sugar:
13
g
Vitamin A:
1
IU
Vitamin C:
1
mg
Calcium:
38
mg
Iron:
1
mg
Similar Recipes