This Kesong Puti or Filipino White Cheese recipe requires only 3 ingredients to make and a few simple steps to follow! It has a soft and delicate texture with a mellow salty and tangy flavor that melts in your mouth!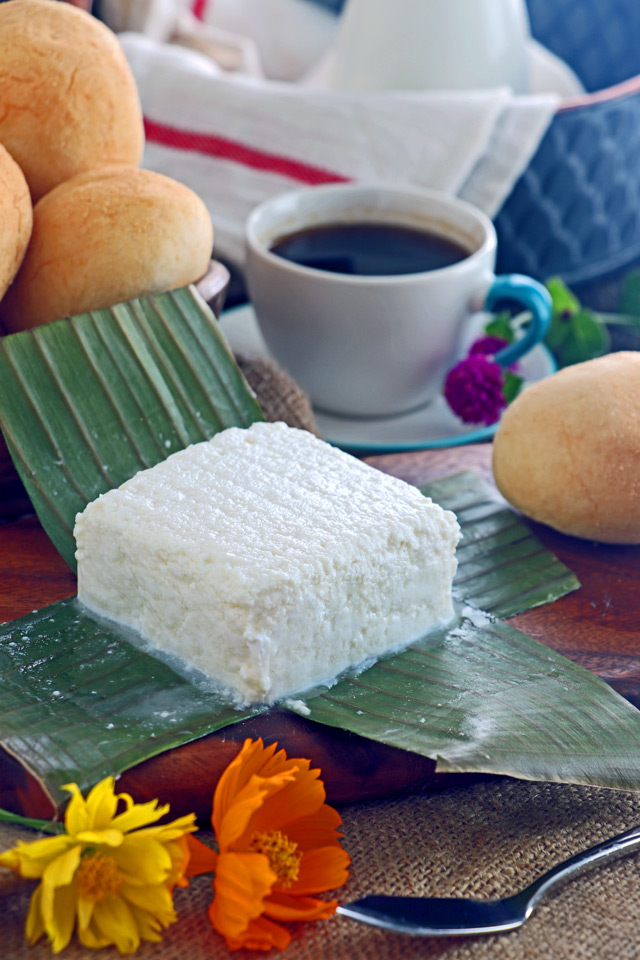 I remember having these every time we visit or pass through Laguna going to Tagaytay, which is one of the provinces that produce the best Kesong Puti in the country. Competing for this title are Cebu, Cavite, and Bulacan. My papa loves having them for breakfast paired with freshly baked pandesal.
Now, I can make this delicious treat for us in my own kitchen anytime!
What is Kesong Puti?
Also spelled as "Quesong Puti" and called Kesilyo or Kiseyo in other parts of the country. Keso is the Tagalog word for cheese while puti means white.
It is an unaged cheese made by heating unskimmed milk and then adding a coagulating agent for the milk to turn into curds. These are traditionally presented wrapped in banana leaves.
This cheese bears some similarities with the Spanish Queso Blanco, Indian Paneer, and the Italian Ricotta and Mascarpone. However, the nearest kind of cheese that it resembles is Cottage Cheese, sans the cream.
It is a popular breakfast spread that is usually paired with hot Pandesal and coffee for breakfast! You can also toss it with your Fiddlehead Fern Salad or Greek Pasta Salad or sprinkle it on top of your pasta.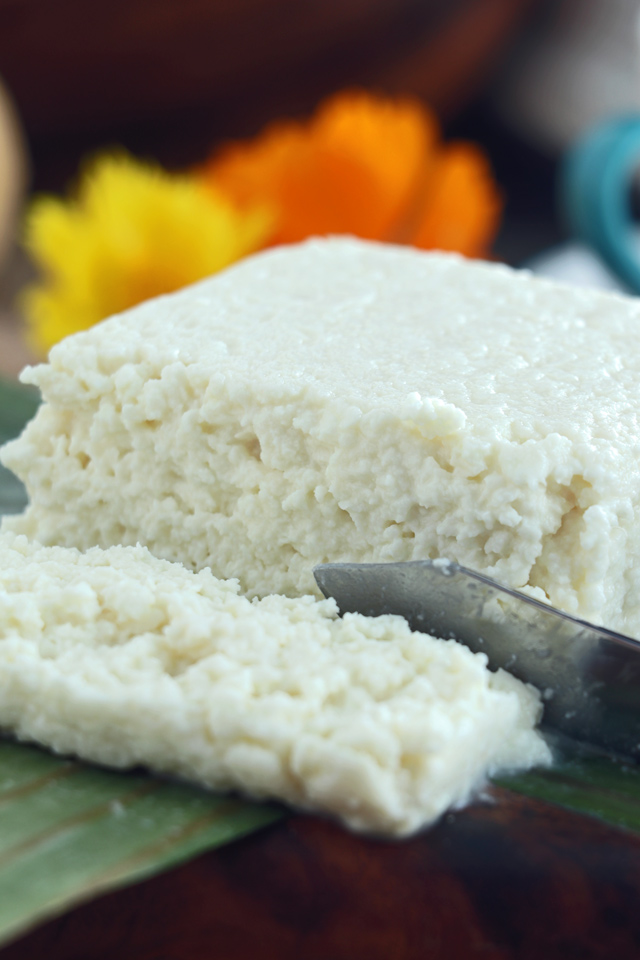 About the Ingredients Used
Milk- Carabao milk is traditionally used to make Kesong Puti, though you can also use cow or goat milk. However, milk from carabaos is more nutritiously superior! It has lower cholesterol content and is packed with protein, calcium, iron, and phosphorus! At the same time, it yields more curds, so you make more cheese. The only downside is availability. Fresh carabao milk is not as prevalent in the market compared to cow milk. So if it's not available in your area, you can use pure fresh cow or goat milk to make your homemade Kesong Puti.
Coagulant- I tried both cane vinegar and apple cider for this recipe, look for the acidity of 4.5 - 5%. However, you can also use citrus juices like lemon, lime, or calamansi. Rennet is also commonly used.
Salt- is added to the curdled milk for flavor and to draw out more moisture from the cheese. Some recipes soak their molded curds in a mild brine solution.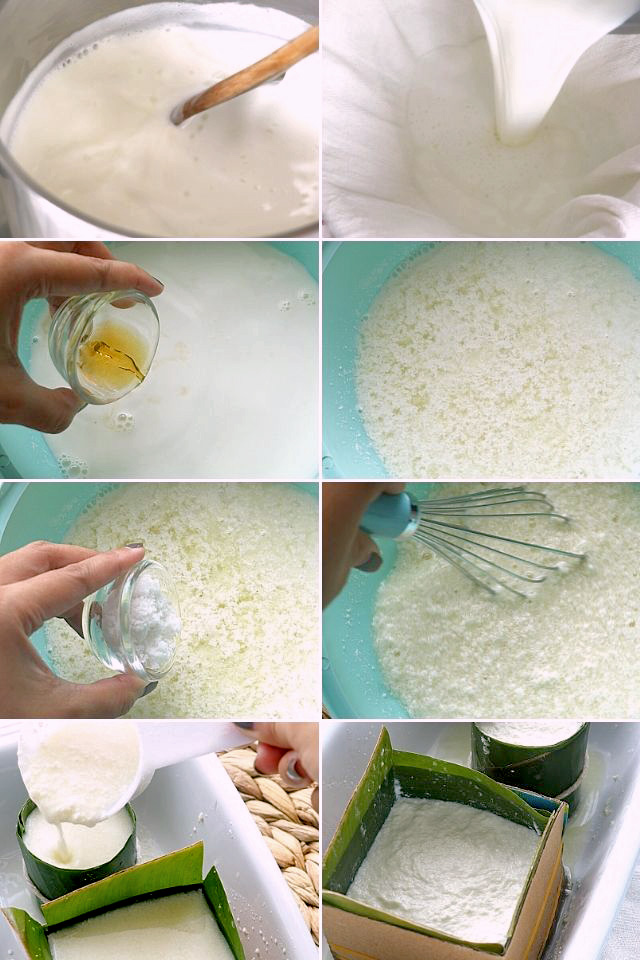 Foxy Tips when making Kesong Puti
Use fresh and pure whole milk for the best results. It should still contain its natural enzymes and good bacteria that are essential in making this cheese. Processed milk like skimmed or ultra-pasteurized milk will not work.
It is important to remember to heat the milk, don't boil it! Pasteurization of milk is done by heating it at 60-63°C for about 30 minutes. Using a high temperature will alter the protein properties which will result in a prolonged curdling process or no curdling at all. Let the milk cool down to 32-37°C before adding the coagulant.
The texture of your Kesong Puti varies depending on how much vinegar you put in it. The more vinegar you add the faster the curds will form and the firmer they are. If you want more compact and firmer cheese, remove as much whey as you can. Whey is the liquid that is left after the curds have formed. I prefer my Kesong Puti very soft and almost gelatinous in texture so I leave the whey on and let it set. However, if you prefer a firmer consistency, you can place the curds in a cloth and either drain or squeeze out the whey.
You can store your Kesong Puti in the fridge for a week or two. Make sure it is placed in an airtight container. I do not recommend freezing for longer storage life because the ice crystals will affect the texture of the cheese.
Can't get enough of cheese? Try these super cheesy recipes: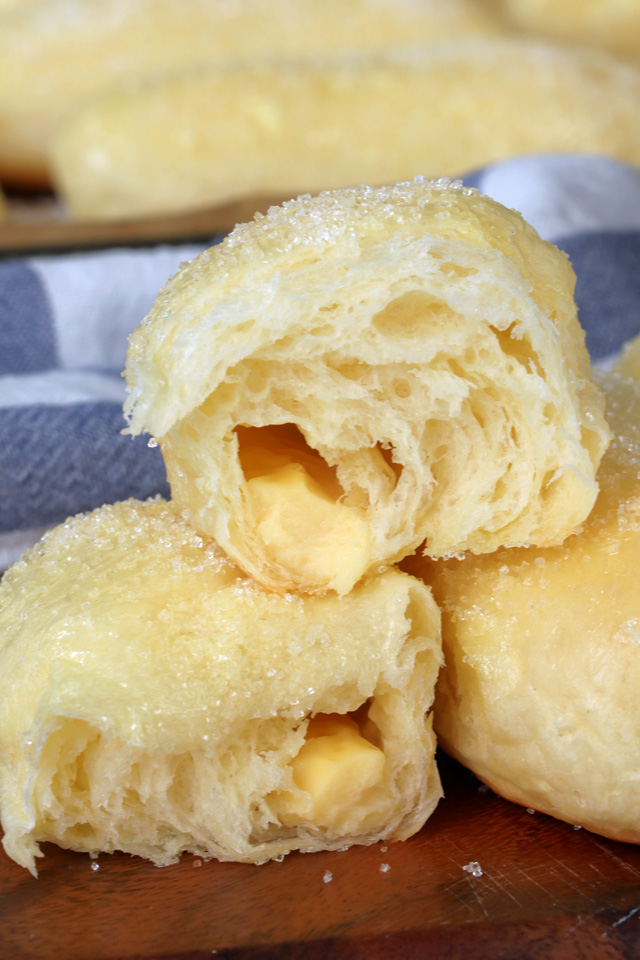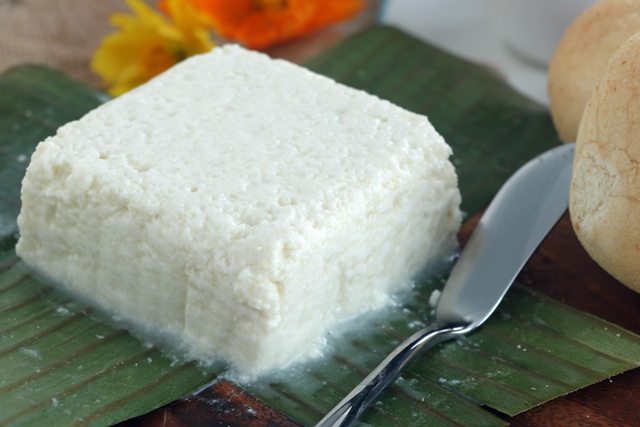 Printable Recipe
Kesong Puti
This Kesong Puti or Filipino White Cheese recipe requires only 3 ingredients to make and a few simple steps to follow! It is a soft and delicate unaged cheese with a mellow salty and tangy flavor that will melt in your mouth!
Ingredients
1

liter

Carabao Milk

see NOTE 1

1 ½ - 2

tablespoon

salt

3-4

tablespoon

cane vinegar

see NOTE 2
Instructions
Form cylinders from banana leaves about 2-inch high and 2-inch in diameter tied around with a twine. Place them on a tray and set aside.

Place the milk in a pot and bring to a simmer over medium heat. Simmer for 30 minutes stirring regularly to avoid burning.

Run the hot milk through a cheesecloth over a large bowl. Let the milk cool down a bit.

Add cane vinegar and stir. Let it sit for 15-20 minutes to allow the curds to form.

Add the salt and mix with a whisk to cut lumps into smaller/finer curds.

Fill the banana leaves full with the curds. Refrigerate for 30 minutes to form and set.
Notes
NOTE 1. Use pure whole milk for better yield. If you do not have access to carabao milk, you may also use cow milk.
NOTE 2. The more vinegar, the firmer the curds will be. 
Nutrition
Calories:
62
kcal
Carbohydrates:
5
g
Protein:
3
g
Fat:
3
g
Saturated Fat:
2
g
Cholesterol:
10
mg
Sodium:
566
mg
Potassium:
132
mg
Sugar:
5
g
Vitamin A:
162
IU
Calcium:
113
mg
Iron:
1
mg