This Potato Frittata is a yummy and healthy breakfast treat but can also be enjoyed for lunch or dinner plus it is also so easy to make.
Breakfast is an important part of our day! It fuels us to have the energy and drive to start our day right. So having a protein-rich, vegetable-infused dish, such as this Potato Frittata, in the morning is always a great idea. It is an exciting new way to enjoy eggs for breakfast, aside from the usual scrambles, sunny-side ups, omelets, and sandwiches.
What is a Frittata?
Frittata is a traditional egg-based Italian dish packed and flavored with ingredients like meat, vegetables, and cheese. The word frittata is adopted from the Italian term "friggere," which roughly translates to "fried or to fry," which is how the traditional frittatas are cooked —fried using skillets or pans! However, there are also modern-day versions of frittatas cooked using an oven.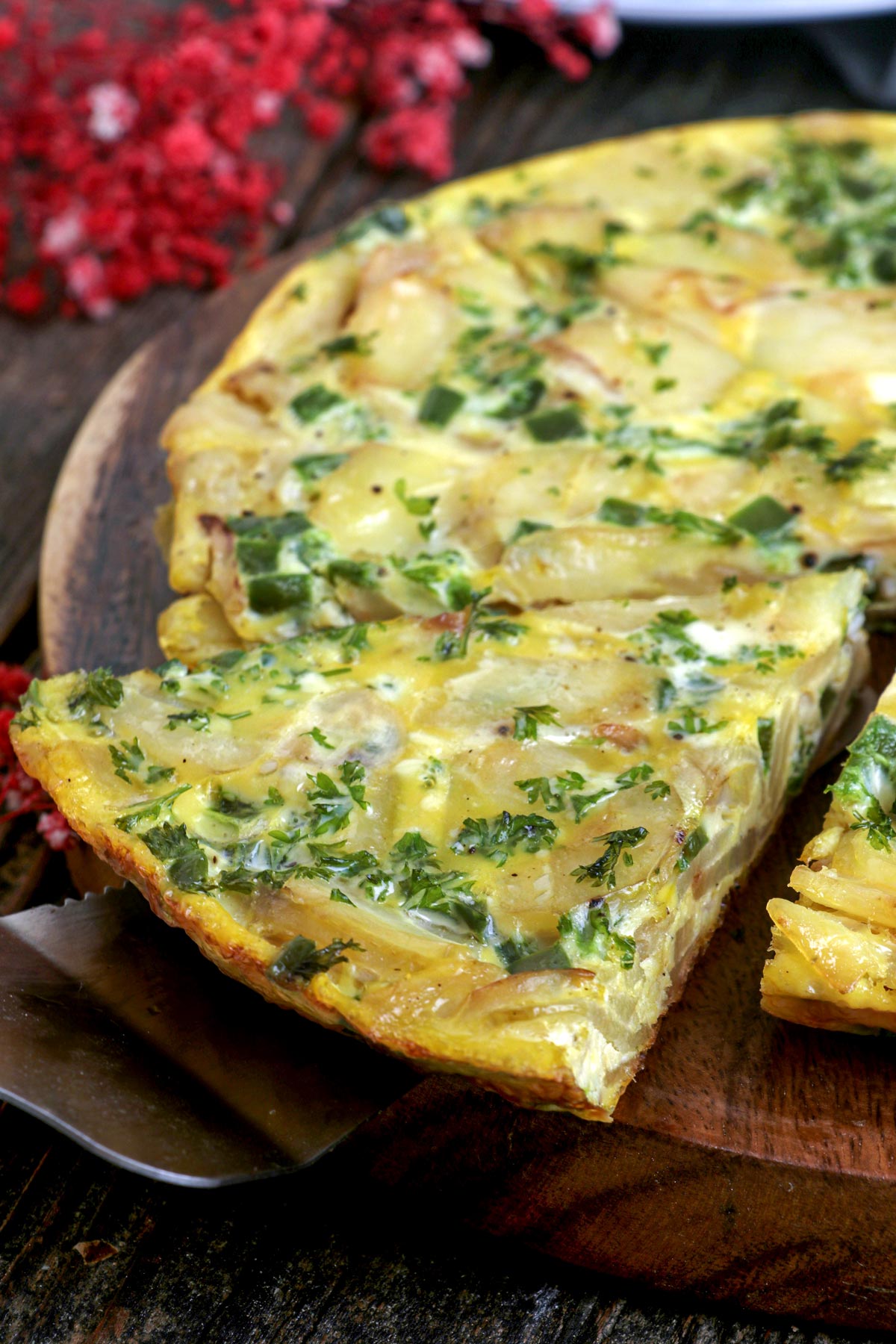 Quick and Easy Potato Fritatta
This Potato Frittata recipe can be done in less than 30 minutes, making it perfect for those hectic mornings! And as it's also customizable, you don't have to worry about getting tired of it. You can use any meat and veggies you have on hand! Whether it's bacon, ham, chicken, pork, or beef, you can add and toss it in.
If you're looking for something healthier, you can add other vegetables such as spinach, mushrooms, kale, corn, scallions, etc. Make it cheesy by adding cheddar, feta, parmesan, or any cheese you fancy!
Frittata vs Quiche vs Omelet
Frittata is very similar to French quiche and omelet, but what sets them apart from each other?
Quiche vs. Frittata
Like the Frittata, the French Quiche is also an egg-based dish made to look like a pie. The main difference is that a quiche has a crust and is baked in an oven, whereas a frittata is prepared in a skillet. Quiche also uses dairy ingredients like milk and cream, which are not present in traditional frittatas.
Omelet vs. Frittata
There are three significant differences between frittatas and omelets.
First, frittatas are cooked on both sides and have an open-faced, pie-like appearance. An omelet is cooked only on one side and then flipped or folded in half.
Second, a frittata is slowly cooked over low heat to prevent it from burning, while an omelet is quickly cooked over high heat to fry the outer layer and keep its insides moist and tender.
Lastly, omelet toppings are layered onto the egg base and then folded over so they are kept inside. But when making a frittata, the meat and veggies are mixed into the egg base.
Must-try Delicious Recipes using Potatoes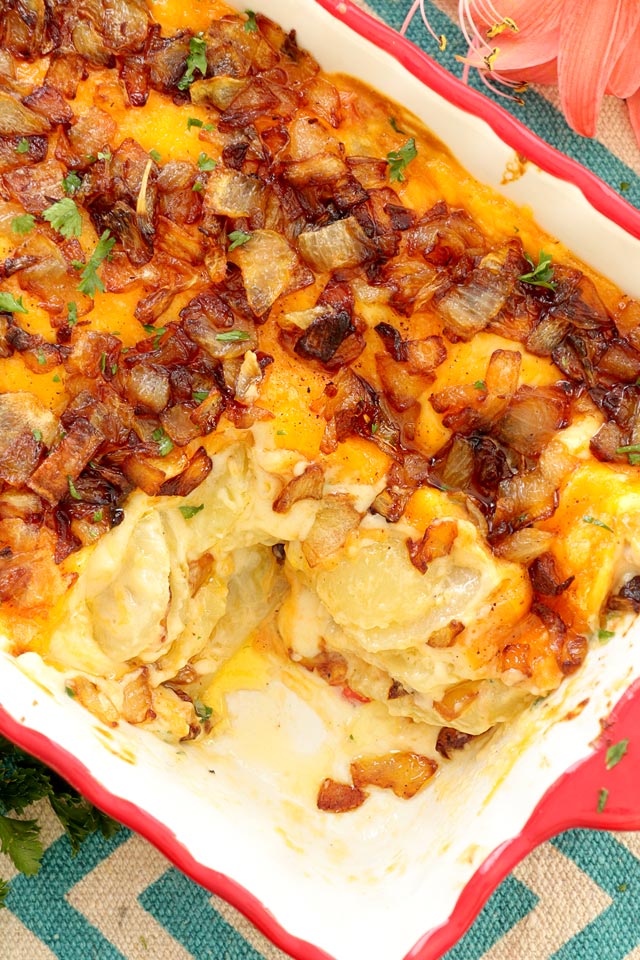 Ingredients You'll Need
Potatoes – feel free to use any type of potato for this recipe. Yukon Gold or russet potatoes are good options.
Oil
Onion- sweet or white onions are best used for this recipe as they have a mild and sweet flavor.
Eggs- I used 5 medium-sized eggs for this recipe.
Green bell pepper- you may also use red, yellow or orange bell peppers, whichever is readily available to you.
Salt and pepper
Parsley
Cooking Tips
Slice the potatoes evenly and thinly. Chunky potato cuts take longer to cook. They might turn out hard and possibly raw.
To make your potato frittata extra fluffy, whisk the eggs thoroughly.
Use a nonstick pan or cast-iron skillet as they heat up quickly and evenly. A properly heated pan is essential for evenly cooking the bottom and top layers of your frittata.
Use low heat only to let the egg mixture cook and firm up slowly without burning. Every once in a while, gently shake the skillet. When the Potato Frittata readily pulls from the sides and bottom, you can flip it to the other side.
If you want your frittata to have a custard-like texture, use full-fat or full-cream milk. This trick will also give it a richer flavor.
How to Serve and Store
Serve Potato Frittata immediately while it's still hot or warm. Enjoy it on its own, with a slice of toast or a bowl of green salad. While it is best known as a breakfast item, it is also a great dish for a light lunch or dinner; who can say otherwise, right?
Store cooled leftovers in a container with a tight-fitting lid and keep in the refrigerator for up to three days.
To reheat in the microwave, remove the frittata from the fridge and allow to rest at room temperature. Place it on a microwave-safe container and cover with a lid or plastic wrap (make sure it's microwave safe as well). Microwave at low for about 30-40 seconds.
To reheat on the stovetop, heat a non-stick pan or skillet over medium heat. Add a bit of oil or butter. When heated add frittata and cook for about 3-5 minutes. Flip and cook the other side for another 2-3 minutes.
Printable Recipe
Potato Frittata Recipe
This Potato Frittata is a yummy and healthy breakfast treat but can also be enjoyed for lunch or dinner plus it is also so easy to make.
Ingredients
2

medium

potatoes

4

tablespoons

oil

1

medium

white onion

sliced

5

medium

eggs

½

cup

green bell pepper

cut into small cubes

Salt and pepper

to taste

1

tablespoon

parsley

chopped
Instructions
Peel potatoes and cut into quarters, lengthwise. Then cut into thin slices.

4 tablespoons oil,

1 medium white onion

Heat 2 tablespoons of oil in a skillet over medium heat. Add onions and cook until soft. Add the potato slices. Cook for some minutes until onions are caramelized and potatoes are browned.

5 medium eggs,

½ cup green bell pepper,

Salt and pepper

Remove the skillet from heat. In a large bowl, beat the eggs. Add the cooked potatoes and onions, and the bell peppers. Stir well until well distributed. Season with salt and pepper.

4 tablespoons oil,

1 tablespoon parsley

Return the skillet to the stove and turn the heat to medium-low. Add the remaining 2 tbsps. of oil to the skillet and tilt it around to make sure the bottom and sides are coated with oil.

Pour the mixture into the skillet, and spread evenly. Sprinkle with chopped parsley. Cover with the lid and turn the heat to low.

Cook until the egg has completely set (about 5-10 minutes), gently shaking the pan every now and then. When the frittata is easily pulled off from the bottom, it is ready to be turned.

Place a plate on top of the skillet and flip both over so the frittata is transferred on the plate. Gently slide it back to the skillet to cook it for another 2-5 minutes, uncovered,

Once cooked, you can flip it over directly to a serving plate or a cutting board.
Nutrition
Calories:
146
kcal
Carbohydrates:
3
g
Protein:
5
g
Fat:
13
g
Saturated Fat:
2
g
Polyunsaturated Fat:
3
g
Monounsaturated Fat:
7
g
Trans Fat:
1
g
Cholesterol:
136
mg
Sodium:
54
mg
Potassium:
104
mg
Fiber:
1
g
Sugar:
1
g
Vitamin A:
304
IU
Vitamin C:
13
mg
Calcium:
27
mg
Iron:
1
mg