Try this delicious Filipino frozen treat, the Cheese/Quezo Ice Cream. It is creamy, milky, and rich with a perfect balance of sweet and salty flavors that would absolutely tickle your taste buds!
Cheese, locally known as queso or keso, is incredibly versatile, as it is a popular appetizer and also commonly used in cooking. It adds a deliciously savory and creamy flavor to dishes such as Beef Caldereta or the usual pasta like Bake Macaroni. It is also used in baked goods and desserts such as Filipino Cheese Bread, Cheese Cupcakes, Filipino Fruit Salad, and this no-churn Cheese Ice Cream.
What is Cheese Ice Cream
Quezo Ice cream or ice cream with cheese is one of the ingenious Filipino food loved all over the country. On a hot, bright day, it's not uncommon to see mamang sorbetero pushing his vibrant ice cream cart as crowds of children and adults line up to buy "dirty" ice cream. The saltiness from the cheese mixed with the cream and sugar makes a very delightful ice cream flavor. It is typically sold on a cone or even sandwiched between pandesal or buns!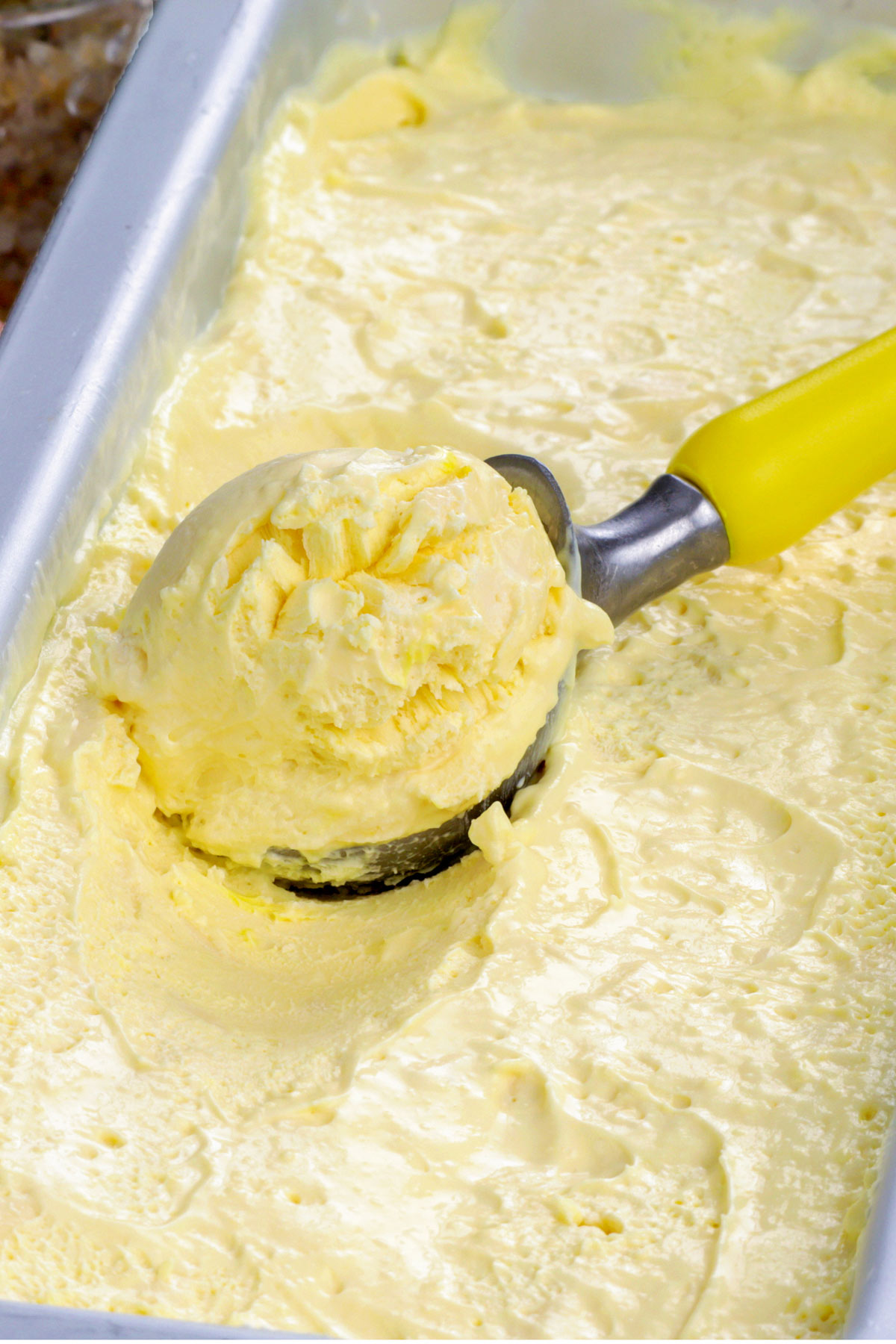 A bit of its History
In the early 1900s, an American opened the first ice cream shop in Manila. It is considered a delicacy to the privileged, and only classic flavors such as chocolate, vanilla, and strawberry were then available. However, the sorbeteros, with their colorful push carts, and local ice cream parlors, quickly brought ice cream to the masses in native flavors such as mango, coconut, ube, and cheese.
Carabao's milk, which is also used to make the white cheese known as Kesong Puti, was the primary ingredient in the first Filipino cheese ice cream. After World War II, cheddar cheese made its way to our country and kitchens. It has since grown and become one of the most well-liked ice cream flavors. The beautiful contrast of sweet and salty flavors is what drew everyone in.
Ingredients You'll Need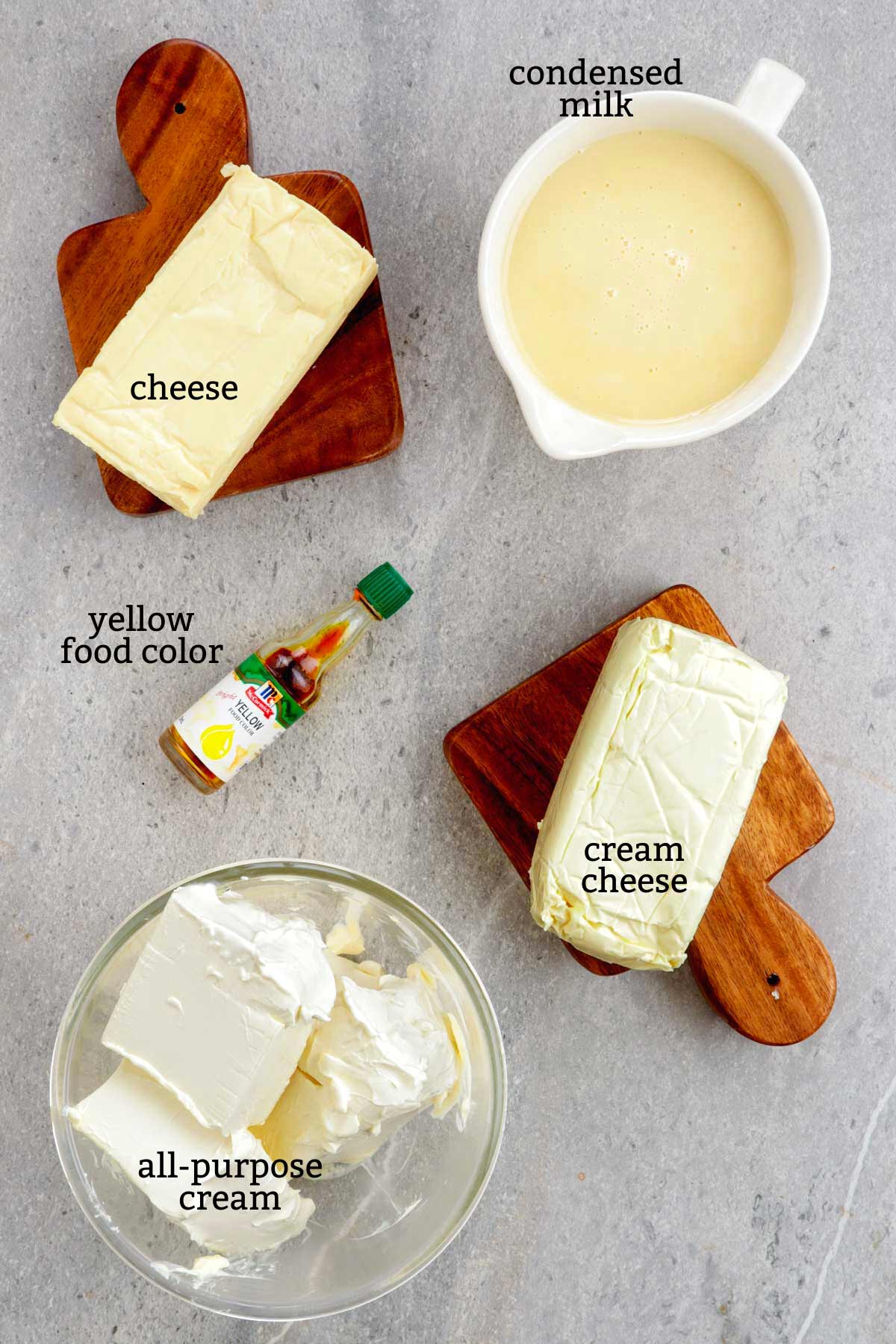 Processed cheese - it has a suitable consistency and flavor for the ice cream and is easily available in stores. You can substitute mild cheddar cheese for processed cheese.
All-purpose cream - make sure that this is chilled overnight to have a thicker consistency. You may also use whipping or heavy cream, for a lighter and smoother texture.
Cream cheese - adds a slightly tangy flavor to the dish. Because of its high-fat content and stabilizers, it produces smoother and richer ice cream.
Condensed milk - serves as a sweetener and softens the ice cream to make scooping easier.
Yellow food color - it adds an appetizing color to the ice cream.
Foxy Tips in making cheese ice cream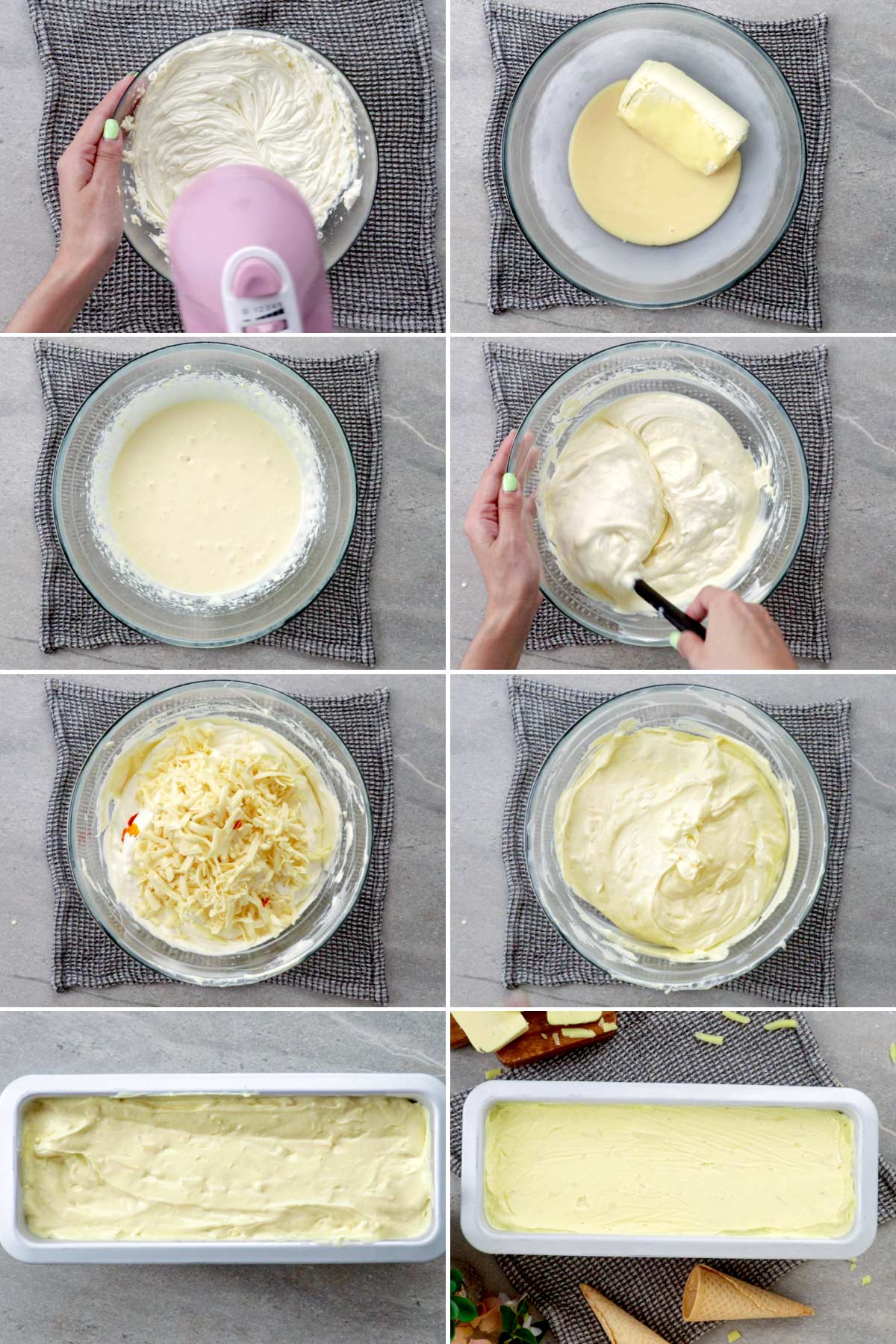 For the best results, chill all of your ingredients. You can also freeze your mixing bowl and beaters for 30 minutes before using them.
Gently fold the whipped cream into the cream cheese mixture to avoid deflating it.
You can flavor the mixture by adding vanilla essence. It will go nicely with this cheese ice cream recipe.
For an authentic cheese ice cream experience, have bits of cheese on it. Grate it coarsely or cut it into small cubes.
Adjust the amount of cheese depending on your preference.
Adding a few drops of food color goes a long way. Light yellow is the desired shade that we want to achieve, or you can opt not to use it as well.
You can add sweet corn kernels to your ice cream to add texture. In the Philippines, this flavor combination is popular as well.
Serving and Storing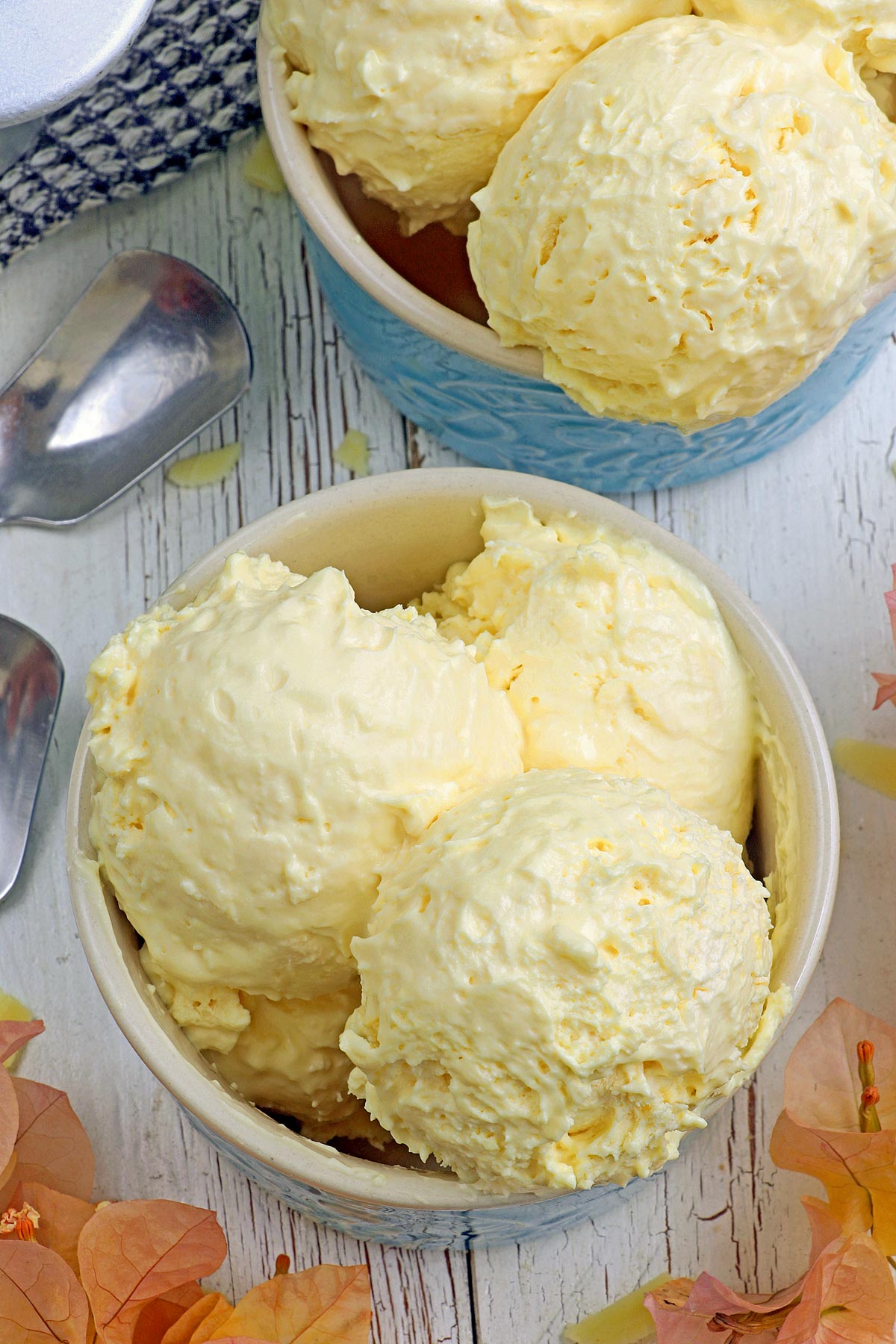 Serve your homemade Cheese ice cream in dessert bowls, cones, or even sandwiched in buns. You may top it with additional grated cheese for a more intense flavor.
Place the ice cream at the back of your freezer where the temperature is most consistent. It would help preserve texture and flavor.
Covering it with parchment paper or plastic wrap is an effective way of reducing the formation of ice crystals. Just lightly press the film on the surface of the mixture before freezing.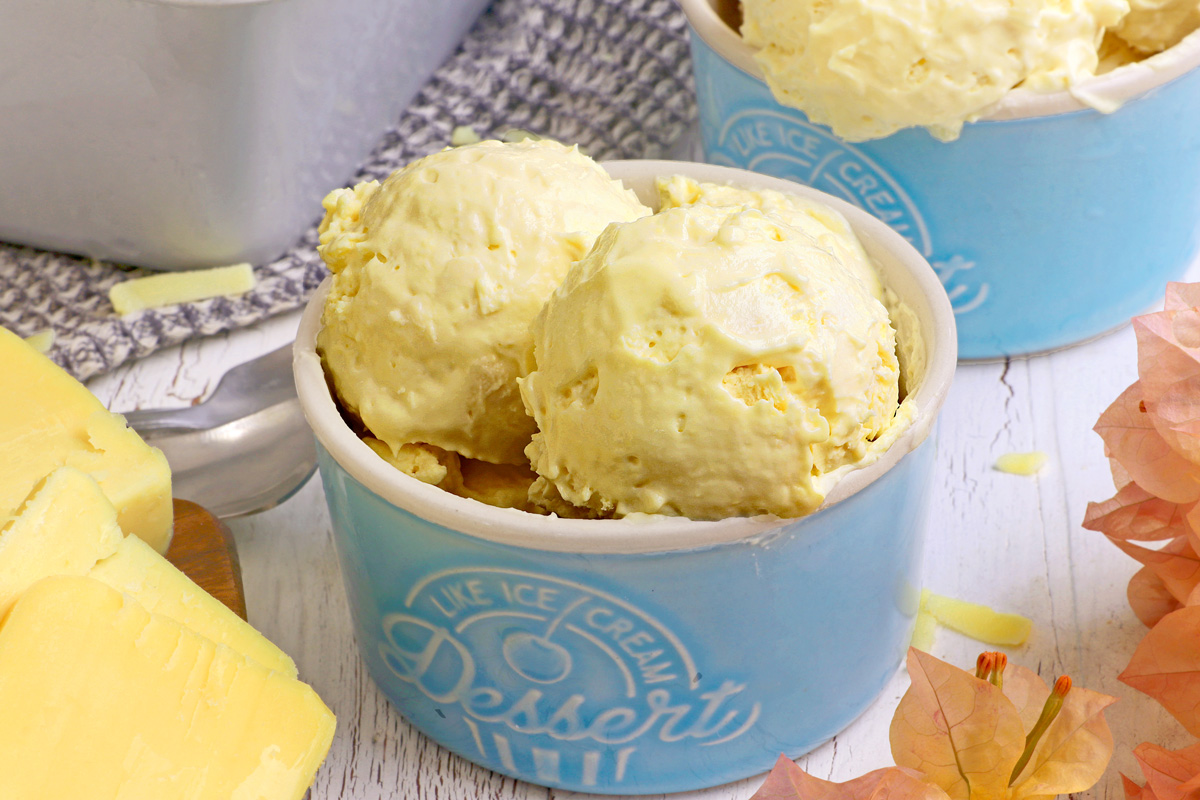 Printable Recipe
Cheese Ice Cream Recipe
Try this delicious Filipino frozen treat, the Cheese/Quezo Ice Cream. It is creamy, milky, and rich with a perfect balance of sweet and salty flavors that would absolutely tickle your taste buds!
Ingredients
1

block

processed cheese

165g

2

cups

all-purpose cream or whipping cream

chilled overnight

1

block

cream cheese

1

can

condensed milk

Yellow food color

-optional
Instructions
Grate the cheese using a coarse cheese grater. It should be chunky or cut into small cubes.

2 cups all-purpose cream or whipping cream

In a bowl, whip cream until it is smooth and fluffy and almost double in size. Place in fridge until ready to use.

1 block cream cheese,

1 can condensed milk

In a large bowl, combine cream cheese and condensed milk. Beat with an electric mixer on high speed until it becomes smooth, light, and fluffy.

Add the whipped cream and gently fold into the cream cheese mixture using a spatula until well combined.

Add the grated cheese and some drops of yellow food color, if desired.

Transfer the mixture in an ice cream tub or a rectangular pan. Tap the pan on the counter to get rid of trapped air bubbles. Place a plastic wrap on top of the pan and press it flat on the surface of the mixture. Freeze for 6 hours or overnight.

Scoop the cheese ice cream to serving bowls or ice cream cones.
Notes
This recipe yields about 1.5 liters of ice cream. If a scoop is about 60ml or about ¼ cup, then it should yield about 24 scoops.
Nutrition
Calories:
178
kcal
Carbohydrates:
10
g
Protein:
4
g
Fat:
14
g
Saturated Fat:
9
g
Polyunsaturated Fat:
1
g
Monounsaturated Fat:
4
g
Trans Fat:
0.1
g
Cholesterol:
44
mg
Sodium:
167
mg
Potassium:
100
mg
Sugar:
10
g
Vitamin A:
528
IU
Vitamin C:
1
mg
Calcium:
140
mg
Iron:
0.1
mg
FAQs
Can I use any cheese?
It would be much preferred if you use hard or semi-hard cheese with mild flavor so you can appreciate its taste while blending in with the cream.
Why is cream cheese used in the recipe?
Aside from the great cheesy flavor it adds, it also gives it a smoother texture and appearance.