Hi, I am Armin and this is my very first blog contribution at Foxy Folksy, so please forgive me the beginner errors! 😉
To support my wife with her blog, I decided to report about our travel and city trips ... from the beginning of our first meeting ...
Philippines, January 2011
I have never dreamt of traveling to Asia at this time ... if I had known what kind of adventures were waiting for me, I would probably have left earlier to explore this part of the world!
In Europe I traveled a lot, mostly by car, places like Norway, Sweden, Scotland and to the south. I've been also to Turkey and the Canary Islands by plane of course.
But for the sake of love, I gave myself a push and I am so glad that I have made this step.
The first time, I was almost overwhelmed by the impressions that I had when I arrived in Manila ... the sultry heat, the hubbub in the NAIA terminal and then the first time I met my internet acquaintance and my would-be wife, Bebs, in person! Wow ... she looks even better than in Skype and, today, I am not sure whether I have sweated because of my nervousness or the high humidity..haha!
For a couple of days, we were at her home in Pampanga to get to know the family and then we finally set off to an island that I googled  weeks before.
Pandan Island we are coming ...!
First, back to Manila airport to catch our flight to San Jose, Mindoro which lasted only 50 minutes. We arrived a bit late, so we decided to stay in a hotel nearby. The next morning we were looking for a ride to Sablayan at the bus terminal, but we didn`t want to wait for hours to get a "normal" bus, we just took the next best, which turned out to be not exactly in the best condition, but I was ready for some serious adventure ... I believe the pictures speak for themselves ;-).
Bus ride to Sablayan Port with compulsory brake
Not really comfortable, or?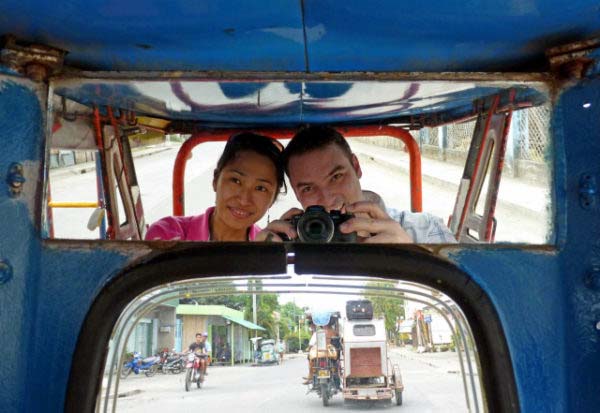 Tricycle ride from the San Jose airport
With a tricycle, we went to the Sablayan port and from there over to Pandan Island with a small boat. The view as we were approaching the island has already put me in holiday mood, the bit stressful, dusty and bumpy journey was forgotten immediately...!
Pandan island
The accommodation in the standard bungalow was for me very unusual, as the windows were wide open, without glass, just like a hole on the wall, only the beds were provided with a mosquito net, but as it turned out, completely sufficient.
Our home for 7 days
Actually we didn`t stayed so much inside the room, because the hammocks and the shade-giving palm trees were, most of the time, our living room. What a dream ... a small island, palm trees on the white beach, the beautiful sea just in front of our bungalow and then this wonderful woman... who has organized for my birthday, a cake from the mainland...mwah!
our living room
The staff were very friendly, the restaurant and the beach bar got only visited for the meals, or to get one for the road. Everything was fine there and I really hope, that we can go back to this place sometime.
Beach Bar
As the numbers of guests to this private island are limited, it was quiet and peaceful. Small island explorations, snorkeling tours and lazing around were the daily routine. An attempt to circle the island by kayak failed, as the waves on the opposite side became too high.
Spanish lagoon
love is in the air (water)
For divers, this location is very interesting because there are organized trips to the world famous Apo Reef. Of course they supply fully equippement in their dive shop and offer dive courses of all levels...
walk on the beach
beach view from our bungalow
The week we stayed there passed to fast, but Bebs had to go to Hong Kong for a company training for some days ... and I was allowed to accompany her! How wicked is that? From a relaxing time on a quiet island to the bustling life in the metropolis Hong Kong...I`m so excited ... to be continued…