Bebs and I decided to have a little break from the blog and to treat ourselves with a little R and R.
So we looked around where we could go. It should be somewhere where we can recharge and de-stress.
Our search led us to a place, just a little more than three hours travel by car from our home, the famous "Summer Capital" of the Philippines, Baguio City.
Why is it the Summer Capital? Well, at almost 5,000 feet above sea level, Baguio City is one of the very few places in the tropical islands of the Philippines that has a cool climate all year-round ranging from 12 to 25C degrees. So people tend to flock here when the hot season comes to cool off.  When we got there, it was 10 ° C cooler than in Pampanga and we enjoyed it very much.
As we arrived at the Camp John Hay, I felt immediately at ease, surrounded by all those huge pine trees, the fresh and cool air ... just wonderful, even if it was foggy and it was raining lightly.
Actually, although summer is officially over, and the rainy season has started, it is one of the best times to come, less crowded hotels, restaurants, and tourist spots.
Staying at Baguio's Premier Hotel, The Manor…
We booked a room for 3 nights at the prestigious mountain resort in Baguio City, The Manor.
What can I say, this place is amazing! It is exactly what we needed. Tucked away inside the prime land of Camp John Hay. Surrounded by towering trees and pine-covered mountains and away from the hustle and bustle of the crowded city.
It is definitely a great place to unwind and de-stress.
The Manor boasts of class but it is cozy and homey at the same time. From the moment you enter the hotel premises, you will experience first class reception from the warm smiles and greeting of their friendly and attentive staff. We were also personally ushered to our room, which I have never experienced before so another point to The Manor!
We booked the Deluxe Forest View Room with a view to the pine forest and were not disappointed. The room was very cozy and we immediately felt at home. There is a small kitchenette area with fridge and kettle and other stuff for making coffee and tea, which are also provided.
The best part is that we were able to avail of their Irresistible Baguio Promo rates  (June 16 to October 15) which are about 50% of their regular rates. You can also get an additional 10% off if you stay on your birthday or if you are Cordilleran resident.
Activities at the Manor
While or after checking in, you can already experience their 5-star hospitality as they offer warm and cold refreshments like freshly brewed coffee, refreshing juices and sweets and my favorite, hot moringa tea while sitting in their lounge, the Piano Bar. You can also enjoy this any time of the day during your stay.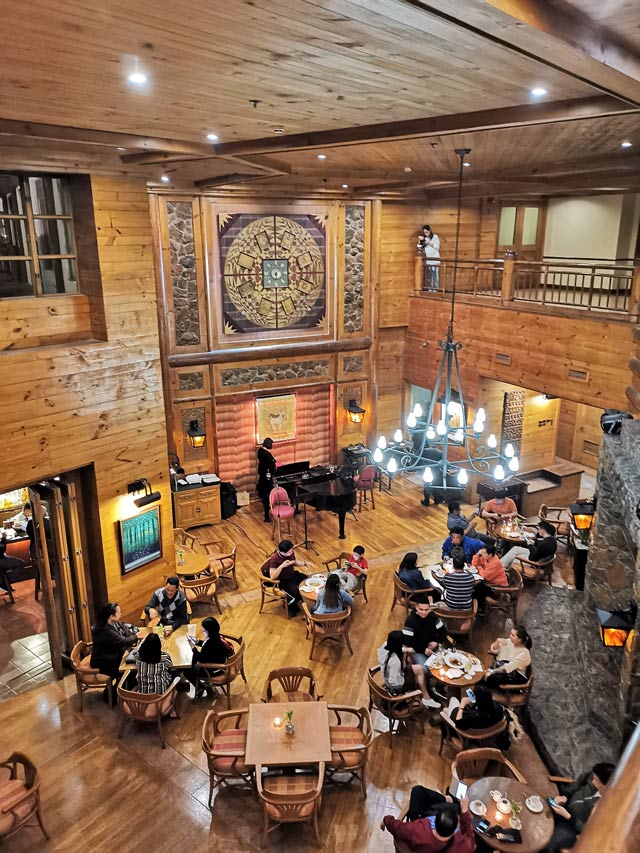 In the evenings, the cozy Piano Bar that sports a fireplace, becomes more lively as piano music accompanied by lovely voices fill the lounge.
During our 3-night stay, the Piano Room is always full of people. Guests who are staying in the hotel and those who are just there for the food and music.
The Manor also has a Health Spa. The guests are free to use the sauna, jacuzzi, and the gym. They also offer massages at an extra cost.
Or if you are fitness buff, then check out their Wellness Studio that offers yoga classes.
For those with children, don't worry, the Manor also have the Arts and Crafts corner. Here you can avail of creative activities for your kids.
And even on rainy days, The Manor has thought of something that can make your stay a memorable one, Romancing the Rain. Take a stroll in their Forest Bathing Trail and enjoy the rain while they provide raincoats, umbrellas and rubber boots.
The Le Chef experience…
During our stay, we are very lucky to have experienced the best fine dining experience in the whole of Baguio.
Le Chef at the Manor gave us a personal sampling of their renowned fine dining experience in a three-course dinner that they have prepared for us.
We will write about it on a separate post.
What to do and what to see in Camp John Hay?
The next day was rainy again and when the rain stopped we decided to take a look at the Bell House. The hotel was only about 5 minutes away by foot... there is a path from the hotel leading directly to it.
The Bell House was named after the Major General J. Franklin Bell, he was the commanding general of the American Armed Forces in the Philippines.
The house exudes a cozy atmosphere and it was very nicely decorated.
We then made our way to the Secret Garden, the path is easy to walk even in bad weather. There is not much to see, except a few flowers and bushes and the pavilion at the end, but I really enjoyed this peaceful walk.
Adjacent to the Bell house is the Bell Amphitheater, designed by Major General Bell himself.
After our little exploration we did a little shopping in the outlet stores, the Mile Hi Center, also walking distance from the hotel and we were able to buy some clothes and shoes for me (Armin)
Around Baguio City
On our third day, we spent the morning simply lazing around and enjoying our staycation. Then in the afternoon, we went to the public market (Palengke)... the search for a parking space is difficult and tedious, also the traffic is quite heavy. After waiting some minutes, we finally got one at Jadewell parking lot which is next to Burnham park and close to the market.
We bought some wooden bowls and other props for the blog, as well as strawberries, grapes, oranges, avocados and much more...the vegetables and the fruits here are a dream of every food blogger...so fresh, nice looking and cheaper too.
After shopping, we decided to go to a Greek restaurant, The Lemon & Olives - Greek Taverna has a very nice atmosphere, unfortunately, we were denied the view because of the fog. The food was OK and fairly acceptable for the price...but their baklava cheesecake is to die for...just a dream...
On our last day in Baguio ... we had a hard time checking out, only because we would have liked to stay in this wonderful hotel longer. Unfortunately, we had to go back home. On our way back, we made another stop to Wright Park. We meant to go to La Trinidad to buy some plants but we were told it could be muddy at the moment. So, Wright Park, it is, where there are many gardeners selling their flowers and plants. Bebs is in her element again and I let a street vendor talk me into buying a leather belt and a wallet...of course, I learned later, that I paid too much...haha.
After loading we went to the Italian restaurant "Pizza Volante" which was close by ... Definitely a very good decision, we were surprised by their very affordable and good food.
After that, recharged and rested, we started our journey home...Baguio, we'll definitely be back soon!