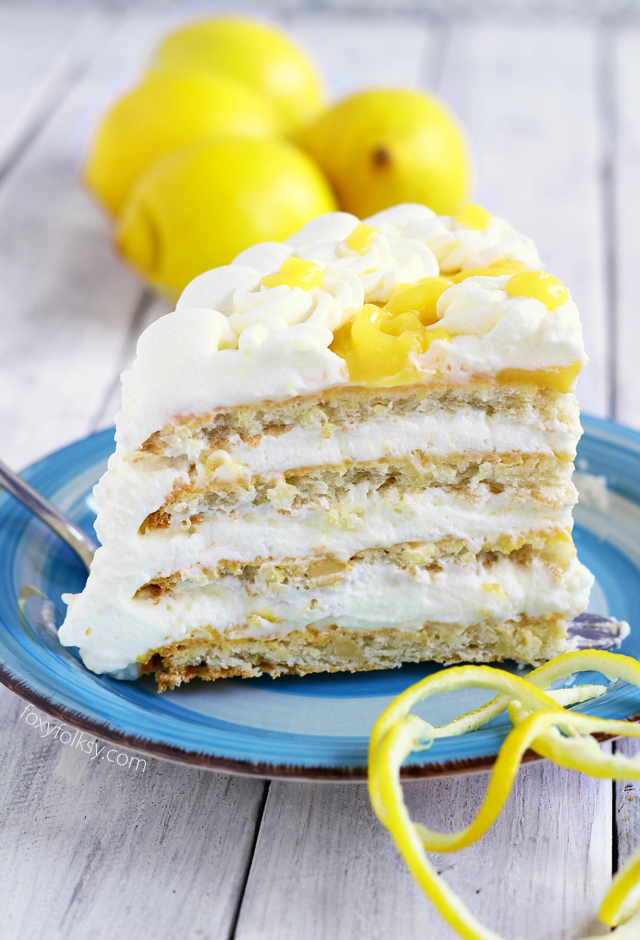 This is a new favorite! King, my soon-to-be brother-in-law, brought us a delicious Lemon Torte/Cake for our Media Noche (New Year's Eve feast). He got it from Purple Oven, a popular bakery in Manila. And it was so good that is why I had to remake it because, sadly, we do not have Purple Oven outlet in Germany :-(.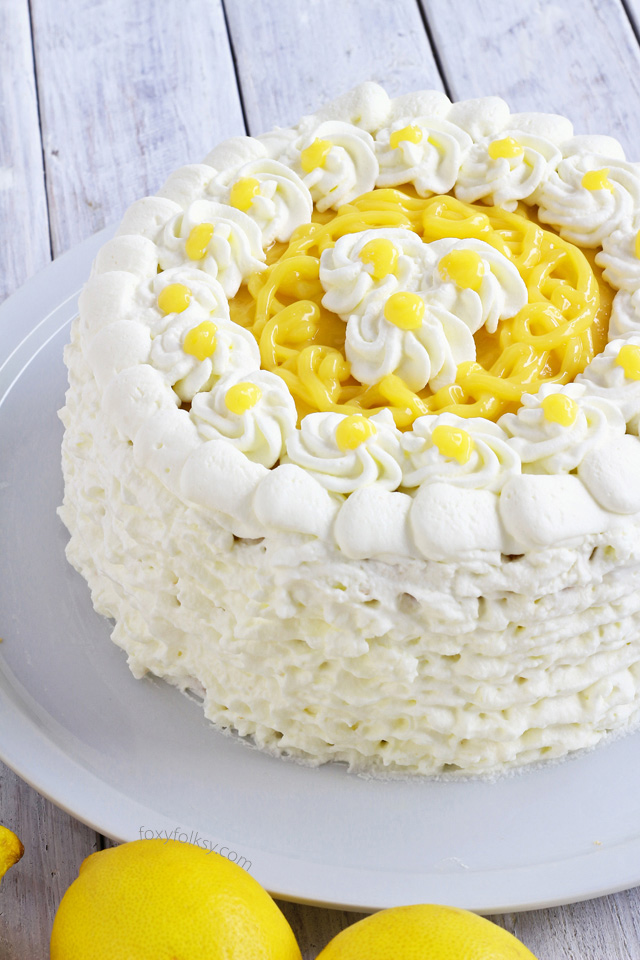 I don't have their exact recipe so this one is my own, but inspired by theirs. Thru (some) experience, guessing and some experimenting, I could say it turned out quite well. 
It is made up of layers of cashew-meringue wafers, lemon curd, and whipped cream! The combination of sweet, tangy and nutty in one refreshingly light torte is just wonderful! 
I will rate the process involved in making this torte as intermediate in terms of difficulty. Well, that is me - I am no professional baker and maybe it has to do with my love-hate relationship with meringue. They are just so tricky to make at times! I had to do it twice (to Armin's delight) to get the cashew meringue right. It is not my first time to make cashew meringue because it is the same for the Sylvanas I made before (only smaller), but somehow after a long time, of not doing it, I seem to forget some important factors that make a good meringue. So I will try to share them and the procedures that enables me to make the cashew-meringue right!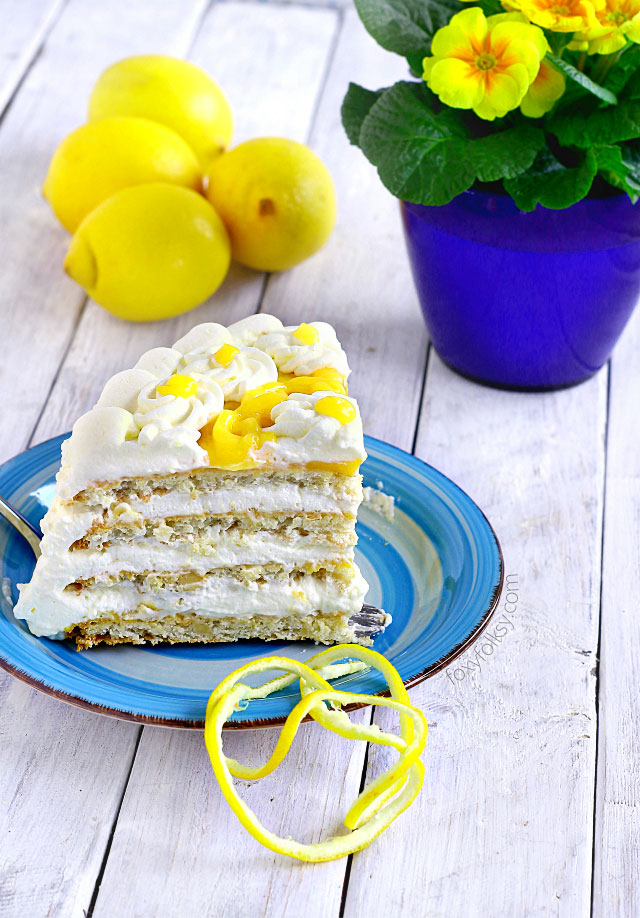 By the way, I made a video for this Lemon Torte Recipe and it should be up soon! Watch out for it!
Printable Recipe
Lemon Torte (inspired from Purple Oven's)
Try this lemon Torte cake (inspired from Purple Oven's) for a refreshingly delicious cake. Sweet, tangy and nutty goes so perfectly well together!
Ingredients
CASHEW MERINGUE
4

egg whites

1

teaspoon

cream of tartar

⅛

teaspoon

salt

¾

cup

sugar

½

cup

ground cashew

¼

cup

chopped cashew

⅛

cup

all-purpose flour
LEMON CURD
½

cup

sugar

3

tablespoons

cornstarch

¼

teaspoon

salt

¾

cup

water

4

egg yolks

- slightly beaten

1

tablespoon

butter

1

teaspoon

grated lemon peel

⅓

cup

lemon juice
Instructions
Using a thick marker, draw 2 big circles, about 7 inches in diameter each, side by side, on a parchment paper. Make sure that there is enough space in between and around the circles when this is placed on top of your baking sheet. Set aside.

Mix together the chopped and grounded cashew with the flour in a bowl and set aside.

In a bowl, beat egg whites using an electric mixer at low speed until it is foamy. This takes about 3 minutes. Add the cream of tartar and salt and go on beating at medium speed until soft peaks form, takes about 3 minutes.

Continue to beat, this time at medium-high speed, adding 1 tablespoon of sugar at a time and beating well after each addition. Beat until stiff peaks form and become glossy. This will take another about 4-5 minutes.

Now gently fold in the ground cashew mix into the meringue in 3 to 4 parts. Be careful not to over fold.

Take the premade pattern and place it on top of a baking sheet.Place another parchment paper on top of it. Fill a pastry bag (fitted with a big round tip) with a quarter of the meringue and pipe it on the parchment paper following the circle pattern. Use a knife or spatula to make it even. Do this to the other circle and then slowly pull the pattern underneath and make another sheet, so you have four cashew-meringue wafers. If you don't have a pastry bag & tip, you can use a ziplock bag. Just cut off one of the bottom corners to pipe through.

Bake in a preheated oven at 150°C for 20-30 minutes or until the top turns a light golden brown. Once that happens, turn the oven off but leave the meringue in there for another 15-20 minutes. Once it is cold enough, gently peel the parchment paper from the meringue.

While waiting, prepare the lemon curd. Mix together sugar, cornstarch, and salt in a saucepan. Add water and then simmer over medium heat stirring constantly until it thickens into a paste-like consistency.

Remove it from heat and add the egg yolks. Mix until completely blended then add the butter, lemon peel, and lemon juice. Mix well and let it cool before using.

Once both meringue and lemon curd are cool, take the whipping cream from the fridge. Transfer to a large mixing bowl. Add sugar and whip until stiff.

Assemble the torte. First, place a bit of whipped cream on the center of a serving plate then place the first layer of meringue wafer at the center. This will help hold it in place. Then spread lemon curd on top of the wafer and pipe some cream. Repeat the process to create four layers. Use the excess whipped cream to cover the sides and pipe some rosettes on top and the excess lemon curd to make decorations.

Chill it for at least 2 hours but I find it is best served when frozen!
Notes
Additional Notes:
I only use metal or glass bowls for making the meringue. Plastic bowls could absorb fat and grease that can prevent or reduce the volume when beating the whites.
Make sure your bowl and beaters are dry and clean.
When adding the sugar, make sure it is added gradually, like a spoonful at a time and scattered not dumped.
Do not beat the whites at high-speed. Use only medium high-speed at max until stiff peak forms or when it has the consistency of a shaving cream.
Chill the bowl and beaters before whipping your cream.
Nutrition
Calories:
330
kcal
Carbohydrates:
53
g
Protein:
6
g
Fat:
11
g
Saturated Fat:
3
g
Cholesterol:
119
mg
Sodium:
177
mg
Potassium:
213
mg
Fiber:
0
g
Sugar:
43
g
Vitamin A:
235
IU
Vitamin C:
4.9
mg
Calcium:
20
mg
Iron:
1.3
mg