Try this Taho recipe (Fresh soft tofu with syrup and tapioca pearls) and learn how to make Taho at home easily. This method uses Epsom salt and instant soy milk.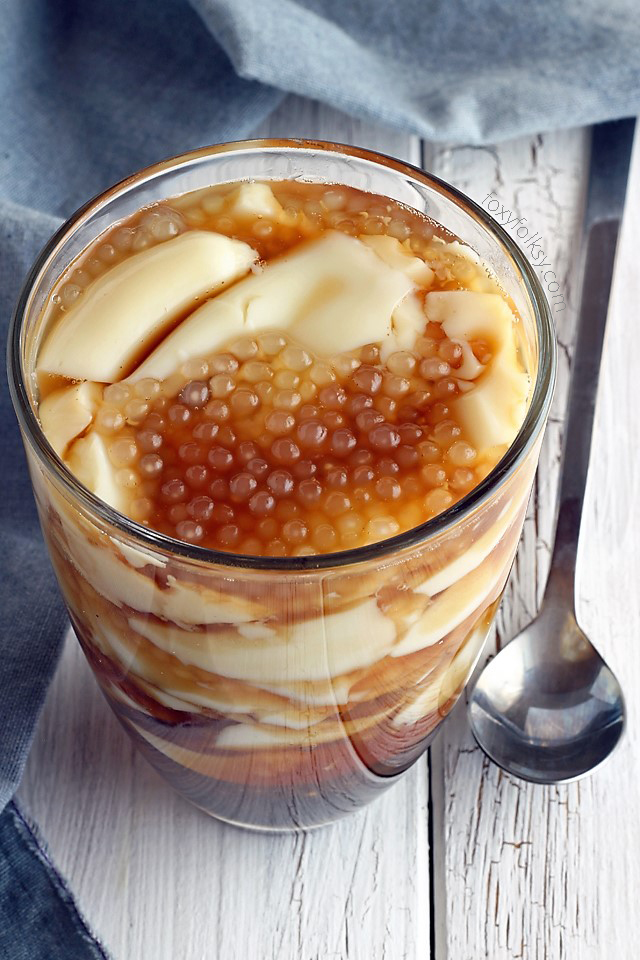 We grew up on this! Taho is a favorite after breakfast treat back when we were small and when we were not so small anymore. I remember having it every morning at weekends and like almost every day during school summer vacation.
Our regular Taho peddler would usually come mid-morning and once we hear him shouting "Tahhoooooo" in his big melodious voice, we would come racing home, leaving whatever we are doing, to get our glasses and some money from our Mama or Papa.
I remember we would always beg him for an extra arnibal (brown sugar syrup) or/and sago (tapioca pearls) and would usually oblige us. I never learned his name, but his face with his thick mustache and a ready smile is forever etched in my memory.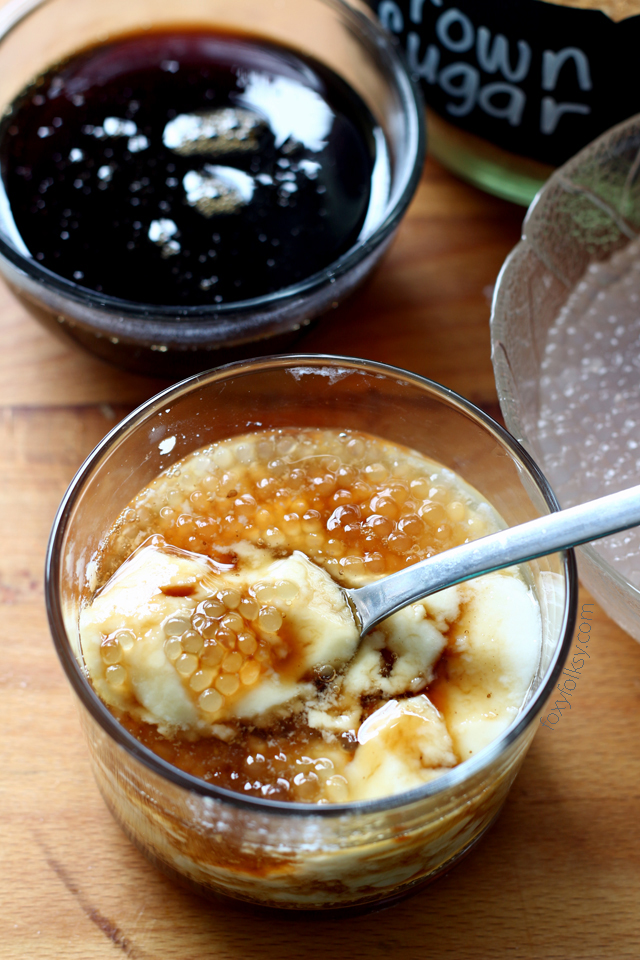 When I was looking for a recipe and I came across a lot of them on the internet. But most of them are using ready-made silken tofu which also poses the same problem for me since silken tofu is also not that popular in Germany. This means I have to go extra to the nearest Asian shop and it is not that near.
Then there are some who made Taho using gelatin. I was curious and gave it a try. The texture was great, really smooth and it really so simple to make...BUT it has to be eaten cold. It was actually not bad having a cold taho but I miss the one I was used to, a hot/warm Taho. The first picture above is the one made using gelatin and the rest of the photos here are the ones with Epsom salt.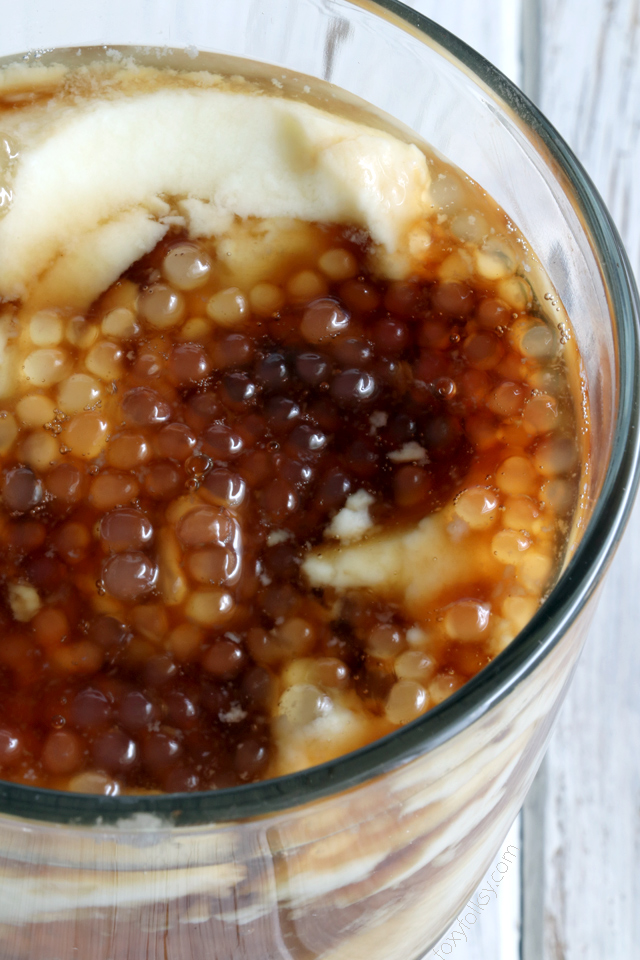 So next I searched for articles on how to make silken tofu. I read a lot and also learned so much. Now I know that I need a coagulant agent to make the soy milk curdle to form taho. Almost all of them are using gypsum, the food grade one of course and not the one you use for your walls. Common coagulants mentioned for making Tofu are calcium sulfate (gypsum), magnesium chloride (nigari), and delta gluconolactone (GDL). But the most practical one I found is using Epsom salt from this post on how to make silken tofu. Epsom salt (Magnesium Sulfate) is the easiest one to find and also not as expensive as the others.
I just have to change it a bit because the first time I did it, it did not curdle enough so I tried modifying the recipe from what I've learned from the other recipes and from the comments of other people who did it before me. I added cornstarch to make it more stable. I also increased the amounts of Epsom salt and this you have to try and learn on your own. Based on the article, they used ½ teaspoon for 3 cups of homemade soy milk. This ratio did not work for my instant soy milk. But 1 teaspoon for every ¾ cup (188ml) of instant soy milk did the job. I would suggest you try first, making a cup of soy milk with ½ teaspoon and go on from there.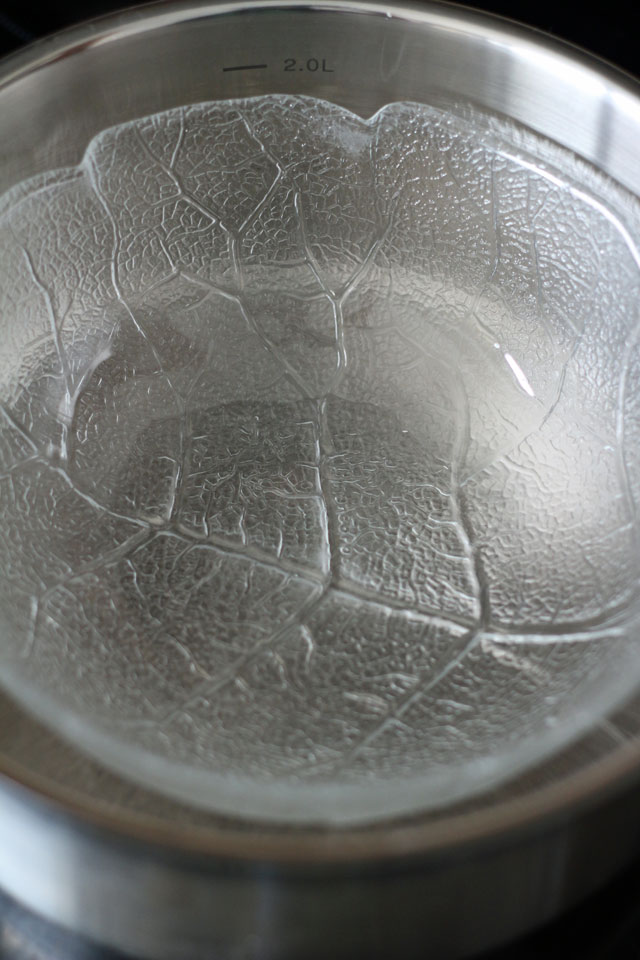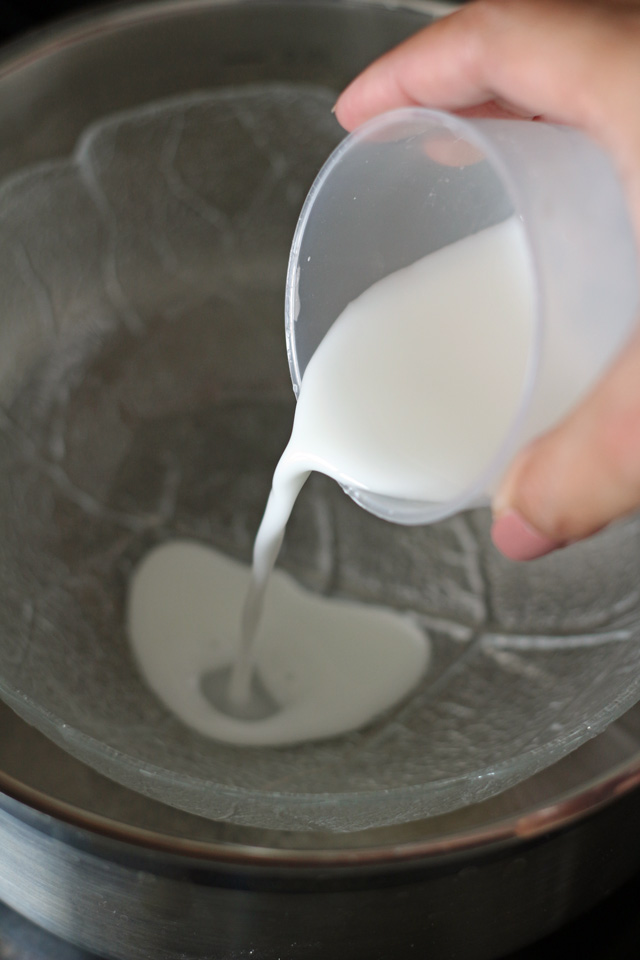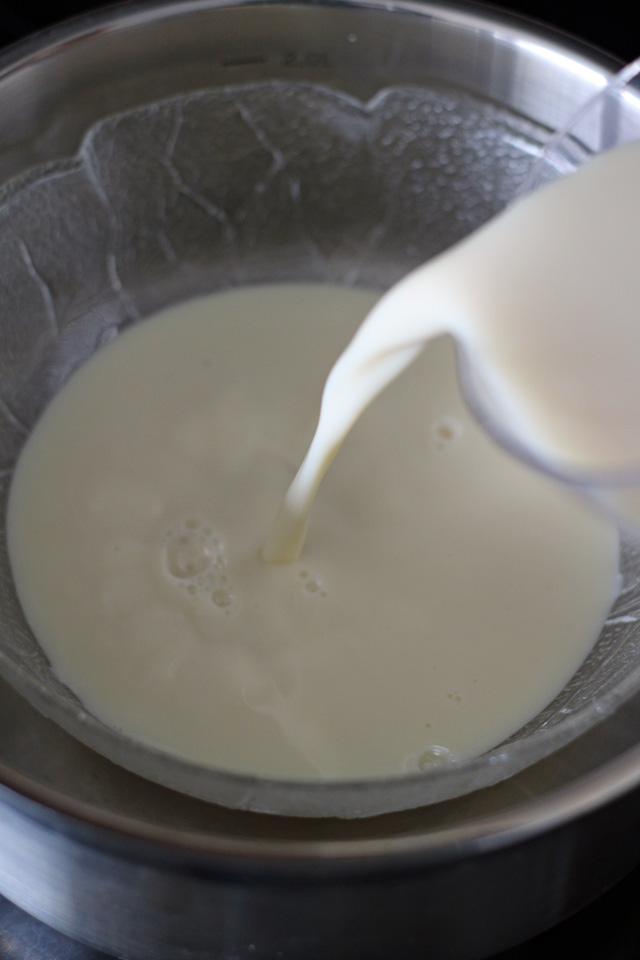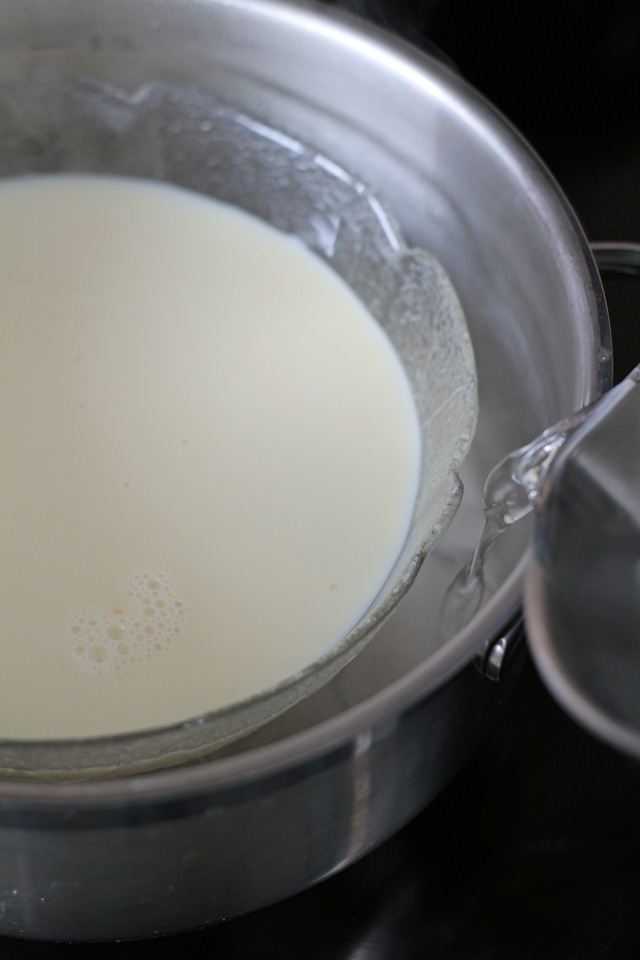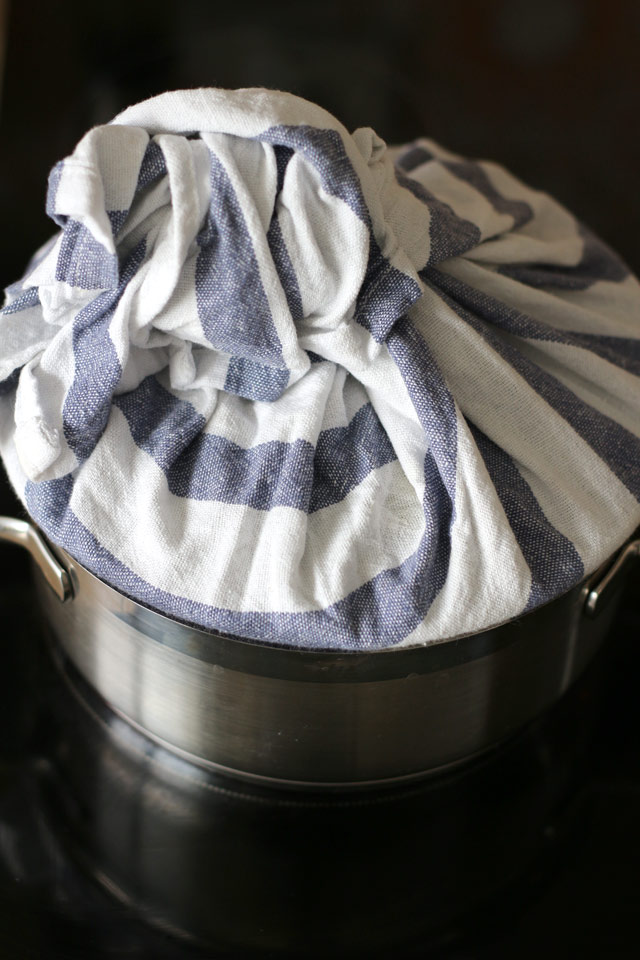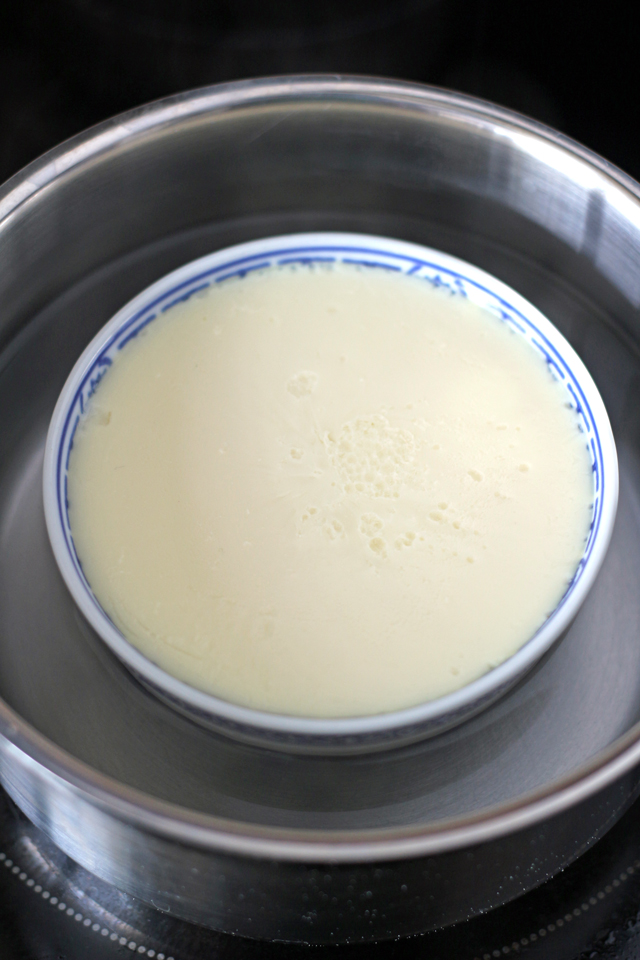 Printable Recipe
Homemade Taho Recipe
Enjoy warm taho anytime with this Taho recipe. It is really easy. Made from scratch using Epsom salt and instant soy milk.
Ingredients
1

cup

soy milk

- unsweetened (5 grams fat per 100 ml)

½

tablespoon

cornstarch

¼ - 1

teaspoon

Epsom salt

- level (See NOTE 1)

1

tablespoon

water
Instructions
Boil water in a kettle. It should be enough for the water bath. Set aside.

Prepare a pot and place it on top of the stove. Place a heat-proof bowl big enough for 500ml of liquid in the middle of the pot.

In a small cup, dissolve cornstarch in 1 tablespoon tap water then add the Epsom salt and stir until dissolved.

Pour the Epsom salt mixture into the empty bowl. Add the soy milk to the mixture in a steady stream, not too fast but not too slow. Do NOT stir! Once both mixtures are combined, try not to agitate it or it will not curdle as smoothly.

Now, pour the boiling water into the pot, careful not to pour any to the bowl of soy milk, just high enough to be on the same level of the mixture in the bowl.

Cover pot with the lid that is covered with clean cloth to absorb the steam and prevent it from dropping back into the Taho mixture.

Turn on the stove to very low heat and let it cook in a gentle simmer for 15-20 minutes or until the Taho becomes firm to the touch but wiggly. Avoid letting the water boil or the mixture will also boil and will never set. While waiting for the Taho to cook, prepare the arnibal and tapioca pearls.

TO MAKE ARNIBAL: In a small pot, combine equal parts of brown sugar and water. Bring it to boil over medium heat while stirring occasionally and let it simmer until it thickens into a syrup (about 7-10 minutes).

TO COOK TAPIOCA PEARLS:

Boil a half liter of water and add the tapioca pearls. Let it cook for 10 minutes. Place a colander/strainer in a bowl or pot and pour the contents to separate the tapioca from the water. Use the same water and bring it to boil the second time. Wash the strained tapioca pearls thoroughly with tap water and put it back into the boiling water and cook again until they become completely translucent and no more white spot at the core.

Using a wide spoon or ladle, make thin scoops of Taho and transfer to a glass. Add some arnibal and Tapioca pearls. Enjoy while warm.
Notes
Note 1. The amount of Epsom salt may vary depending on the soy milk you are using. Try it first using a lower amount from ¼ teaspoon for 1 cup of soy milk. Add more if it does not coagulate. But not too much as Epsom salt is also used as a laxative.
Nutrition
Calories:
316
kcal
Carbohydrates:
71
g
Protein:
3
g
Fat:
2
g
Saturated Fat:
0
g
Cholesterol:
0
mg
Sodium:
1274
mg
Potassium:
244
mg
Fiber:
0
g
Sugar:
56
g
Vitamin A:
480
IU
Vitamin C:
8.7
mg
Calcium:
216
mg
Iron:
1.1
mg