Try this Mango Cake recipe for a cool, not-too-sweet and with a touch of tanginess treat. A perfect balance of flavors that you will surely love.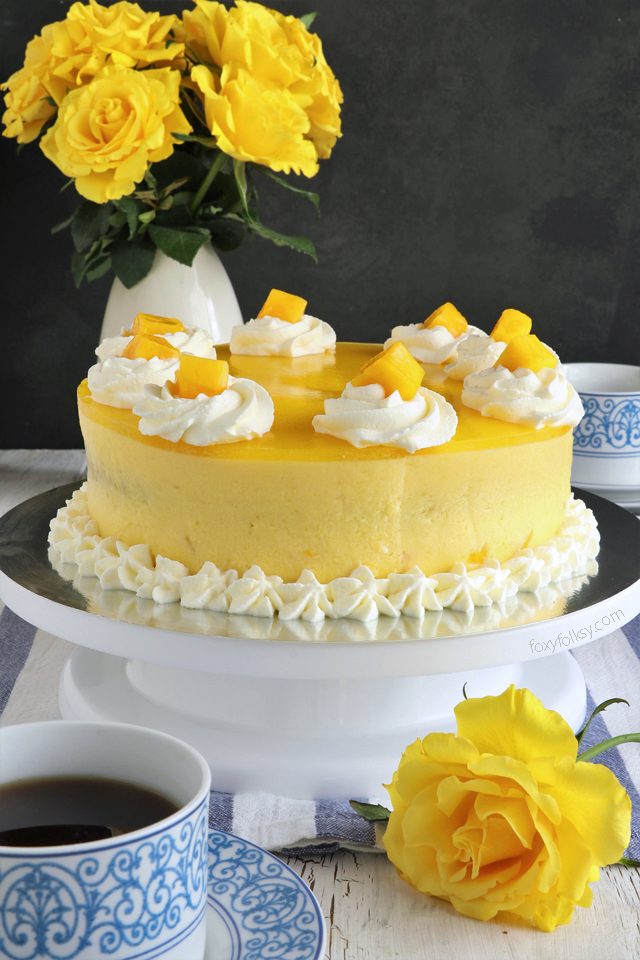 Mango Cake is one of my all-time favorite cakes. I made my very first mango cake for a friend's birthday two years ago. I used fresh mangoes, although here in Germany it is difficult to get hold of mangoes as they have to import them and they only have these really big ones that are always green so you are not sure if it is ripe enough.
I have to say they are not as sweet as the mangoes from the Philippines, but they did nicely for a cake. A friend then told me that she buys frozen mangoes and they are much better and almost like the ones back home, I will try those next time I make this again.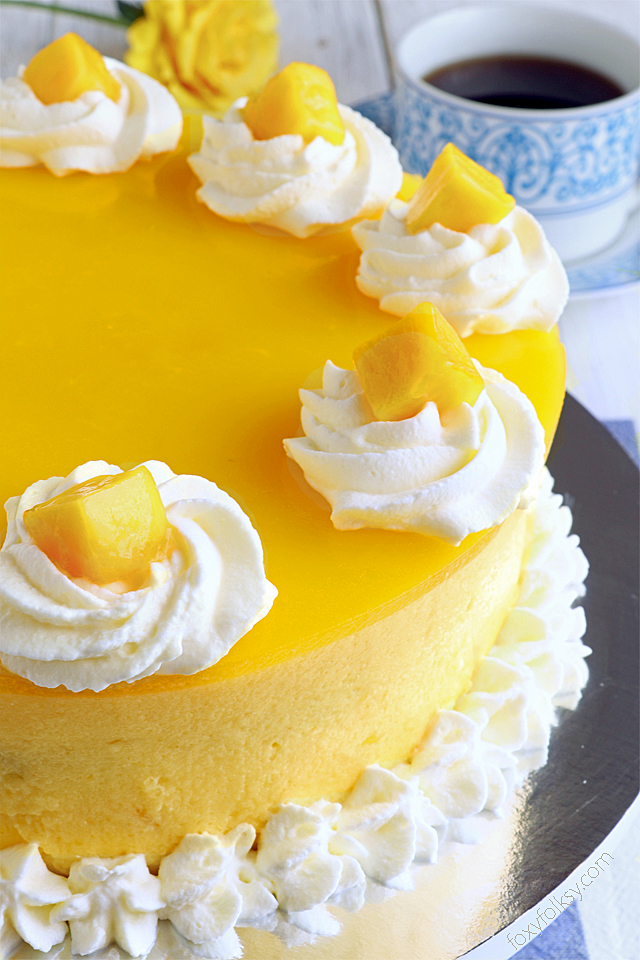 This Mango cake recipe has a cool, not-too-sweet and has a tiny bit tinge of a sour taste to it just the way I like it. I used mascarpone to make a thicker, richer and firmer mousse cake.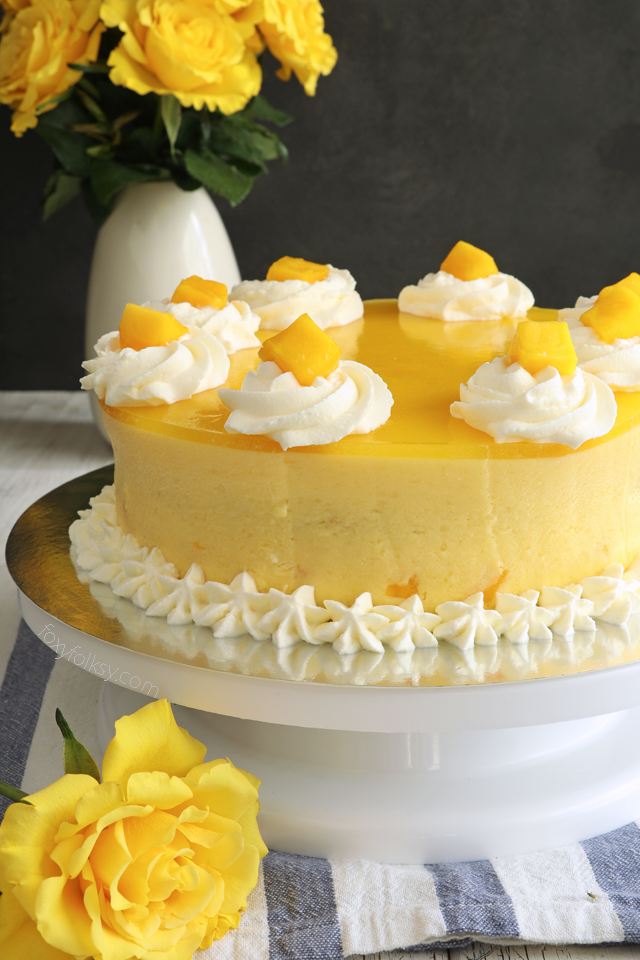 Update! (Feb. 19, 2014)
My friend, who just got back from visiting the Philippines, dropped by the other day and brought me some ripe mangoes! Yippeee!!!
So, I decided to make a mango cake (again)...I  was so excited about the mangoes so I peeled and cut them first then checked the contents of my fridge...oooppss...I forgot I used the last mascarpone we got when I did the Strawberries and Cream Cake!!
Then I saw the quark..think..think..think..this could work, no risk no fun, right!? So after thinking it over for about 10 seconds, I did it... and of course, it worked! (Whew!) Actually, I like the hint of tartness it added to the cream and the consistency is just the same.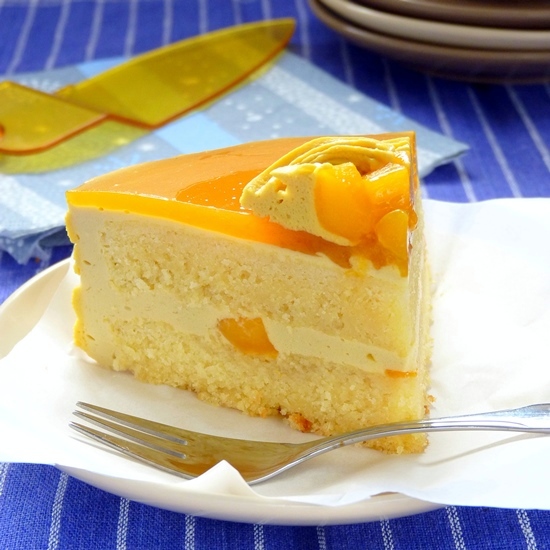 Printable Recipe
Mango Cake
Try this Mango Cake recipe with a perfect balance of flavors that you will surely love. Packed with fresh mango goodness from the filling all the way to the toppings. Yum!
Ingredients
3

cups

ripe mango

- cubed about 1cm in size

2

tablespoons

sugar

10

fluid ounces

all-purpose cream

- or heavy cream or whipping cream

7

ounces

mascarpone

(if not available, just use a total of 2 cups all-purpose cream)

½

cup

water

2

tablespoons

gelatin powder

- dissolved in ⅓ cup cold water

1

cup

powdered sugar
Instructions
First, make puree: Combine 2 cups of ripe mango, ½ cup water, and 2 Tbsp sugar. Put in a blender or use stab mixer and process for a minute or until a puree consistency is reached. Make sure all lumps are gone.

Warm dissolved gelatin in the microwave for 10 seconds or on the stove just until all particles have melted but do not let it boil. Add gelatin and powdered sugar to the puree and mix well.

In a big bowl, using a hand or stand mixer, whip mascarpone for a minute, while continuously whipping add the cream slowly until it becomes fluffy and stiff peak form. Using a spatula, slowly fold the puree mixture into the cream until well incorporated.

Assemble the cake: Divide the sponge cake into 2 layers. Using a springform or a cake ring that is wider than the cake, leaving 1-2 cm space between the edges of the cake to the ring, place the first layer in the middle. Scatter the remaining mango cubes on top of the cake. Pour the cream mixture until the mango cubes are covered. Place the next layer of cake on top. Pour the remaining cream covering the cake completely.

Chill the Mango cake in the fridge for at least an hour or until it has set completely. Run a warm knife at the sides to separate the cake from the ring easier. Design as desired and serve while cold.
Nutrition
Calories:
368
kcal
Carbohydrates:
41
g
Protein:
5
g
Fat:
20
g
Saturated Fat:
12
g
Cholesterol:
90
mg
Sodium:
187
mg
Potassium:
135
mg
Fiber:
0
g
Sugar:
31
g
Vitamin A:
1295
IU
Vitamin C:
18.2
mg
Calcium:
73
mg
Iron:
0.9
mg
How to make Mango Mirror Glaze
If you like to make Mango Mirror Top as design like I did in this picture, here are the additional ingredients and method:
Printable Recipe
Mango Mirror Glaze
Topping your mango cake with a Mango Mirror Glaze makes it prettier and yummier with another layer of sweet mango goodness. It is so easy to make and will save you time decorating your cake.
Ingredients
1

tablespoon

gelatin

- dissolved in 2 tablespoon cold water

2

tablespoon

sugar

150

ml

water

½

cup

mango puree
Instructions
Combine water and sugar in a saucepan and heat on medium-low stirring continuously until sugar has completely dissolved. Remove from heat when it starts to simmer then add the dissolved gelatin. Stir until the gelatin has completely melted and no longer visible. Add the mango puree and let cool at room temperature.

Once it has cooled down, pour the mixture slowly on top of the chilled mango cake that is still in the ring, completely covering the top. Allow to set for some minutes or put the cake back in the fridge so it can set faster.
Nutrition
Calories:
192
kcal
Carbohydrates:
43
g
Protein:
7
g
Fat:
0
g
Saturated Fat:
0
g
Cholesterol:
0
mg
Sodium:
22
mg
Potassium:
214
mg
Fiber:
2
g
Sugar:
41
g
Vitamin A:
1380
IU
Vitamin C:
46.4
mg
Calcium:
14
mg
Iron:
0.2
mg