This classic dark fruitcake is dense with glazed fruits and nuts with added dried fruits and dates. Enjoy it freshly baked or aged for some weeks or months.  
What is Fruitcake?
It is a cake made with candied and dried fruits and nuts with some spices added. It can be either alcohol-laden or alcohol-free.
In England, it is a tradition to have fruitcake as a wedding cake. The same is true in the US in earlier years. Normally covered in marzipan and then coated in white icing. Another tradition is for the couple to keep the top tier of their wedding fruitcake and save it for the christening of their first-born child. Later on, it also became popular to eat it for the celebration of the first wedding anniversary.
Not only for weddings, but fruitcake is also quite popular as Christmas cake in various countries. It is common to give it as a gift to friends or business associates.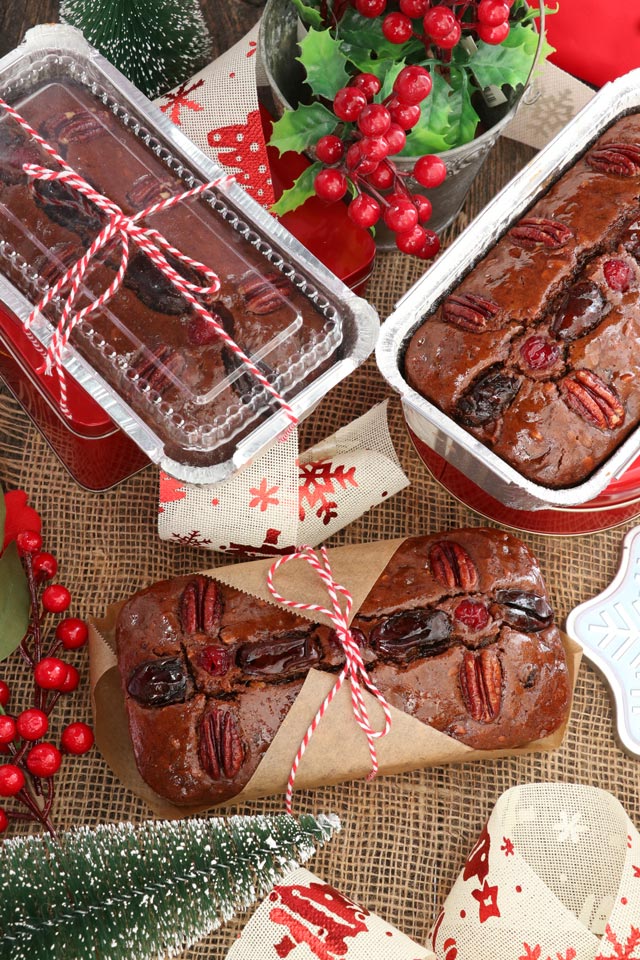 What liqueur to use?
Fruitcake may or may not be boozy.  The types of alcohol that are commonly used are rum, brandy, red wine, whiskey orange-flavored liqueur. However, if you have kids or simply prefer the alcohol-free version, you may use fruit juices like apple, orange or cranberry. This is used for soaking the dried fruits to hydrate them and make them plump, or else you will end up with dry fruitcake. The liqueur is also used for brushing or basting them after baking to preserve the cake for a long time.  It hinders the growth of molds or yeast.
How do you keep it moist?
Boozy fruitcakes are usually aged for at least a week to several months. They are traditionally wrapped in a cheesecloth soaked with liqueur and sealed in plastic bags or tin containers. You can also just brush the cake with booze and wrap tightly. The cheesecloth should be resoaked in alcohol at regular intervals (weekly or monthly) to keep them moist and, well, boozy. Simply brushed and wrapped ones should be re-brushed more often,  like every few days.
To prevent your fruitcake from drying out during the long baking, place a pan with water in the oven. Top it off once in a while. I do this all the time when baking cake and the result is very moist.
How long does it last?
Well, apparently, there are some fruitcakes that are more than a hundred years old. Whether they are still palatable or even edible, is the question.
Alcohol-laden fruitcakes can last for years. The ones without alcohol in it do not keep as well as that of the boozy ones. They should be consumed in a couple of days after baking or up to 6 months if packed tightly and refrigerated. The same is true if fresh fruits are used as they bring in a lot of moisture to the cake that can cause the cake to spoil or for the pathogens to thrive.
Printable Recipe
Simple Dark Moist Fruitcake
This classic dark fruitcake is dense with glazed fruits and nuts with added dried fruits and dates. Enjoy it freshly baked or aged for some weeks or months.


Ingredients
FRUITS
1.5

cups

glazed fruits

1

cup

dates

chopped

1.5

cups

raisins

1

cup

dried fruits (like apricots, figs, cranberries, apples, pineapple)

1

cup

brandy or rum

(SEE NOTE 1)
BATTER
1.5

cups

vegetable oil

2

cups

brown sugar

5

large

eggs

1

teaspoon

salt

2

teaspoons

cinnamon powder

½

teaspoon

all-spice

½

teaspoon

nutmeg

¼

cup

corn syrup

¼

cup

dutch process or dark cocoa powder

4

cups

all-purpose flour

1.5

teaspoons

baking powder

1

cup

nuts (like cashew, walnuts, pecan or almonds)

chopped

1

cup

water
TOPPINGS (optional)
maraschino cherries

whole dates

whole pecan or walnut
Instructions
Combine all the ingredients for fruits in a non-reactive bowl. Cover and let soak overnight. If you do not have the time to wait, place uncovered in microwave and heat until very hot. Cover and let it cool down and rest for about an hour.

Grease and flour pans and set aside (SEE NOTE 2). Preheat oven to 150°C/300°F.

In a large mixing bowl, beat brown sugar and oil with an electric mixer until well combined. Add the eggs, one at a time while beating for 20-30 seconds after every addition.

Add the salt, cinnamon, all-spice, nutmeg and corn syrup and mix. Add the cocoa powder and mix well. Gradually add the flour, a cup at a time, combining each addition to the mixture well. Add the baking powder and mix again.

Slowly pour in water while mixing the batter. Then add the fruits including the liquids, if any, and the nuts. Mix well.

Spoon the batter into the prepared pans, filling each up to ¾ full. Decorate the top with maraschino cherries, dates and nuts as desired.

Arrange the pans on a baking tray and place it on the middle shelf of the oven bake for 80 minutes to 2 hours depending on the size of the pan. (SEE NOTE 3) Or until an inserted toothpick to the center of the cake come out clean.

Remove fruitcake from the oven. While still hot, poke cake with a skewer in several places. Brush or drizzle with rum or brandy.

To age or ripen, wrap them in cheesecloths soaked in rum or brandy (mostly damp but not dripping) and place them in a plastic bag or tin box. Let it sit for up at least a month re-brushing with the same liqueur at least once a week to keep them mist. If time is too short then age it for at least a week.
Notes
NOTE 1 - Use apple, orange or cranberry juice for non-alcohol version
NOTE 2 - This recipe makes 3 loaves of 8x4-inch pan OR 2 loaves of 9x5-inch pan.
NOTE 3 - 8x4-inch loaves will take about 75-90 minutes to bake while 9x5-inch about 2 hours.
Nutrition
Calories:
332
kcal
Carbohydrates:
62
g
Protein:
5
g
Fat:
6
g
Saturated Fat:
2
g
Cholesterol:
44
mg
Sodium:
134
mg
Potassium:
245
mg
Fiber:
3
g
Sugar:
33
g
Vitamin A:
75
IU
Vitamin C:
0.9
mg
Calcium:
70
mg
Iron:
2.2
mg