Dinengdeng is a nutritious and hearty dish from the Ilocos region. It is a medley of fresh vegetables with fried fish cooked in a fish paste-flavored broth. Serve it with rice for a simple yet flavorful everyday meal.
The Ilocos region is not only home to several national historical landmarks but also to many delicious, somewhat exotic, and edgy food using homegrown vegetables and ingredients. To name a few of these dishes are Dinakdakan, Bagnet, Pinakbet, Igado and of course, Dinengdeng.
What is Dinengdeng?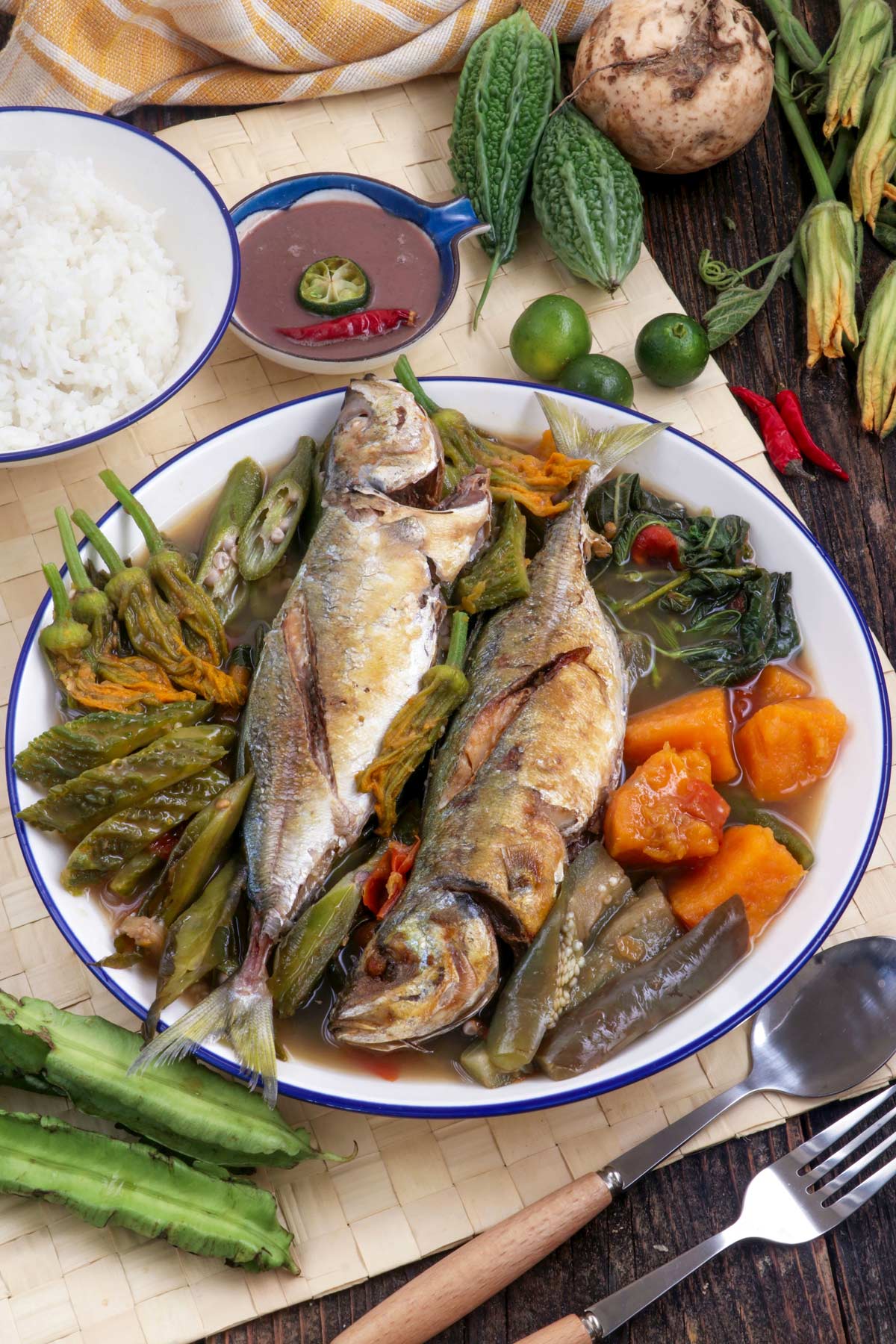 Dinengdeng, also known as Inabraw, is a popular Filipino dish from the region of Ilocos. It is basically a vegetable-based soup using "bagoong isda" or fermented fish paste to make it savory. To make the dish more substantial, the Ilocanos usually pair it with fried or grilled fish.
The name of the dish is from the term "idengdeng", an Ilocano word that means "to strain". Straining the "bagoong isda" is part of the cooking process that separates the fish bits from the liquid.
Dinengdeng vs Pinakbet
Dinengdeng is often confused with Pinakbet, also another popular vegetable dish from the north. This is because both dishes use almost the same set of nutritious vegetables and also the use of bagoong paste(either fish or shrimp). However, while pinakbet is cooked with pork, they cook Dinengdeng with fish making it a whole lot healthier with fewer fats.
Another difference is that Dinengdeng's vegetables are boiled in a pot with more water which can be eaten as a hearty soup. While Pinakbet's vegetables are sautéed with little water added just to moisten and prevent it from drying out until cooked.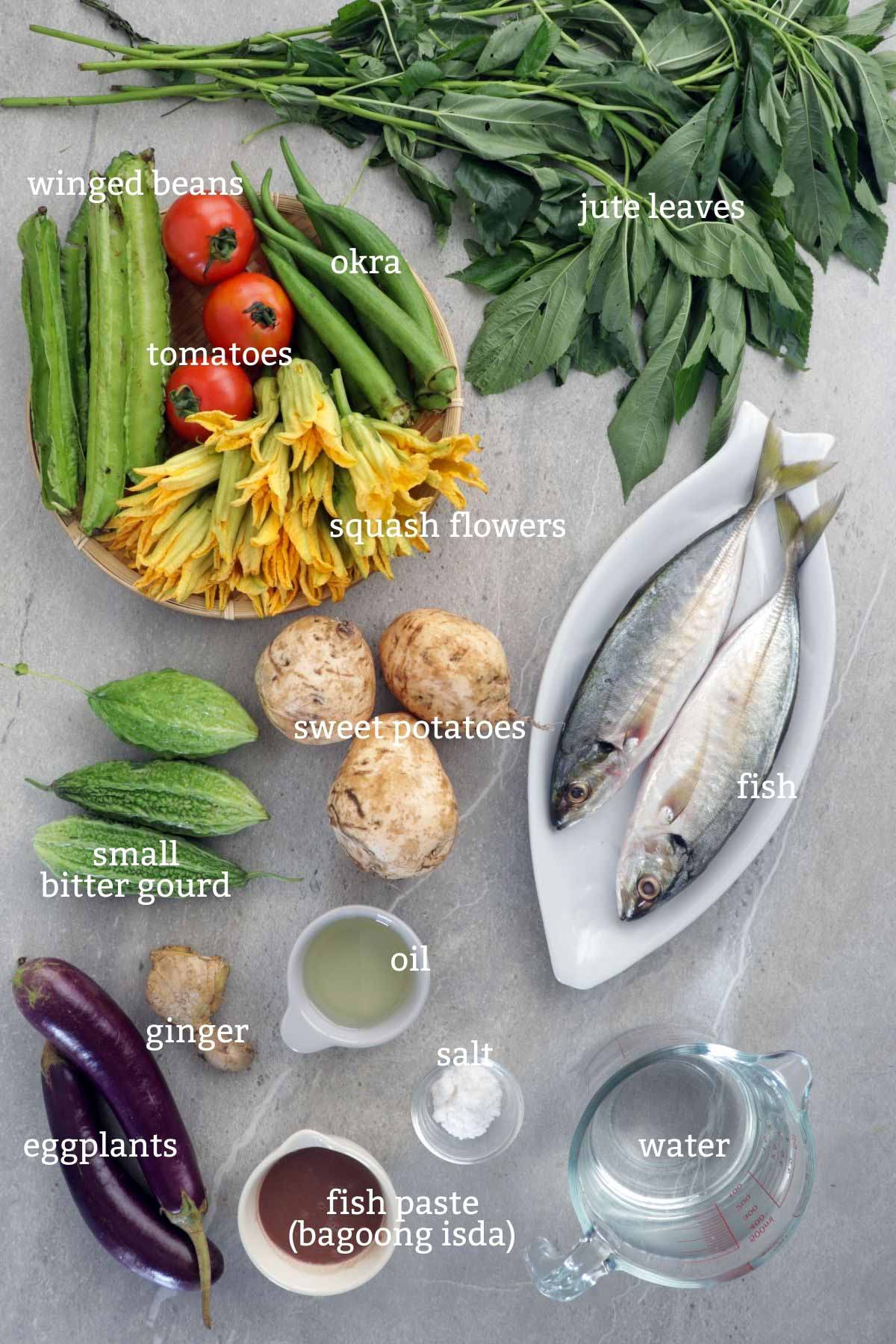 Ingredients
Fish - You can use any type of fish you prefer, but the most commonly used fish for this recipe are tilapia and milkfish (bangus). You can either fry them like I did, or grill them to add a smoky flavor to the dish.
Vegetables that re commonly used for Dinengdeng are sweet potato, bitter gourd, winged beans, eggplant, okra(lady fingers), squash flowers and jute (saluyot) leaves. Other vegetables can also be used depending on the seasonal availability.
Fermented Fish paste - or "bagoong isda", also called as "bagoong monamon" by the Ilocanos. As an alternative, you can also use shrimp paste.
Oil- for frying
Water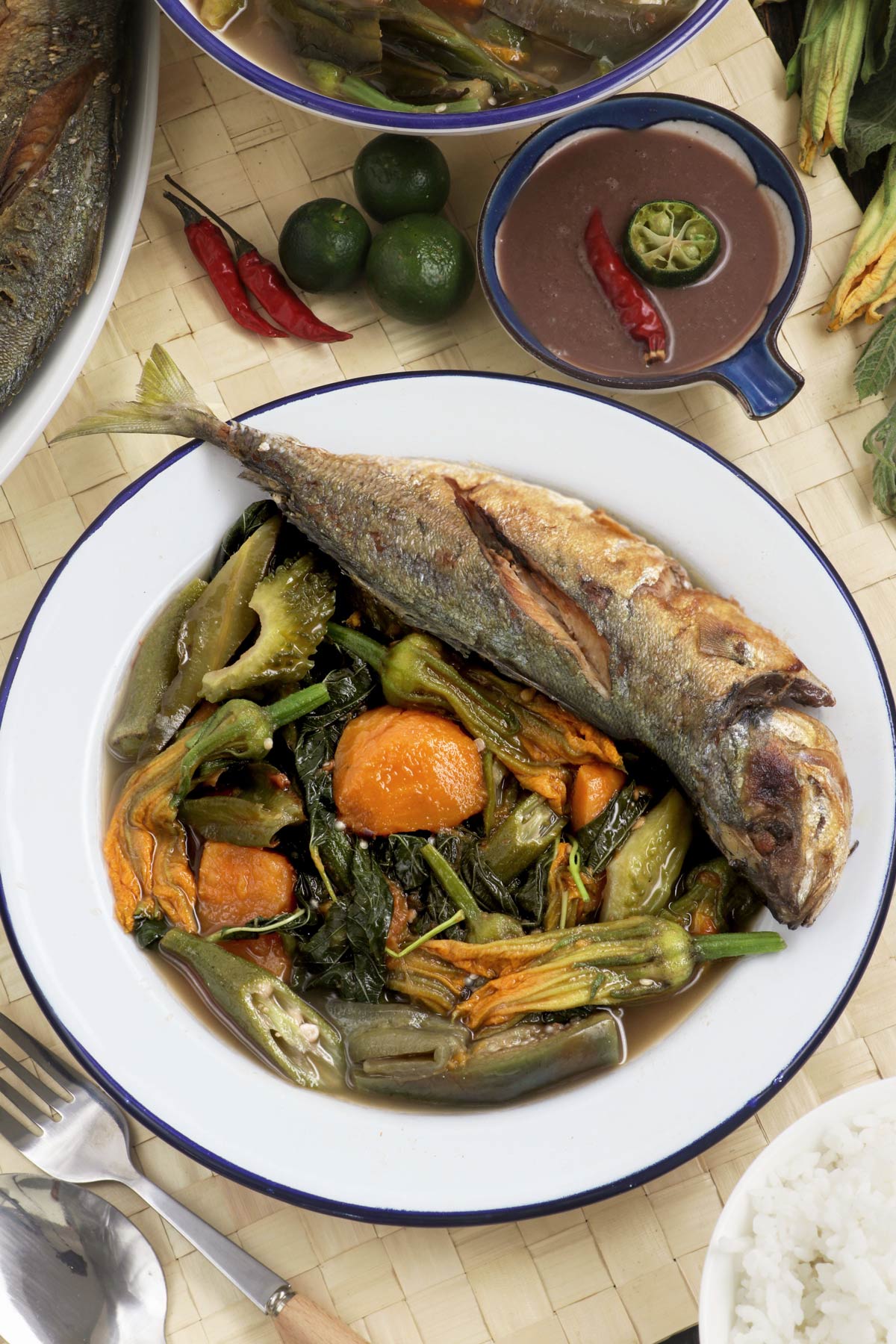 Tips in cooking Dinengdeng
Cut the vegetables in uniform sizes as much as possible for even cooking.
Add vegetables depending on how long they cook. Those that take longer should go in first. Add the leafy vegetables last as they cook the fastest.
If you want to reduce the bitterness of the ampalaya, cut them into thin slices and soak them in water with a little salt. Let it sit for at least 20 to 30 minutes before cooking.
How to Serve and Store
Serve Dinengdeng by transferring the vegetables and broth in a serving bowl and topping it with grilled or fried fish. Enjoy it while still hot with steamed rice.
Store leftovers in an airtight container and place it in the fridge for up to 3 days. Make sure that the leftovers are at room temperature before storing them.
To reheat, place Dinengdeng in a saucepot on a stovetop over medium heat. Bring to a simmer until heated through. You may also heat leftovers in a microwave, just place them on a microwave-safe bowl or container.
Printable Recipe
Dinengdeng Recipe
Dinengdeng is a nutritious and hearty Ilocano dish made from fresh home-grown vegetables in a fish paste-flavored broth paired with fish.
Ingredients
2-4

pieces

Fish for frying or grilling

gutted, gills and scales removed

Oil

for frying

2-3

cups

water

¼

cup

fish paste

bagoong isda

1

thumb

ginger

julienned (optional)

2

medium

ripe tomatoes

cut into quarters

1

cup

sweet potato or squash

cut into 1-inch cubes

3

small

bitter gourd or ampalaya

cut into ½ inch slices

1

cup

winged beans

sigarilyas or string beans (sitaw)

1

big

eggplant

cut into batons

5-6

pcs

okra

medium-sized

2

cups

squash flowers

2

cups

jute leaves or saluyot

or 1 cup malunggay
Instructions
2-4 pieces Fish for frying or grilling,

Oil

Season fish with salt and fry in hot oil until both sides are golden brown and cooked through. Remove from pan and set aside.

2-3 cups water,

1 thumb ginger,

2 medium ripe tomatoes,

¼ cup fish paste

Put water in a pot, add the ginger and tomatoes and bring to a simmer over medium heat. Add the bagoong isda, running it through a sieve to separate lumps and pieces.

1 cup sweet potato or squash,

3 small bitter gourd or ampalaya,

1 cup winged beans,

1 big eggplant,

5-6 pcs okra,

2 cups squash flowers,

2 cups jute leaves or saluyot

Add the sweet potatoes and simmer, covered, until just half-cooked. Then add the ampalaya, winged beans, okra, and eggplant and cook, covered, until almost tender.

Add the bulaklak ng kalabasa and saluyot. Lastly, arrange the fried fish on top and cover. Cook for several minutes until all vegetables are cooked.

Take the fish and place it on the side of a soup bowl then fill the bowl with vegetables. Serve hot and enjoy!
Nutrition
Calories:
258
kcal
Carbohydrates:
44
g
Protein:
18
g
Fat:
3
g
Saturated Fat:
1
g
Polyunsaturated Fat:
1
g
Monounsaturated Fat:
1
g
Cholesterol:
1
mg
Sodium:
1255
mg
Potassium:
1036
mg
Fiber:
2
g
Sugar:
4
g
Vitamin A:
5849
IU
Vitamin C:
290
mg
Calcium:
604
mg
Iron:
3
mg
More Budget-friendly Vegetable Recipes: