This super healthy Ginisang Ampalaya (Sautéed Bitter Gourd) recipe is made flavorful by adding tomatoes, hibe (dried shrimps), and eggs!
Jump to:
Most of us went through a childhood stage where veggies are not on the list of our favorite food. Ampalaya (bitter gourd) being the number one enemy! I remember our parents serving this to my siblings and I. We would all collectively groan once we see it at the dinner table. But, alas, we had to eat our portions or face my mama's wrath. All this changed when mama took pity on us and started cooking Ginisang Ampalaya instead! It made a world of difference to us and up until now, we all love it! And I'm sure you will too!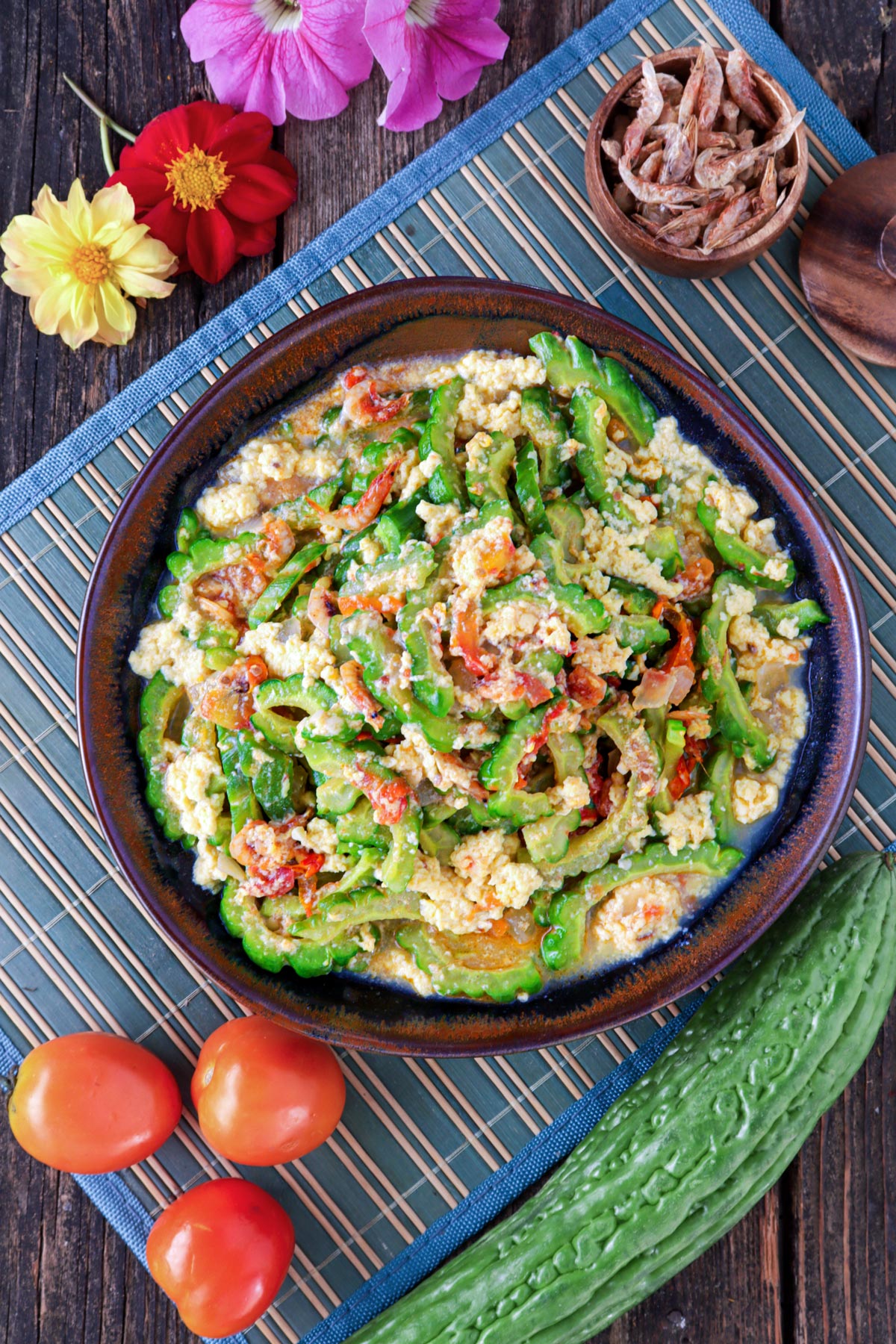 Why make it?
Here are the reasons why Ginisang Ampalaya should be part of your regular menu at home:
Top on the list would be the nutritional benefits of this dish. Bitter gourd or bitter melon is known to be a nutrient-packed superfood that helps control our blood sugar and cholesterol levels. This dish is also rich in protein and vitamins because of the eggs, shrimps, and tomatoes added.
It is also a budget-friendly dish. You only need 7 simple ingredients, most of which are kitchen staples.
It is so quick and easy to make using only one pan! It's a straightforward recipe that doesn't require much effort to make. You will be done cooking in less than 20 minutes.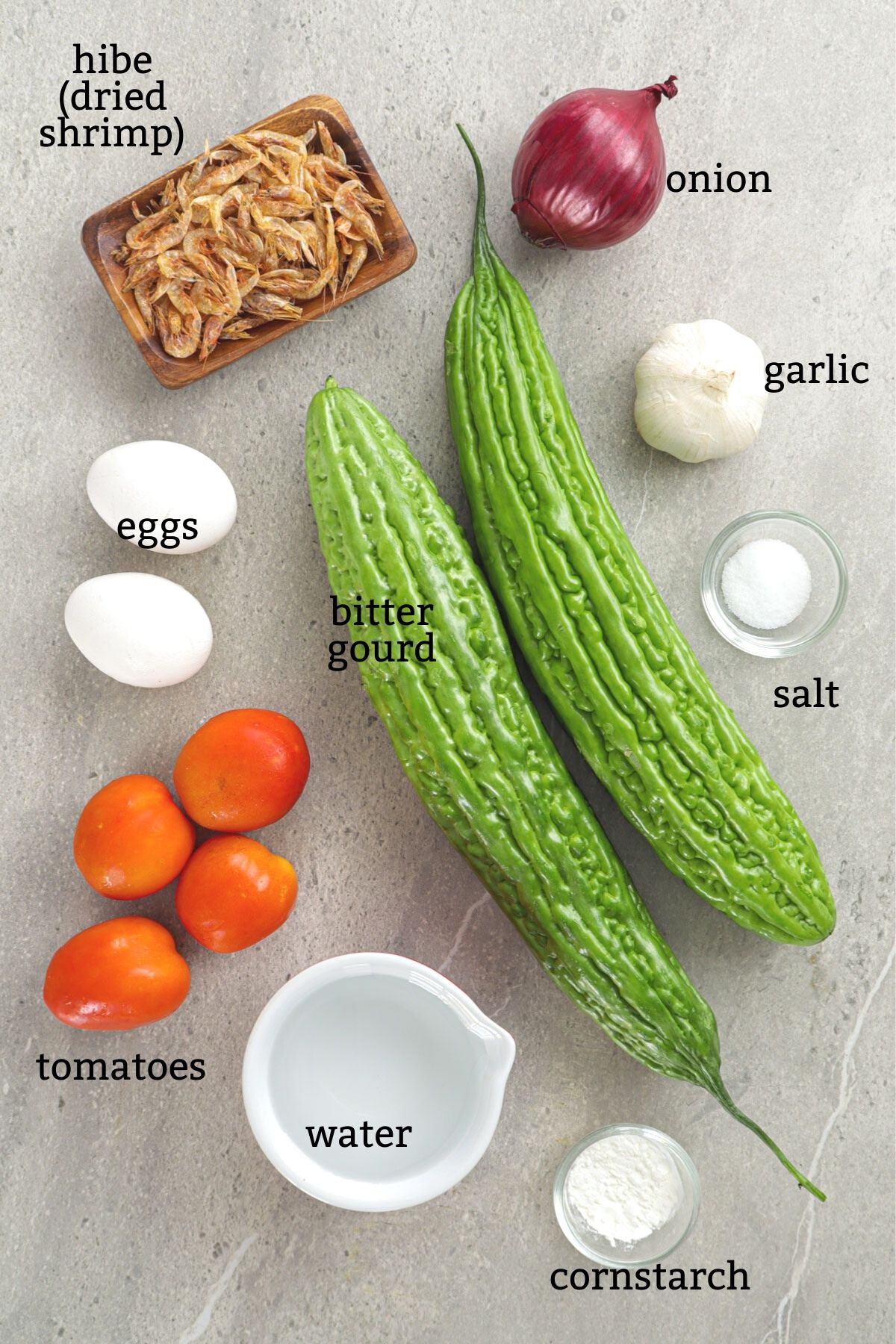 Tips when making Ginisang Ampalaya
Soaking the ampalaya cuts in salted water reduces the level of bitterness. This is a great trick to make your dish more kid-friendly. You can also rub the salt instead.
If you are breaking your kid's tastebuds in, scraping or peeling the ampalaya's rough skin significantly reduces the bitter taste too.
Aside from dried shrimps, you can also cook it with some pork, chicken, or beef. Others also add canned sardines, fresh shrimp, squid rings, and fish meat.
This tip is from my mama. Do not stir the ampalaya too much once it's added to the pan. Moving it too much will make it bitter too.
What to serve with it
We grew up having it served normally with fried fish, like tilapia or bangus (milk fish). But it would also be great with other dry dish like fried chicken, breaded porkchops, lechon kawali, and camaron rebosado.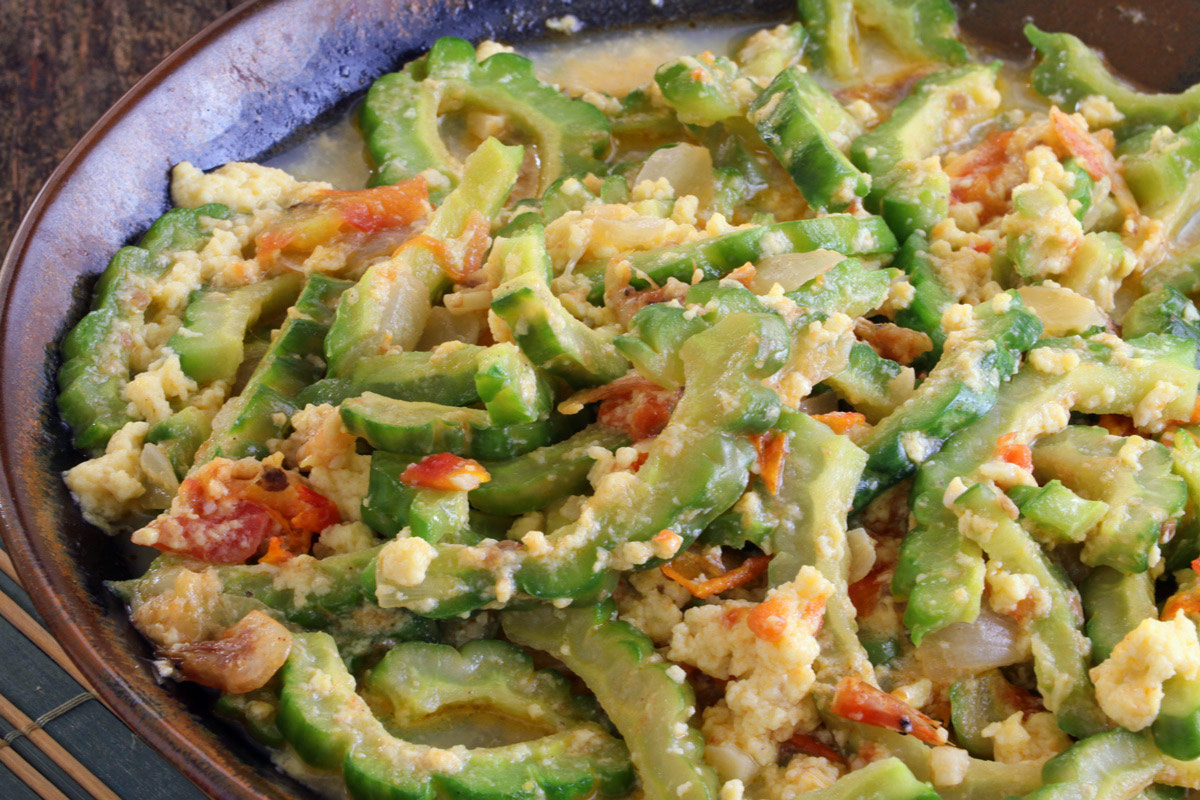 Printable Recipe
Ginisang Ampalaya (Sautéed Bitter Gourd)
This super healthy Ginisang Ampalaya (Sautéed Bitter Gourd) recipe is made flavorful by adding tomatoes, hibe (dried shrimps), and eggs!
Ingredients
2

tablespoon

oil

3

cloves

garlic

minced

1

medium

onion

chopped

4

medium

ripe tomatoes

sliced

¾

cup

water

1

tablespoon

cornstarch

salt

to soak and taste

2

medium

bitter gourd (ampalaya)

2

pieces

eggs

beaten
Instructions
Cut the bitter gourd into half lengthwise. Scrape the seeds and white pith with a spoon. Cut into thin diagonal slices.

Place ampalaya slices on a collander over a large bowl. Sprinkle with 2-3 tablespoon of salt then fill with water and let them soak for 20 minutes. Drain and rinse.

In a pan over medium heat, saute the garlic and onion until limp and aromatic. Add the tomatoes and cook until they are tender and can be easily mashed.

Add the dried shrimp (hibe) and cook for 2 minutes. Pour in water and esason salt. Bring to a simmer.

Make a cornstarch slurry by dissolving cornstarch in water. Pour it slowly into the pan while stirring continuously.

Add the bitter gourd slices. Cook until tender, but do not stir too much or the dish will become very bitter.

Gradually pour the beaten eggs over the bitter melon slices and continue cooking for a minute or two. Remove from heat and serve.
Nutrition
Calories:
108
kcal
Carbohydrates:
10
g
Protein:
2
g
Fat:
7
g
Saturated Fat:
1
g
Trans Fat:
1
g
Cholesterol:
2
mg
Sodium:
11
mg
Potassium:
341
mg
Fiber:
2
g
Sugar:
4
g
Vitamin A:
1028
IU
Vitamin C:
20
mg
Calcium:
24
mg
Iron:
1
mg
More Filipino vegetable dishes