Tortang Talong is an iconic Filipino dish that is healthy and easy to make, even a novice cook can whip it up in no time! This is a great go-to dish for those who are on a budget but are looking for something substantial and satisfying.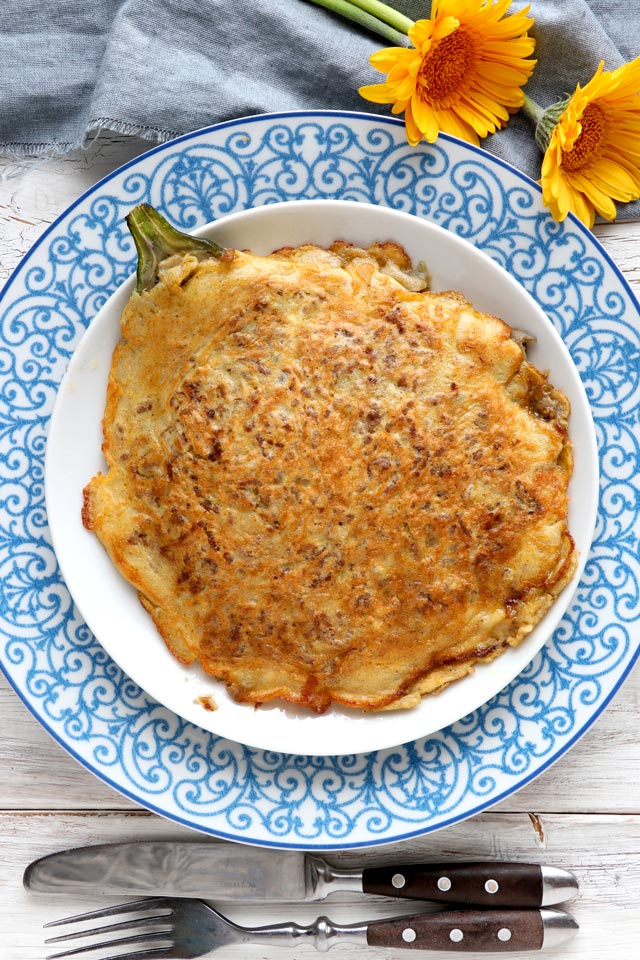 What is it?
The Spanish term "torta" means flat cake, and "talong" is eggplant in Filipino. Also sometimes called as Tortang Tagalog. This eggplant omelet is just one of my favorite way of cooking aubergine.
This dish, with all its simplicity, is quite delicious! With a savory and crunchy outside layer enclosing the sweetness and creaminess of the eggplant inside. And when you dip it in a copious amount of ketchup, each bite is certifiably a winner!
It is commonly served as the main viand for heavy breakfast but can also be enjoyed for lunch or dinner, served with rice, of course. It is your simple regular Filipino everyday dish and considered as comfort food by many locals.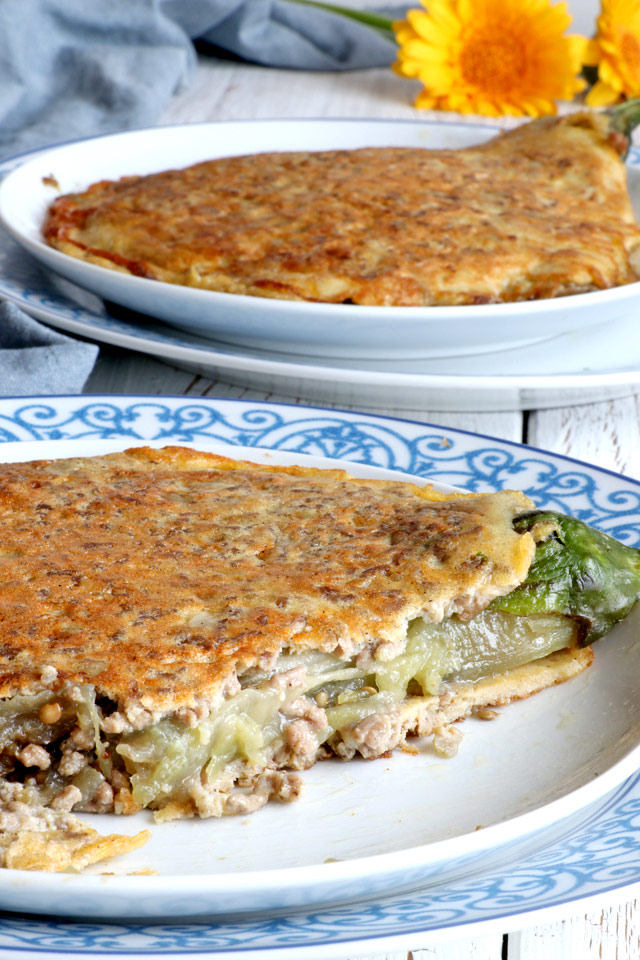 How is Tortang Talong made?
Traditionally, the eggplants are grilled until the skin is charred and the flesh inside is tender. However, if pressed for time, you can forgo the grilling and just boil the eggplant. But by doing so, you will no longer have that added smoky flavor, but it should still come out great.
You then is then peel the skin off the grilled eggplants and mash the flesh. Next, dip it in a mixture of egg, sautéed ground pork, and seasoning. Lastly, it will be fried until golden brown and slightly crispy.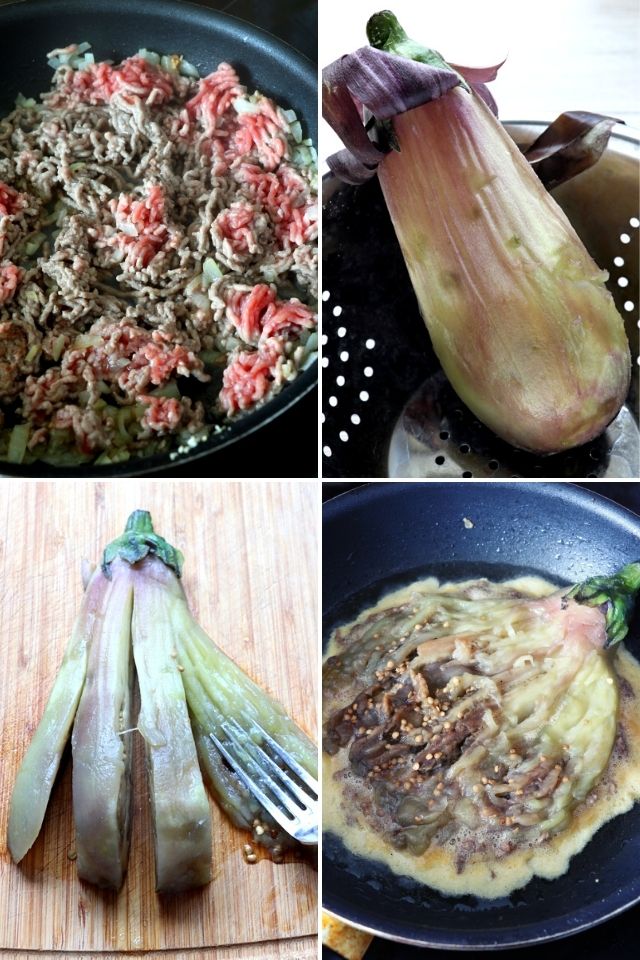 Variations of Eggplant Omelette
Tortang Talong is open to so many variations from the filling to the dips. You can pretty much put anything savory in it. The most common variant of Tortang Talong is Tortang Tagalog. This eggplant and egg combination is simple yet tasty.
Another variant is the rellenong/ relyenong talong. It is derived from a Spanish word meaning stuffed. The method of cooking is the same except it is enhanced with pre-cooked meat like ground meat or spiced meat like longganisa. You can also use seafood or vegetables. Filipinos on a budget would sometimes add canned tuna or sardines on it so I'd say anything goes and just follow your cravings.
If you want to make this into a vegetarian dish, just omit the meat.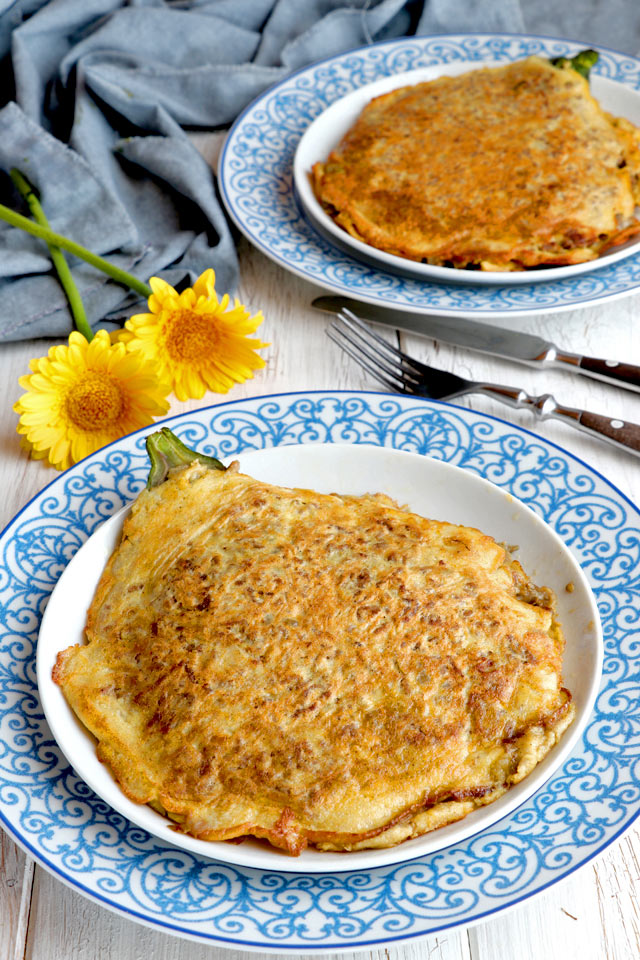 Foxy Tips when making Tortang Talong
This dish was made with the common eggplant variety in the Philippines in mind – the long and slender type. Other types of eggplants can also be used but may need to be halved or quartered for even cooking. Keep in mind that the stalk should always be intact.
Eggplant omelette can also be oven-baked instead of fried in a skillet. This is perfect for cooking big batches.
If you cannot perfectly peel or remove all the eggplant skin after roasting, don't sweat it! it's fine to leave a bit of skin.
If you are planning on grilling your eggplant, there are different options for you. You can use an outdoor coal grill but make sure you coat it with oil so the eggplant won't stick on the grill. More often than not, Filipinos roast eggplants directly over their gas stove's open flame, but you can also oven-roast at 350°F for 15 minutes or until soft. You will know that it is cooked when it becomes soft, wrinkly, or when it has slightly shrunk.
Looking for more recipes with eggplant? Here are some for you:
Printable Recipe
Tortang Talong (Eggplant Omelette)
Tortang Talong is an iconic Filipino dish that is healthy and easy to make, even a novice cook can whip it up in no time! This is a great go-to dish for those who are on a budget but are looking for something substantial and satisfying.
Ingredients
4

pieces

eggplant

- long variety

3-5

tablespoons

oil

1

medium

onion

- chopped

1

clove

garlic

- minced

½

pound

ground pork

4

eggs

1

teaspoon

flour

salt and pepper
Instructions
Bring a pot of water to boil. Poke small holes in the eggplant and boil for 5 minutes or until cooked. Remove from water and let it cool down a bit before peeling the skins.

Cut it into two, lengthwise (stem included). (No need to cut if using small eggplants).Flatten the eggplants using a fork making sure that it is still intact and attached to the stem.

Saute garlic and onion in a tablespoon of oil until limp. Add the ground pork and season with salt and pepper. Let it cook, stirring constantly, for 5 minutes or until all pieces are cooked. Remove from heat and set aside.

Beat the eggs in a bowl then add the ground pork and flour to the beaten eggs.

On a skillet or pan preferably non-stick), heat a tablespoon of oil over medium-low heat. Scoop 2-3 tablespoon of the mixture into the pan, spreading it into a circle enough to cover a piece of the eggplant. Lay the eggplant on top and arrange it that it spreads flat over the egg mixture. Let it cook for 2-3 minutes or until the bottom side is lightly browned. Carefully transfer it to a plate.

Add some more oil to the pan if needed, then scoop another 2-3 tablespoon of the mixture and spread like before. Now lay the same eggplant on top of the mixture with the top-side facing down to sandwich the eggplant with the egg mixture. Cook until lightly browned.

Repeat this with the rest of the eggplants.

Serve while still warm with rice and ketchup as dip.
Notes
Make it vegetarian by just simply omitting the ground pork!
Nutrition
Calories:
319
kcal
Carbohydrates:
4
g
Protein:
16
g
Fat:
27
g
Saturated Fat:
7
g
Cholesterol:
205
mg
Sodium:
95
mg
Potassium:
264
mg
Fiber:
1
g
Sugar:
1
g
Vitamin A:
238
IU
Vitamin C:
3
mg
Calcium:
39
mg
Iron:
1
mg
This recipe was originally published in May 2017. Updated in September 2020 to include new photos, more tips, and a recipe video. The recipe remains the same.