This classic Leche Flan is creamy and rich made from egg yolks and milk. Learn the secret to making a very smooth and silky leche flan you could ever make.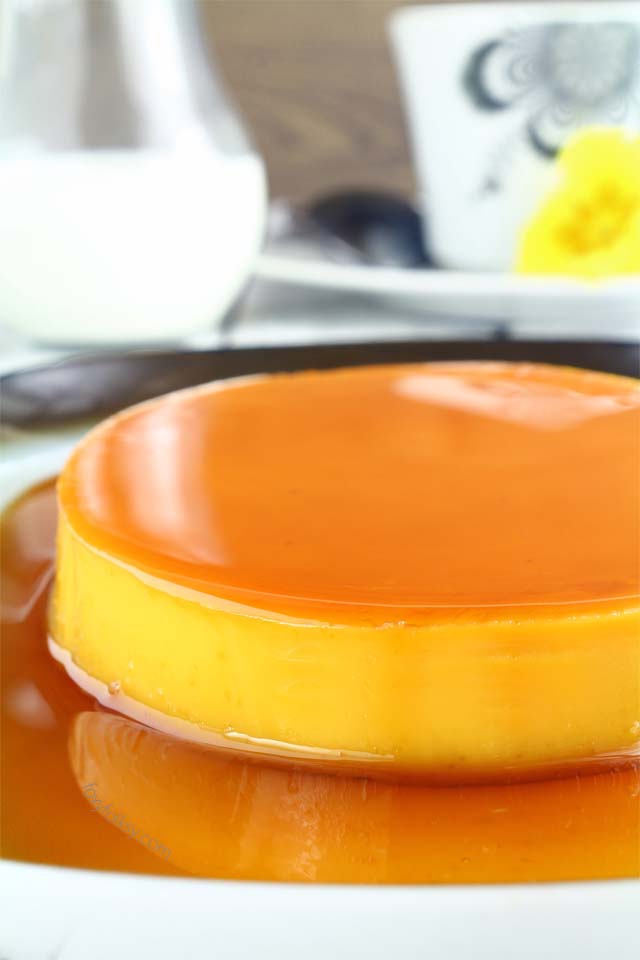 What is Leche Flan?
Leche Flan or what is known as Spanish Flan outside the Philippines is a traditional Filipino dessert made of evaporated milk, condensed milk, and egg yolks. It also has a layer of caramelized sugar that turns into syrup after cooking them together.
It is commonly served as dessert at Fiestas, holidays and other special occasions. Aside from the basic ingredients, it is also normally flavored with vanilla and key lime zest.
Is it the same as crème caramel? The short answer is yes. They are very similar and look exactly the same. However, most crème caramel recipes call for the addition of cream, Filipino Leche Flan does not. The latter also uses condensed milk instead of just sugar. The Leche flan is richer while crème caramel has a lighter texture.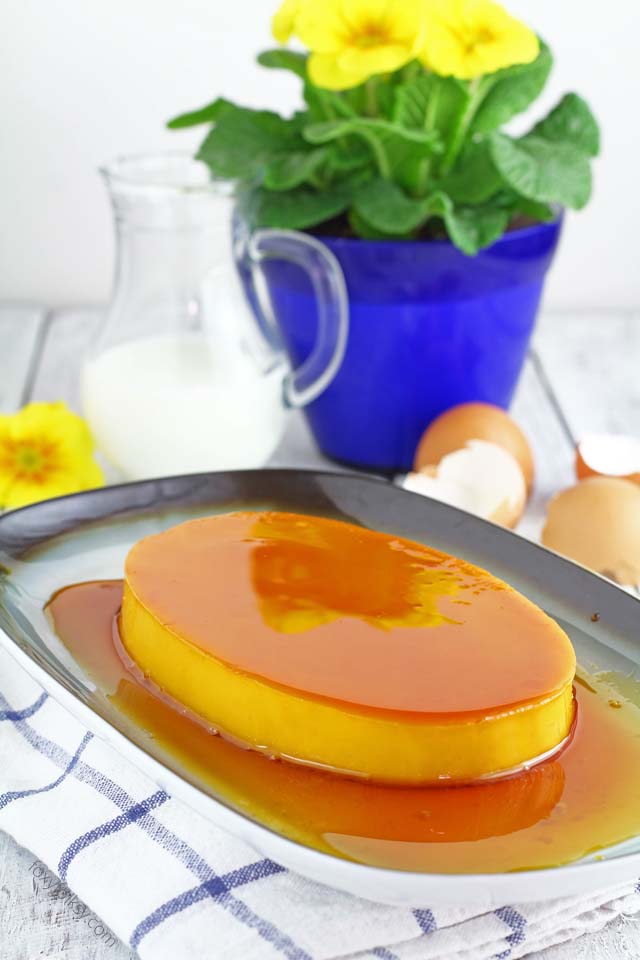 Being the eldest daughter, I was taught early to help in the kitchen. This recipe of Leche Flan was the very first dessert I learned and was taught to me by my Lola (grandma) when I was only ten or so.
The most important thing I remembered because she was very specific about it, is that I am not to make any bubbles while stirring the mixture to get that flawless texture. I also remembered how much my arms—yes both of them, and shoulders hurt from all that slow stirring until all the sugar has completely dissolved. We do big batches at this time.
Good thing I do not have to do this manually these days. I let my stand mixer do all the work and I also have a neat trick up my sleeves.
Well, it is not really so much of a trick, I only use a sieve or strainer to remove the stubborn pieces that take ages to melt.
I hope my Lola, bless her soul, is not frowning at me when she sees me doing this. (Yikes!) But I am sure she would understand.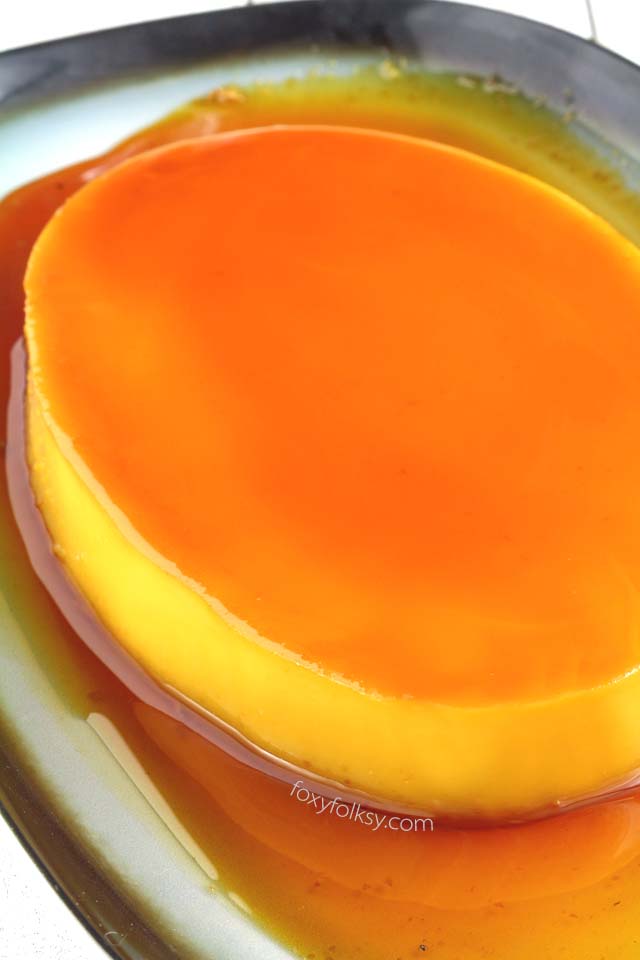 How to cook Leche Flan?
The traditional way to cook leche flan is to steam it using a steamer. But nowadays, it is also common to bake it in the oven using bain-marie or a water bath. Rice cooker can also be used as a steamer.
First, you have to make the caramelized sugar. Simply add sugar to the llaneras and cook it over medium heat until it melts into a texture similar to molten-lava. Let it cool down and set.
Next is to make the custard by combining the egg yolks, condensed milk and evaporated milk.
Pour this mixture to the now hardened caramelized sugar.
Place the llaneras in a steamer or in a bain-marie and steam until an inserted toothpick comes out clean.
Let it cooled down (in the fridge) to set. To serve, turn it over on a plate with the caramel layer on top.

The secret to a creamy and smooth Leche Flan
I will let you in a secret I learned to have a perfectly smooth and bubble-free Leche Flan like this one.
This Leche Flan was baked in the oven in a water bath instead of steamed. I got this neat trick from Lalaine's Leche flan recipe of Kawaling Pinoy. I tried it on a batch I did for New Year's Eve and it worked nicely!
Try not to beat too fast to avoid adding air to the egg-milk mixture. This will become bubbles that will form holes in the custard once cooked. Tap the llanera on the counter several times before cooking to release trapped bubbles.
When making the caramel, make sure that all the sugar has completely melted and not gritty. It should look like dark honey without any granules left.  If not, this will leave marks on the sides of the flan as the caramel starts to melt when steamed.
Additional Tips
Try not to burn the sugar when doing the caramel. Burnt sugar will give the Leche Flan a bitter taste.
You can add a bit of water to the sugar to melt it faster.
Do not separate the egg whites and yolks too early. Exposing the egg yolks to the air will allow it to create a skin. This will become lumps that are difficult to melt.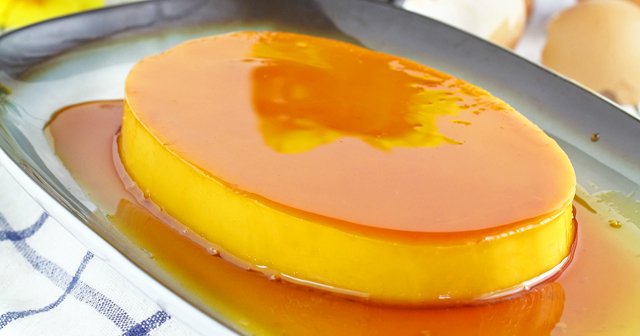 You may also be interested in trying my Puto Flan recipe. Combining two well-loved Filipino desserts in one, the Puto and Leche Flan.
Printable Recipe
Smooth and Creamy Leche Flan
Learn the secret to a perfectly smooth and creamy Leche Flan! Get the recipe now for the ultimate dessert for any special events and occasions.
Ingredients
10

egg yolks

1

can (12 oz)

evaporated or fresh milk

- or fresh milk

1

can (10 oz)

sweetened condensed milk

1

teaspoon

vanilla extract

1

teaspoon

key lime or lemon zest

(optional)

8-9

tablespoons

granulated sugar
Instructions
Prepare the caramel. Scoop 3 tablespoons of sugar in each (3 small) llanera or flan molds or 4 tablespoons for big llanera. Place the llanera on top of the stove over low heat. When the sugar starts to liquefy, using tongs, turn the llanera in a circular motion to prevent the sugar from burning and let them caramelize evenly. Remove from heat once all granules have turned liquid and are light brown. Set aside.

Place the egg yolks in a bowl, and slowly beat them with a fork or whisk. Try not to beat too fast and create a lot of bubbles. Gradually add the milk and condensed milk while continuously stirring. Lastly, add the vanilla extract and zest of key lime or lemon and stir a couple of times more until all is well blended. Sieve the mixture with a strainer to remove undissolved bits.

Pour the mixture into each mold. Tap the mold several times on a flat surface to get rid of trapped bubbles. Place the filled llanera or mold in a water bath and bake in the oven at 160°C/320°F for about 30 minutes or until an inserted toothpick comes out clean. Do not overcook or the will start to create tiny holes.

Let them cool down and then chill in the fridge for at least an hour. When ready to serve, run a knife around the inner edges to separate the flan from the mold. Place a serving plate top-side down over the llanera and flip them over to transfer.
Notes
They may also be steamed like the traditional way but it might not be as smooth.
This recipe make 3 medium-size llanera or 2 large ones.
To make just 1 llanera use the following ingredients:
4 egg yolks
⅓ cup evaporated milk
⅓ cup condensed milk
¼ tsp vanilla extract
¼ tsp lime zest (optional)
If you do not have a llanera, you can also use a round aluminum mold.
Nutrition
Calories:
81
kcal
Carbohydrates:
9
g
Protein:
2
g
Fat:
4
g
Saturated Fat:
1
g
Cholesterol:
163
mg
Sodium:
7
mg
Potassium:
16
mg
Sugar:
8
g
Vitamin A:
216
IU
Vitamin C:
1
mg
Calcium:
19
mg
Iron:
1
mg