This simple recipe of buffalo wings will surely blow your minds. Super crispy fried buffalo wings with spicy buttery sauce and a tangy blue cheese to dip it with. Definitely delicious!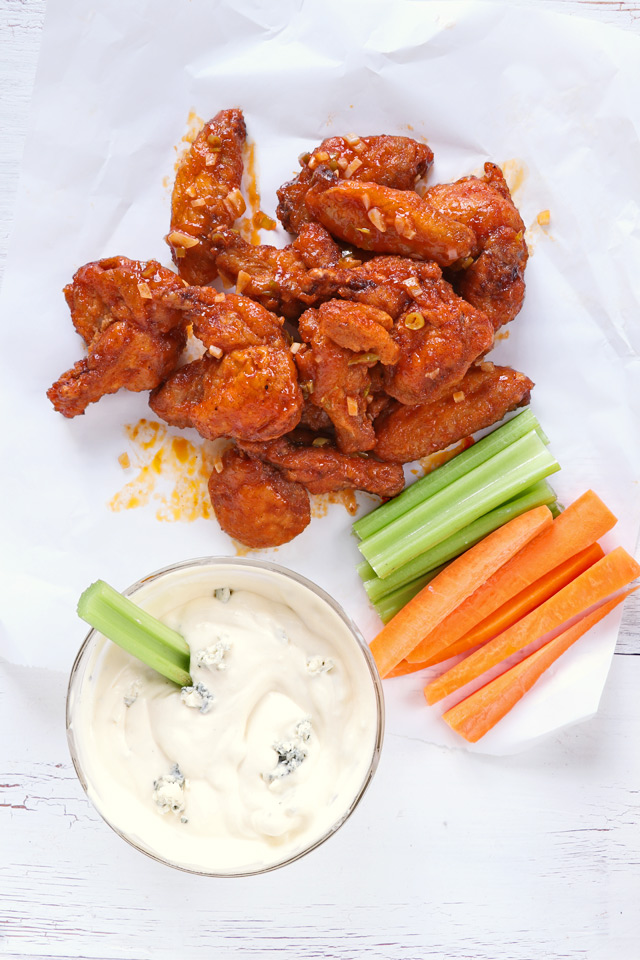 I know I have mentioned it several times before that I am not a big fan of frying. Fried food, I love them, calories and all (sadly :-(). Eating them is not a problem as much as if I am doing the frying myself.
If there is a medical name for having the fear or phobia of splattering oil, I would probably be diagnosed with it. Ok, maybe I am exaggerating a bit. Yet my aversion from frying is not totally unfounded due to a bad experience with hot cooking oil when I was a teen and I still have the marks to show it.
Nevertheless,  it did not turn me off cooking or (totally off) with frying, only a bit more precautious, maybe, when I am near hot cooking oils.
However, frying these wings was surely painless. If you also have an aversion to frying, you could easily bake them in the oven.
Or you can conquer your fear and apply the frying tips and techniques I learned and get yourself these perfectly crispy fried buffalo wings. The tips also apply to other food, of course.
 Tips and techniques for Frying Food
Use the correct oil for frying/deep frying. Not all oils are the same. Not only in their taste but also on how they handle the heat. Oils with high smoke-point are better for high-temperature cooking. Usually, refine oils have higher smoke-point.  I used refined coconut oil which has a neutral flavor. You can also use other refined oils, like sunflower oil, vegetable oil, and canola oil.
Heat the oil to the proper temperature. Even if you are using oil with high smoke-point, you should still check it from time to time that it is not getting burned. Lower the temperature a bit if necessary but do it in between frying batches.
Use the correct amount of oil. Too less oil will lead to uneven fried chicken wings but too much can also be a waste. There is no need to completely immerse them in oil.  As long as the there is enough to cover and cook halfway through the meat, then just flip over to cook the other side. This way you can have lesser of a chance that your oil will foam over.
Use a thick pan if possible. The heat is then more even and is easily regulated and will prevent burning your oil or your food.
Remove as much moisture as possible. Pat dry your meat with paper towels. Even if you are using egg to dip it before breading (this recipe does not). Dip the meat quickly just enough to moisten it then remove the excess.
Do not crowd the pan. Allow some spaces in between each piece of meat so it can cook around it.
I would like to note that this fried buffalo wings recipe is only medium spicy. Therefore, if you are into really spicy food then use a stronger or spicier hot sauce.
It does not show on the photos but the skin of these babies are really crispy but the meat is deliciously moist and juicy.
Printable Recipe
Crispy Fried Buffalo Wings with Blue Cheese Dip
Super crispy fried buffalo wings covered in spicy buttery sauce plus a tangy blue cheese to dip it with. Yum!
Ingredients
2

pounds

chicken wingettes and drumettes

1

teaspoon

salt

¼

teaspoon

ground pepper

½

cup

cornstarch

1

teaspoon

baking powder

1

teaspoon

chili powder

oil

- for frying
BUFFALO WINGS SAUCE
2

tablespoons

butter

½

cup

hot sauce

- medium spicy

3

cloves

garlic

- minced

1

piece

long hot pepper

(or other sweet or mild green pepper), chopped
Instructions
Wash and pat dry with kitchen paper towels.

Place chicken in a deep plate and season with salt and pepper. Mix well to make sure they are evenly seasoned.

Prepare the dip. Whisk together blue cheese, mayonnaise, and sour cream in a bowl making sure that there are no big lumps left, small lumps are fine. Season with salt and pepper. Refrigerate until ready to use.

In a bowl, combine the cornstarch, baking powder and chili powder. Mix until well blended.

In a deep pot or skillet, heat oil over a medium-high heat. I used a small deep pan big enough to fit 3-4 pieces of wings at a time so I do not use a lot of oil for frying.

Once the oil is hot, dredge 3-4 pieces of wings (one at a time) in cornstarch mix, shaking off excess, then carefully lower wings into the oil. Fry, turning occasionally, until chicken is cooked through and crust is golden brown and very crisp, 10–12 minutes. Transfer to a wire rack or parchment paper. Repeat the process with the rest of the wings.

While frying the last batch of wings, prepare the sauce. Melt butter in a large skillet or pan over medium heat. Add the garlic and green chili and cook for 2-3 minutes or just until slightly limp. Add the hot sauce and cook for another minute. Remove pan from heat and set aside.

Once all wings are fried, rewarm the sauce and add the wings. Toss together until all wings are covered in sauce.

Remove from heat and transfer to a serving plate. Serve with celery and carrot sticks and the blue cheese dip.
Nutrition
Calories:
536
kcal
Carbohydrates:
18
g
Protein:
21
g
Fat:
41
g
Saturated Fat:
15
g
Cholesterol:
119
mg
Sodium:
1849
mg
Potassium:
404
mg
Fiber:
0
g
Sugar:
1
g
Vitamin A:
1025
IU
Vitamin C:
32.7
mg
Calcium:
179
mg
Iron:
1.4
mg