Why do you need to know how to make homemade mayonnaise, one might ask. Well, it may just come handy specially when you are having a party and planning on making macaroni salad only to discovered that you do not have enough mayonnaise in the fridge and the worst part is that it is Sunday and no grocery store or supermarket is open, like in Germany, and you do not want to ask some from neighbors (just because.) Another reason is, well, it is really easy and the best thing about making your own mayonnaise is you know exactly what is in it.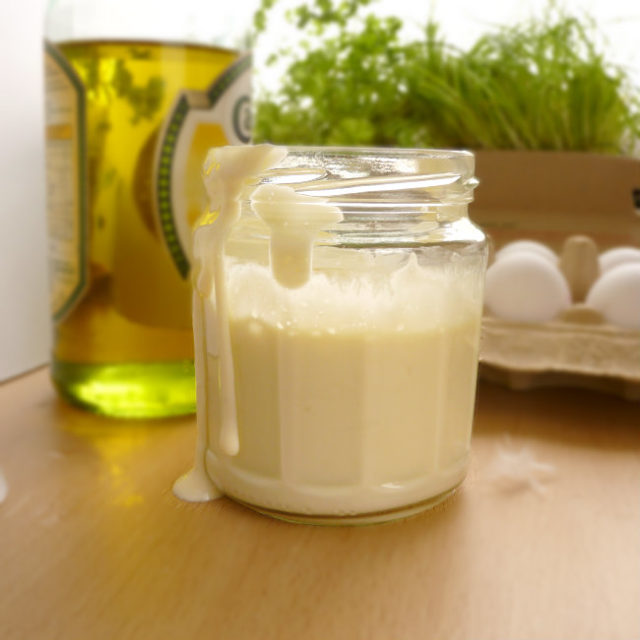 Ok, so last summer was my first time to make mayonnaise from scratch and I was astonished how easy it was. We invited some friends for a barbecue and I was about to make macaroni salad when I realized we do not have mayo, I panicked for some seconds, or maybe a minute, then started googling for mayonnaise recipe, and voila! I found one and tried it! It was actually like doing one of those experiments in chemistry in high school, where the end results surprise you.  Now that Armin is having his raw food diet, I make our own mayonnaise and really like it. You can add other spices or ingredients to make salad dressings and dips. I used it to make Mango-Mayo Salad dressing and it was just yummy (recipe to follow). Add garlic and some mustard and you will have Aioli, which I also plan to try next time.
Do not expect it to taste like the store-bought mayonnaise you know, for one, it is not sweet because it does not contain sugar or all other chemicals that commercial mayonnaise have that gives it longer shelf life. 
Printable Recipe
How to make mayonnaise
Learn how to make mayonnaise from scratch! It is much healthier with no sugar added. Try this super easy recipe with only 4 ingredients and few simple steps.
Ingredients
1

cup

vegetable oil

(like olive, rapeseed, canola or mixed)

1

medium or large

egg

1

tablespoon

lemon juice

or lime (or vinegar)

½

teaspoon

salt

(or more)
Instructions
Place oil, egg, lemon juice or vinegar and salt in a jar.

Using stab mixer, blend until the mixture turns creamy and white.

Use fresh or seal jar and refrigerate for future use.
Notes
If using only olive oil, use the extra light tasting one or mix it with other oils like canola, vegetable or rapeseed oil so the taste will not be too intense.
Can also be done using blender. Can be kept refrigerated for a couple of days.
Nutrition
Calories:
192
kcal
Carbohydrates:
1
g
Protein:
0
g
Fat:
21
g
Saturated Fat:
17
g
Cholesterol:
3
mg
Sodium:
1164
mg
Sugar:
0
g
Vitamin C:
5.8
mg