What makes this Filipino Spaghetti special? Aside from the usual tomato sauce and spices, it has corned beef, mushrooms, banana ketchup and lots of cheese and let's not forget the hotdogs! This sweet-style spaghetti will surely make your day!
What is Filipino Spaghetti?
Aside from Adobo, Filipino Spaghetti is yet another dish that is making a name out there. Even the late Anthony Bourdain found it "deranged yet strangely alluring". He was referring to Jollibee's spaghetti. A local giant fast-food chain that serves this sweet Filipino Spaghetti on their menu. They are not the only one.
To someone who is not from the Philippines, this is very much true. Where else can you find a sweet spaghetti? And I know some people already rolling their eyes about the (red) hotdogs in it.
It is crazy, right?!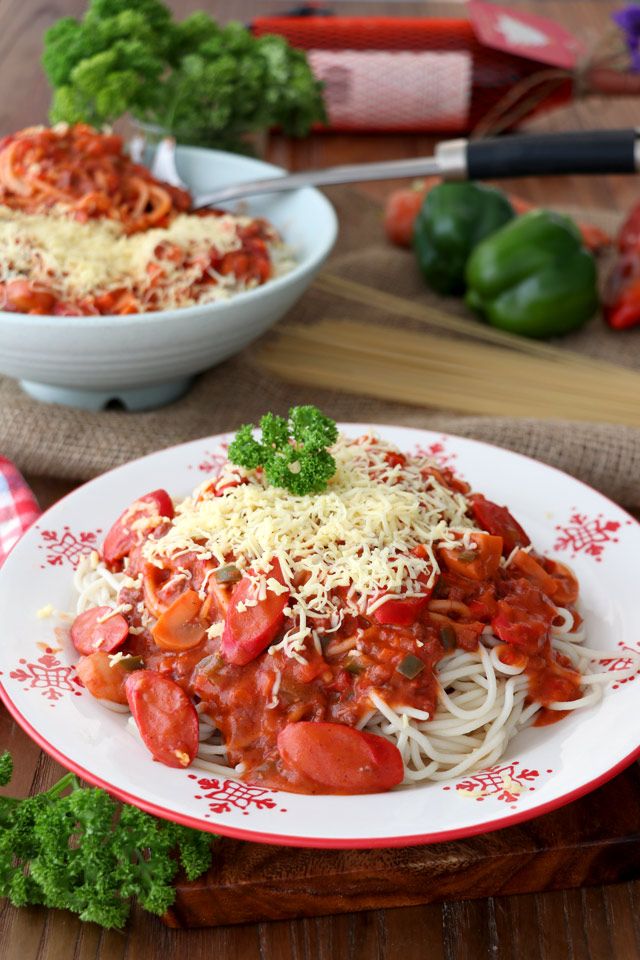 But to Filipinos, a sweet spaghetti is the most normal thing. It is popularly served at children's party.  Not surprising since it satisfies the sweet cravings of both the young and young-at-heart.  It is also commonly present at most parties and occasions like Christmas and New Year.  Especially if you are feeding a huge crowd, which is normally the case when we are talking about Filipino gatherings.
I bet (a lot of) Italians would probably have nightmares if they were to try this kind of spaghetti. But understand that we mean no disrespect. I personally love how Italians make their pasta dishes, the best ones I've tried without a question.
Filipino Spaghetti is truly something else. Sweet and savory with a hint of spiciness. A taste of childhood and of home to a lot of us. That is why it is considered comfort food by many.
It was the Americans, during their rule in the Philippines, that introduced Spaghetti Bolognese to the locals.  The addition of banana ketchup (or brown sugar) is a way for the locals to adjust the dish to fit the local palates as Filipinos are fond of sweet food.
What makes up a Filipino Spaghetti?
Filipino Style Spaghetti has many variations. Others use ground pork while other ground beef. Some add evaporated milk to make it creamy and I've heard others add condensed milk. But the main thing that makes it Filipino is the added sweetness...and the red hotdogs.
As for me, I like to make my Filipino spaghetti to have a little more substance and texture. So I add carrots, bell peppers, and mushrooms. I use ground beef and add corned beef to it. I got it as a tip from way back after college days but I do not remember exactly from whom. But it seems to do the trick and I stick to it until now.
I also use banana ketchup but I use this spicy-sweet kind (tamis-anghang). Others add sugar as well to emphasize the sweetness, but I am good with using the sweet banana ketchup. I also use butter to saute and already add the grated cheese on the last part of cooking to achieve a creamy, cheesy, sweet sauce.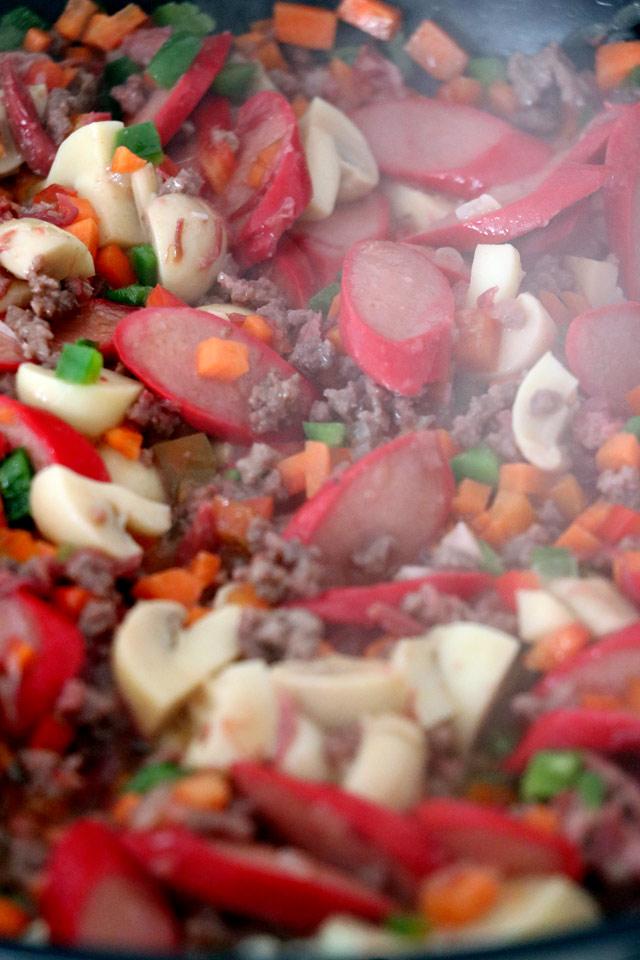 Other Filipino Pasta or Noodle Dishes to try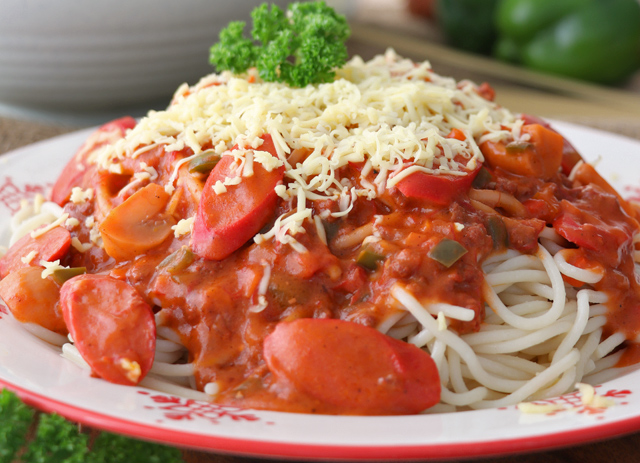 Printable Recipe
Filipino Spaghetti
Sweet and spicy, Filipino Spaghetti has a unique blend that is 100% Pinoy. With corned beef, banana ketchup, lots of cheese and let's not forget the hotdogs.
Ingredients
1

pound

spaghetti

2

tablespoon

oil

½

cup

butter

4

cloves

garlic

- minced

1

medium

onion

- chopped finely

½

pound

ground beef

5

pieces

hotdogs

- cut into diagonal slices

1

can (150g)

corned beef

1

medium

carrot

- cut into small cubes (brunoise)

1

medium

red bell pepper

- cut into small cubes (brunoise)

1

medium

green bell pepper

- cut into small cubes (brunoise)

1

can (400g)

champignon mushrooms

- each piece cut into quarters

2

cups

tomato sauce

1

cup

banana ketchup (tamis anghang)

1

block (165g)

cheese

- Eden or Velveeta

½

tablespoon

salt

- adjust as needed

½

teaspoon

ground pepper

- adjust as needed
Instructions
Cook spaghetti noodles as per package instruction. Drain and set aside.

In a large pot, add oil and butter and cook over medium heat until butter is melted. Once melted, add garlic and onions and cook until tender and fragrant.

Add ground beef and cook while stirring and breaking the lumps until it is no longer pink, about 3 minutes.

Add the hotdogs and cook for 2 minutes while stirring and turning them from time to time.

Stir in the corned beef and cook for 1 minute. Add the carrots, bell peppers, and mushrooms. Cook for a minute while stirring to combine.

Pour in the tomato sauce and banana ketchup and season with salt and pepper. Simmer for 5-7 minutes or until the carrots are cooked. You may add a half cup of water if the sauce is getting too thick.

Grate half of the block of the cheese on top of the sauce and cook for another 1-2 minutes while stirring to melt the cheese completely.

Add the cooked spaghetti noodles and toss until completely covered in sauce. Transfer in a serving plate and add more grated cheese on top.
Notes
This recipe is only mildly sweet. You may add brown sugar if you prefer a much sweeter Filipino Spaghetti.
You may adjust the salt to your preference. Note however that pasta will still be added so I usually go for a little saltier sauce. Do not forget too that the cheese will add some saltiness as well.
Nutrition
Calories:
338
kcal
Carbohydrates:
14
g
Protein:
9
g
Fat:
28
g
Saturated Fat:
13
g
Cholesterol:
68
mg
Sodium:
1584
mg
Potassium:
766
mg
Fiber:
3
g
Sugar:
9
g
Vitamin A:
3545
IU
Vitamin C:
54.9
mg
Calcium:
45
mg
Iron:
2.6
mg