Cool down instantly with this homestyle Pinipig Ice Drops made of (no-egg, no-cream) vanilla ice cream coated with a crunchy chocolate shell dotted with crisp pinipig on a stick.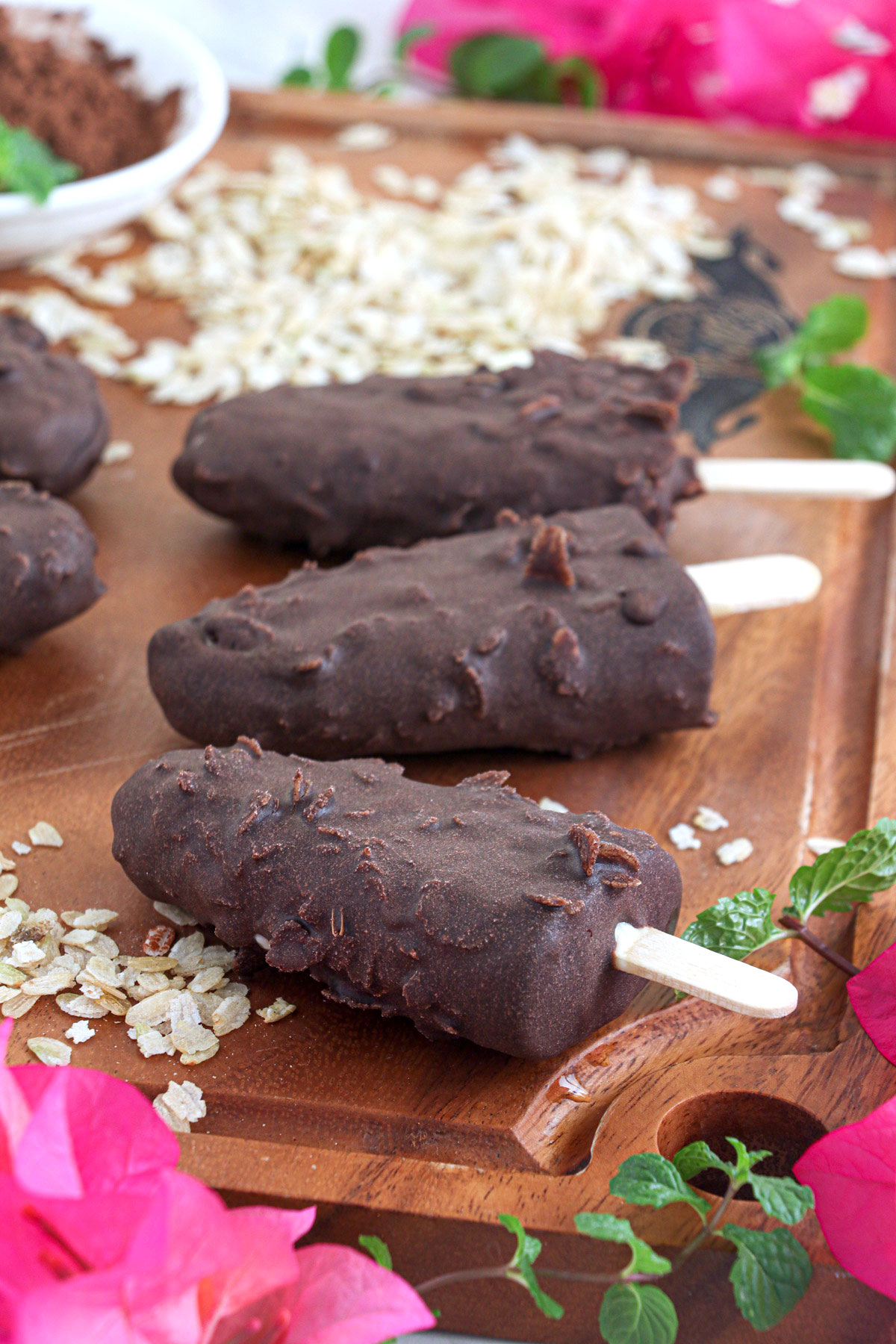 Jump to:
What is Pinipig Ice Drop?
Pinipig are pounded grains of glutinous rice harvested before they mature. In their raw form, they have a bright green color but turns brownish when toasted. They are commonly used for various Filipino desserts such as kalamay, and suman, and toppings to Halo-halo.
Ice drop, on the otherhand, is simply what we call ice cream on a stick in the Philippines like ice pops or popsicles.
Every summer when we were kids, I remember waiting eagerly with my siblings to hear the sound of a bell ringing on street every afternoon. It signifies the approach of the ice cream man! He would be walking with a portable cooler hanging on his shoulder and would start giving out different flavored ice drops.
One of my favorites is the Pinipig. It is a vanilla flavored ice cream on a stick covered with a thin chocolate shell with pinipig bits embedded into it. I enjoy the double crunch of the pinipig-crusted chocolate coating contrasting with the cool and creamy ice cream inside. And since it was particularly hot this summer, I have decided to recreate the pinipig ice drops of my childhood!
How To Make It?
With 8 simple ingredients, a saucepan, and ice cream molds, you can make your very own pinipig ice drop at home! No ice cream machine needed at all!
Make the Vanilla Cream
Simply combine sugar and powdered milk in a saucepan then slowly add the milk. Let it simmer then pour cornstarch slurry while continuously mixing. Once the right consistency is met, remove from heat, add the vanilla extract and pour into the molds. Cover the molds with foil and insert wooden sticks. Freeze overnight.
Make the Chocolate Magic Shell
Combine coconut oil, cocoa powder, powdered sugar/corn syrup and pinipig and mix until well combined.
Assemble your Pinipig Ice Drop
Once the vanilla cream hardens, remove it from the mold and dip it into the chocolate mix. You can add more pinipig and redip for a harder and crunchier shell. It will harden as it cools. Serve and enjoy!
FAQ
I don't have an ice cream mold, what can I use instead?
You can still make this by using small disposable cups or even big ice cube trays. It won't look like the traditional ice drop, but you would still enjoy them!
Can I make this with other flavors?
Oh yes, you can! Just replace the vanilla extract with the flavor of your choosing. You can even add nuts or bits of fruits if you like. Just take note that adding too much fat and sugar will prevent it from freezing nicely.
How long can I store them?
These are totally freezer-friendly so make as many as you want. You can keep the vanilla cream frozen for 1-2 months. Just store them in a freezer-safe container. The chocolate shell can be stored at room temperature for at least a week. Make sure to find a cool, dry spot and keep it tightly sealed.
Printable Recipe
Pinipig Ice Drop
Cool down instantly with this homestyle Pinipig Ice Drop made of (no-egg, no-cream) vanilla ice cream coated with a crunchy chocolate shell dotted with crisp pinipig on a stick.
Ingredients
CHOCOLATE SHELL
⅔

cup

coconut oil

½

cup

cocoa powder

½

cup

powdered sugar

½

cup

milk powder

- optional

1

cup

pinipig
Instructions
In a small bowl, make the slurry by combining cornstarch and ¼ cup milk. Set aside.

In a saucepan, add sugar and powdered milk and whisk to combine. Slowly add the whole milk while continuously stirring to dissolve the sugar and powdered milk.

Heat the mixture over medium heat until it starts to simmer. Pour in the slurry while constantly stirring to prevent lumps. Cook until it starts to thickens but should still be easy to pour, like that of melted ice cream.

Remove from heat and add vanilla extract and mix. Let it cool down a bit then pour the mixture into ice drop molds. Cover each mold with aluminum foil and make a small slit on top to easily insert an ice cream stick.

Freeze for at least 4 hours or overnight.

To make the chocolate magic shell, just combine all the ingredients and mix until smooth. Transfer mixture to a tall, narrow glass.

Once fully frozen, take an ice drop and dip the mold in lukewarm water to loosen the ice cream from the mold so it is easier to remove.

Place the pinipig on a plate and lay the vanilla ice cream flat on top to coat, then turn and do the same on the other side.

Dip a vanilla ice drop coated in pinipig into the chocolate mixture until fully submerged and lift. Dip it twice or thrice for a thicker coating. Hold it up for some seconds and let the shell harden. You can also sprinkle some more pinipig while the chocolate has not fully harden yet.

Serve imediately or wrap in foil or plastic and freeze again to enjoy later on.
Nutrition
Calories:
585
kcal
Carbohydrates:
63
g
Protein:
11
g
Fat:
34
g
Saturated Fat:
27
g
Cholesterol:
27
mg
Sodium:
111
mg
Potassium:
514
mg
Fiber:
3
g
Sugar:
31
g
Vitamin A:
301
IU
Vitamin C:
2
mg
Calcium:
281
mg
Iron:
2
mg
More ice cream recipes to try