Deliciously crunchy and sweet studded with bits of salt, this homemade peanut brittle recipe is so easy to follow and uses ingredients that you probably already have in your pantry. A yummy treat that you can make as a thoughtful and sweet gift for your family and friends!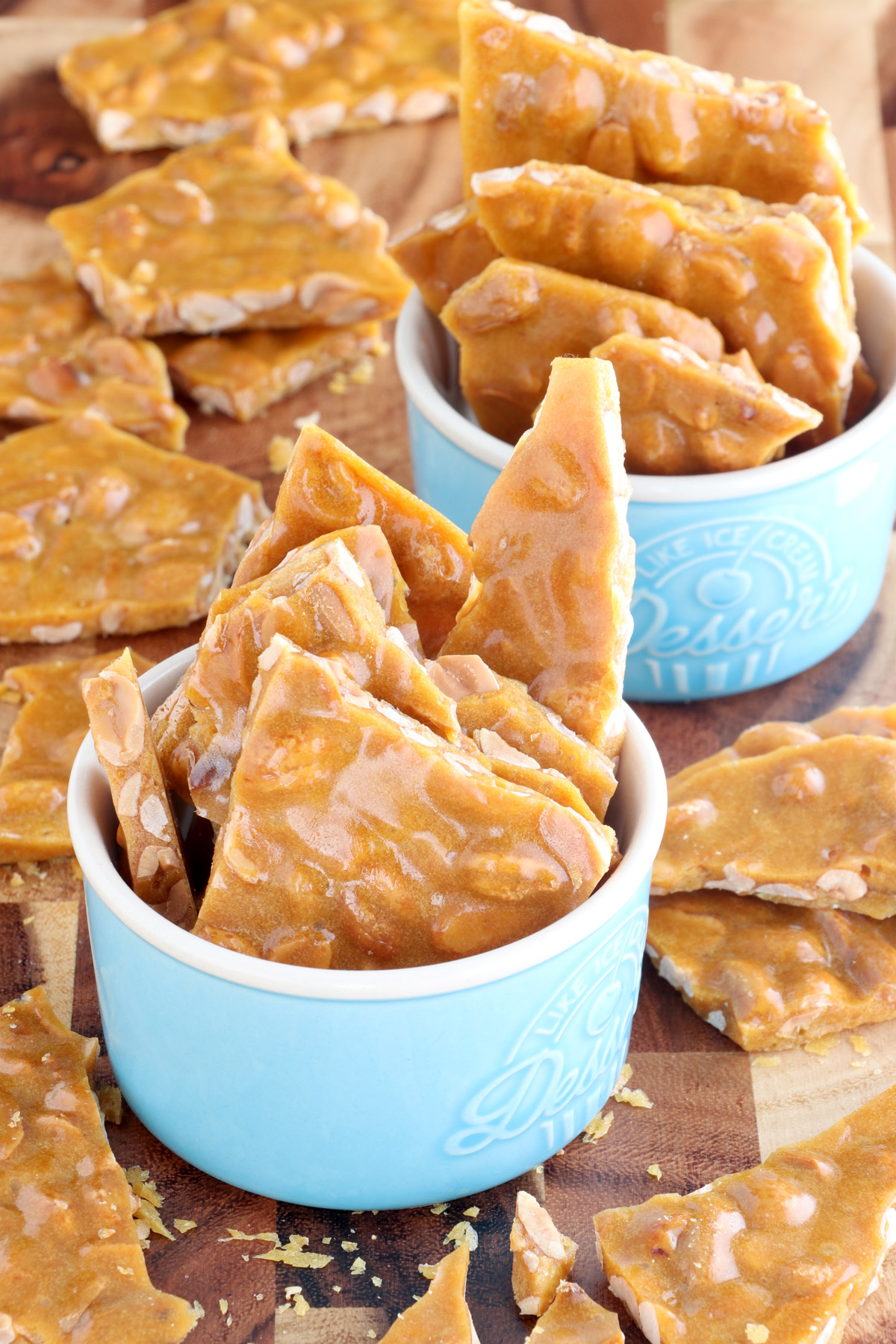 Jump to:
Here in the Philippines, peanut brittle is a popular "pasalubong" (souvenir) from a place called Baguio, a mountain town up north famous for its cool weather all year round. Every time I know of someone who visits there, it is almost guaranteed that I get a jar of these yummy candies!
Nowadays, I prefer making them myself and it's one of my homemade favorites together with Pastillas and Polvoron! A lot of people think that making it is complicated when in fact, it is quite easy! And this recipe is probably one of the easiest there is!
Ingredients Used
You only need 6 ingredients to make Peanut Brittle at home, 8 if you include water. Granulated sugar, corn syrup, salt, butter, roasted peanuts, baking soda- that's it! But I like adding a bit of vanilla extract for added yum!
You can use other nuts like cashew, almond, or macadamia. Baking powder is the leavening agent used in this recipe. It plays an important role in getting the right texture of the peanut brittle. Adding it to the sugar syrup will infuse air bubbles into the mixture and will create a porous texture. This is what makes it different from a very hard candy that you can't bite through easily - like a lollipop. So make sure to not skip it!
How to make Peanut Brittle?
It is made by cooking nuts in a caramelized sugar mixture and a leavening agent, then allowing it to set and harden. Once it has cooled down, it is broken into haphazard pieces that are usually bite-sized.
The key is to make sure that the sugar syrup reaches what candy makers call a "hard-crack stage" when cooking it. This is the temperature required for it to still harden once cooled but can still be easily broken and not sticky. Don't worry, it's not as complicated as it sounds! Just follow the instructions below and you will be fine.
This candy is called differently all over the world! It's called Croquant in France, Palanqueta in Mexico, Chikki in India, Keo Lac in Vietnam, and many more! If you have tried this before, you wouldn't really wonder why it so popular all over the world. Each bite of these crunchy goodies has a wonderfully sweet, buttery, and savory flavor that is addicting!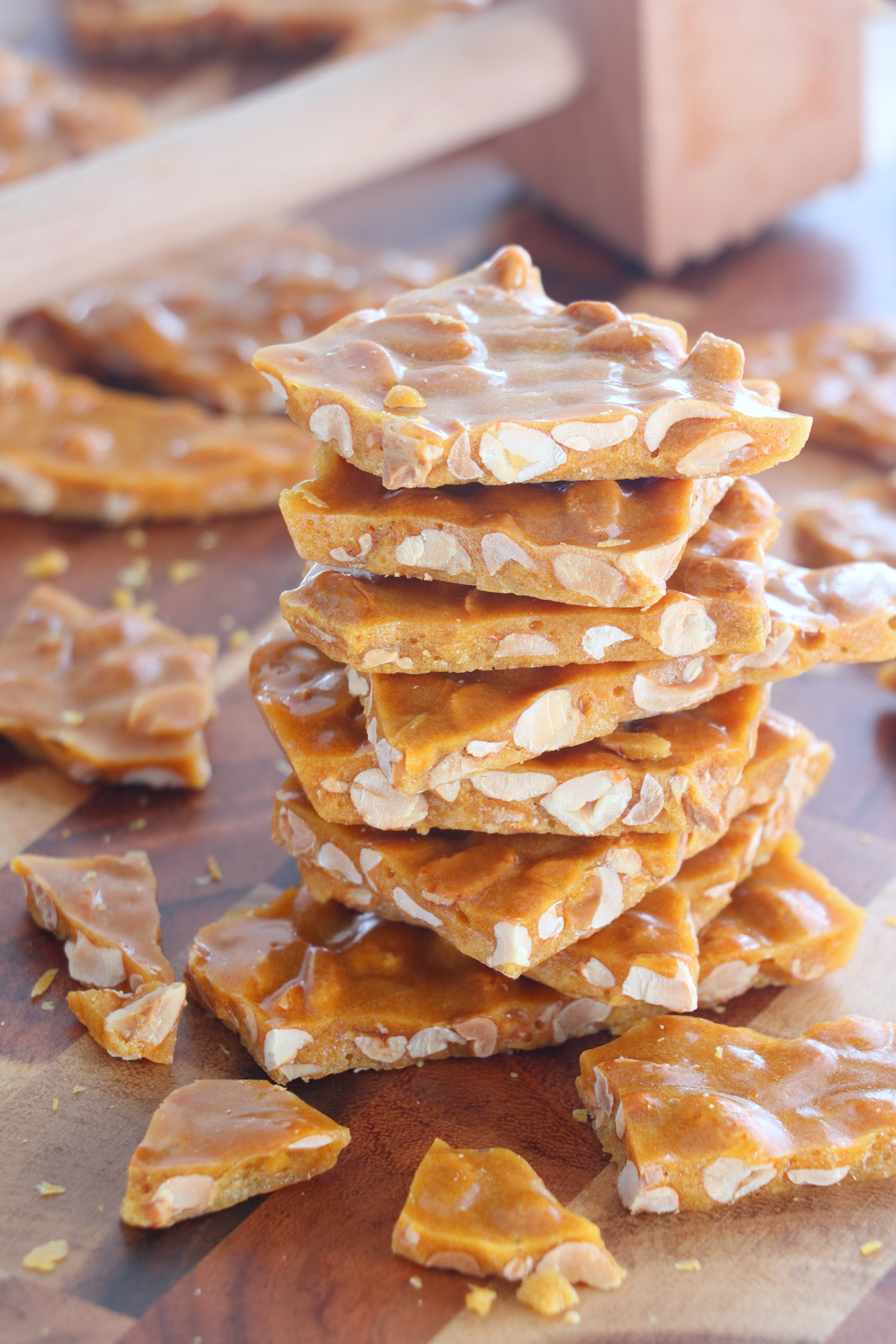 Foxy Tips when making Peanut Brittle
Use a cooking/candy thermometer. Monitoring the temperature of the sugar syrup is important in making a successful peanut brittle. Once the temperature has reached the hard crack stage (302°F/ 150°C), you have to remove it from the heat right away.
Use a pot or a deep pan. Once you add the baking soda, the mixture will bubble up quickly. So if you are using a pan, make sure it is big or deep enough for this.
Move quickly. Once you have reached the hard crack stage, you have to immediately add the baking soda and vanilla extract and pour the mixture into your prepared greased pan while still hot.
Be careful! The mixture is very hot and so is the pot. Move quickly with precise actions to prevent burns and accidents.
Store the candies in an airtight jar or ziplock bag. Do not leave them out in the open for a long time, because they will lose their crunchiness.
Craving for more sweet treats that you can make at home?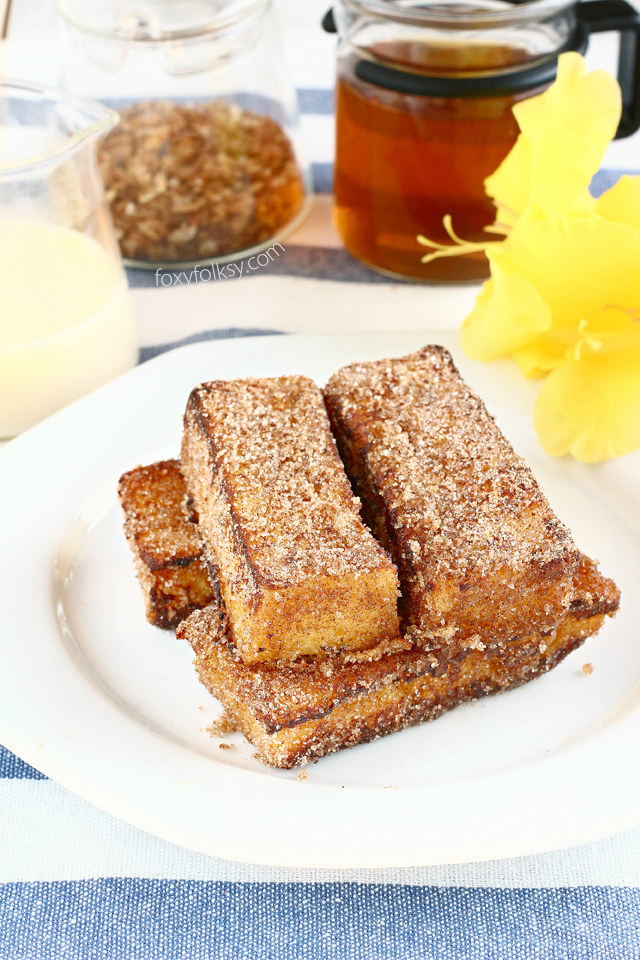 Printable Recipe
Peanut Brittle
Peanut Brittle is a deliciously crunchy and sweet confectionary made of roasted peanuts embedded in a sweet and buttery sugar candy! This homemade recipe is so easy to follow and uses ingredients that you probably already have in your pantry. A yummy treat that you can make as a thoughtful and sweet gift for your family and friends!
Ingredients
1

cups

white granulated sugar

½

cup

corn syrup

¼

cup

water

1

tablespoon

butter

1 ½ - 2

cup

salted roasted peanuts

1-3

teaspoon

baking soda

- see NOTE 1

1

teaspoon

vanilla extract

¼

tsp

salt
Instructions
Grease a 13x9 or slightly bigger baking tray or pan with butter.

Combine sugar, salt, water, corn syrup, and butter in a large heavy bottom saucepan. Bring to a simmer over medium heat stirring frequently until it becomes bubbly and reaches 120°C /250°F. If sugar crystal forms on the sides of the pan, just brush it with water.

Add the peanuts and, stirring constantly, let it cook for another 10 minutes or until temperature reaches 150°C/302°F.

Once temperature is reached, remove from heat and immediately add baking soda and vanilla extract. It will foam up and change in color but just keep on mixing.

While still hot, pour the mixture to the greased pan. and using a spatula, spread evenly. You may sprinkle a few pieces of rock salt if you like. Let it cool completely.

Turn the whole thing over a clean surface and break it apart into smaller pieces using a mallet or your hands.

Store in an airtight containers.
Notes
NOTE 1 - You may use a little as 1 teaspoon of baking soda but if you want it to be more porous then use 2 to 3 teaspoons. I used 2 for this recipe.
Nutrition
Calories:
288
kcal
Carbohydrates:
28
g
Protein:
10
g
Fat:
17
g
Saturated Fat:
3
g
Trans Fat:
1
g
Cholesterol:
2
mg
Sodium:
273
mg
Potassium:
265
mg
Fiber:
3
g
Sugar:
22
g
Vitamin A:
23
IU
Calcium:
36
mg
Iron:
1
mg