Kamote Cue is a popular Filipino afternoon snack made of fried sweet potatoes coated in caramelized brown sugar. It is easy to make, budget-friendly, and quite filling! This recipe will show you 2 ways of making it.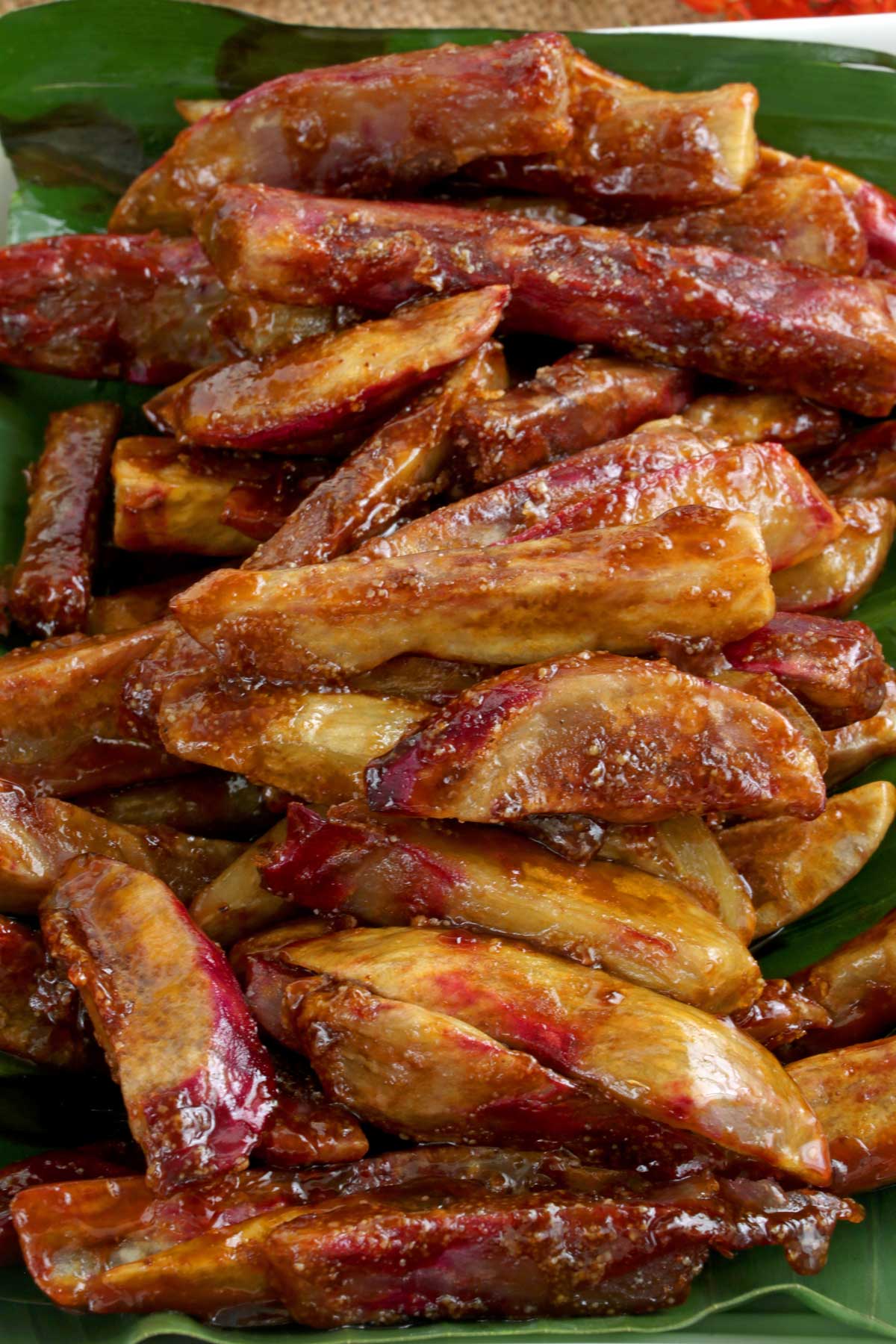 A spin-off of the popular Banana Cue using sweet potatoes as the main ingredient. You will usually see these two being sold side by side by street vendors in the Philippines. I love both of them equally, and though they are similar they taste absolutely different.
WHAT IS IT?
The term Kamote Cue (Camote Que) is a morph of two words, Kamote which means sweet potato, and Que/Cue, which is the shortened term for bareque/barbecue. Coined that way because of the traditional way it is prepared and cooked. Cut into round slices, fried in oil with caramelized sugar, then placed on skewers or bamboo sticks. Though you will also see some vendors selling it cut into batons and placed in carton cups or paper wraps instead. These are sometimes called Kamote fries.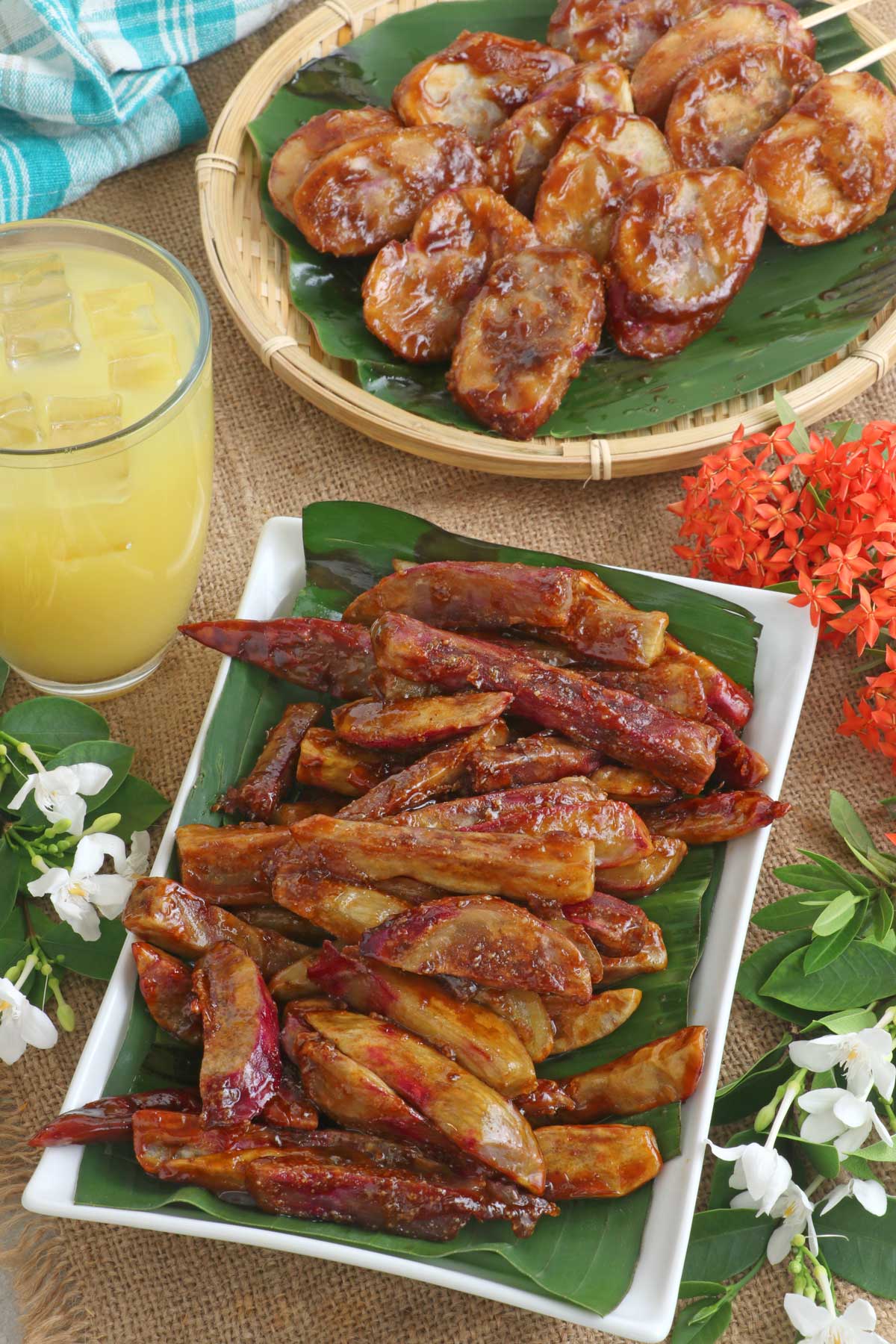 HOW TO COOK KAMOTE CUE
It is really quite simple and everyone can do it at home! All you need are 3 ingredients- sweet potatoes, brown sugar, and cooking oil.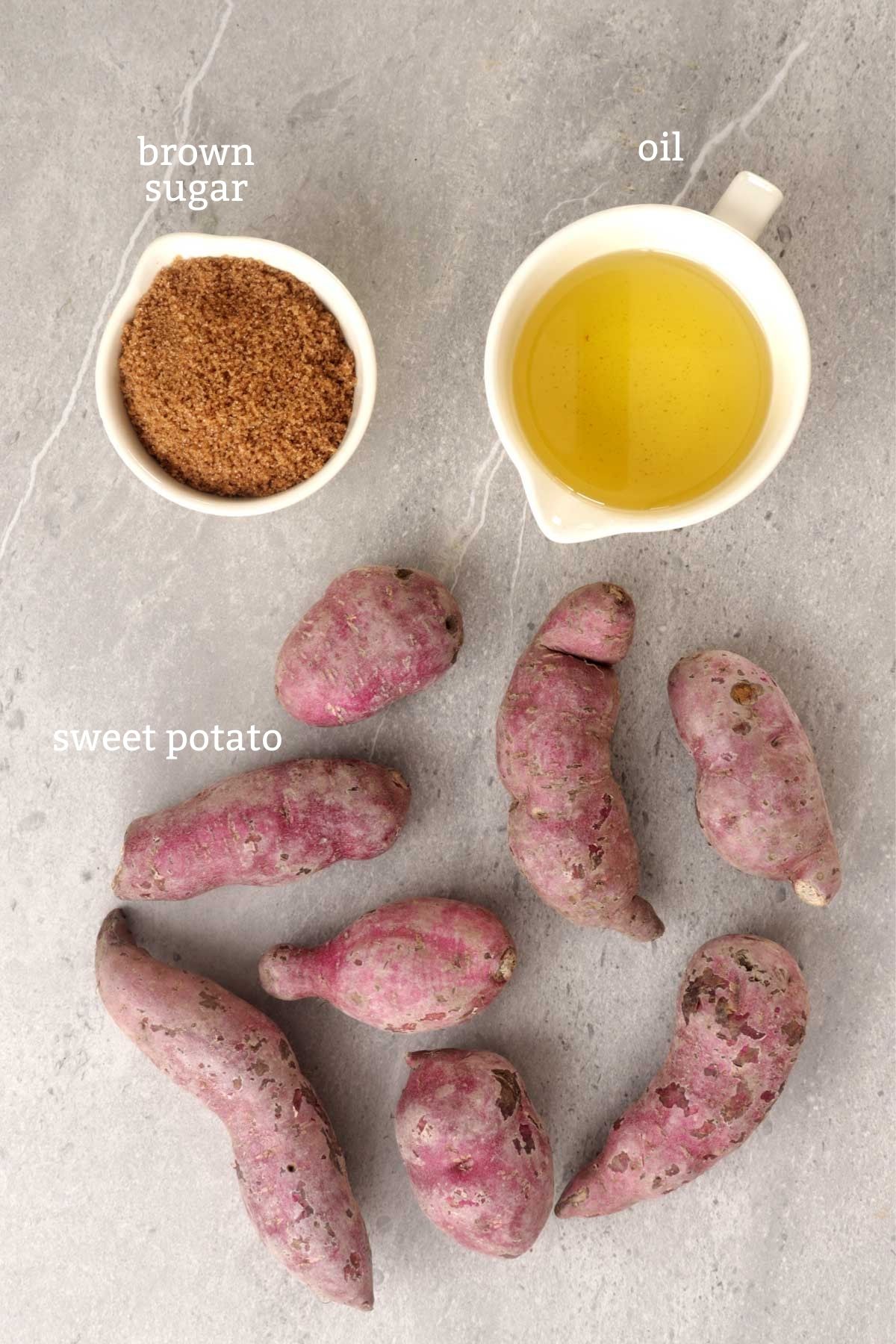 Prep the sweet potatoes. If you prefer making them BBQ-style, place the peeled sweet potato in a cutting board horizontally, then cut into thick round slices. If you plan on making the Camote fries, cut vertically into batons.
Fry the potatoes. Unlike the common way of cooking this, I like to deep-fry the sweet potato cuts first then removing them from the pan. This is to make sure that they are cooked through properly before tossing them in with the caramelized sugar. This way, you can remove the pieces from the pan as soon as they are coated sufficiently to prevent overcooking them and avoid bitter burnt sugar.
Make the caramelized sugar by adding the brown sugar in hot oil in batches until melted.
Toss the fried sweet potatoes back into the pan and stir until fully coated with caramelized sugar. If you are placing them on skewers, do it straight from the pan while the sugar has not yet hardened. For the fries, scoop them out and place them on a strainer to remove excess oil.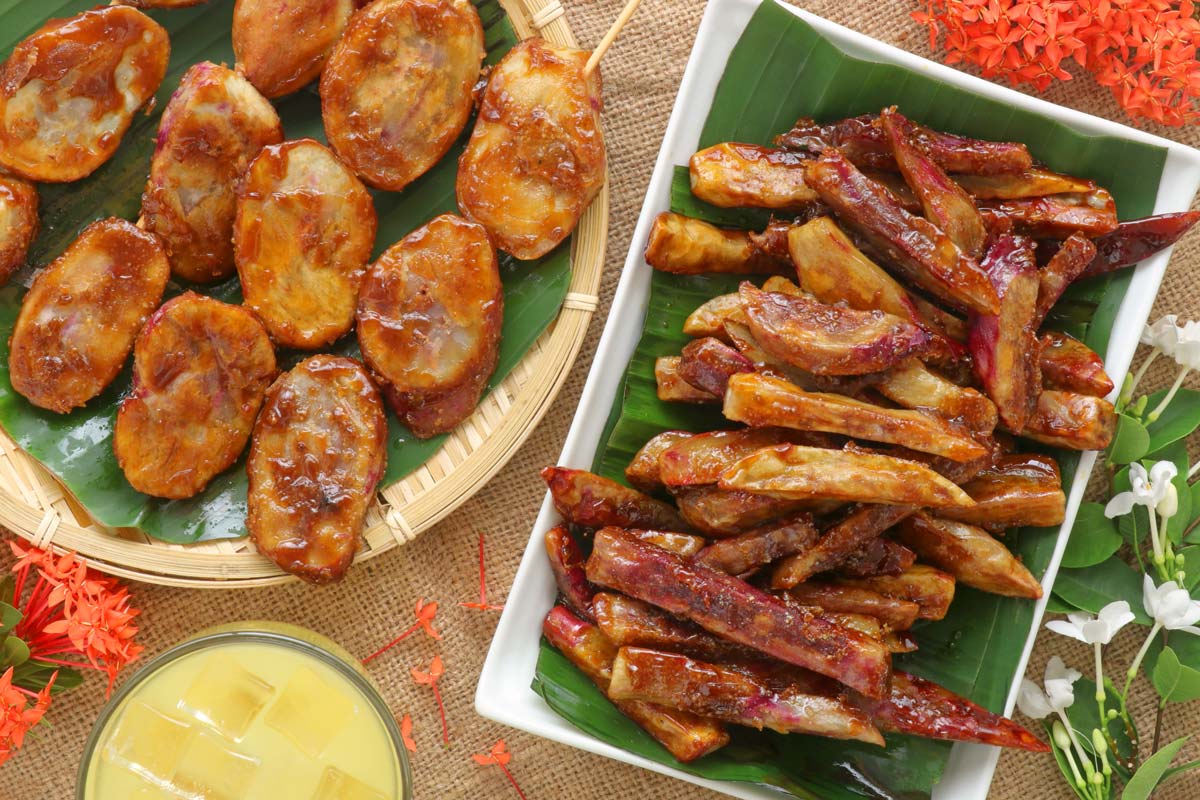 Printable Recipe
Kamote Cue and Fries
Kamote Cue is a popular Filipino afternoon snack made fried sweet potatoes coated in caramelized brown sugar. It is easy to make, budget-friendly, and quite filling!
Ingredients
2

pounds

sweet potato

1

cup

brown sugar

1 ½

cup

oil
Instructions
Wash and peel sweet potatoes. Cut into round slices about half-inch thick or into batons. Soak the cut sweet potatoes in a bowl of water to prevent browning.

When ready to cook, take them out of the water and pat them dry with a paper towel.

Heat oil in a deep fryer or deep pan over high heat. Cook the sweet potato slices until the outside starts to get crispy and the inside is cooked. Remove from oil and transfer to a plate.

Add a third of the sugar to the hot oil and cook until it turns into caramel. Now add back a third of the cooked sweet potato slices to the pan and toss until well coated with caramelized sugar.

Remove the baton pieces from oil and transfer to a draining rack. For those to be skewered on a stick, do it as soon as you take the coated piece from oil so the sugar coating is still soft and it is easier to pierce. It will start to harden as it cools down.

Let the pieces cool down a bit and serve.
Nutrition
Calories:
208
kcal
Carbohydrates:
51
g
Protein:
2
g
Fat:
1
g
Saturated Fat:
1
g
Polyunsaturated Fat:
1
g
Monounsaturated Fat:
1
g
Sodium:
71
mg
Potassium:
421
mg
Fiber:
3
g
Sugar:
33
g
Vitamin A:
16088
IU
Vitamin C:
3
mg
Calcium:
58
mg
Iron:
1
mg
Here are more popular Filipino street food that you can make in the comfort of your kitchen!