Try this creamy and spicy, Ginataang Tilapia (Tilapia in coconut milk) recipe. All done in less than 15 minutes!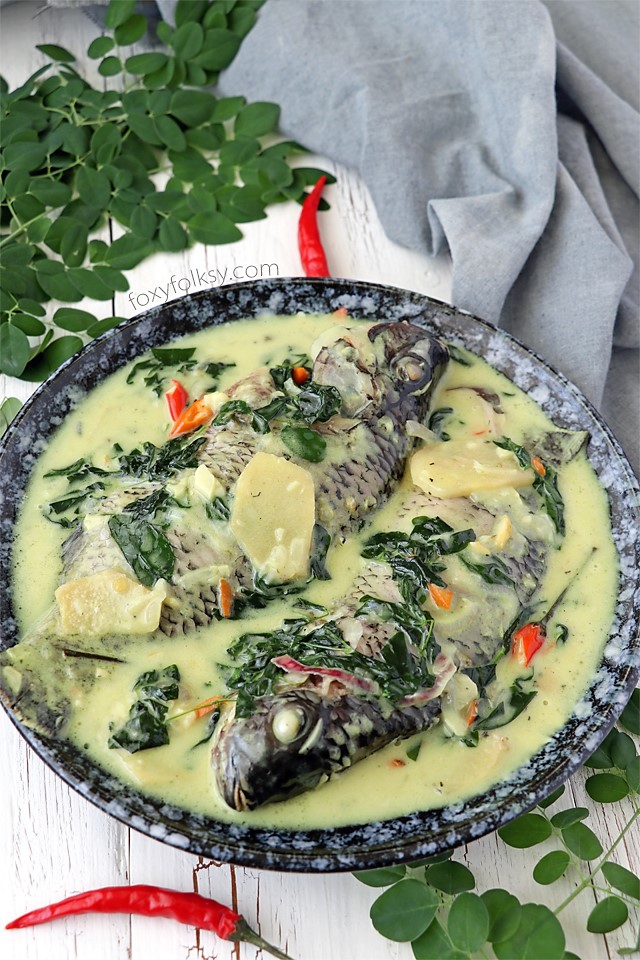 This Ginataang Tilapia is one of the easiest dishes you can do with Tilapia fish. The word 'ginataan' means to cook in coconut milk. 
Armin just loves anything that is cooked in coconut milk. His favorite is still, of course, Chicken Curry. You can serve it to him every day and he will never get tired of it! Although he is now starting to get used to eating fish, I find that this recipe was a good introduction for him to love them, which, for me, is important because I love eating fish and seafood! One of the perks of moving back to the Philippines from Germany is that, now, I can have all kinds of fishes and seafood that I want and I get them fresh (as opposed to frozen)!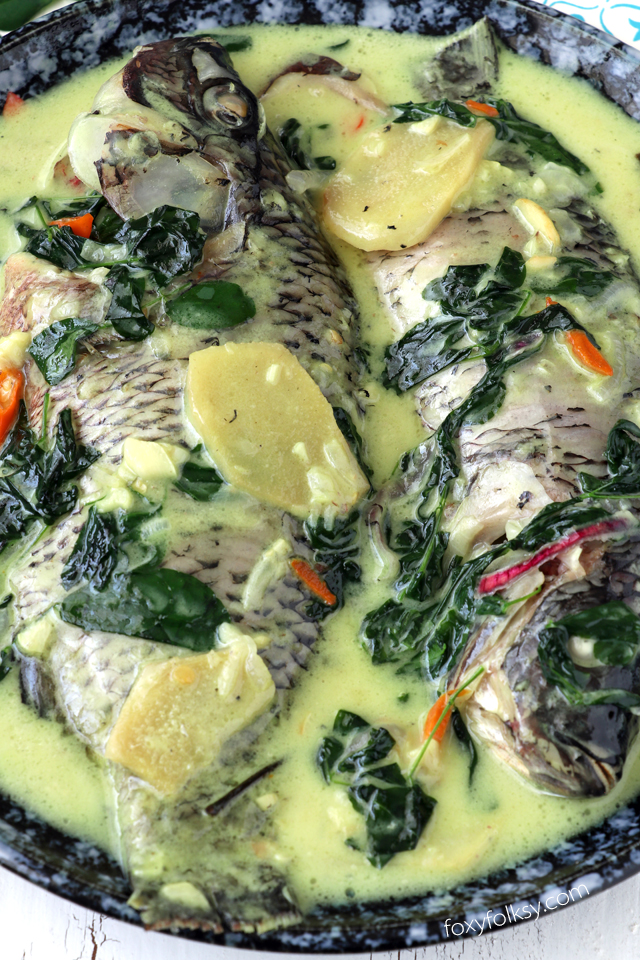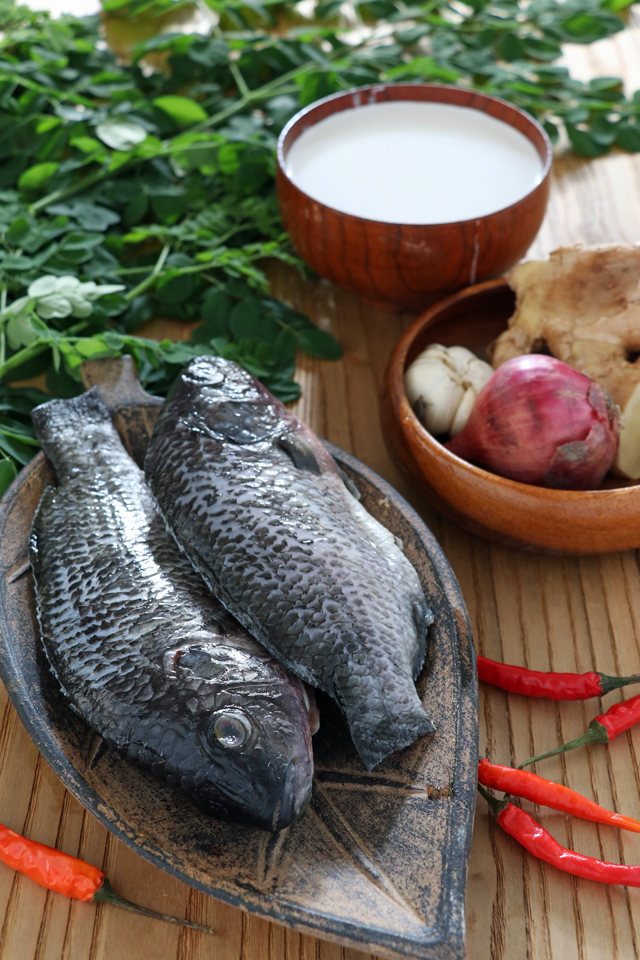 Another thing that I and Armin are enjoying coming home here is the variety of vegetables you can have. While we were still living in Germany, and whenever I come home to visit, I have to get some (or a lot) of Malunggay branches from the neighborhood and sun dry them for a day. Then I would have to carefully remove the leaves from the branches and pack them so I could bring them to Germany. I would have to use my supply sparingly if I want them to last until my next visit. But now, I just need to go out to our backyard and cut me some!!! We have not one but two Malunggay (Moringa) trees.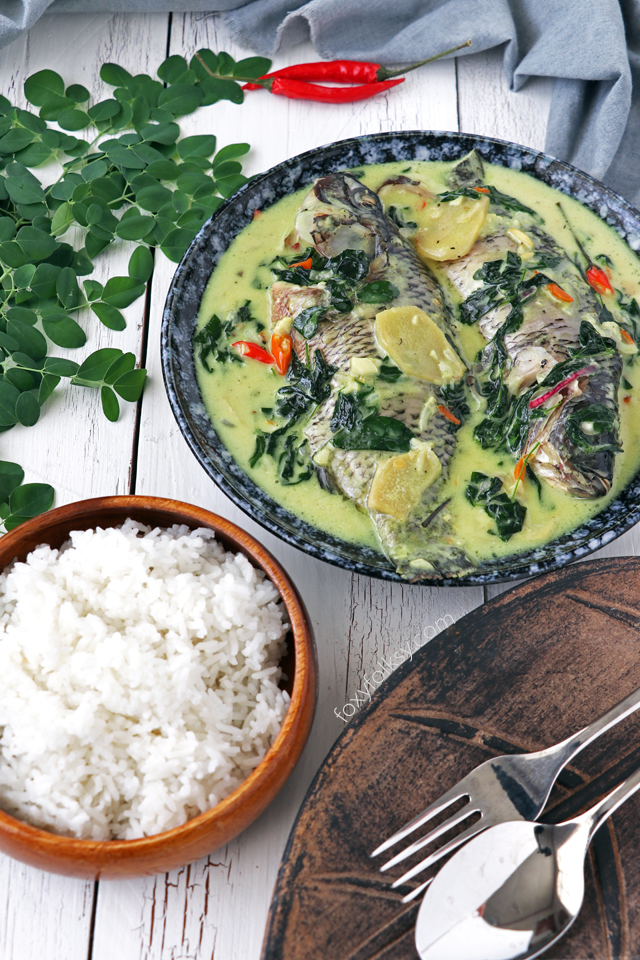 I added Turmeric in this Ginataang Tilapia recipe. The reason is simply that, I have them in my kitchen and we are also trying to take advantage of the health benefits you can get from Turmeric. And since they are really soooo cheap (like $1 per kilo) I thought why not try to incorporate it into dishes whenever possible (we also make tea from it). It turned out good actually but it will also be fine without it.      
Printable Recipe
Ginataang Tilapia (Tilipia in Spicy Coconut Milk)
Try this creamy and spicy, Ginataang Tilapia (Tilapia in coconut milk) recipe. All done in less than 15 minutes!
Ingredients
1

tablespoon

cooking oil

2

cloves

garlic

- minced

1

medium

onion

- chopped

1

thumb

ginger

- cut into 5-6 thin slices

1

teaspoon

Turmeric

(fresh) - cut into strips (optional)

1 ½

cups

coconut milk

2-3

tablespoons

fish salt

2-3

medium-sized

Tilapia

- scaled, gutted and cleaned

1

cup

malunggay leaves

(or a bunch of Pak Choi)

1-2

pieces

siling labuyo

or 2-3 pieces bird's eye chili - cut into 3-4 pieces each
Instructions
In a wide pan, saute garlic, onion, and ginger in oil over medium-low heat.

Add the Turmeric and cook for another minute.

Pour in the coconut milk and fish sauce and bring to a simmer.

Add the Tilapia and chili and let it cook covered for 5-7 minutes.

Add the Malunggay or Pak Choi a minute before turning off the heat.
Nutrition
Calories:
578
kcal
Carbohydrates:
26
g
Protein:
21
g
Fat:
45
g
Saturated Fat:
32
g
Cholesterol:
22
mg
Sodium:
1064
mg
Potassium:
1000
mg
Fiber:
1
g
Sugar:
2
g
Vitamin C:
267.5
mg
Calcium:
593
mg
Iron:
7.5
mg