This whole chicken Hamonado features a sweet and savory sauce from combining pineapple juice and soy sauce with other spices. It is a terrific way to dress up your whole chicken for the upcoming holidays!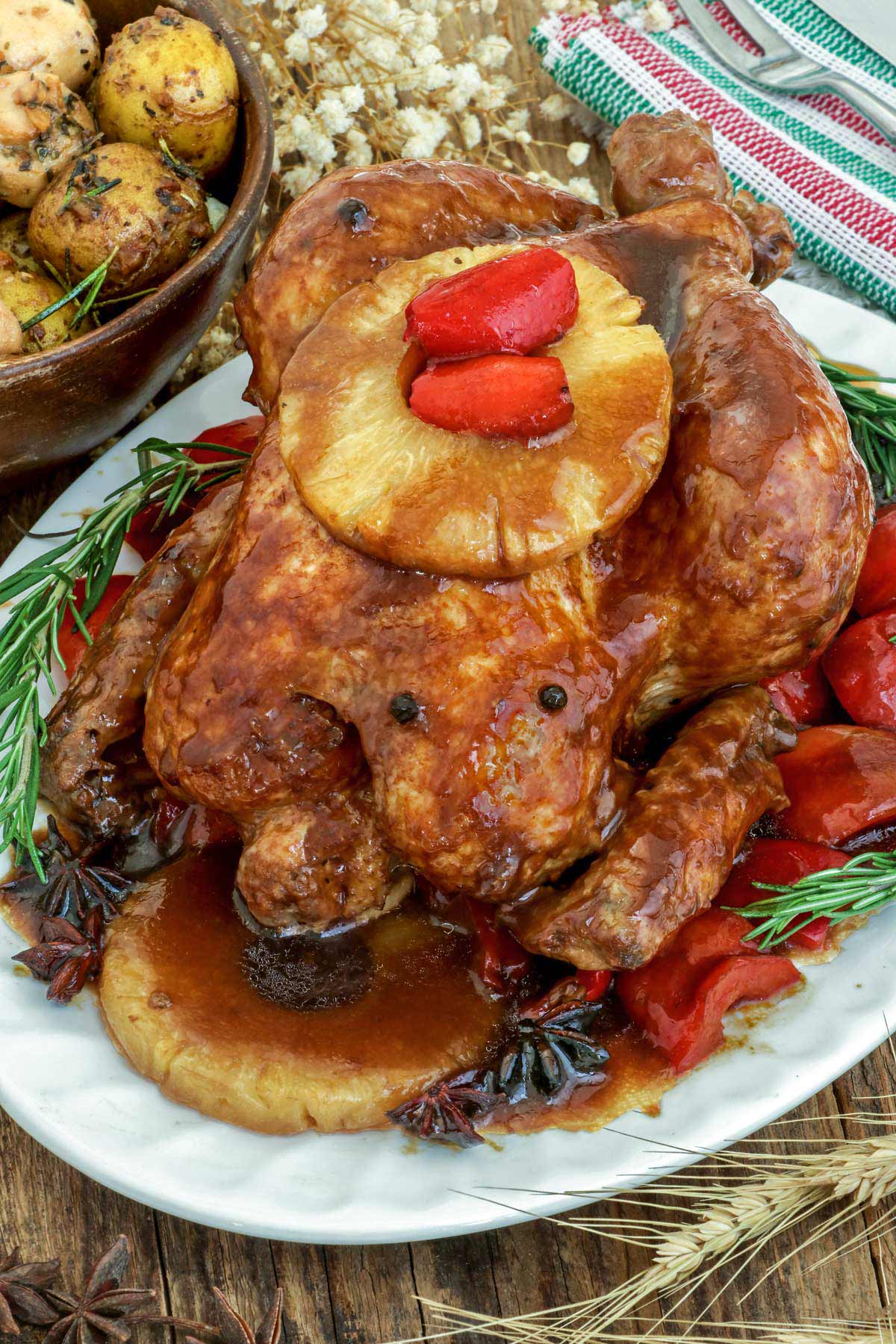 Jump to:
What is Chicken Hamonado?
In the Philippines, hamonado is a term for savory dishes that involve marinating or cooking with pineapple juice and slices. Hamonado came from the Spanish word "jamonado" which means "to prepare or cook like ham (hamon)".
Chicken Hamonado is a Filipino dish wherein the chicken is cooked in pineapple juice, soy sauce, and brown sugar. It is usually cooked with chopped chicken pieces. For this recipe, I used a whole chicken to make it extra special and holiday-ready.
If you want to use pork instead, then head out to our Pork hamonado recipe. And speaking of holidays, you might want to learn how to make your own Christmas Ham using bone-in pork ham! It is so good!
What You'll Need
Whole Chicken - make sure to remove the giblets and neck of the chicken.
Rock Salt - used to brine the chicken, to season it inside and out.
Star Anise - adds a sweet-licorice-peppery flavor to the dish.
Soy Sauce - lends umami and savory flavor to the dish.
Pineapple Juice helps tenderize the chicken. It also gives the dish a tangy and fresh flavor. The juice used in this recipe came from the canned pineapple slices. Simply drain or remove the slices from the can and reserve the juice.
Brown Sugar - gives the dish a slightly sweet flavor and adds that beautiful brown glaze to the sauce. If brown sugar is unavailable, you may use white sugar.
Cornstarch + water - used to thicken the sauce.
Pineapple slices - you may substitute it with pineapple chunks or tidbits if preferred.
Red Bell Pepper - gives the dish a pop of color and adds a mildly sweet yet earthy taste.
How to cook Chicken Hamonado?
The whole chicken is submerged in a spiced brine solution for at least an hour or overnight. This process helps keep the meat is juicy, moist, and flavorful. It is then slowly simmered in water, pineapple juice, brown sugar, and aromatics until tender and cooked to perfection.
This whole chicken hamonado recipe is super easy to cook without using an oven! The result is amazing with that roasted chicken look and feel. With its savory, sweet sauce, juicy meat, and festive appearance, it makes an impressive addition or even a centerpiece to your holiday spread.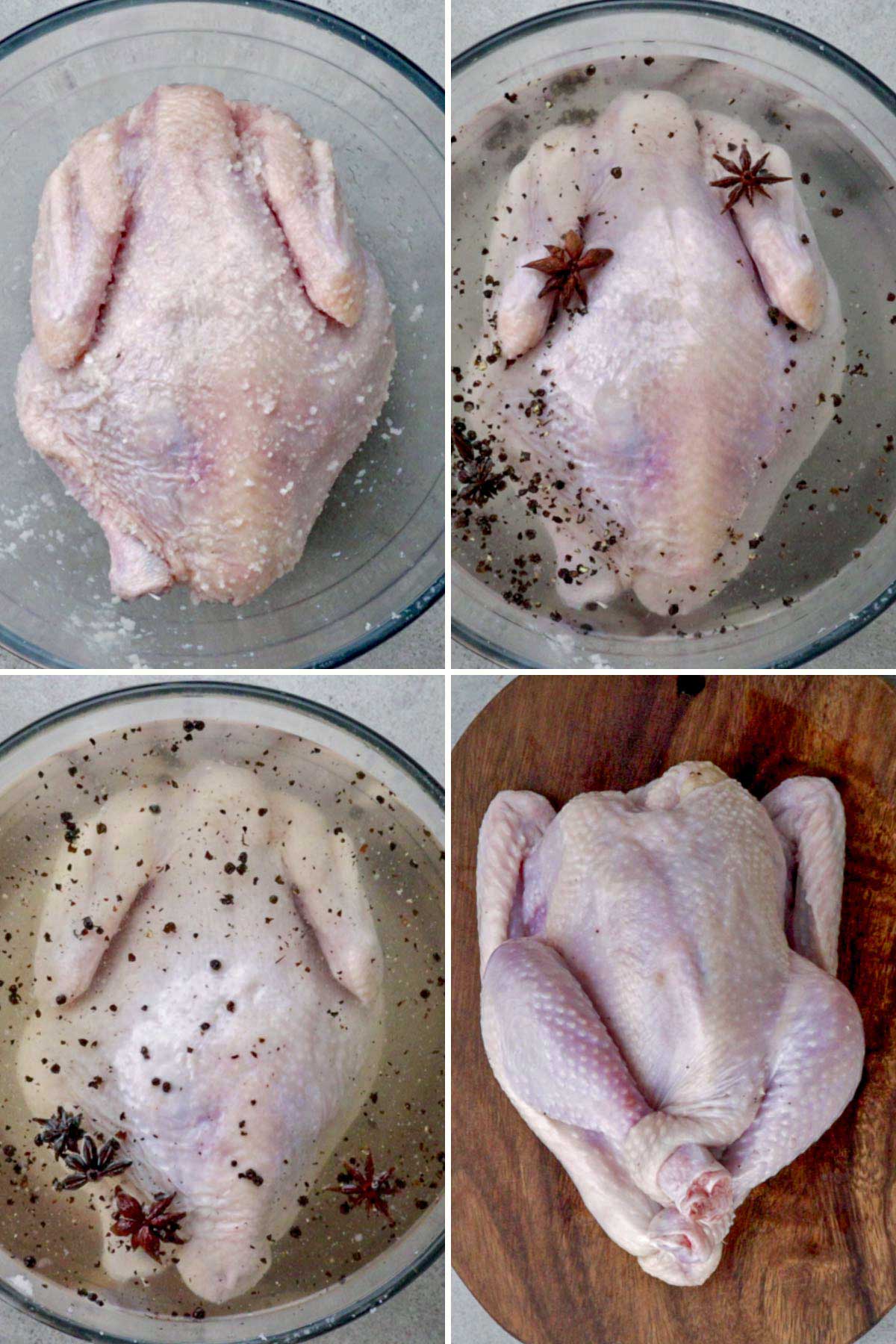 Tips in cooking Chicken Hamonado
You can use quartered chicken pieces if you prefer not to have a whole chicken.
Make sure to choose pineapple slices that are in unsweetened juice and not in heavy syrup.
To check if the chicken is safe to eat and fully cooked, simply insert a thermometer into the thickest part of the chicken. The internal temperature should read 165F or 75C.
How to Serve and Store
Place in a serving platter and garnish with pineapple slices and red bell peppers. Serve with steamed rice or mashed potatoes or fried potato wedges.
Store leftovers in a container with a tight-fitting lid. Keep it in the refrigerator for up to 3-4 days.
Place chicken hamonado in a pot over medium heat to reheat the leftovers. You may need to add a bit of water to thin out the sauce a bit.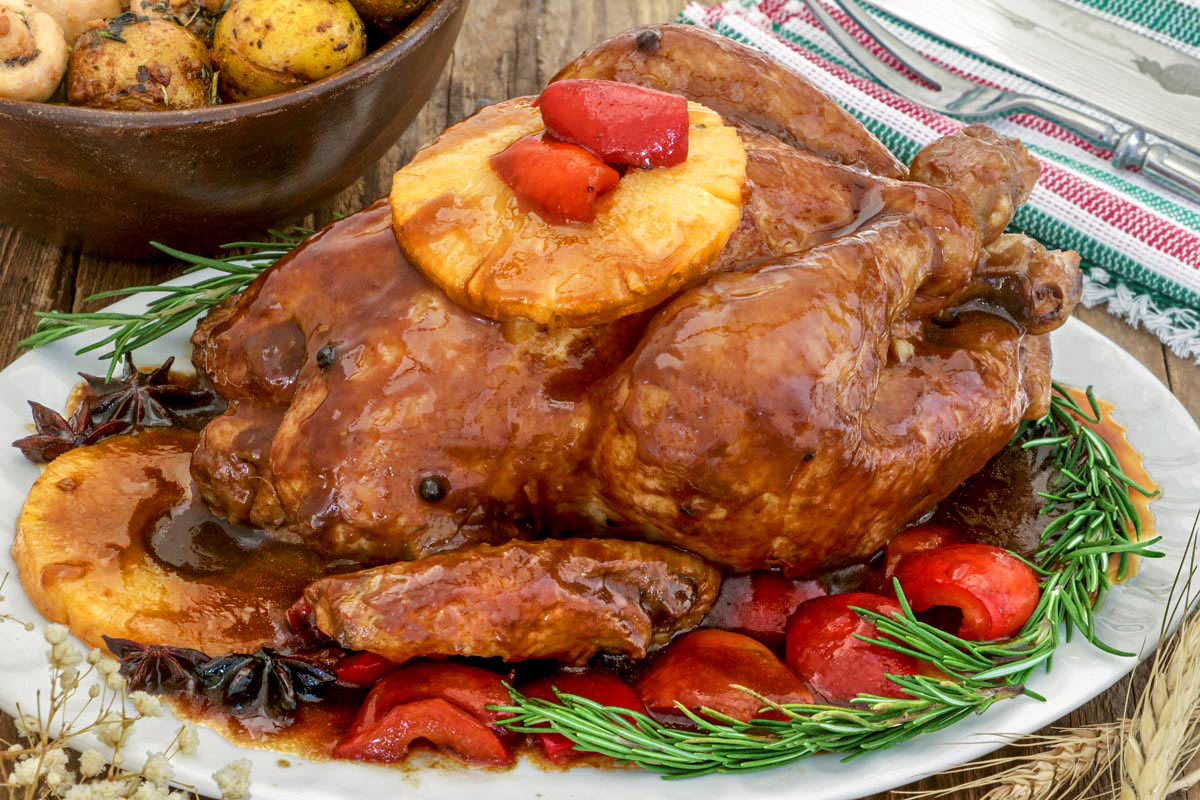 Printable Recipe
Whole Chicken Hamonado
This whole chicken Hamonado features a sweet and savory sauce from combining pineapple juice and soy sauce with other spices. It is a terrific way to dress up your whole chicken for the upcoming holidays!
Ingredients
1

whole

chicken

1.2-1.5 kgs
BRINE
5

tablespoons

rock salt

1

tablespoon

peppercorn

crushed

3

pieces

star anise

4

cups

water
COOKING SAUCE
½

cup

soy sauce

1

cup

water

1

cup

pineapple juice

unsweetened

1

tablespoon

brown sugar

6

cloves

garlic - minced

8

oz

pineapple slices

(1 small can)

1

big

red bell pepper

cubed

1

tablespoon

cornstarch

dissolved in 2 Tbsp water
Instructions
Place chicken in a large bowl and rub salt all over it. Add the peppercorns and star anise. Then pour water to submerge the chicken. Cover the bowl with a plate or plastic wrap and refrigerate overnight or at least an hour.

Take the chicken from the brine and discard the brine but save the peppercorn and star anise. Poke holes on the opposite sides of the excess skin near the cavity. Pull one leg across the cavity and insert in the hole on the other side, then do the same with the other leg. Tuck the wings on the sides behind the shoulders.

In a pot or wok just big enough to fit the chicken, pour in water, soy sauce, pineapple juice and the juice from the pineapple slices. Add the brown sugar, garlic, peppercorns, and star anise. Stir to dissolve sugar.

Place the chicken in the pot with the liquids and cover with the lid. Bring to a boil over high heat then immediately lower heat to medium-low and just let it simmer for 10 minutes.

Remove the lid and baste (take some of the sauce with a spoon or ladle and pour over the top exposed part of the meat) with the sauce several times then cover and simmer again for 10 minutes.

Remove the lid and baste several times then scatter the pineapple slices and red bell pepper around the pot. Cover and simmer again for another 5 minutes.

Take the lid off and fish out the pineapple slices and some of red bell peppers. Let simmer, uncovered, to reduce the sauce, basting from time to time.

Once the sauce has been reduced to half, lower heat to low and add the cornstarch slurry and simmer until sauce gets thick while basting regularly.

Once sauce is nicely thick, cover with the lid again and turn the heat off and just let it sit in the hot pot/wok for another 10-15 minutes to make sure that chicken is cooked through and to give the flavors time to be fully absorbed.

Carefully lift the chicken and transfer to a serving plate and decorate with pineapple and red bell peppers. Pour some of the sauce over the top and around the chicken and serve.
Nutrition
Calories:
252
kcal
Carbohydrates:
13
g
Protein:
19
g
Fat:
14
g
Saturated Fat:
4
g
Polyunsaturated Fat:
3
g
Monounsaturated Fat:
6
g
Trans Fat:
1
g
Cholesterol:
68
mg
Sodium:
5352
mg
Potassium:
302
mg
Fiber:
1
g
Sugar:
9
g
Vitamin A:
164
IU
Vitamin C:
7
mg
Calcium:
42
mg
Iron:
2
mg
More Holiday Recipes