Learn the secret on how to make these delicious Chicken Cordon Bleu. Fried to perfection with crispy outer breading and juicy chicken inside!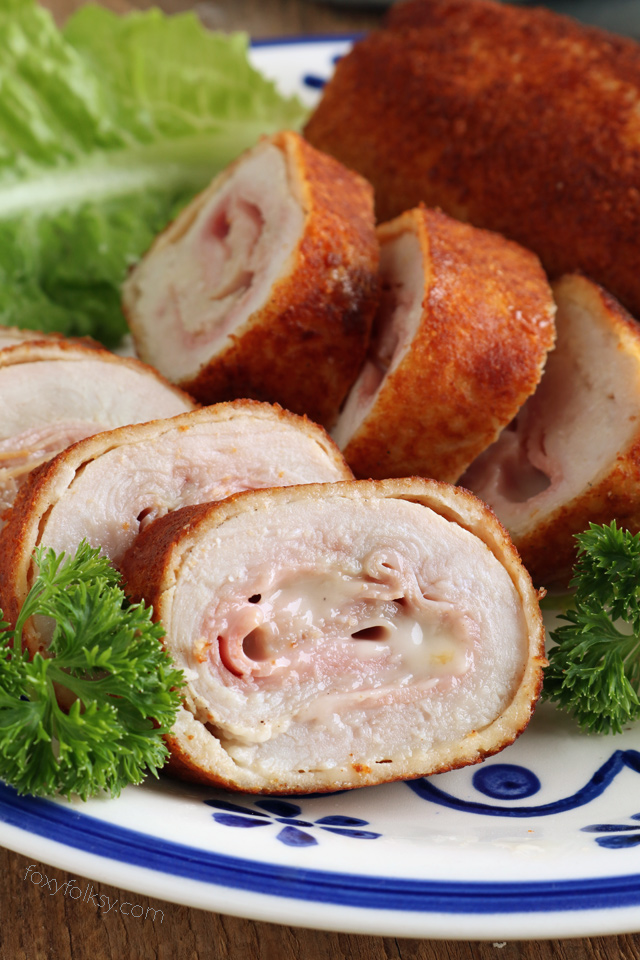 Chicken Cordon Bleu is one of Armin's most favorite dish. This is actually what he ordered when he planned a surprise dinner at the beach on our last night of honeymoon trip to Camiguin. It was quite romantic, really! So I only have really good memories associated with this classic dish.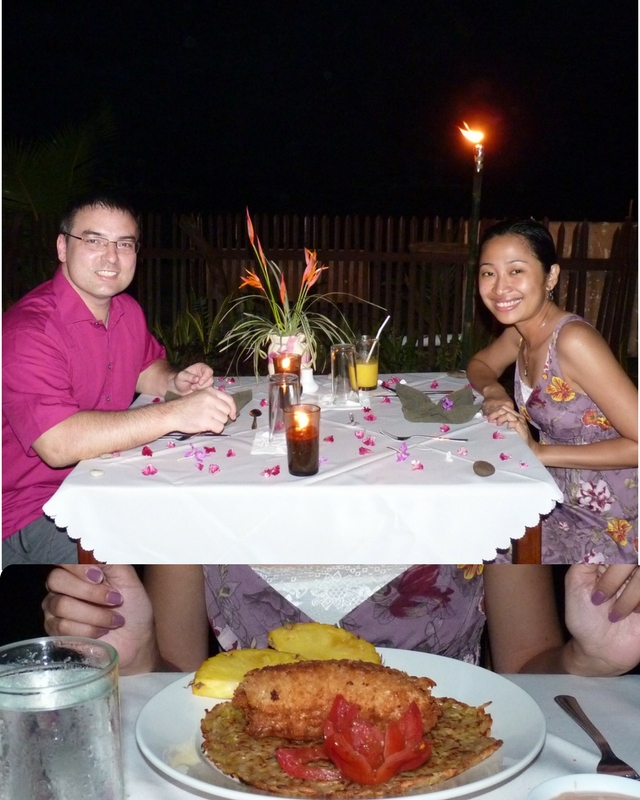 Since I know that Armin loves Chicken Cordon Bleu, it makes sense that I would like to know how to make it. The easier version that I usually make is the flat, unbreaded one. I do it by cutting a chicken breast fillet in the middle but leaving them attached on one side, then insert the ham and cheese in between and close them using toothpicks. It's not glamorous at all but it makes do for a quick and easy meal.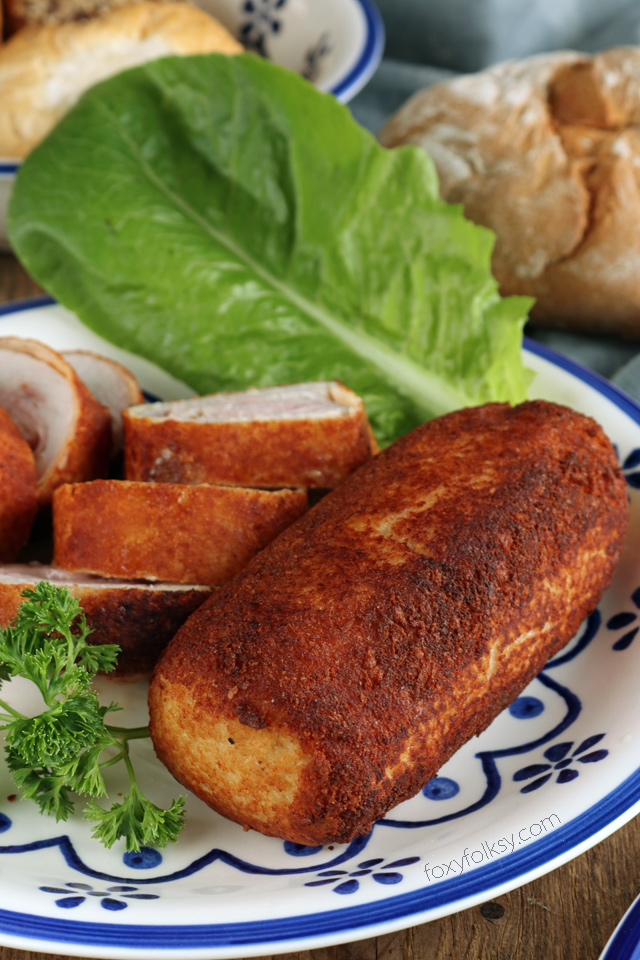 But the rolled one was always a mystery to me. I tried it several times and it does not look like the one I know. The breading turns soggy and the cheese oozes out! I didn't know what I was doing wrong. So I used my lifeline and called my mama and she told me the secret to a perfect Chicken Cordon Bleu.

The secret to a perfectly fried Chicken Cordon Bleu is to chill it overnight or at least for some hours before frying. This is done with the help of a plastic or aluminum foil wrap. Although, I would recommend using the plastic wrap over the aluminum because you can pack it really tight without breaking. I actually use the plastic wrap twice, first to form the chicken roll without the breading so that it has a nice, smooth, rounded shape before I cover it completely with the breading and then again after it is covered with breadcrumbs to chill. I forgot to take a photo to include it on the illustration above but this is really an important part!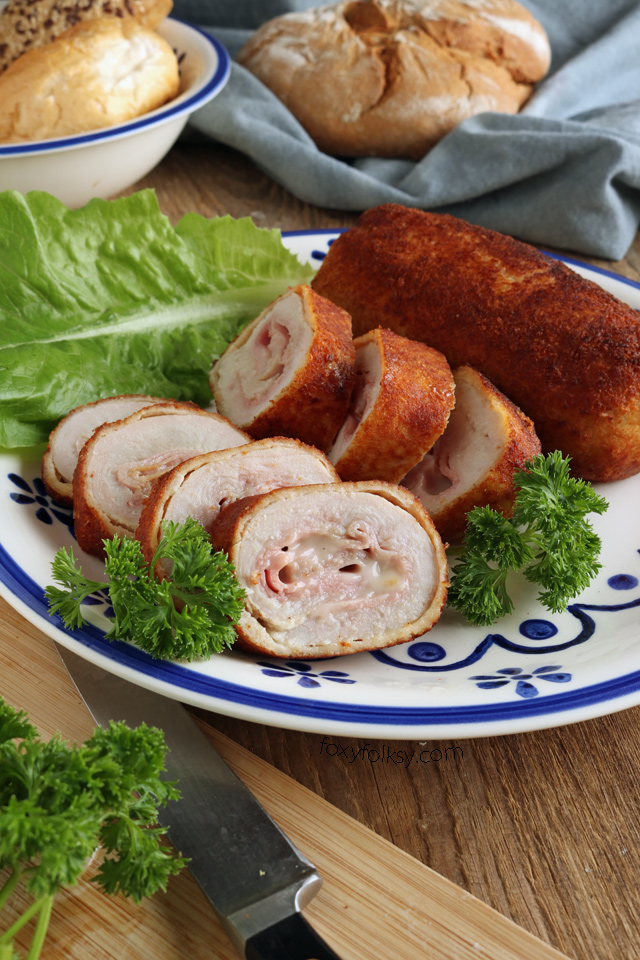 Printable Recipe
Chicken Cordon Bleu
Learnt he secret on how to make these delicious Chicken Cordon Bleu. Fried to perfection with crispy outer breading and juicy chicken inside!
Ingredients
2

pounds

chicken breast fillet

4

tablespoons

fish sauce

1

teaspoon

ground pepper

4

tablespoons

lemon juice

or calamansi juice

1

teaspoon

kosher salt

2

big or 4-6 small slices

cheese

4

big or 6-8 slices

cooked ham

2

eggs

- beaten

½

cup

flour

½

cup

breadcrumbs

1

teaspoon

salt

¼

teaspoon

ground pepper

oil

- for deep frying
Instructions
Combine fish sauce, ground pepper, lemon or calamansi juice and kosher salt in a small bowl.

Pound chicken breasts to ½ inch thickness. Marinade the chicken with the fish sauce mixture for at least an hour. Remove excess liquid by squeezing gently.

Place the flour, egg, and breadcrumbs in three separate deep plates. Add a teaspoon of salt and ¼ teaspoon of ground pepper to the breadcrumbs and mix well.

Place two plastic wrap on a flat surface and lay a chicken breast fillet on top of each wrapper. Top each half with ham and cheese. Roll up each breast fillet jelly-roll fashion by pushing the plastic wrap underneath from one side to the other like sushi. Try to make it as compact as possible.

Remove plastic and roll each in flour covering the chicken completely. Then dip each roll in egg and lastly dredge in breadcrumb mixture, completely covering the chicken and the ends filled. Cover each roll tightly with a plastic or foil wrap. Place the rolls in the fridge overnight.

In a deep pan or pot over medium heat, heat enough oil to deep fry the chicken. Deep fry the rolls until cooked.

Remove from oil and transfer to a plate lined with paper towels to remove excess oil.

Cut into slices and serve.
Nutrition
Calories:
828
kcal
Carbohydrates:
47
g
Protein:
111
g
Fat:
18
g
Saturated Fat:
4
g
Cholesterol:
455
mg
Sodium:
5972
mg
Potassium:
1959
mg
Fiber:
2
g
Sugar:
4
g
Vitamin A:
375
IU
Vitamin C:
17.1
mg
Calcium:
119
mg
Iron:
5.6
mg