Try this very light and refreshing California Roll wrap with surimi and sweet ripe mangoes and other healthy greens made more flavorful by a spread of creamy garlicky white sauce.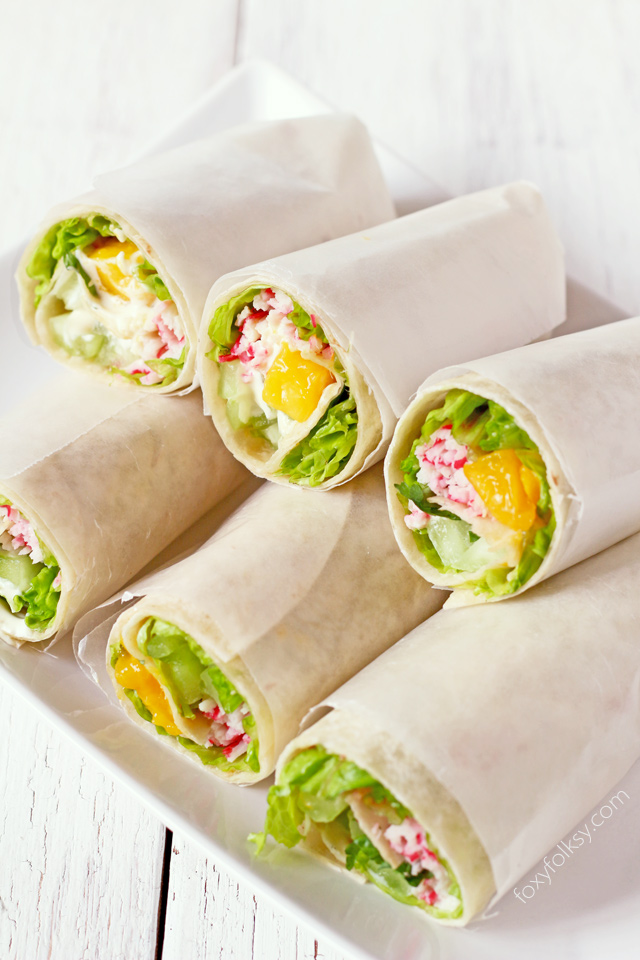 This is a total timesaving recipe, I tell you! The hardest part I did preparing these wraps was peeling and cutting the cucumber and mango. And I would have been done faster if I was able to find bigger tortilla wraps instead of the really small ones that is the only one available in the supermarket where we were. We are actually surrounded by at least 5 other grocery/supermarket, I really have to check them out for the large tortilla wraps. If not, I will have to make them myself.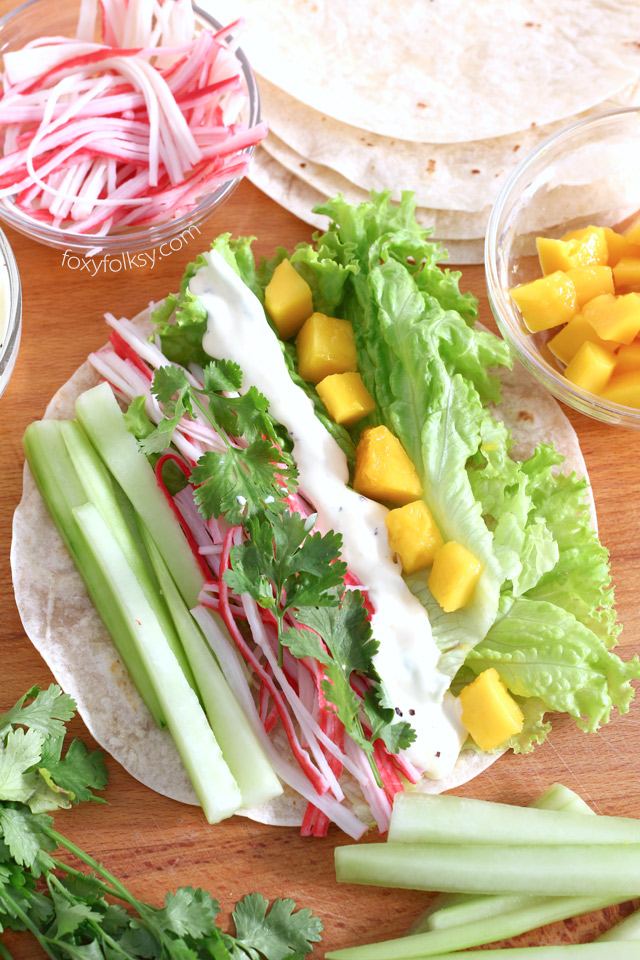 I plan to always have some tortilla wraps in my fridge and surimi sticks in this case. Good thing I can get the greens from a food store just around the corner of our house who sells fresh vegetables and fruits. Wraps like this one are my go-to meal from now on. There are just so many things going on at the moment, both inside and outside Foxy Folksy (will share details in the future). Since we came to the PH, it seems that 24 hours a day is just not enough. Having this in my quick and easy meals arsenal is really gonna save me a lot of time in the kitchen.
The other great thing about this California Roll Wrap recipe is that it is almost meat-free. Aside from no need to cook and ease of storage, I used surimi sticks because we are also trying to cut down on our red meat consumption. Alternatively, you may also use some grilled or roasted chicken, if you have the time (or leftovers).
There are also those greens that will make you feel great eating it. I only used green leaf lettuce (any lettuce should do), cucumber a touch of cilantro for an added kick of fresh citrusy flavor. You can omit that if you do not like cilantro. Did you now that some people do not like cilantro because it tastes like soap metallic to them and this, supposedly, has something to do with their genes, crazy right?!
The mango adds a mild sweetness to the mix and if you like you can also add some strips of avocado.
I think you will be seeing more wrap recipes in the future.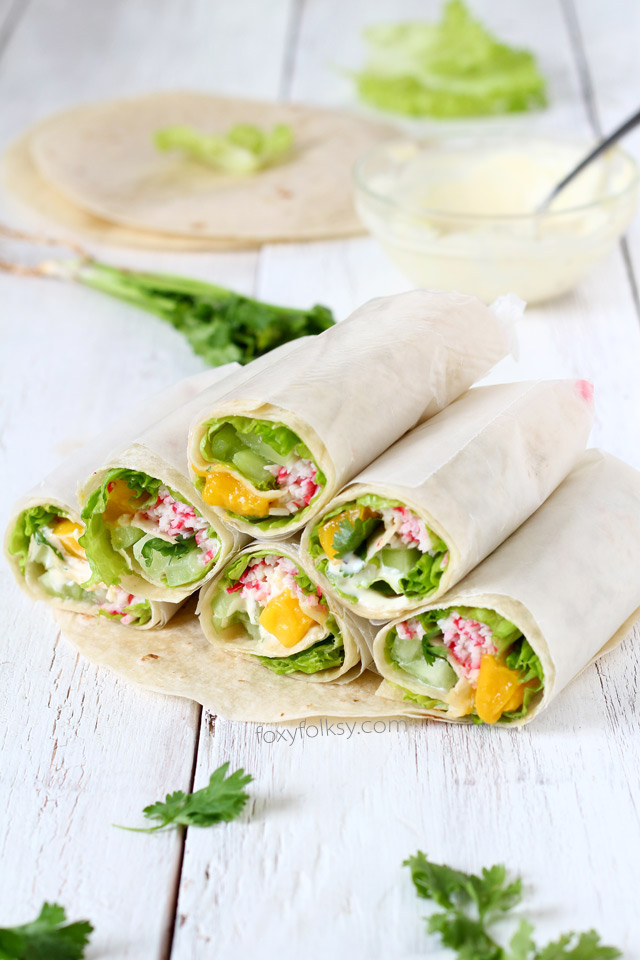 California Roll Wrap
Try this very light and refreshing California Roll wrap with surimi and ripe mango and other healthy greens.
Ingredients
6

pieces

tortilla wraps

6

pieces

surimi sticks

(or imitation crab sticks) - shredded

1

cucumber

- cut into long strips

1

cup

ripe mango

- cut into small cubes

6

pieces

green leaf lettuce

- washed and pat dry

some

fresh cilantro leaves
SAUCE
½

cup

mayonnaise

½

cup

sour cream

1

teaspoon

garlic powder

1

teaspoon

dijon mustard

pinch of

salt

ground pepper
Instructions
Combine all ingredients for the sauce in a small bowl.

Wrap

tortillas

in slightly damp paper towels and microwave on high for 45 to 60 seconds or heat the tortillas individually in an un-greased large skillet over medium heat.

Lay a tortilla wrap on a flat surface. Lay a green leaf lettuce in the middle of the wrap spreading it outwards.

Arrange strips of cucumber, shredded surimi, and mango horizontally across the tortilla wrap.

Spoon some of the sauce on top of the fillings and top with some cilantro leaves.

Fold both sides of tortilla inwards and then the side facing you on top of the filling and roll tightly towards the other side.

Repeat with other tortilla wraps.
Nutrition
Calories:
192
kcal
Carbohydrates:
6
g
Protein:
1
g
Fat:
18
g
Saturated Fat:
4
g
Cholesterol:
17
mg
Sodium:
157
mg
Potassium:
147
mg
Fiber:
0
g
Sugar:
5
g
Vitamin A:
540
IU
Vitamin C:
11.8
mg
Calcium:
31
mg
Iron:
0.3
mg