These baked sweet potato cubes with Parmesan are so good and effortless to make! The sour cream with chives dip is but a welcome bonus.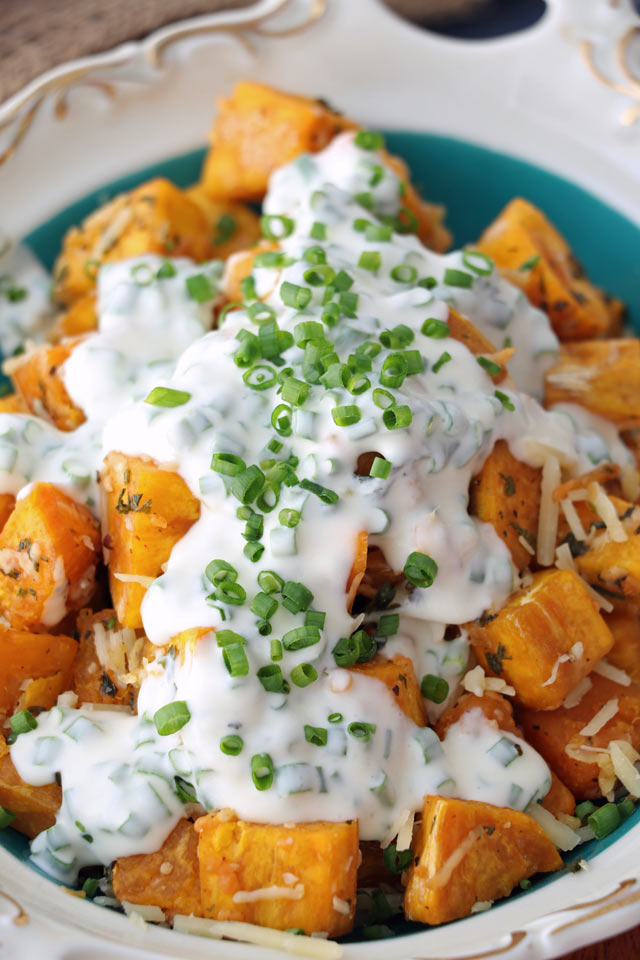 This dish was quite a surprise. When I think of sweet potatoes, the pictures that come to my mind are that of sweets and desserts. I would have never thought that a savory dish can be created using sweet potatoes but in this case, I guess I am proven wrong.
But I am really digging this side dish and I was quite happy to eat it (all) without missing the main. Only, Armin won't let me have it all, of course!
I love how the mild sweetness of the sweet potatoes comes more like an after-taste and not overpowering the other ingredients, especially the Parmesan cheese and vice versa.
It is like a play of flavors that burst from then to the other.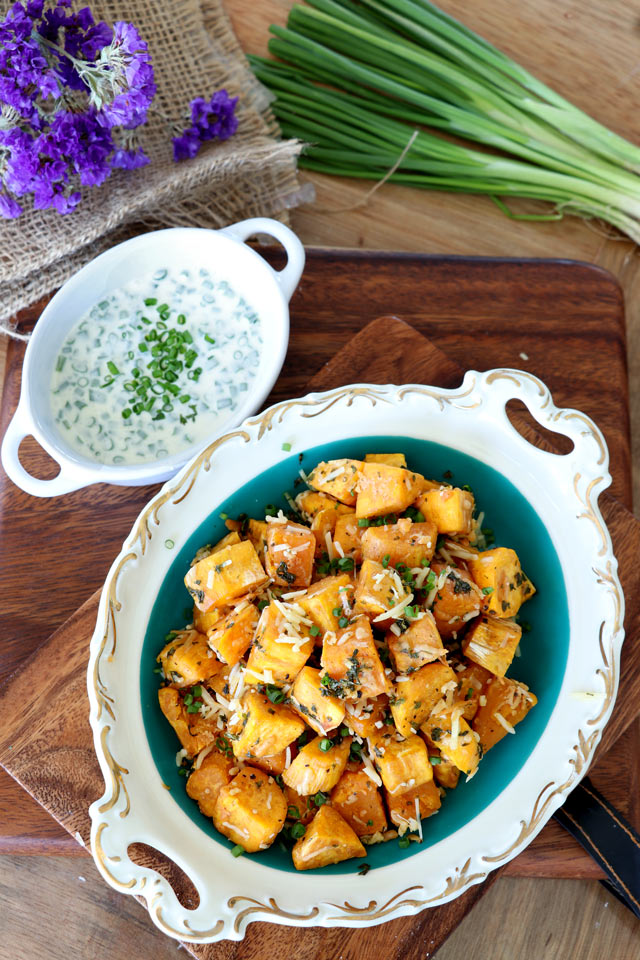 I am also delighted that it is so quick and easy to make: total baking time was just 15 minutes! I would definitely file this recipe away under dinner party side dishes.
It would be great to have a side dish that does not require so much time and effort to prepare so you could focus on the other stuff, like the main dish.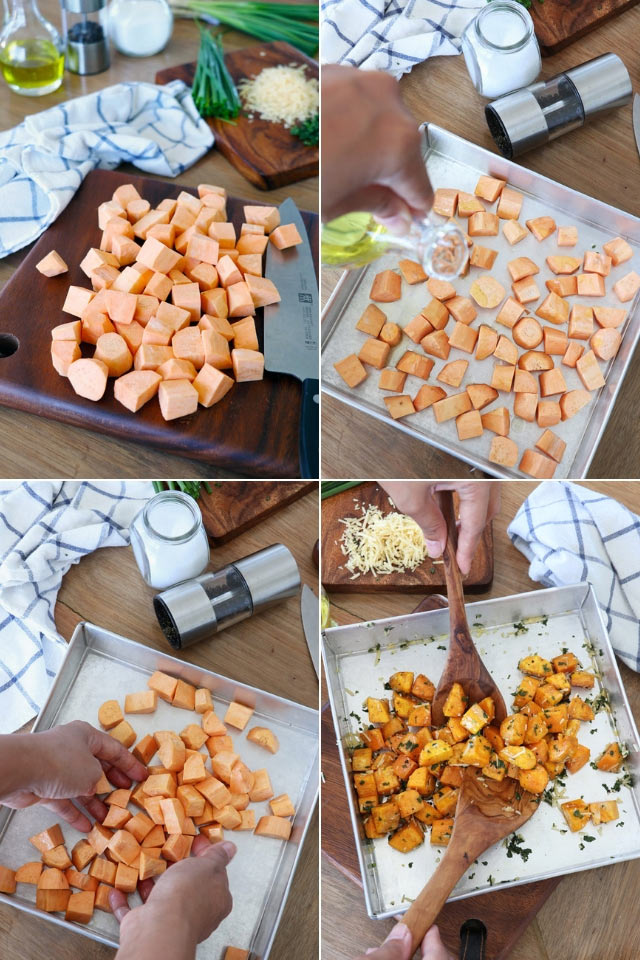 I like to have some of my Parmesan cheese crunchy, while I also like them fresh and flavorful.
What I do is bake the potato cubes with a little olive oil for 12 minutes wherein they are then almost done. I, then, bring them out of the oven, add the chopped parsley mixed with more olive oil and shredded Parmesan cheese and sprinkle some salt and ground pepper. Put it back in the oven for another 3 minutes. Once it is done, I toss in some more shredded Parmesan.
The result is potato cubes coated in crisp Parmesan that is also tasting fresh, sharp and tangy.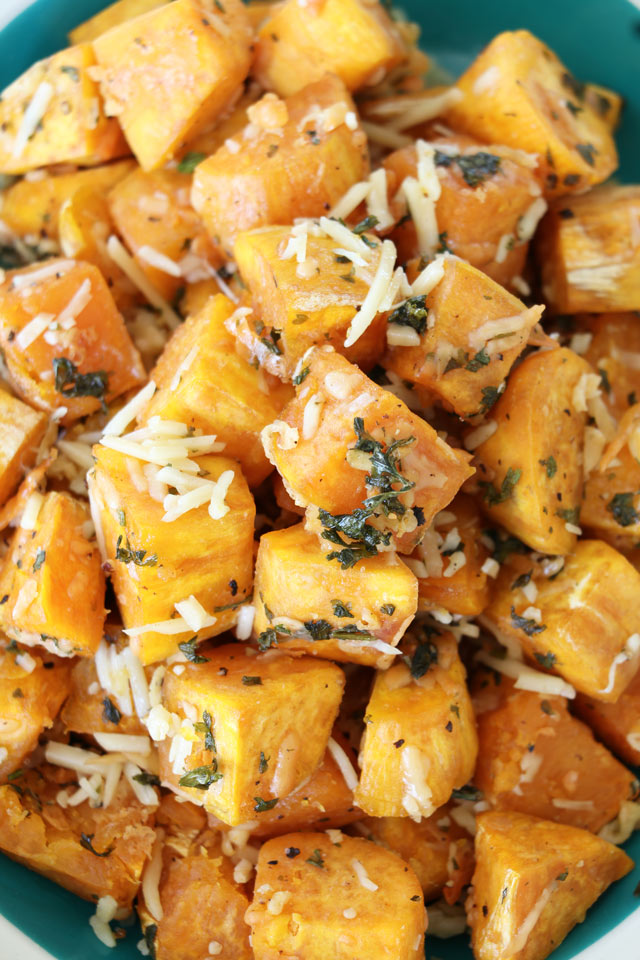 As I said, the sour cream-chives dip is an added bonus but I would highly recommend it! The tartness of the sour cream and the hint of onion flavor from the chives are another two layers of flavor that make this baked sweet potato cubes the best side dish you will ever have.    
Printable Recipe
Baked Sweet Potato Cubes with Parmesan and Sour Cream-Chives
These baked sweet potato cubes with Parmesan are so good and effortless to make! The sour cream with chives dip is but a welcome bonus.

Ingredients
6

cups

sweet potatoes

- cut into 1-inch cubes

2

tablespoon

olive oil

4

tablespoon

parsley

- chopped

¼

cup

olive oil

½

cup

shredded Parmesan cheese

¼

teaspoon

salt

⅛

teaspoon

ground pepper

3

tablespoons

shredded Parmesan cheese

1

cup

sour cream

1

bunch

chives

- chopped finely
Instructions
In a bowl, combine sour cream and chopped chives. Season with salt as needed. Cover bowl and place in the fridge until ready to use.

Place sweet potato cubes in a baking tray. Drizzle with 2 tablespoon olive oil and toss until cubes are coated in oil.

Spread into an even layer. Bake in a preheated oven with top heat or broiler function at 200°C/400°F for 12 minutes or until tender.

Meanwhile, in a small bowl stir together olive oil, parsley, salt, ground pepper, and ½ cup parmesan cheese. (see Note 1)

Remove the sweet potato cubes from the oven and pour the parsley mixture over it and toss until completely and evenly coated. Return to oven and bake for another 3-5 minutes.

Transfer the baked sweet potato cubes into a serving dish. Sprinkle with more parmesan cheese.

Serve with the sour cream-chive as a dip or pour the mixture directly and toss to coat evenly.
Notes
Note 1 - As the saltiness of parmesan cheese may vary, reduce or add salt accordingly. 
Nutrition
Calories:
427
kcal
Carbohydrates:
34
g
Protein:
8
g
Fat:
29
g
Saturated Fat:
9
g
Cholesterol:
34
mg
Sodium:
443
mg
Potassium:
632
mg
Fiber:
4
g
Sugar:
8
g
Vitamin A:
23345
IU
Vitamin C:
9
mg
Calcium:
249
mg
Iron:
1.4
mg