Try this super tender Pork Lengua Recipe with creamy white sauce. Cooked in a pressure cooker to cut the cooking time. An all-time favorite Filipino delicacy.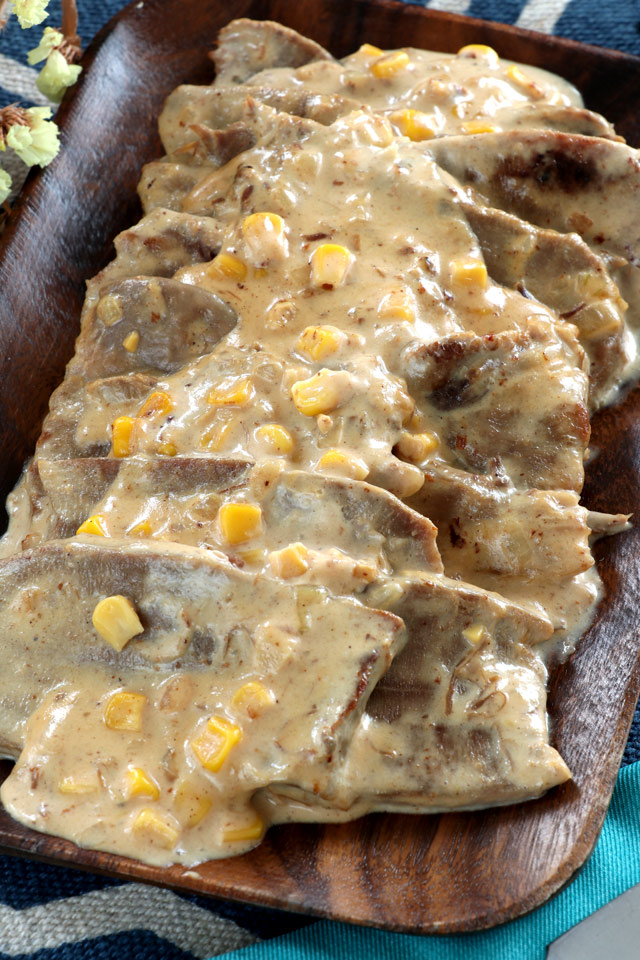 Lengua is a dish made from beef or pork tongue, beef being the more popular choice. The popular way of cooking Lengua in the Philippines is with white sauce. People would normally serve this at special occassions.
I was asked by one at Instagram to write about Lengue Recipe. And she asked specifically about Lengue recipe without using cream of mushroom. Like how it is done in Pampanga she said.
Of course, I said I would do it. I've had it so many times before but the truth is, I haven't cooked this dish until now. Usually, I leave it to my Mama who used to cook this everyday when they still had the canteen.
Beef or Pork Tongue for Lengua?
So when I went out to get me some tongue, the butcher asked me if I want beef/ox or pork tongue. Eerrr...unsure which one, I just told him to give me the one that is used for Lengua. He told me both can be used.
I called my Mama and asked her which one to get. I just assumed everyone uses beef tongue. She told me that if I am not using cream of mushroom then to get the pork tongue. Don't ask me why, but it seems that is how it is done.
It is way smaller than beef or ox tongue so it would be perfect if you are not cooking for a large group. It was also faster to cook because of its size.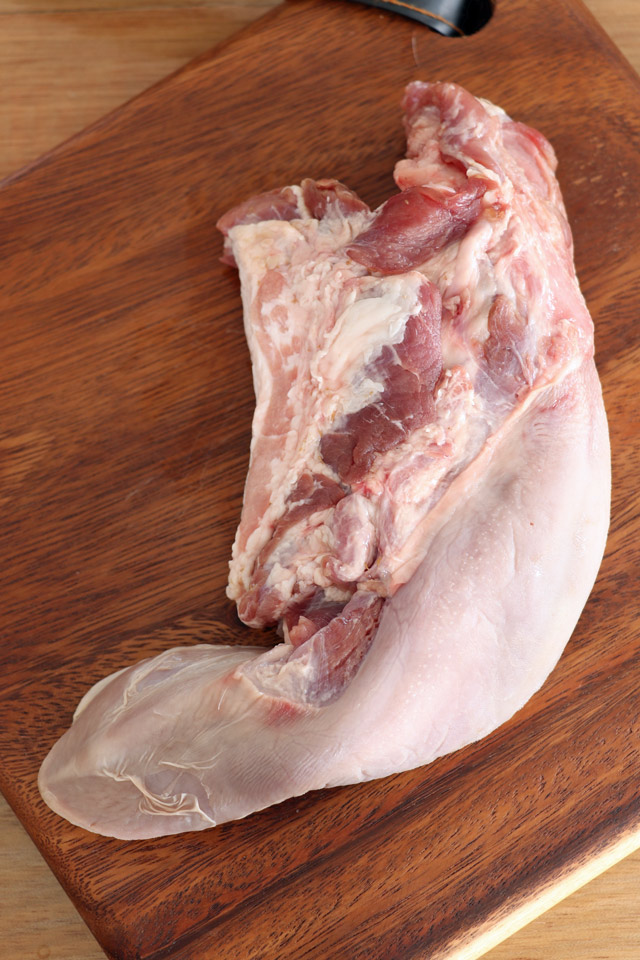 I really thought that cooking Lengua would require a lot of effort. Not that I am afraid of flexing some muscles in the kitchen if needed. I think I've proven in several occassions that I can also do complicated.
I am not completely sure why Lengua gave me that impression that it is difficult. To my surprise, preparing this dish turned out to be rather simple. Well, I have to admit, not without several phone calls to my Mama for advice and confirmation to boost my confidence first.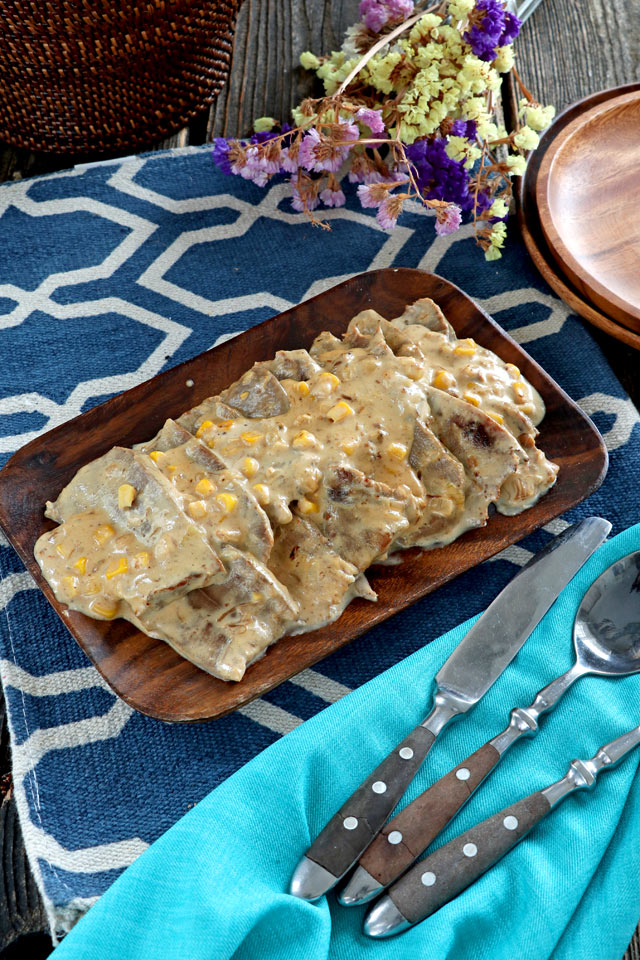 The problem is Mama does not have exact measurements. Like the really good cook that she is, everything comes from experience and gut feeling.
So I thought, I have the ingredients down and I would just wing it with the measurements. Some little adjustments later and I came with this recipe. With stamp of approval from both my Mama and Papa of course before sharing it here.
Armin did try it and said it taste good but he cannot imagine eating pork tongue...just yet (*wink*) !
By the way, a callout to Ms. Nadia Junco...as you requested now here it is, Lengua recipe without using cream of mushroom.
Printable Recipe
Easy Creamy Lengua Recipe (Pork Tongue)
Try this super tender Pork Lengua Recipe writh creamy white sauce. Cooked in presure cooker to cut the cooking time. An all-time favorite Filipino delicacy.
Ingredients
1

pound

pork tongue

1

tablespoon

salt

3

tablespoons

butter

2

cloves

garlic

- minced

1

medium

onion

- chopped

1

tablespoon

soy sauce

1

can (370ml)

evaporated milk

1

cup

broth (from tongue)

1

can (15.25oz)

whole corn kernel

- liquid drained

salt

ground pepper

½

cup

all-purpose cream
Instructions
Place the pork tongue in a pressure cooker. Sprinkle 1 tablespoon of salt and and fill with enough water just to cover the meat. Cook in pressure cooker for 25-30 minutes.

Remove tongue from liquid and transfer to a work surface and cool slightly. Reserve a cup of the broth. Peel outer layer of skin from pork tongue. Cut the meat in thin slices about a quarter inch thick.


Melt butter on a large skillet over medium heat. Saute garlic and onion until aromatic and tender.

Add the pork tongue slices and season with soy sauce. Let it cook for 2-3 minutes turning the meat slices once or twice.

Pour in evaporated milk and broth and add the corn kernels. Season with salt and pepper. Let it simmer for 5-7 minutes or until liquids starts to get thick.

Add all-purpose cream and simmer for another minute. Add salt if needed.

Transfer to a serving plate and serve with steamed rice or mashed potatoes.
Notes
If you do not have a pressure cooker, just boil the tongue in a pot over stove-top over high heat. Once it starts to boil, set heat to low and cover with lid. Let it simmer for 1-2 hours or until the pork tongue becomes fork-tender.
Nutrition
Calories:
495
kcal
Carbohydrates:
4
g
Protein:
20
g
Fat:
43
g
Saturated Fat:
21
g
Cholesterol:
145
mg
Sodium:
2362
mg
Potassium:
444
mg
Fiber:
0
g
Sugar:
1
g
Vitamin A:
700
IU
Vitamin C:
7.4
mg
Calcium:
50
mg
Iron:
1.3
mg