I created this page to remind me of my humble beginnings, which at the moment I am still at, to see the progress of Foxy Folksy over time. I will include here the treasures, (like tips, useful products and services and the likes) that I may stumble upon on the course of learning the ropes of blogging to be able to share my experiences, mistakes and successes to those who are thinking of starting their own blog who, like me, would prefer to do everything on their own, probably due to financial limitations or just for the fun of it.
Disclaimer: Please note that some of the links from this page may be affiliate links and I will earn a commission if you purchase through these links. But rest assured that I only recommend them thru my personal experience because I find them trustworthy and helpful.

MY PHOTOGRAPHY
T
OOLS
Canon EOS 100D or Rebel as they call it in US is the ideal dSLR for beginners or for those who do not have previous experience with using dSLR. It is the smallest dSLR there is so it is very handy to use. It is also budget friendly compared to other bigger dSLR so it is perfect for those who are just starting their blogs but thinking of having a dSLR. You can usually buy a kit with EF-S 18-55mm f/3.5-5.6 IS II Lens already included.  But do not let the size or price fool you, it is compact with features and takes incredible pictures. 
---
Canon EF 50mm f/1.8
is a Prime or Fixed Lens, meaning there is no zooming in or out. This lens is perfect for portraits and food photography especially if you are aiming for a bokeh effect (blurred background). Other food photographers use Canon EF 50mm f/1.4
but that is more expensive and this is the next best thing for more than half the price.
---
Canon EF-S 10-18mm f/4.5-5.6 IS STM Lens is one of the most affordable wide-angle lenses that is not only great for outdoor or landscape photography, I also use it for taking pictures of table settings or from-above photo shots because it can capture more elements even on tight or limited spaces. Wide-angle lenses are also great for emphasizing a foreground subject: Shoot wide and get in close, and your subject will dominate the frame. 
---
A tripod is absolutely a must if you want to have really good quality photos. I am using several but my favorite is this one from Vanguard Alta Pro 263AT Aluminum Alloy Tripod with Multiple Angle Central Column. I like that it is very stable and flexible and can be used for taking overhead shots!
---
To have good pictures, good lighting condition is as much important as having a good camera. Although a lot of food photographers would agree that natural lighting is the best, it is not always possible to have good weather all the time or to stop the sun from setting until you are done cooking or baking your food for a good shot. Having softboxes
 (I have 3 but 1 could be enough if used properly) help me be more flexible with taking photos anytime of the day. 
---
Tasty Food Photography. - Starting a Food Blog? One thing I learned is that having really good photos of the food you are writing about plays a big part in capturing your reader's attention and appetite. Not only that, it would also help your blog get more traffic if you are to enter your food photos to various food photo submission site, and they surely can be very picky. This book has some practical and helpful tips and tricks that will help you bring your food photos to the next level. Click here to view more details. 

TOOLS FOR CREATING BLOG
When I decided to have my blog self-hosted, I chose Hostgator as my hosting company for Foxy Folksy.  For a beginner like me who is still learning the ropes, Hostgator has really made it easy to get my blog up and running on WordPress. They also offer a pay-per-month hosting plan, unlike many other hosting companies where you have to pay for at least 6 months upfront. They also charge reasonable fees with excellent support service and is very reliable.
If you decide to use Hostgator, then go to my step-by-step tutorial on how to create your blog from the domain and hosting registration, installing WordPress and choosing a theme.  
---
Another Web hosting that I would highly recommend, and so does WordPress apparently, would be Bluehost ! This is what most bloggers I know use. The only reason I didn't sign up with Bluehost was because they do not have the pay-per-month plan like Hostgator offers and at that time I didn't know that I would love blogging and become a full-time blogger.
You have to pay for minimum 12 months upfront. You may also choose to sign-up for 24 or 36-month plan for discounted price. If you are serious about blogging, I would say invest with Bluehost because of all the positive reviews I've read. I am actually contemplating of moving.
---
Free Themes for WordPress offers a lot of themes to choose from depending on what kind of blog you plan on having. This is great for those who are starting their blogs but doesn't want to spend a lot of money right away or at all.
---
Studio Press Themes for WordPress  offers premium themes, the most popular of which is the Genesis Framework which happens to be used by a lot of great blogs for its simplicity of design and flexibility it offers in customizing the content the way you like it.
---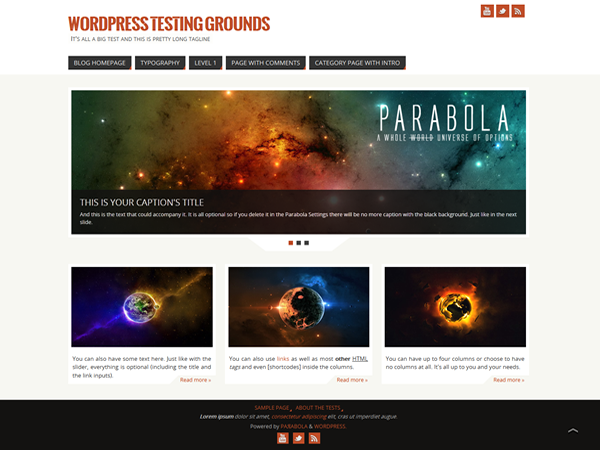 It is one of the free themes from WordPress. For someone who is new to blogging and does not know so much about coding, this theme is very easy to customize, with different layouts and templates to choose from not to mention eight available widget areas. Although I changed from Parabola to a new theme, this theme is still easier to use and modify, so it really great for those only starting to blog.
We became members of Food Blogger Pro oinFebruary 2017. This is a membership site for food bloggers (and others) created by Bjork and Lindsay from Pinch of Yum. This is where they share their secret to their successful website. It has video tutorials on how to create your own blog/website, driving traffic to it, SEO, food photography and everything in between!  They also have a great team who are very friendly and helpful and the community is just great! So even for those who have been already blogging for awhile, you can still learn a lot and be up-to-date with what's new in the world of blogging and get answers to your questions from the tips and advice of the experts in the community forum. They also have this monthly live Q& A where you can ask Bjork and Lindsay questions and get your answers live. Read here to know more about Food Blogger Pro! To get special discounts by using this Food Blogger Pro Membership Coupon.
---

TOOLS FOR WRITING
Grammarly is a free online grammar checker. It checks contextual spelling, 250 grammar rules and has a host of other tools available to help you get accurate and original content. Definitely, a must-have to help you write your blog contents. They also offer premium plans that come with additional features!

TOOLS FOR GROWING TRAFFIC
Foxy Folksy uses MailChimp as email marketing software in sending emails to our subscribers for new blog posts and other updates. You can create an account and use it for free up to 12,000 emails per month if you have less than 2,000 subscribers, which is perfect for beginners. It allows you to automatically send emails to all your email subscribers whenever you publish new posts using their RSS-to-email campaign. It is really easy to use and set up and most topics and questions are explained in their Knowledge Base. 
---
Foxy Folksy also uses Board Booster  to schedule pins to our Pinterest account. Pinterest is one of our largest sources of traffic and using Board Booster is a way we drive traffic to Foxy Folksy with minimum effort because it is largely automated! This service allows us to spread out the pins over a day or week period so we don't overload our followers all at once.

USEFUL PLUGINS (WORDPRESS)
All-in-One SEO Pack helps optimize your blog for search engines. I use this plugin as it is very easy to use right out of the box and do the most of the SEO work already on its own which is great for people who has a limited understanding of SEO. If you do know something about it, it still enables you to fine tune everything.  All-in-One-Seo Pack Pro is the premium version
Akismet helps filter spam comments from getting through to your blog. This is very important as I get lots of these spam comments a day and it will not look nice if they all show up.
Easy Recipe plugin makes it a breeze to add a recipe to a post. All you have to do is fill in the required boxes like ingredients, procedures,  prep and cooking time and number of servings and you can also add a photo. It is also reader-friendly as they can print your recipe with just a click of a button.