Turn plain canned tuna into something exciting and delicious! These Cheesy Spicy Tuna Spring Rolls are exploding with flavors at every single bite. So easy and economical to make.
We Filipinos love our lumpia. Most specially lumpiang Shanghai— ground pork and some spices wrapped in lumpia wrapper and fried to golden brown yumminess! This is my tuna lumpia version!
You definitely have to try this cheesy spicy tuna spring rolls recipe! It is one of those dishes that will give you a nice surprise as you bite on its nice crispy fried  wrapper. A mild explosion of flavors follows. You might have an idea how it should taste, like fishy, only to discover you were wrong. You will never look at a canned tuna the same way again!
It can be served as an appetizer or finger food, but can also be eaten as the main dish as it can be filling.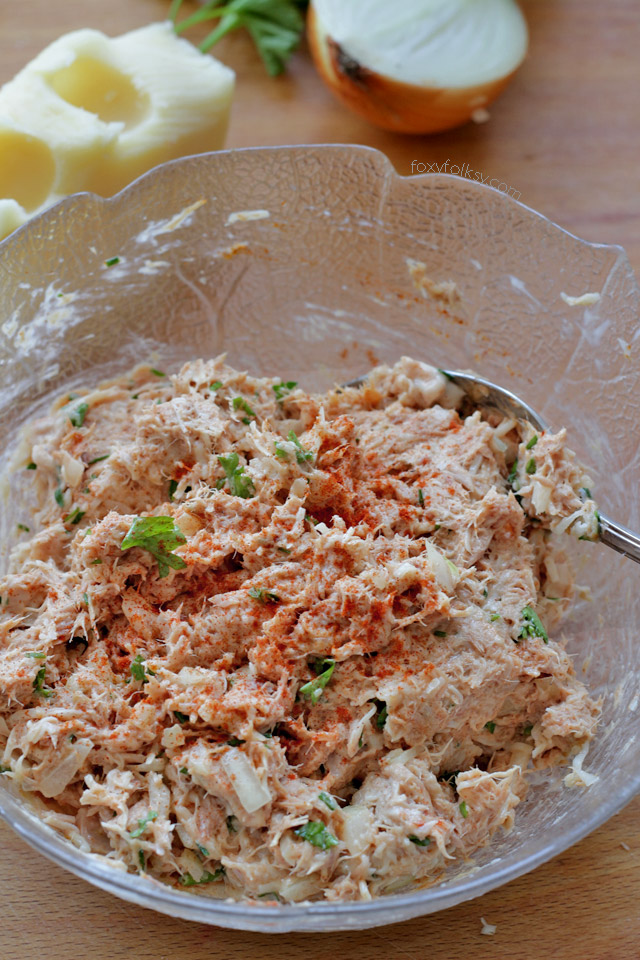 This recipe is also a rather simple and easy dish to make. A good alternative for those who are trying to avoid or at least lessen red meat in their diet. Even the dip is so basic, I just used ketchup mixed with some sweet chili sauce but that can be omitted, ketchup on its own will do just fine!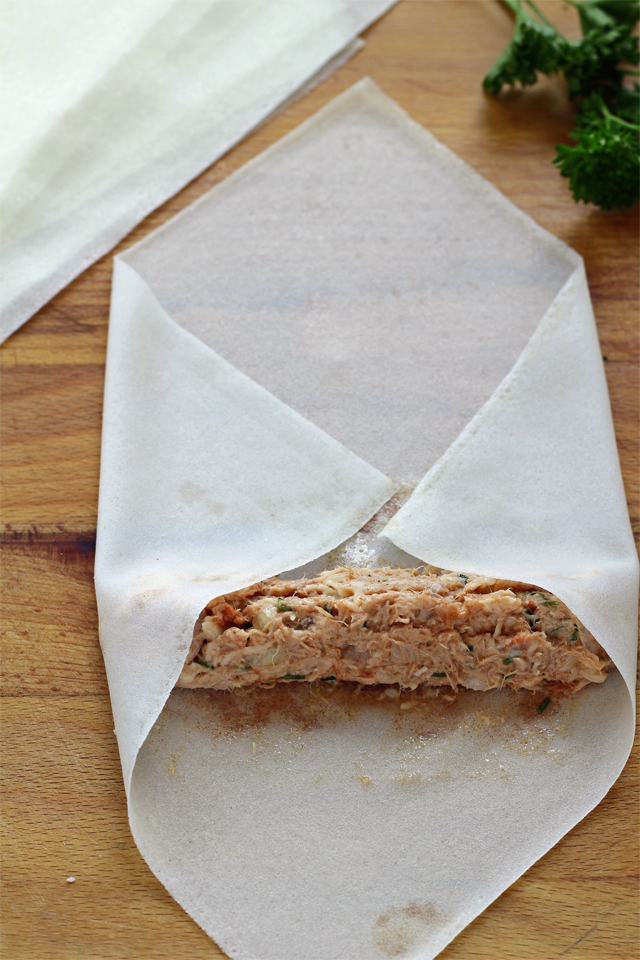 For those who are not particularly fond of fish, just try this recipe! Armin, who is not so big on fish and seafood barely detected the fishy taste of the tuna. Heck, even Sietema loved it! I never knew our picky eater  shih-tzu would ever eat tuna and a spicy one at that! But she devoured them like they were treats. 
Notes on some ingredients:
What canned tuna to use? Any kind will do but I recommend using chunky tuna in water. They are normally more neutral in taste. Water is also  easier to drain than oil plus, as these will already be fried, will not add greasiness. I used 1 can of tuna for this recipe but different brands have different meat to water ratio. You may need to use 2 can instead if the can has more water.
To give it more flavors, you can add finely chopped parsley , chives or celery. Fresh is the best but if not available, dried ones works also well.
For spiciness, we used cayenne powder. You can also use chili powder or any spicy condiment in powder or liquid form.
Mayonnaise is also added not only for added creaminess but also to hold the filling together. You can adjust it as you like.
Printable Recipe
Cheesy Spicy Tuna Spring Rolls
These Cheesy Spicy Tuna Spring Rolls are exploding with flavors at every single bite. So easy and economical to make.  
Ingredients
1

can (7 oz)

tuna chunk in water

- drained

1

small

onion

- chopped finely

1

cup

mayonnaise

½

teaspoon

salt

⅛

teaspoon

ground pepper

1

teaspoons

cayenne pepper

-or more

¼

cup

parsley

or chives or celery - chopped

1

cup

grated cheese

1

tablespoon

cornstarch

- dissolved in ¼ cup of water for sealing the wraps

oil

- for frying
Instructions
In a bowl, combine all the ingredients, except for the last four. Mix using a fork until well combined then add the grated cheese and mix again to distribute evenly.

On a clean surface, lay a spring roll wrapper diagonally. Scoop a spoonful of the filling and place it near one corner of the wrapper and gently push the filling into about 4-inch long, leaving some space at both ends. Fold in the left and right sides of the wrapper towards the center, then roll from the end nearest you over the filling then keep on rolling towards the other end as neatly and tightly as possible. Moisten the other side of the wrapper with cornstarch mixture to keep it from opening while frying. Repeat with remaining wrappers.

Deep fry on medium heat for 5 minutes or until golden brown.

Drain oil from the spring rolls by placing them on a plate with paper towels.
Nutrition
Calories:
144
kcal
Carbohydrates:
0
g
Protein:
2
g
Fat:
14
g
Saturated Fat:
3
g
Cholesterol:
15
mg
Sodium:
235
mg
Potassium:
27
mg
Fiber:
0
g
Sugar:
0
g
Vitamin A:
240
IU
Vitamin C:
1.9
mg
Calcium:
62
mg
Iron:
0.2
mg
This post was originally publised in march 2017. Updated in May 2020 to include a recipe video.