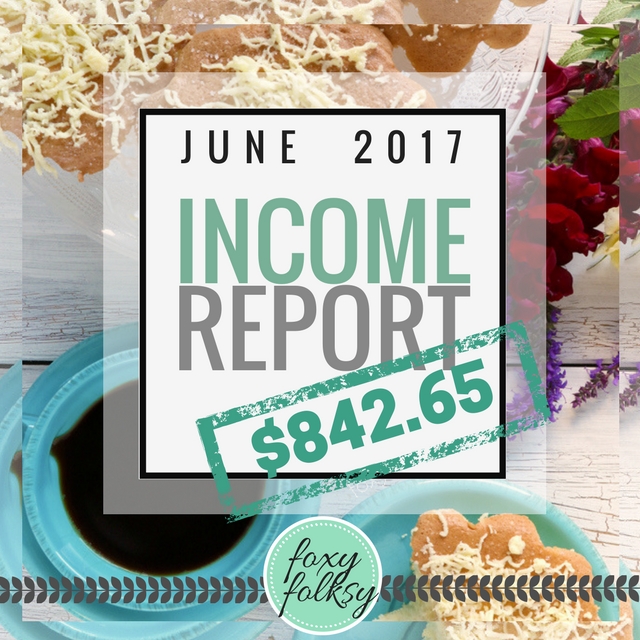 Welcome once again to our monthly income and traffic report!
We decided to do this to give you a glimpse into what is going on 'behind the posts' at Foxy Folksy and for us to keep track of the developments on our attempt in making Foxy Folksy an income-generating blog.  Hopefully, sharing this will also help others who are interested in creating their own blog or those who are also trying to find their way in making money from their existing blog by learning from our mistakes and successes.
Foxy Folksy has been up and running since January 2014 but only as a hobby blog. This means I was just posting articles whenever I was in the mood, like twice in a month or so. We only really started thinking that maybe we could make some earnings from it in early months of 2016. You can see how Foxy Folksy was doing in the months from my first income report.
Another thing worth mentioning, I guess, is that we are not in the United States. We are currently based in Germany but most of our traffic is coming from the US and then second from the Philippines. Why do I have to mention this? Simply because I am starting to learn that the opportunities for US-based bloggers are different for bloggers in my situation. I am also following some food bloggers who publish their monthly income reports but all I was able to find so far are US-based bloggers. It is a good way to get ideas where they get their income, sure, but some of their sources or advice are not applicable to me, a Non-US-based blogger. So I am trying to share the things that are working for me and those that did not.
Below are the numbers for the month of June:
Please note that some of the links below are affiliate links and all of the products listed below are products and services I have personally used or still using.
INCOME:
Total Income: $842.65
EXPENSES:
Total Expenses: $136.09
NET INCOME: $706.56
TRAFFIC:
These are actual screenshots from Google Analytics:
TRAFFIC SOURCES:

RPM FOR THE MONTH:
 $5.43

What is RPM you say? Well simply put, it is how much you earn per 1000 Pageviews and you calculate with this formula:
(revenue / pageviews) x 1000
Why is it important? Well, it is a simple way of tracking how the blog is performing from month to month when it comes to generating income. With this, you are also able to compare your own performance to other bloggers who are also publishing their income reports. The goal is, of course, to get this number to increase or in the least stable. A decrease in RPM means some improvement in your income strategy is needed.
RPM FOR THE PAST 12 MONTHS:
FACEBOOK : 2,287(up by 286) 
INSTAGRAM : 5,692 (up by 592)
PINTEREST : 4,636 (up by 104)
TWITTER : 2,596 (up by 236)
YOUTUBE : 1,406 (up by 346)
EMAIL : 1,693 (up by 345)
This month's page views are down by 2.40% from 158,877 to 155,070 this month. But considering that May has 31 days and June only 30, so it is really not a decrease, rather a very minimal increase in daily page views. Based on our Analytics, this could be brought about by the decrease in direct/none referral traffic, which I cannot explain exactly what it means and why it happened. There is also some decline in our Facebook referrals but this is usual as traffic from Facebook can be unpredictable. But the good news is that Pinterest has seemed to bounce back this month, offsetting the decline from other referrals.
We had a total of 13 posts for June! Target is 10-12 per month. Well done!
Income for the month has gone up by 4% with an RPM of $5.43! Again, we would also like to note that at the moment Ads are mainly our source of income. Sponsorship is hard to get by, in our case at least, because we are not in the US but the main bulk of our audience is.
Youtube Earnings is still growing as we add more video on our Youtube channel. Youtube videos can also be a source of income thru Ads from Adsense. Here are our latest video:
| | |
| --- | --- |
| | |
What's new! More like an update about our recent change in email subscription strategy that we talked about in the last income report. Well, it seems to be doing well. We've increased our sign-ups by 200%. You might also notice that the increase on our social media followings became slow this month and probably in the following next month or two. This is because Armin is not so actively working on them as he did in the previous months. Well, his attention is divided at the moment with work (his real job), managing our social media, selling our house stuff and preparing for our next big move. Yes, we are moving to the Philippines!!! We're both excited but at the moment it is really a lot of work and with my parents coming over (starting tomorrow) for a whole month! This means we will probably be not posting as often but we will certainly try so you won't miss us so much ????.
What is next! There is a change coming. We decided to try another Ad Network which means we have to leave Monumetric. After getting rejected from Mediavine and Adthrive for having not enough US traffic (40%) as I mentioned in the previous reports, we will try it with another one. We will tell you more about this on the next income report.
That's it for now! Until the next reporting!
---
Thinking of starting your own blog, you may want to visit my blog post on How To Start A Blog with a checklist of the things you should know before actually creating one and How to create a Blog for the step-by-step procedures on building your blog. You may also want to check out my Resource Page for the tools you need for your blog.