Spicy Beef Jamaican Patties
Updated: November 5, 2019
Get this easy and yummy recipe for Spicy Beef Jamaican Patties. They are simply delicious!
Jamaican patty is a spice-filled baked pastry that can have a different meat filling like beef, pork, chicken, lamb, veggies and even shrimps, encased in a flaky pastry. It is popular "fast-food" dish in the Caribbean, especially (yep! you've guessed it) in Jamaica.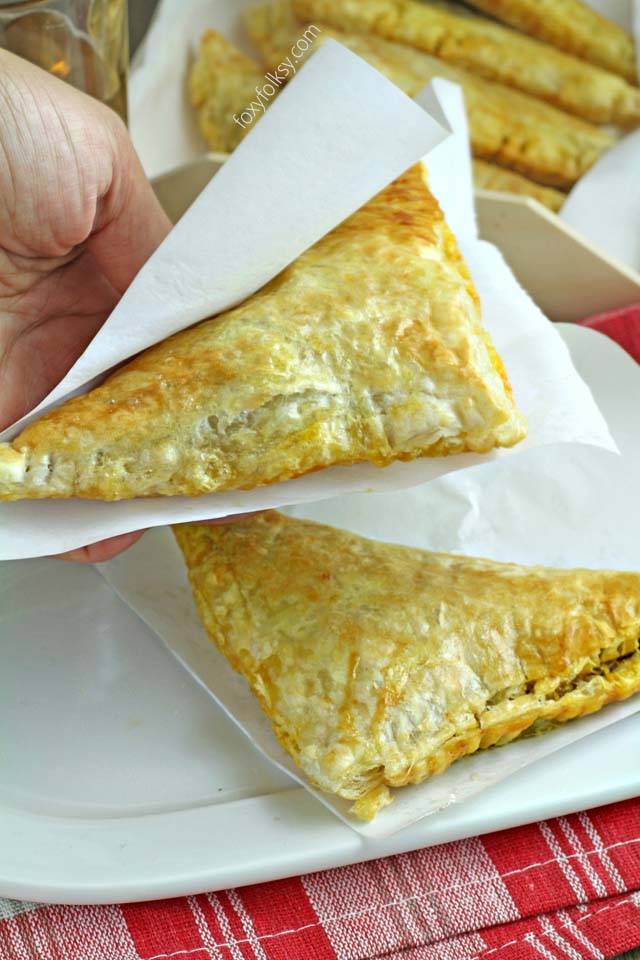 These Spicy beef Jamaican Patties are just addictive! If Sietema could talk, she would tell you the same!  She gobbles them up like nothing and that is no small feat because she is such a picky eater and feeding time is always a drama with her.
I was actually skeptic when she saw Armin and I eating them and she started asking for it. That is not uncommon but usually, most foods end up getting 'snubbed' after she sniffed on them up close and find them not in her liking. I was thinking because of the curry and other spices that it is the same like with the other food.  But no, spicy and with curry or not she just loves it! Next time I know to make extra for her or else someone (not me) would complain that he had too less because he had to give Sietema some of his share. 😉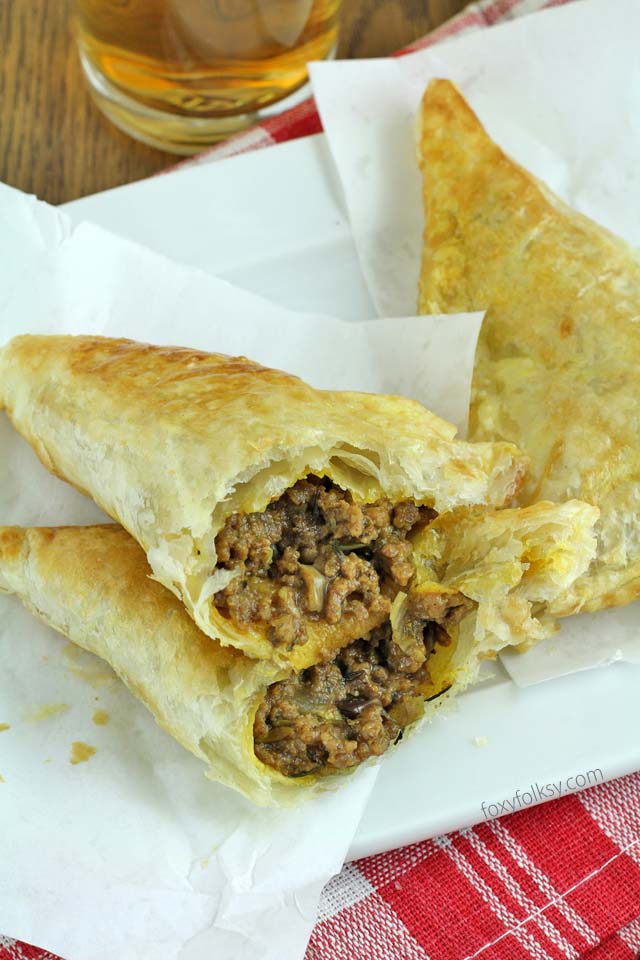 I used ready made puff pastry because that is the easier and anyway available, but if you are up to the challenge you can, of course, make your own. 
Originally, Jamaican Patties has round edges in a shape like a half moon. I made them in triangles because my puff pastry sheets are rectangles, so less cuts = no wasted trimmings. 
You can adjust the recipe and make it as spicy as you like. These Spicy Beef Jamaican Patties can also be prepared then frozen to be baked later on.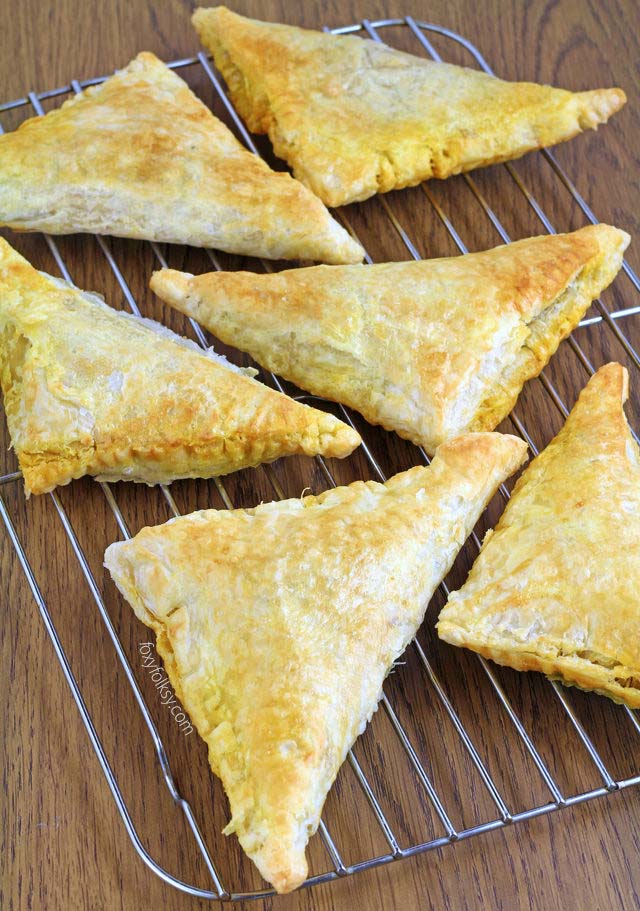 WANT MORE RECIPES? Subscribe to our newsletter and follow us on Facebook, Pinterest and Instagram for all of the latest updates.
Spicy Beef Jamaican Patties
Get this easy and yummy recipe for Spicy Beef Jamaican Patties. Spice-filled and meaty encased in flaky pastry. They are simply delicious!
Print
Rate
INGREDIENTS
2

tablespoons

oil

1

small

onion

-

- chopped

2

cloves

garlic

-

- minced

1/2

pound

ground beef

1 1/2

teaspoons

chili powder

-

- or hot sauce

1/2

tablespoon

curry powder

1

tablespoon

dried thyme

1/2

teaspoon

sweet paprika powder

1/4

teaspoon

sugar

1/2

teaspoon

nutmeg powder

-

(optional)

1/4

teaspoon

pimento powder -

(optional) - or ground pepper

1

teaspoon

salt

1/4

cup

bread crumbs

1/2

cup

water

1/2

beef broth cubes -

(optional)

sheet/s

puff pastry

1

egg

-

+ 1 tablespoon water - for egg wash
INSTRUCTIONS
In a pan over medium heat, saute garlic and onion in oil until limp.

Add ground beef and make sure to break up any clumps and let cook until the meat is no longer pink.

Add chili powder, curry powder, dried thyme, paprika powder, sugar, nutmeg powder and pimento powder. Cook for another minute.

Add the bread crumbs, water and beef cube and season with salt. Let it cook for another 10-15 minutes or until all water is gone and only oil is left. It should be moist but not watery. Remove excess oil if needed.

Preheat the oven to 200°C/400°F.

Cut the flaky pastry into 6 squares. On a floured surface, flatten each square a bit using a rolling pin. Fold a square piece into a triangle and unfold again. Fill one triangle with ground beef leaving about a half centimeter from the edge unfilled. Fold the other triangle on top of the filling and pinch the edges with a fork to close.

Place the patties on a baking tray lined with a parchment paper. Lightly brush the pastry with egg wash Poke (3-5) small holes on each patty using a toothpick or fork to let the steam out and prevent them from bursting open while baking. Bake for 10-15 minutes or until the pastry gets puffy and turns golden. Turn the patties to bake the other side for another 5 minutes or until also golden.

Best served while still warm.
Nutrition Facts
Spicy Beef Jamaican Patties
Amount Per Serving
Calories 179
Calories from Fat 117
% Daily Value*
Fat 13g20%
Cholesterol 54mg18%
Sodium 548mg23%
Potassium 155mg4%
Carbohydrates 6g2%
Protein 8g16%
Vitamin A 320IU6%
Vitamin C 1.5mg2%
Calcium 39mg4%
Iron 2.2mg12%
* Percent Daily Values are based on a 2000 calorie diet.
Tried this recipe?
Tell us how it went. Tag us at @foxyfolksy or leave a comment and rating below.