Are you ready for this fiery seafood version of the iconic Filipino Adobo featuring mussels? This Adobong Tahong are tasty mussels cooked in a spicy soy-vinegar sauce that is loaded with garlic, perfect as appetizers of beer food!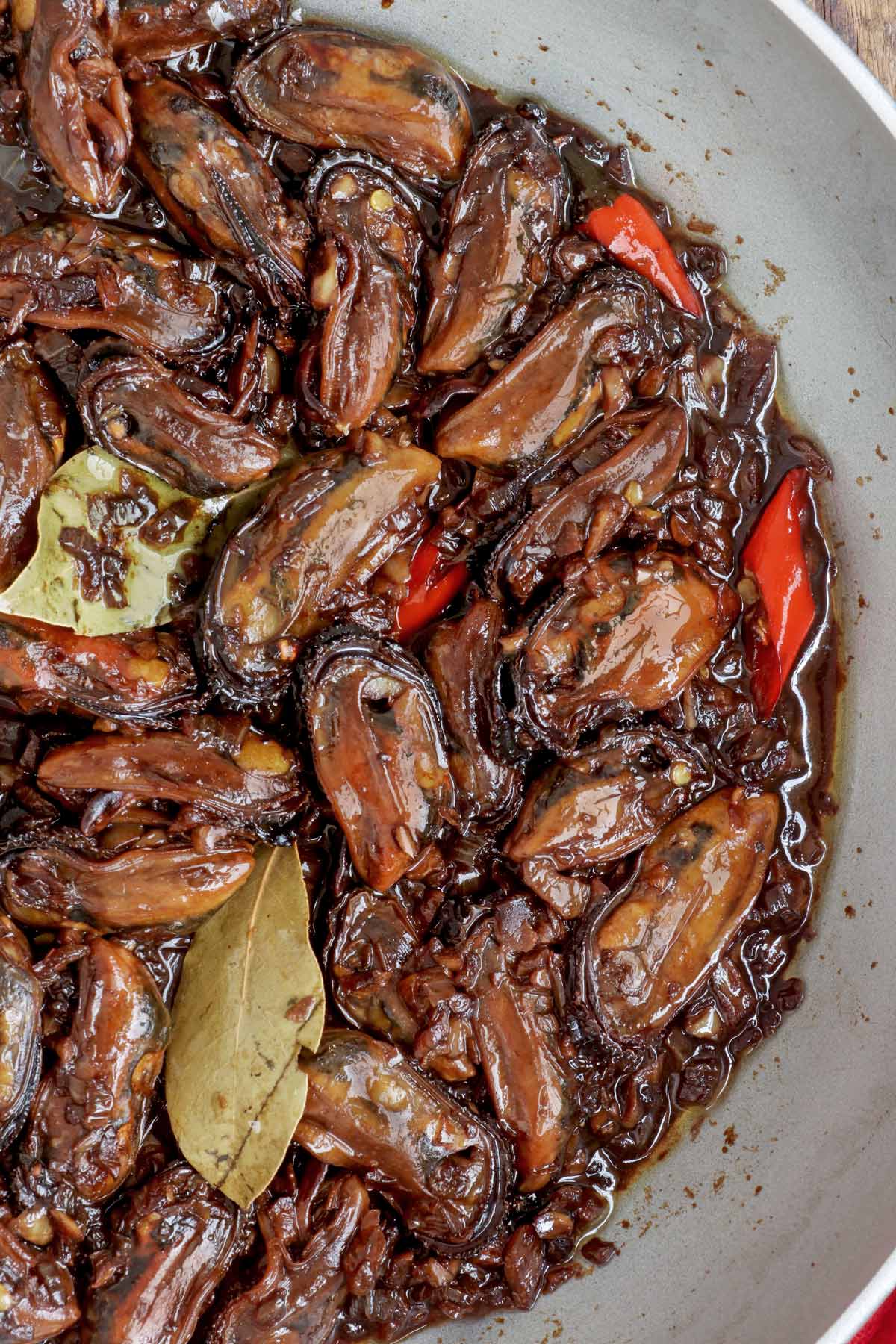 Adobo is so versatile and delicious that numerous variations of the recipe have been made. And since we love the iconic Filipino Adobo, I am also trying to make as much variety as I can. So far, I have made Pork Adobo (Adobong Baboy), Chicken Adobo (Adobong Manok), Chicken Liver Adobo (Adobong Atay ng Manok), Adobong Pusit, and Adobong Puti.
Today, I'm excited to bring yet another delicious adobo to the menu, but this time using mussels. And just like all the other variations, this Adobong Tahong recipe is quick, easy, and delicious. What makes it different is that briny taste of the ocean from the mussels with a spicy kick from the chilies, making it extremely tasty!
Mussels Fun Facts?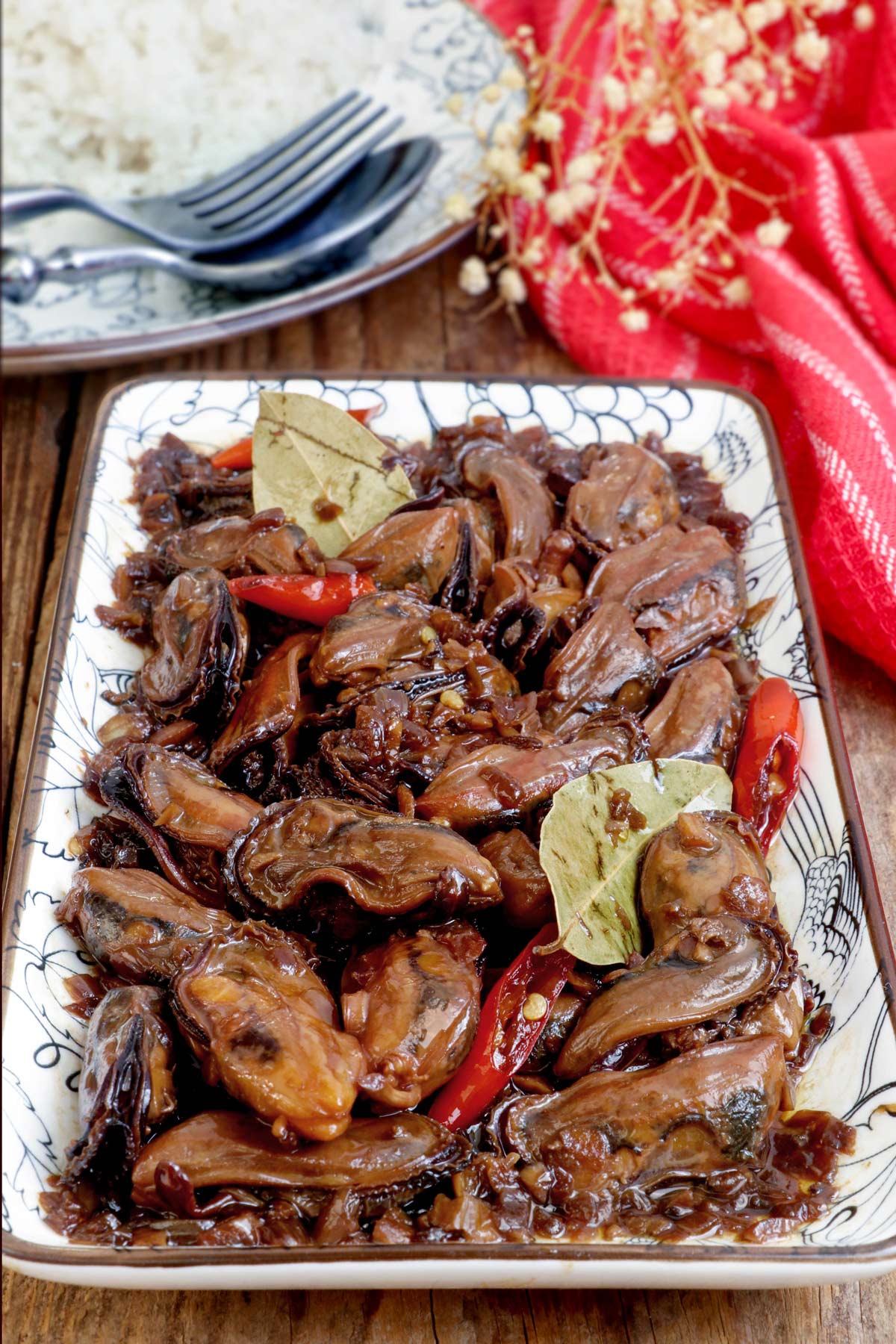 Mussels are mollusk that lives in salt water, similar to oysters and clams. Mussels have asymmetrical and elongated shells, typically green, dark blue, or black.
You can tell the gender of a mussel from the color of the meat. The orange ones are females and the creamy white ones are males.
The mussel's 'beard' or byssus is produced, initially, in liquid form and sets in saltwater as threads to attache and secure itself to a fix surface.
Mussels are rich in Omega-3 acids that are good for the heart. They are also high in vitamin B12, iron, and zinc. However, the suggested intake should be limited to three times a week.
Other Delicious Recipes using Mussels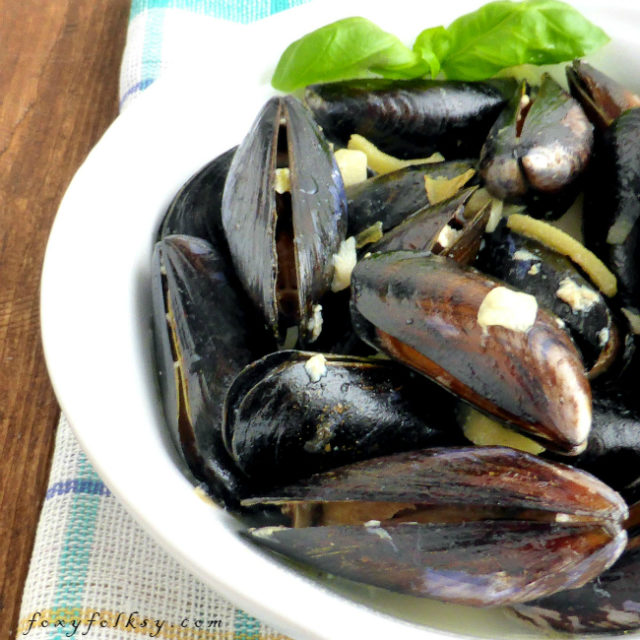 Ingredients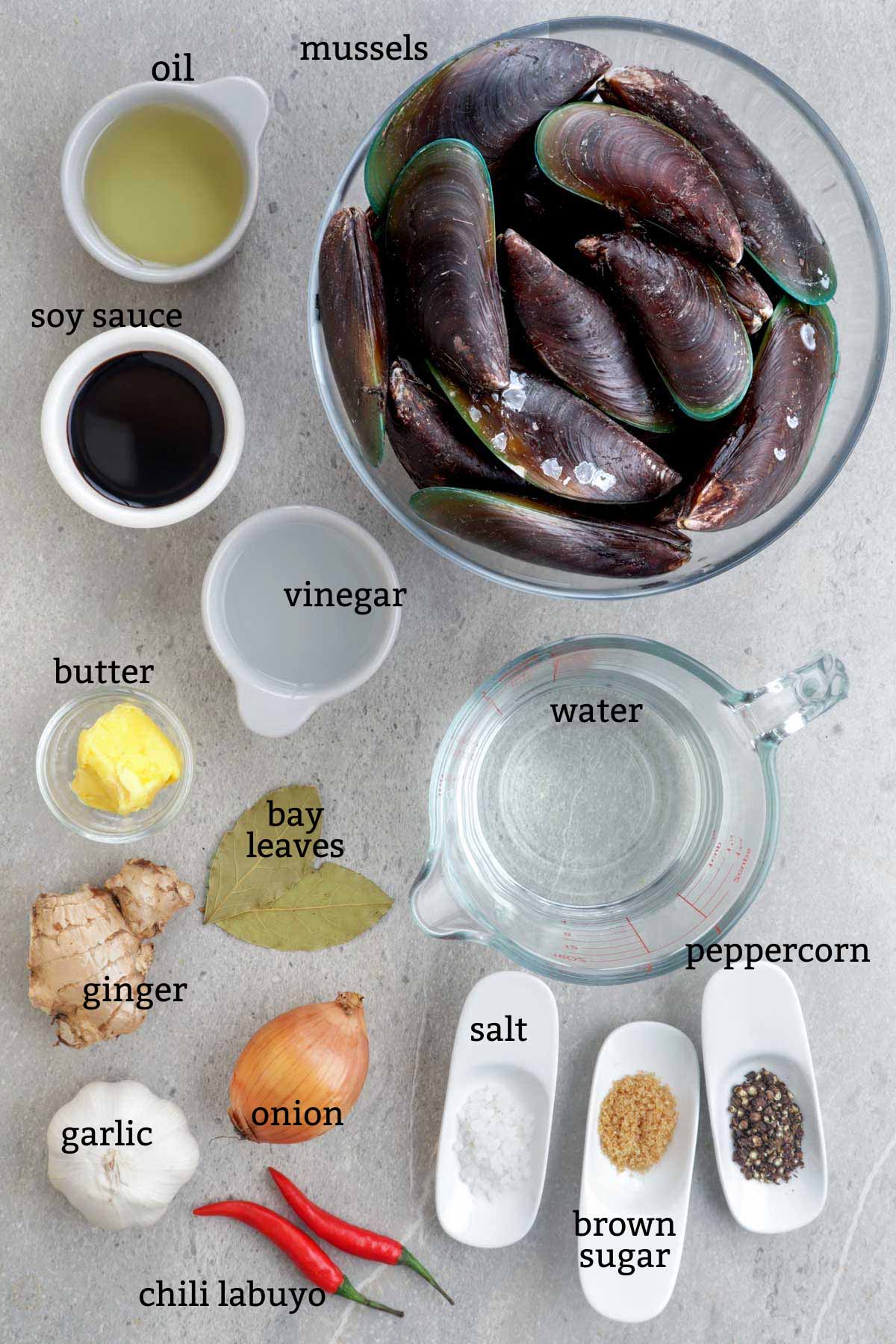 Fresh mussels- If you can find pre-packed or frozen deshelled mussels, you can also use those. This will lessen your prep time!
Salt + water- I dissolved 1 teaspoon of rock salt in a bowl of water to soak the mussels and remove impurities.
Ginger - infuses the dish with its peppery and spicy flavor and aroma.
Onion - yellow onion was used in this recipe, but you can substitute red or white onion if you have them on hand.
Garlic - Half a head was used for a garlicky adobo. However, depending on your preference, you may reduce or increase the amount.
Cooking Liquids- of course, an adobo recipe is not complete without its usual vinegar and soy sauce combo the sauce.
Bay leaves- add a delicious minty and herbal aroma to the adobo.
Brown sugar- this is optional, but a bit of sweetness gives a nice balance to the savory sauce.
Chilis - red chili peppers were used for this recipe. However, you may also use green chilis or red pepper flakes as alternatives.
Butter- adds a rich flavor and creaminess to the sauce.
Peppercorn - crushed for a more intense pepper flavor. You may also use ground black pepper as an alternative if unavailable.
Oil - you may use any neutral tasting oil like canola or vegetable oil.
Cooking Tips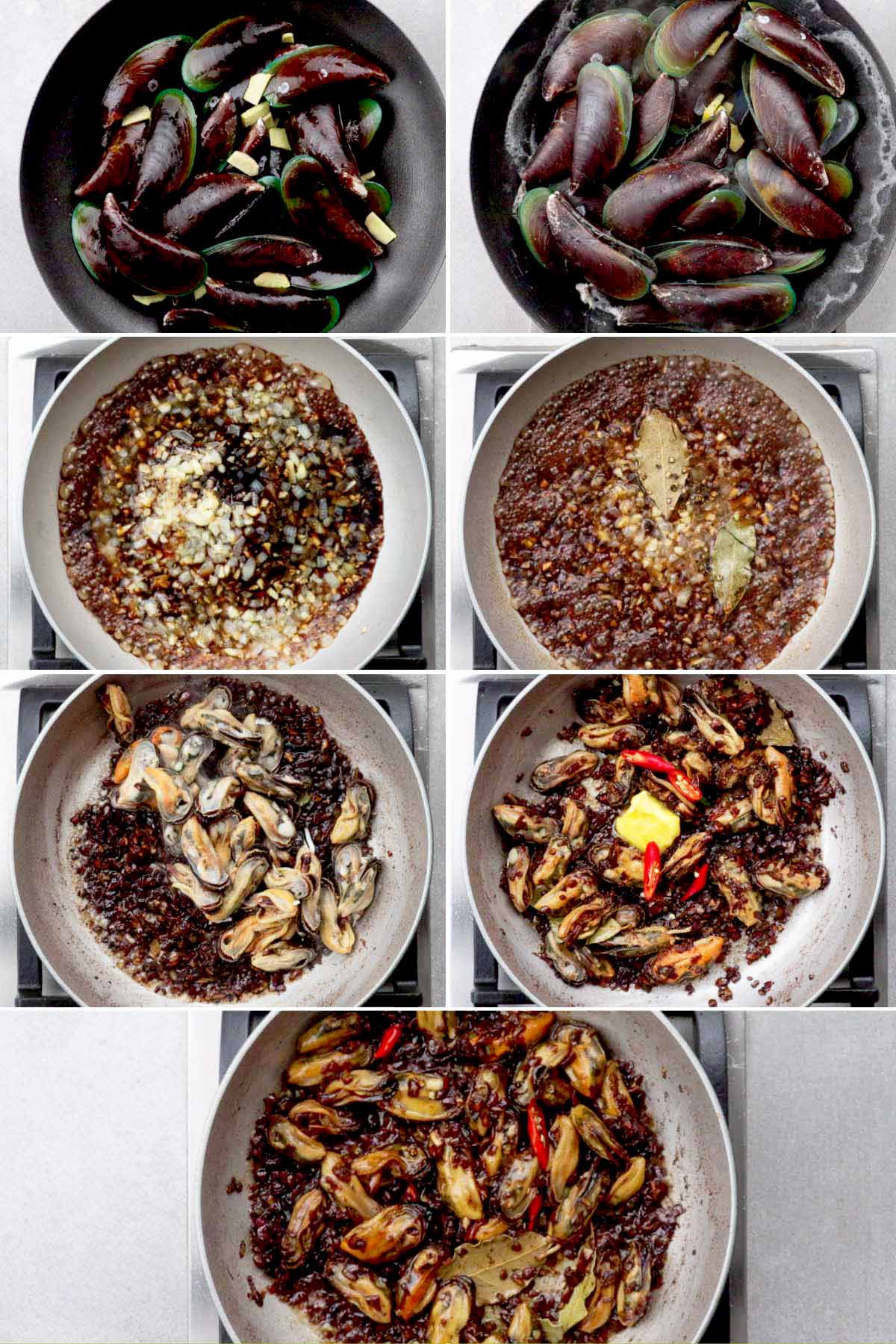 The shells of fresh mussels should be closed or shut. Get rid of cracked, discolored, or wide-opened mussels. If some are slightly open, give them a gentle tap or squeeze, and they should close up immediately. If not, discard them as they are no longer fresh.
Soaking the mussels in salt water for a minimum of 20 minutes will help remove grit and impurities, so do not skip this step.
Check for mussels that did not open on their own after boiling them. Pry them open and if they smell bad then throw them away. If not, then they are safe to eat.
Reserve the ginger water where the mussels were boiled. This tasty broth will be added to the sauce to give it an extra layer of flavor.
Do not overcook your mussels because they will become unpleasantly chewy and rubbery.
Once the vinegar is added to the pot, do not stir! Let it simmer undisturbed until all the sharp acidity burns off.
You can remove, reduce or add more chili based on your preference.
Storing and Reheating
Place leftovers in a container with a tight-fitting lid and keep it in the refrigerator for up to 3 days.
You can reheat using a stovetop over low heat until warmed through, be careful not to bring to a boil as this may overcook the mussels.
If using a microwave, place Adobong Tahong in a microwave-safe container and microwave at 30-second intervals on high heat until warmed through.
Printable Recipe
Adobong Tahong Recipe
Try this fiery seafood version of the iconic Filipino Adobo featuring mussels. This Spicy Adobong Tahong cook in spicy soy-vinegar sauce loaded with garlic is perfect appetizer or beer food.
Ingredients
4

pounds

fresh mussels

1

teaspoon

rock salt

Water

for soaking

1

thumb

ginger

cut into slices

1

cup

water

for steaming

3

tablespoons

oil

1

medium

yellow onion

finely chopped

½

head

garlic

minced

¼

cup

vinegar

¼

cup

soy sauce

2

pieces

bay leaves

¼

teaspoon

peppercorn

crushed

1

teaspoon

brown sugar

optional

2

pieces

chili labuyo

each cut into 4

1-2

tablespoon

butter
Instructions
4 pounds fresh mussels,

1 teaspoon rock salt,

Water

Place fresh mussels in a bowl. Sprinkle salt over the mussels, then pour enough water to cover. Let it stand for 20 minutes.

1 thumb ginger,

1 cup water

Place the mussels in a wok or deep pan. Pour 1 cup of water and add the ginger. Cover with lid and turn on the heat to medium. Cook until the mussels open up.

Remove the pan from heat and let them cool down enough to handle. Reserve the liquid. Take a pair of a shell and use this to pinch and pull the meat out of the shells. You can also use tongs. Remove the "beard' from the mussels, if any. Set aside

3 tablespoons oil,

1 medium yellow onion,

½ head garlic

Heat oil in a wok or pan over medium heat. Saute onion and garlic until lightly browned and aromatic.

¼ cup vinegar,

¼ cup soy sauce,

2 pieces bay leaves,

¼ teaspoon peppercorn

Add vinegar, soy sauce, ¼ cup of the reserved broth, bay leaves, and peppercorn. Let it simmer for 5 minutes without stirring.

1 teaspoon brown sugar,

1-2 tablespoon butter,

2 pieces chili labuyo

Stir in the cooked mussels, brown sugar, butter, and chili. Cook for another 5 minutes or until the sauce has thickened.

Turn the heat off and transfer to a serving dish.
Nutrition
Calories:
354
kcal
Carbohydrates:
15
g
Protein:
30
g
Fat:
19
g
Saturated Fat:
4
g
Polyunsaturated Fat:
5
g
Monounsaturated Fat:
9
g
Trans Fat:
0.2
g
Cholesterol:
72
mg
Sodium:
2136
mg
Potassium:
839
mg
Fiber:
1
g
Sugar:
2
g
Vitamin A:
497
IU
Vitamin C:
23
mg
Calcium:
86
mg
Iron:
10
mg