This Sinanglay na Tilapia recipe is a great way to elevate your simple fish into a creamy and delicious dish that is still easy to make and budget-friendly too. It's a healthy and yummy dish that should be added to your regular meal rotation.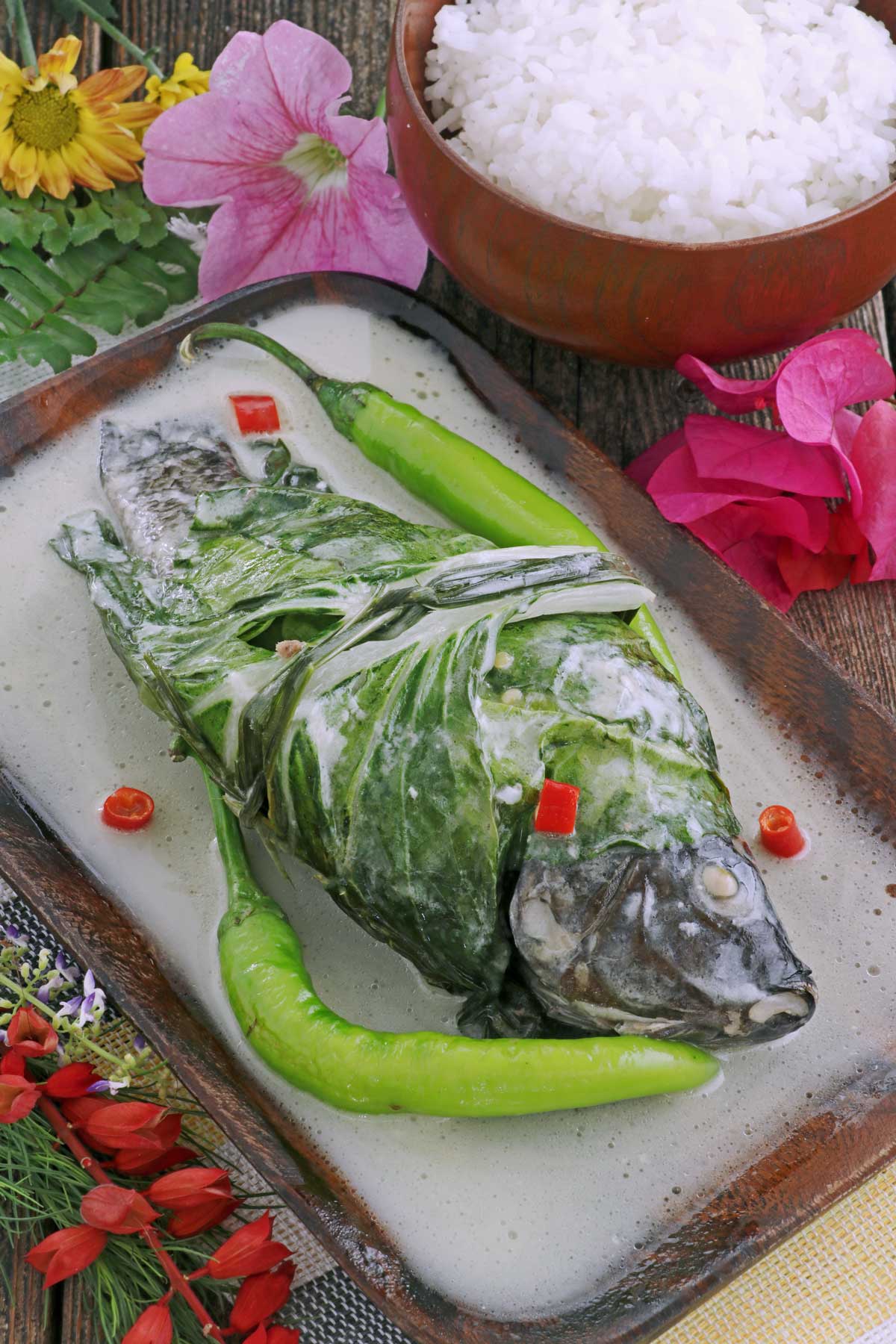 Jump to:
What is Sinanglay?
It is a Filipino dish that originated from Bicol. Made of fish, usually, tilapia, stuffed with onion, garlic, tomatoes, and ginger. It is wrapped in leafy vegetables and simmered in coconut milk. The fish is wrapped in leaves and tied to ensure that the stuffing stays securely inside while cooking while adding its own subtle flavors.
Sinanglay na Tilapia VS Ginataang Tilapia
You might be wondering how this dish differs from Ginataang Tilapia. While they are both cooked in coconut milk, the way they are prepared is different. Making Singanglay requires stuffing the fish with chopped veggies then wrapping them in leaves afterward. This makes the dish more substantial and gives it added flavors too.
Tips when Making Sinanglay
When stuffing the fish, make the incision along the back instead along the stomach is. It will give you more room for the stuffing and the flavors reaches the thicker flesh.
I used long green chilies and 1 red labuyo (bird's eye) to make it mildly spicy. You can add more if you want to amp the spiciness of the dish.
Common FAQs
Can I use other types of fish?
Yes, aside from Tilapia, you can enjoy this dish with other fish like bangus (milkfish), hito (catfish), maya-maya (red snapper), and pompano.
Aside from pechay leaves, what other leafy veggies can I use?
You can also use Bok Choy leaves, Taro leaves, or Mustard greens. Also, aside from lemongrass, you can also use Pandan leaves or kitchen twine for tying.
How to check if the fish is still fresh?
Fish should have clear and bulging eyes and gills should be vibrant red or pink. It should be slimy when you run over your finger and the skin must be shiny and not flaky. Gently press the meat; it should bounce back. Lastly don't purchase fish that has a strong unpleasant odor. Otherwise, you will end up with stale fish.
Printable Recipe
Sinanglay na Tilapia
This Sinanglay na Tilapia recipe is a great way to elevate your simple fish into a creamy and delicious dish that is still easy to make and budget-friendly too. It is a healthy and yummy addition to your daily meal rotation.
Ingredients
2

big

or 3 medium whole tilapia

gills removed and gutted, scaled, tail and fins trimmed

1

large

red onion

chopped

1

thumb

Ginger

chopped finely

3

pieces

ripe tomatoes

cut into small cubes

4

cloves

garlic

minced

1

teaspoon

salt

4-6

pieces

pechay

3

pieces

lemongrass

1

can

coconut milk

3

pieces

long green chili

1

piece

chili labuyo

chopped - optional
Instructions
Using a knife, make a long incision along the back of the tilapia all through the stomach cavity to create a "pocket". Set aside.

In a bowl, combine red onion, tomato, ginger, and garlic. Season with (½ teaspoon) salt and mix using hands to combine.

Stuff each fish with the filling then wrap with pechay leaves. You may need 2-3 leaves per piece depending on how large the leaves and fish are. Use the lemon grass to tie around the leaves to secure it in place.

Arrange the wrapped tilapia in a wok or deep skillet in a single layer. Pour in the coconut milk. Add the chilis and season with salt. Cover and cook over medium-low heat for 15 minutes. Remove the cover and cook for another 5 minutes to reduce the liquid.

Transfer to a serving dish. Serve with steaming hot rice.
Nutrition
Calories:
280
kcal
Carbohydrates:
10
g
Protein:
4
g
Fat:
27
g
Saturated Fat:
24
g
Polyunsaturated Fat:
1
g
Monounsaturated Fat:
1
g
Cholesterol:
1
mg
Sodium:
810
mg
Potassium:
414
mg
Fiber:
1
g
Sugar:
2
g
Vitamin A:
157
IU
Vitamin C:
27
mg
Calcium:
43
mg
Iron:
5
mg