This is a very simple Sponge cake recipe and you probably have all the ingredients already in your pantry. I usually use this for making other delicious cake Mango Cake, Yema Cake and Strawberries & Cream Cake but it is also perfect on its own with some jam for a coffee and tea time.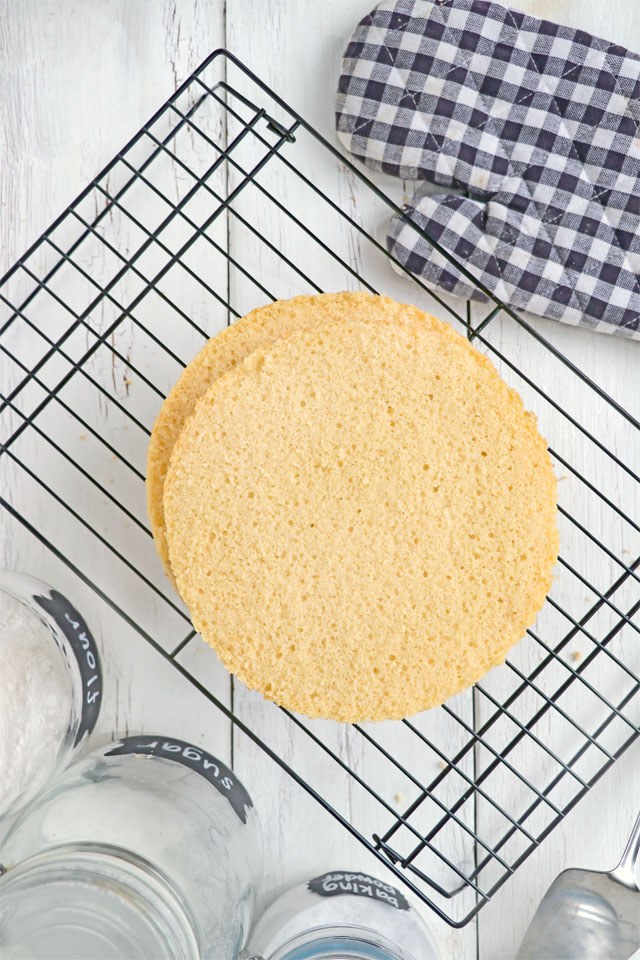 For a simple coffee or tea time cake, just cut it in the middle and spread (Raspberry) jam in between the layers and if you like, add some whipped cream as they did in the early years like Queen Victoria liked them, hence, the name Victoria Sandwich or Victoria Sponge.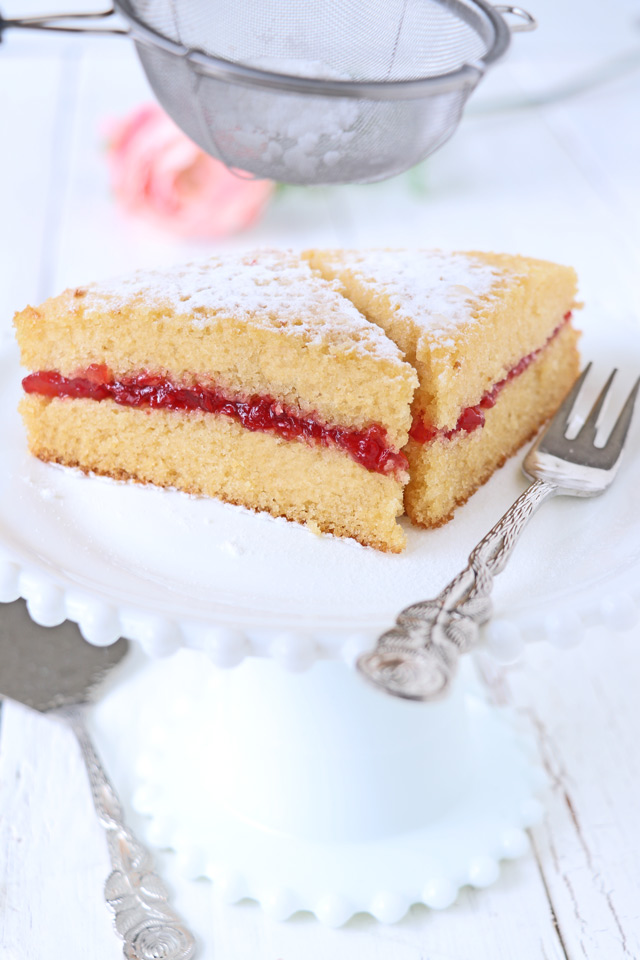 There are various Sponge Cake recipes out there and each one uses different ways and techniques to achieve that spongy texture. Others do not add butter to their sponge cakes, but I personally prefer it with.
For a long time, when I was just starting to learn about baking and had little knowledge about the difference between sponge, chiffon and butter cake, I used a recipe that was really buttery and it is lovely.
However, as I learned more about baking and already got some cake baking experience under my belt, I realized that the recipe I was using is closer to a butter cake than to a sponge cake because of the amount of butter it uses. It also involves a different method that is quite easy too, it does not use the foam cake method, wherein eggwhites are beaten separately into a meringue and later folded into the batter.
It is good and I really love it so does Armin and many of my friends. They would always comment on how moist and deliciously buttery it is...BUT it is not a sponge cake. Sponge cakes are airy, fluffy or pillowy. Using a lot of butter, though delicious, hinders the rising of a sponge cake and makes it denser.
To grease or not to grease your pans?
For foam cakes like Angel food cake, chiffon cake, and this Sponge cake recipe, you do not grease and flour your pans.  The reason is, foam cake batters need a surface to grip for them to rise better, greasing the sides of the pan will prevent them to rise to their maximum height and will most probably result into a dome-shaped cake.
 Cut a parchment paper into a circle the same size in diameter as your pan. I bought and use these pre-cut 8-inch baking paper liner made for round cake pans, they are cheap and saves me time.
Cut a strip or two of parchment paper that is long and high enough to cover the sides of the pan.
Line both the bottom and the sides of the pan. If the paper won't stand or stick to the sides, dot a little amount of batter to the back of parchment paper to glue it to the pan.
How to make Meringue
Like I mentioned before this Sponge Cake recipe uses the foam cake method. This means we will have to make a meringue first to be added at the last part before baking. Using this method will give you a fluffier, softer and taller sponge cake.
However, I know that making a meringue could be a challenge sometimes. Here are some foolproof tips to help you make the perfect meringue:
Use egg whites that are at room temperature as they to create more volume. It is easier to separate yolks from whites if eggs are cold (from the fridge) but wait until the whites are at room temperature before using them.
Use eggs that are fresh if possible, they might not create as much volume as older (3-5 day-old) eggs, but they make a more stable meringue.
I only use metal or glass bowls for mixing. Plastic bowls could absorb fat and grease that can prevent or reduce the volume when beating the whites.
Make sure your bowl and beaters are dry and clean. A speck of grease of fat or even a smear of yolk in the whites as this can cause your meringue to deflate.
Do not beat the whites at high-speed. Use only low to medium speed until you reach soft peaks stage and increase speed to medium-high until stiff peaks form. Using high speed may fasten the work but it also incorporates more air and creates larger bubbles that tend to deflate the meringue during or after baking.
If using cream of tartar, add this when you reach the frothy or foamy stage. Add the sugar once you have the soft peak stage.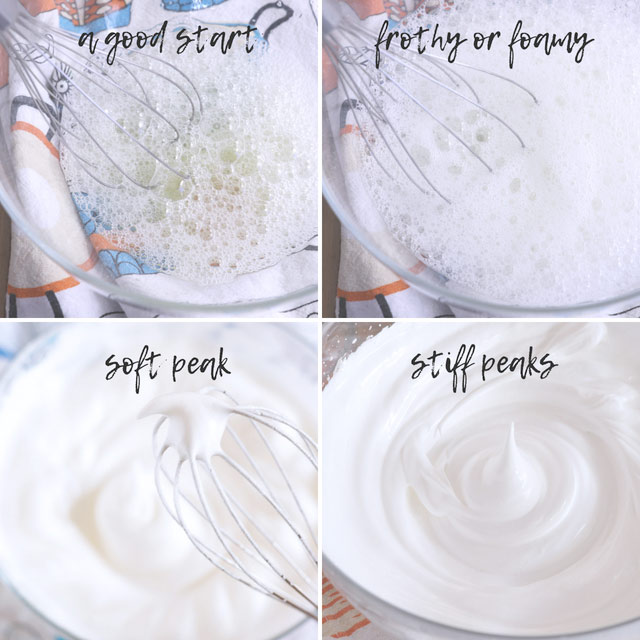 Here are some of the cakes I made using this Simple Sponge Cake recipe: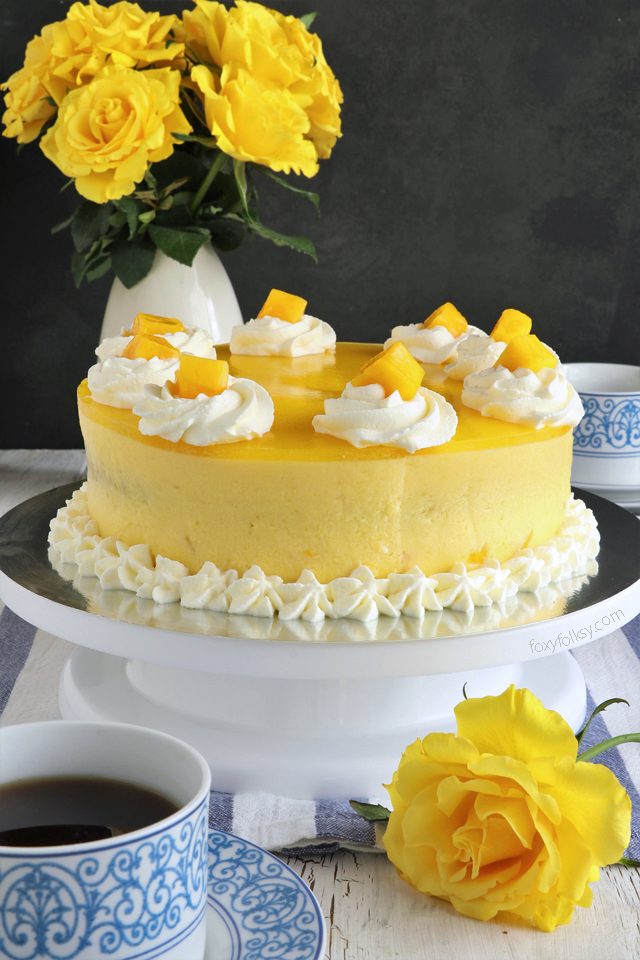 I also wrote a recipe guest post about  Yema Cake at Kawaling Pinoy. For those asking for it, do check it out.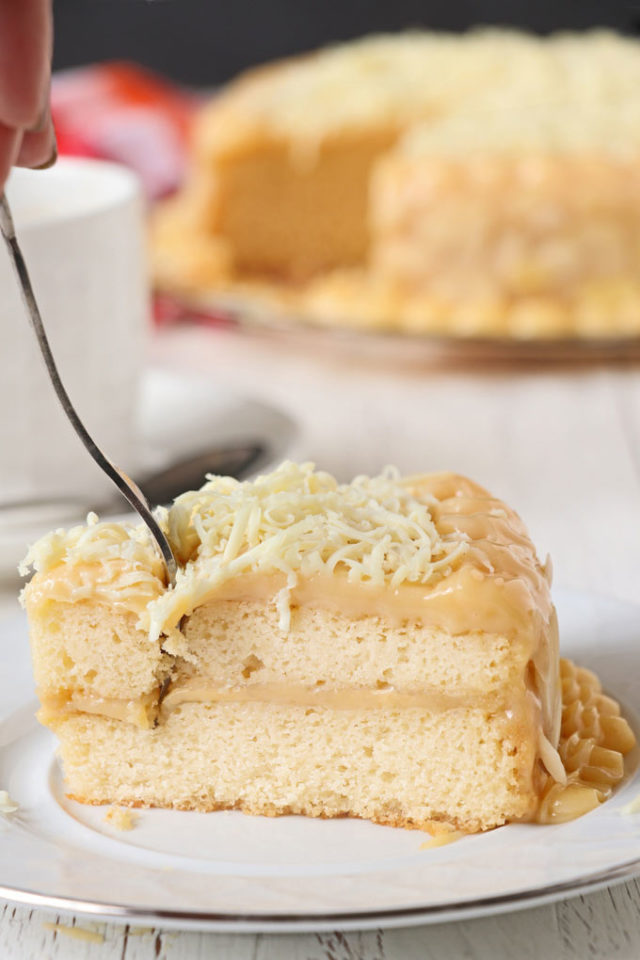 Printable Recipe
Basic Sponge Cake
This is a very simple Sponge cake recipe and you probably have all the ingredients already in sponge cake your pantry. I usually use this for making Mango Cake, Yema Cake, Strawberries and Cream Cake but is also perfect on its own with your favorite jam for coffee or tea time.
Ingredients
1

cup

all-purpose flour

2

teaspoons

baking powder

¾

cup

sugar

½

cup

butter

or margarine - room temperature

2

eggs

- whites and yolks - separated

½

cup

milk

1

teaspoon

vanilla extract

- optional
Instructions
Line the bottom and side of an 8 inch round pan with parchment paper and preheat oven to 350°F or 180°C (160°C -Fan).

In a bowl, beat the egg whites using a mixer at low speed for 2 to 3 minutes or until soft peaks form. Gradually add ¼ cup of the granulated sugar, a tablespoon at a time, while continuously beating. Once all sugar is added, turn up the speed to medium and continue beating the meringue until it forms stiff glossy peaks. Set aside.

In a separate bowl, cream the butter and remaining sugar for 3 minutes or until light in color.

Add the yolks one at a time while continuously mixing for about 2 minutes.

Add milk, flour, baking powder, and vanilla extract and beat for about 2 minutes or until batter is smooth.

Using a spatula or big spoon, gently fold in about a third of the meringue into the egg yolk mixture until well combined. Add the remaining meringue and fold it in gently, scraping the spatula from the bottom to catch any pockets of egg yolk-batter. Stop mixing when no streaks of meringue are visible. Do not over-mix or you will deflate the batter.

Pour the batter into the prepared pan. Tap the pan on a flat surface several times to make sure that trapped air bubbles are released.


Bake for 25-30 minutes in the preheated oven or until a toothpick inserted in the center comes out clean and the top is light golden brown.

Remove from oven and let the cake cool in the pan for about 10 minutes before completely removing from pan to a cooling rack. Remove the parchment paper off the cake and let it cool down before frosting.
Notes
You may also use cake flour instead of all-purpose flour for a finer texture.
Nutrition
Calories:
360
kcal
Carbohydrates:
32
g
Protein:
3
g
Fat:
24
g
Saturated Fat:
15
g
Cholesterol:
103
mg
Sodium:
226
mg
Potassium:
159
mg
Fiber:
0
g
Sugar:
19
g
Vitamin A:
795
IU
Calcium:
76
mg
Iron:
1
mg