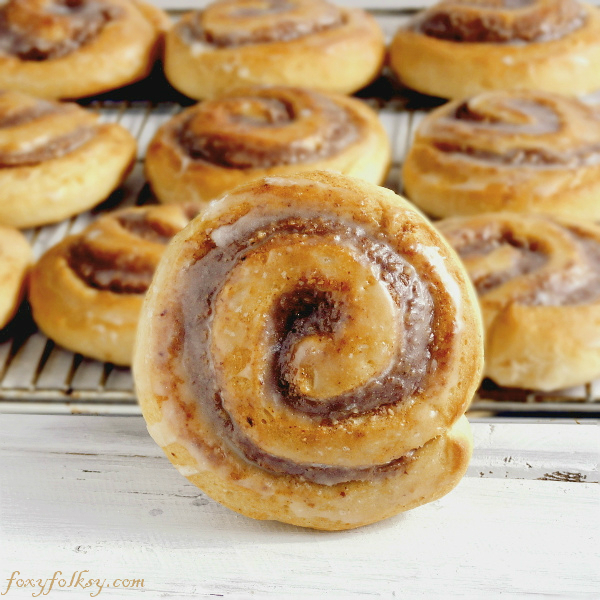 The word 'Schneckennudeln' in English literally means 'snail noodles'. That would probably gross most people out! But no worries, this traditional south-west German pastry does not have any snails in it or has anything to do with noodles for that matter. It was named so as it resembles the spirals of a snail's shell. It is actually the equivalent of a cinnamon roll which is commonly served at afternoon 'Kaffe und Kuchen' (coffee and cake). There are different kinds of Schneckennudeln, depending on what kind of filling they have like poppy seeds, ground almonds or hazelnuts and raisins as examples.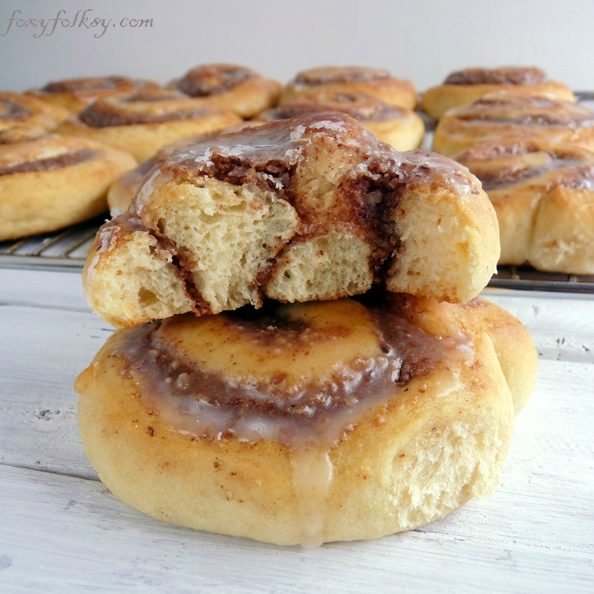 This recipe is with ground nuts filling, which is my favorite! It is a traditional Swabian recipe that my mother-in-law shared with me! I have to say that after tasting her self-baked Schneckennudeln, I am no longer satisfied with the ones we get from the bakeries around and that says a lot as bakeries in Germany make really good bread and pastries.
Printable Recipe
Schneckennudeln (German Cinnamon Rolls)
Get ready to be addicted to these traditional south-west German pastry, equivalent to cinnamon rolls but also so much different as it has ground hazelnuts or almonds for fillings!
Ingredients
DOUGH
4

cups

flour

1

cup

milk

½

cup

butter

4

tablespoons

sugar

pinch

of salt

1

pack (7 grams or 0.25 oz)

instant dry yeast

1

tablespoon

lemon peel powder

(Zitronenschalen Aroma)

1

egg
FILLING
2

cups

ground Hazelnuts

or Almonds

2

tablespoons

sugar

3

drops

butter-rum flavor (rum aroma)

or 1 shot of dark rum

1

cup

all-purpose cream

or heavy cream
Instructions
Warm butter in milk in the microwave for about 10-15 seconds. Mix all dry ingredients together in a bowl and make a well in the middle. Add the milk with butter and egg. Mix well to form a dough. Transfer dough on the countertop and knead until smooth for about 3-5 minutes. Place dough back in the bowl and cover with a cloth. Let it rise for at least 30 minutes or until almost double in size.

While waiting, prepare the filling. Whip cream until stiff. Add the other ingredients and fold until well incorporated.

Roll out dough on top of a baking paper or baking mat forming a rectangle about 12"x15" in size. Spread the filling evenly on top of the dough. Roll up the dough from the long side. Once completely rolled, cut the log into pieces about 2-3 cm thick. Lay each piece flat and slightly press them against the counter with your palm. Place them on a baking sheet lined with baking paper or mat with at least 3 inches of space in between each piece. Let them rise again for at least 20 minutes. Bake in a preheated oven at 190°C/375°F for 15-20 minutes or until golden brown.

While waiting, prepare the glaze by mixing the powder sugar and cream together. Add more powder sugar if too runny or cream if too stiff. Place the baked Schneckennudeln on a cooling rack and let them cool down a bit before glazing them. To glaze, just spoon some of the mixtures and sprinkle on top and let it the excess drip.
Notes
If you find it difficult to cut as the dough can be a bit soft and sticky, place it in the fridge for some minutes before cutting.
Chunks of almonds or Hazelnut can be sprinkled on top before glazing.
You may also add half a cup of raisins and/or 2 tsp of cinnamon and/or 2 tsp of cocoa powder and on the filling mixture if desired.
Nutrition
Calories:
327
kcal
Carbohydrates:
37
g
Protein:
5
g
Fat:
17
g
Saturated Fat:
7
g
Cholesterol:
42
mg
Sodium:
59
mg
Potassium:
47
mg
Fiber:
2
g
Sugar:
9
g
Vitamin A:
385
IU
Vitamin C:
0.5
mg
Calcium:
32
mg
Iron:
2.1
mg