Puto Bumbong is a steamed purple rice cake that is commonly sold during the Christmas season in the Philippines. They are slathered with butter, topped with grated coconut, muscovado, and sometimes, grated cheese or roasted sesame seeds, then wrapped in banana leaves.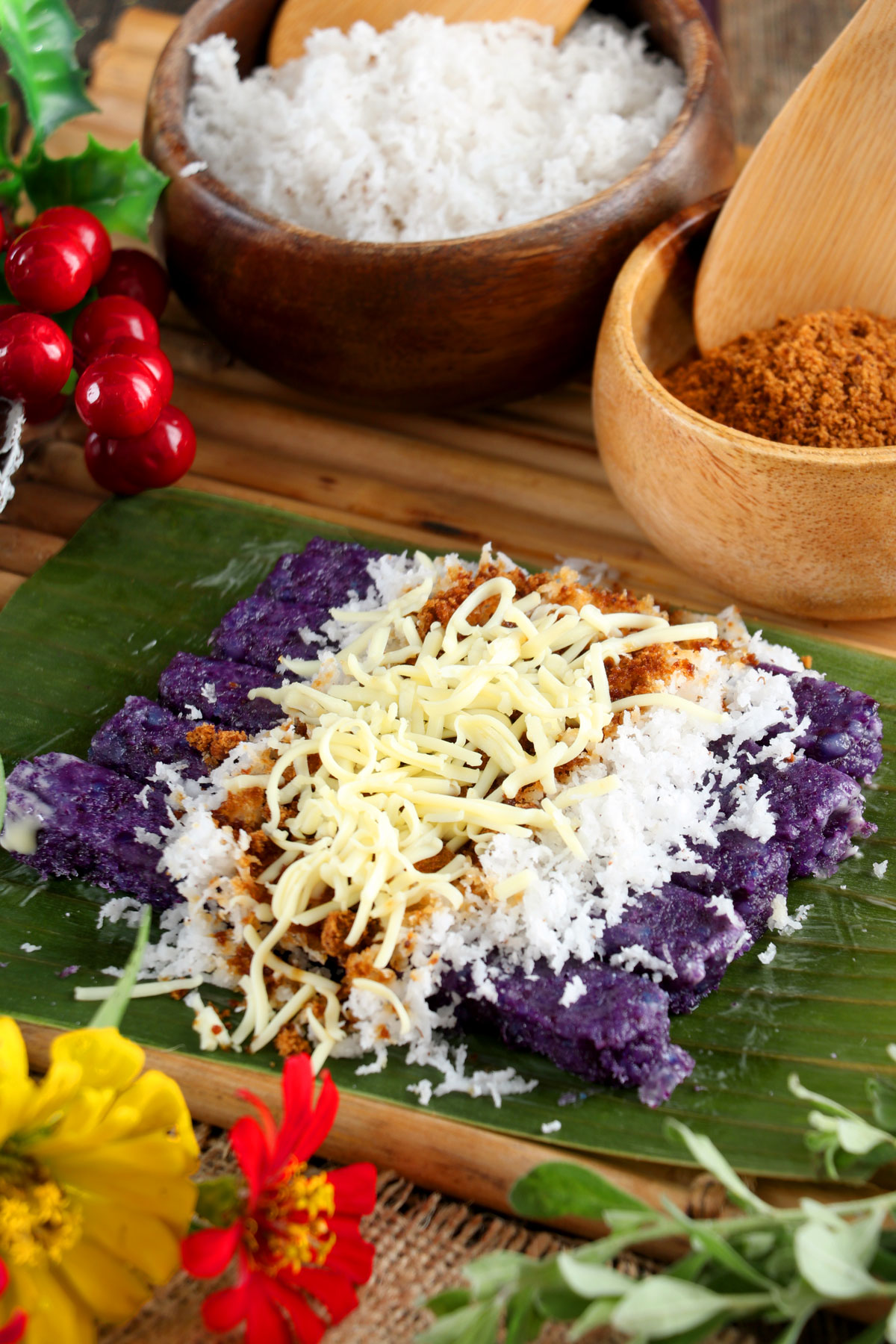 You know that it's Christmas in the Philippines when you see food stalls near churches selling bibingka and puto bumbong. The aroma of these two well-loved delicacies being cooked wafts the air meters away to lure people in!
I remember my siblings and I would beg our parents to get us some after attended Simbang Gabi (Night Mass) and Misa de Gallo when we were kids! Something that we still do even now, sharing bibingka and puto bumbong with the family.
While the bibingka are baked in individual clay ovens heated with charcoal at the bottom and top, you could instantly recognize puto bumbong being cooked in special steamers shooting out steams from attached bamboo tubes that house the sticky rice cakes. A whistling sound comes out of it to signify that it is cooked! And of course, because of its signature purple color.
What is Puto Bumbong?
"Puto" is the ubiquitous Tagalog term for steamed rice cakes and "Bumbong" means Bamboo tubes or cylinders. Traditionally, Puto Bumbong is made from a unique type of glutinous rice called "Pirurutong" combined with white glutinous rice. Pirurutong is deep purple or almost black in color and becomes soft, sticky, and aromatic once cooked.
The mixture is placed inside greased bamboo tubes/flutes and steamed. After steaming, the cylindrical rice cakes are placed on banana leaves, brushed with coconut oil, butter, or margarine, and topped with grated coconut, muscovado or brown sugar, and sometimes, toasted sesame seeds and grated cheese.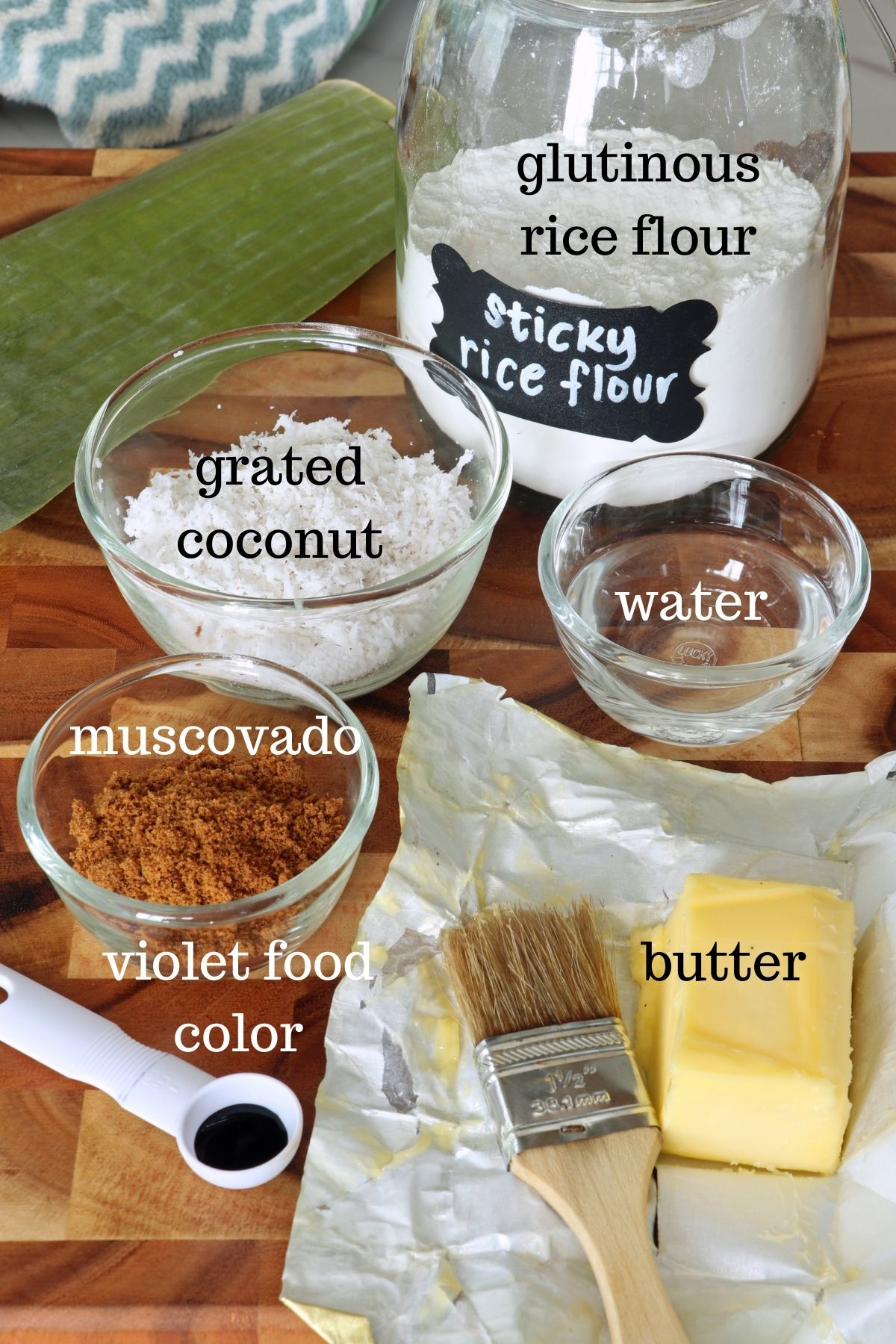 How to make Puto Bumbong at home
I really wanted to try making this at home, but there is an ingredient and tool that are difficult to get: the Pirurutong and the Lansungan. So these are the alternatives I found:
Pirurutong- as mentioned earlier, this is a unique kind of sticky rice. If you can find it, then you are one of the lucky ones. But as a substitute, you can simply use glutinous rice mixed with violet food color.
Lansungan- is a special steamer with metal cylinders protruding to hold the bamboo tubes. These are actually sold online, so feel free to buy some if you want. However, I find it impractical to do so if I would hardly use them. Unless you are planning to make it for business. So I use aluminum foil shaped into long, thin containers and a regular steamer instead.
Foxy Tips when making Puto Bumbong
Make sure to break any clumps in your mixture using your hands before steaming. The mixture should be crumbly with tiny grainy pieces to prevent uneven cooking and some lumpy areas after steaming.
Brush the foil containers generously with butter or margarine to prevent them from sticking later on.
If you are looking for more Christmas treats, try these as well: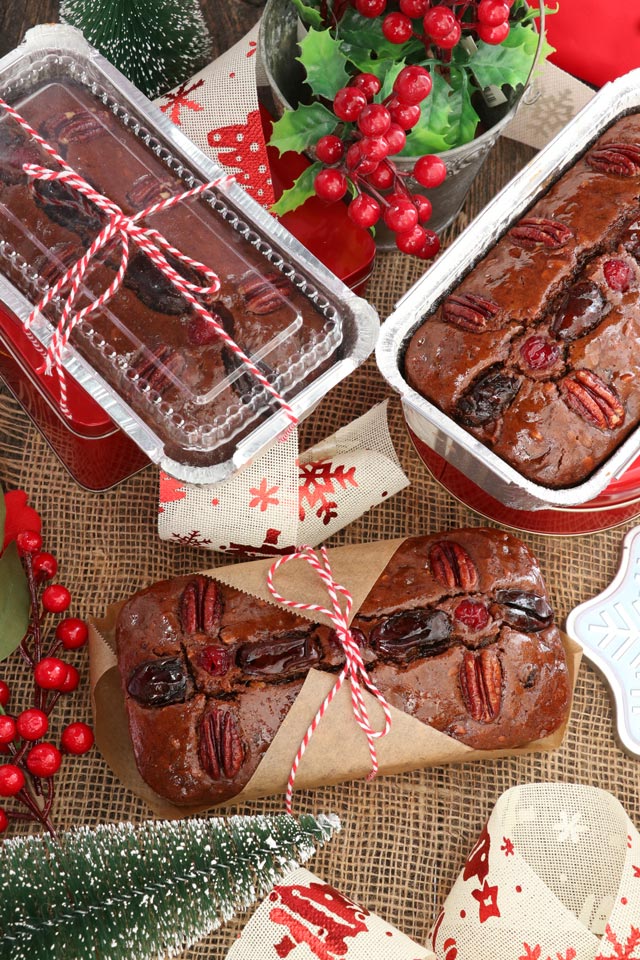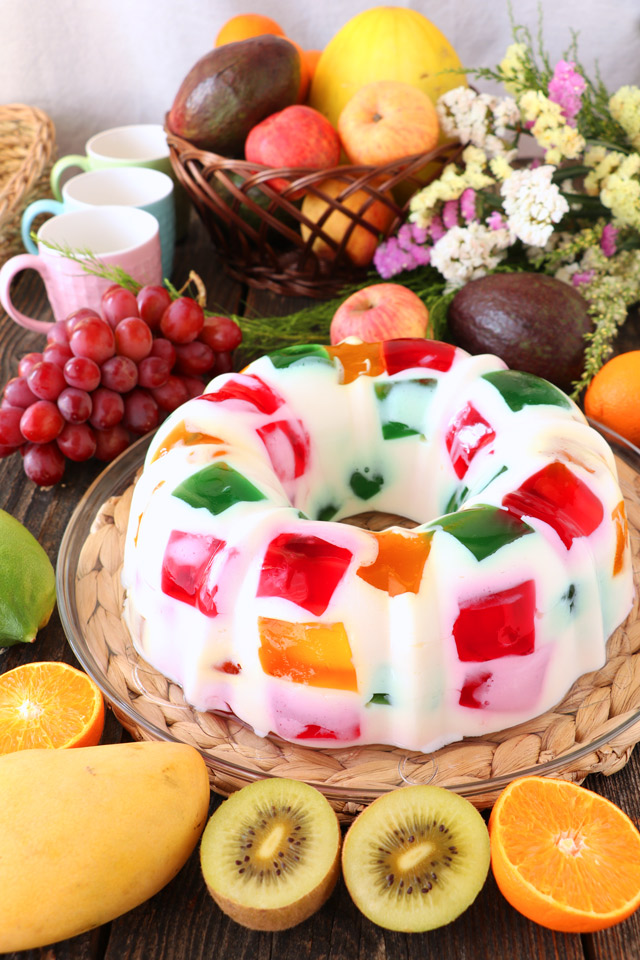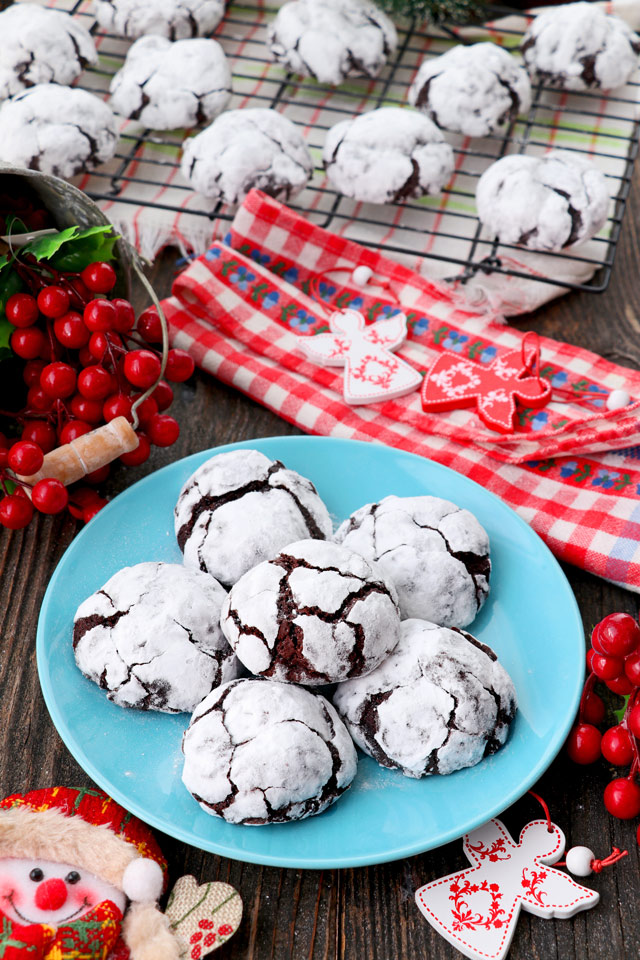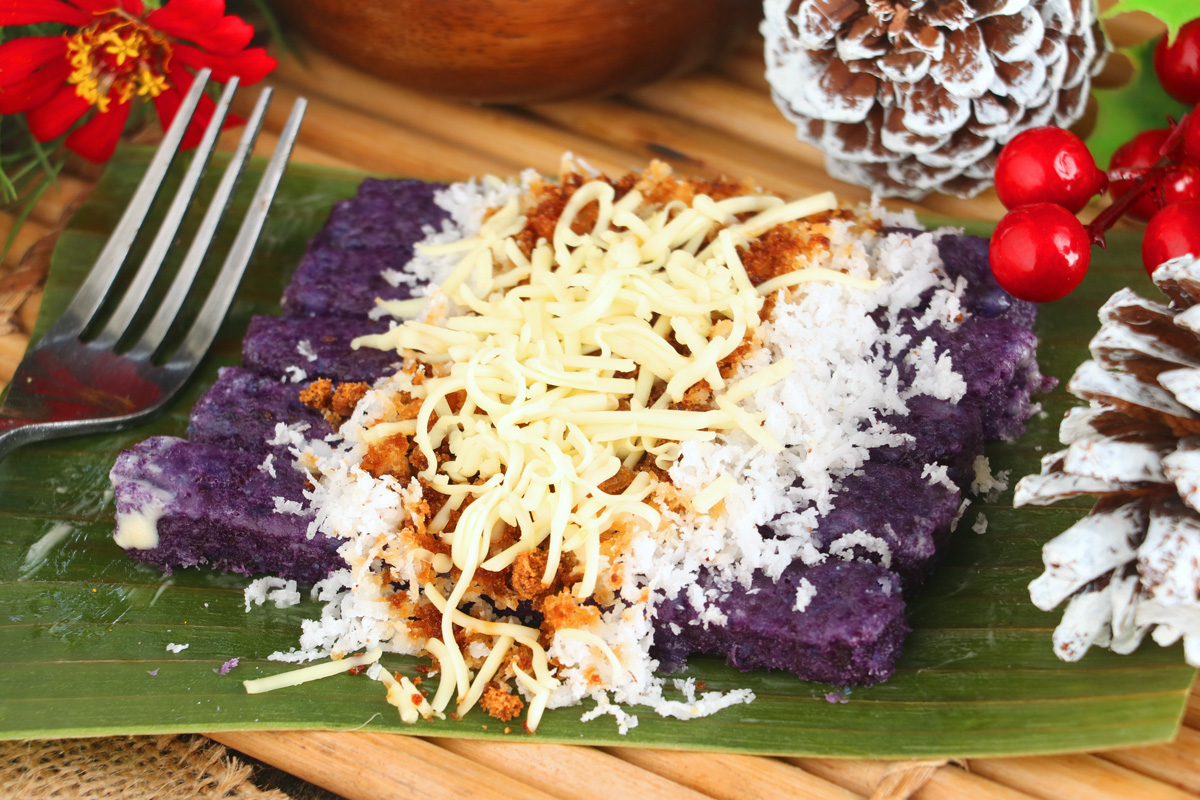 Printable Recipe
Puto Bumbong
Puto Bumbong is a Filipino steamed rice cake that is commonly sold during the Christmas season. They are slathered with butter, topped with grated coconut muscovado and grated cheese, then wrapped in banana leaves.
Ingredients
1

cup

glutinous rice flour

6

tablespoon

water

¼

teaspoon

violet liquid food color

½

cup

grated coconut

1

tablespoon

Butter or margarine for brushing

3

tablespoon

Brown sugar or muscovado

Grated cheese optional
Instructions
Shape cuts of foil into thin long containers, about 4 inches long and ¾ inch thick and high. Make about 8-10.

In a small bowl, combine water and food color and mix.

Place glutinous rice flour on a separate bowl. Add colored water 2 tablespoon at a time and mix it well using a spoon after every addition.

Once all liquid is added, mix using hand while breaking clumps with your fingers into tiny crumbs or grains.

Brush the shaped foils with butter or margarine generously. Fill each container with the glutinous rice mix.

Steam for 10-15 minutes. Turn off heat and let them cool down a bit.

Invert each piece on a banana leaf brushed with butter or margarine upto 4-5 logs per leaf.

Brush the top and sides with butter or margarine, then top with grated coconut and brown sugar or muscovado. Add grated cheese or roasted sesame seeds if desired.
Notes
This recipe makes 8-10 small logs. A pack (or serving) normally has 4-5 logs, thus, making 2 servings.   
Nutrition
Calories:
343
kcal
Carbohydrates:
41
g
Protein:
3
g
Fat:
20
g
Saturated Fat:
16
g
Cholesterol:
15
mg
Sodium:
69
mg
Potassium:
139
mg
Fiber:
4
g
Sugar:
19
g
Vitamin A:
175
IU
Calcium:
20
mg
Iron:
1
mg