Get this easy classic potato salad recipe made creamy and tasty with mayonnaise, hard-boiled eggs, mustard, onions, bell peppers, and celery.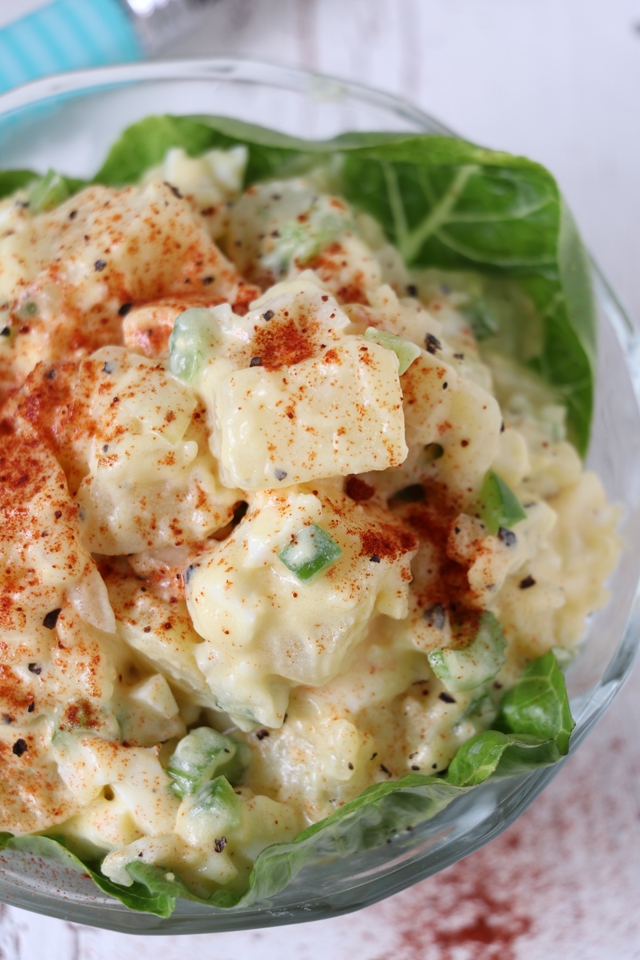 The truth is, I cannot remember the first (or the last) time I made potato salad. It is not so popular in the Philippines I guess, well any side-dish is not popular since we usually just eat everything with rice and nothing else much. We do have salads but I am not sure that you can pair a potato salad with rice though. But everything changed for me when I came to Germany. There, I got really acquainted with eating 'Kartoffelsalat' but do note that this potato salad recipe is not quite like that of the German's.
I never made one while I was there because I have my mother-in-law for that..hehe...and I am quite intimidated and shy to give it a try...what if I do not make it right, so many critics around me and they are quite direct and frank and I didn't think that my sensitive Filipino nature can take the beating...kidding aside I should probably try it sometime...but not today.    
Today I made this creamy classic potato salad with mayonnaise, mustard and hard-boiled egg and some green veggies and onions for that added crunch. Armin said it is almost similar to the German potato salad. But I find Kartoffelsalat a bit more sour and saucy than creamy. Which is not bad, only different. Some of the ingredients are also different.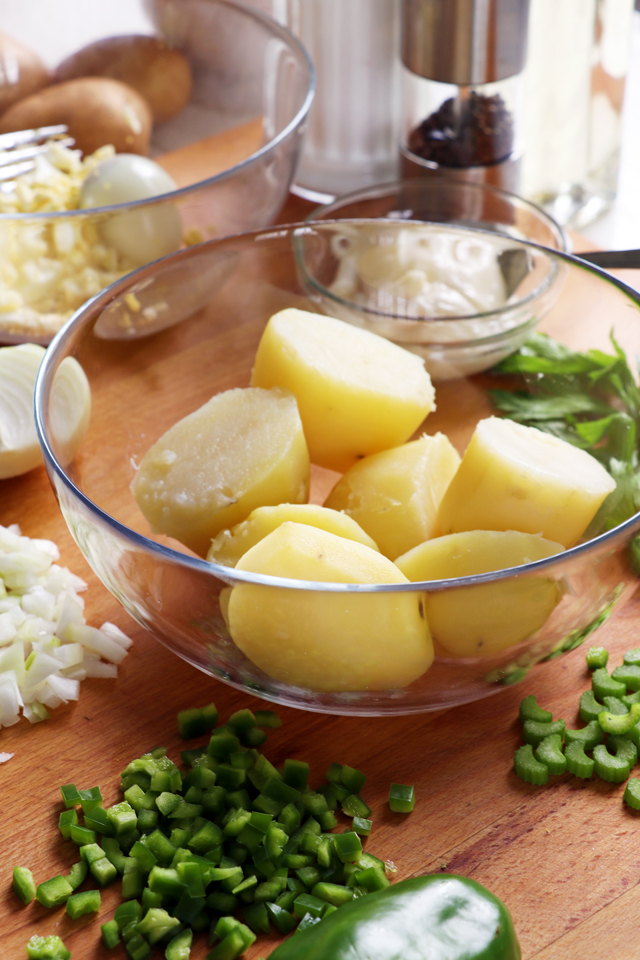 Now I want to share what I learned in making this potato salad recipe. I learned that using small or medium sized potatoes that are more uniform in size plays an important part in making potato salad in general. Smaller potatoes cook faster than the big ones, of course, that is no brainer... but having them at almost the same size makes them all cook at the same time. I have to learn that the hard way as I mixed two big and two small ones. Talk about being a newbie. So when I was checking on my potatoes after some time, the center of the big ones are not yet done so I had to remove the small ones and cut the big ones into halves so they can cook faster.
Another thing worth mentioning is that you should know your potatoes or what kind of potatoes they are. Avoid the starchy one for this recipes because you do not want them falling apart while cooking and tossing.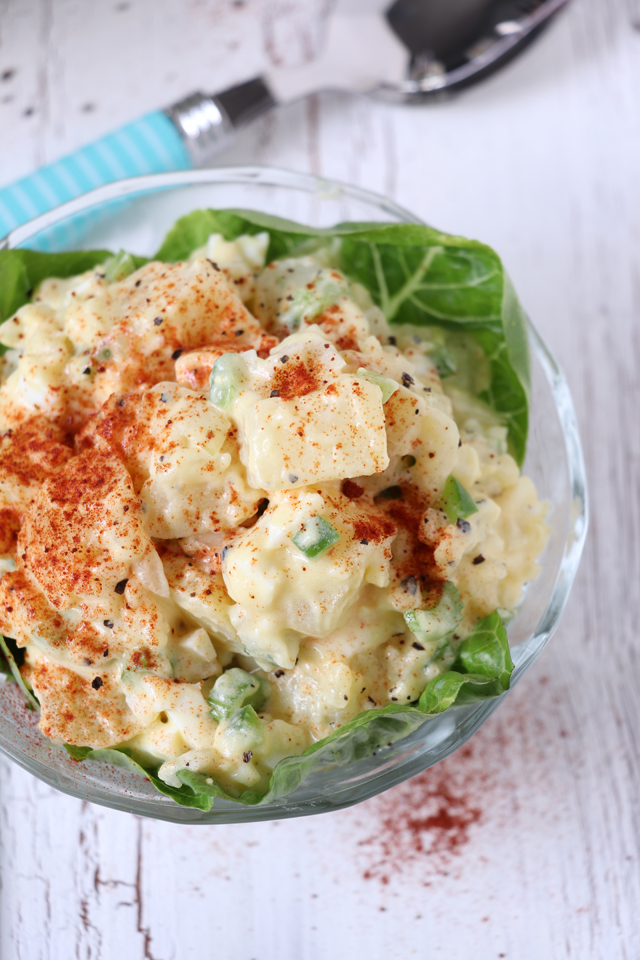 Printable Recipe
Easy Creamy Potato Salad Recipe
Get this easy classic potato salad recipe made creamy and tasty with mayonnaise, hard-boiled eggs, mustard, onions, bell peppers and celery.
Ingredients
1

pounds medium (4-5 pieces)

potatoes

- peeled

1

cup

mayonnaise

3

eggs

- hard-boiled

2

tablespoons

yellow mustard

½

tablespoon

vinegar

1

teaspoon

salt

¼

teaspoon

ground pepper

1

stalk

celery

- chopped (½ cup)

1

medium

onion

- chopped finely

1

small

green bell pepper

- chopped

paprika powder

(optional)
Instructions
Wash and peel potatoes and place them in a pot. Fill the pot with water until potatoes are fully submerged. Cover and bring to boil. Once boiling, reduce heat to low. Cook covered for 25 to 30 minutes or until potatoes are cooked through. Remove from water and let them cool enough to handle. Cut potatoes into cubes.

In a big bowl, mash the hard-boiled eggs. Add mayonnaise, vinegar, mustard, onions, celery, green bell pepper, salt, and pepper. Mix well.

Add the potatoes and toss until well combined. Cover and refrigerate for at least an hour to allow flavors to blend.

Sprinkle with paprika before serving if desired.
Nutrition
Calories:
515
kcal
Carbohydrates:
18
g
Protein:
8
g
Fat:
45
g
Saturated Fat:
7
g
Cholesterol:
146
mg
Sodium:
1090
mg
Potassium:
633
mg
Fiber:
4
g
Sugar:
3
g
Vitamin A:
330
IU
Vitamin C:
30.1
mg
Calcium:
72
mg
Iron:
4.6
mg