Try this Pork Estofado, another classic Filipino dish of soy-vinegar stew with distinctive flavors from fried plantains, banana blossoms, and caramelized sugar.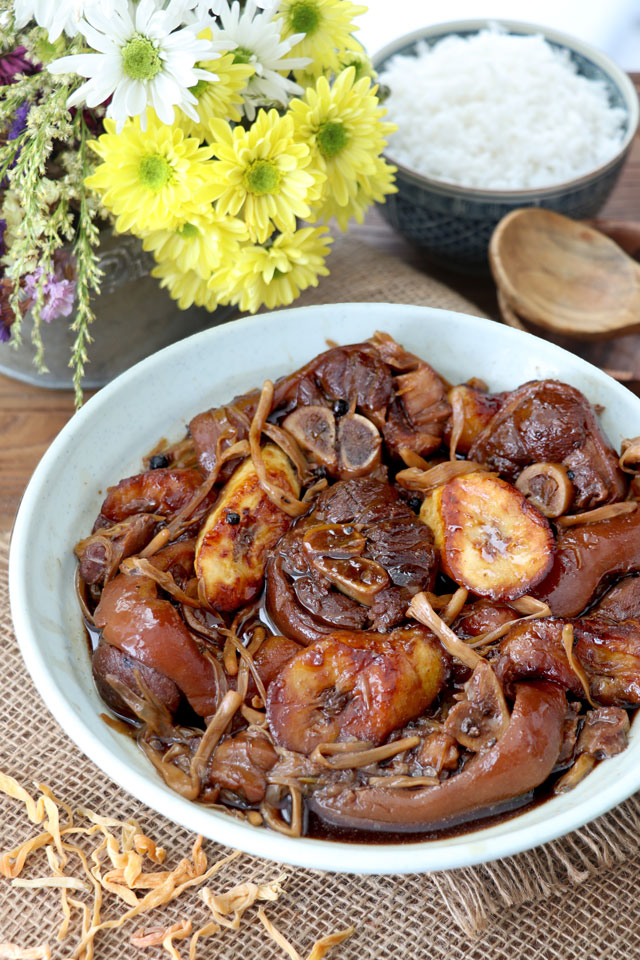 What is Estofado?
Estofado or 'Estufado' is a Filipino dish of stewed pork cooked in vinegar and soy sauce with fried plantains that gives out a burst of flavor. It is also slightly sweet from added sugar.
The word Estofado came from the Spanish word "estofar," which translates to "stewed," or simply to braise in a covered pan—which is how this dish is cooked. But the Filipino Estofado is 100% local.
The secret ingredient...
This Estofado recipe is inspired by that of my Mama's. Although she does not add fried saba bananas and just use banana blossoms — I used both. But what I love about her recipes is the caramelized sugar, which I find adds a very interesting and better flavor than just using plain sugar.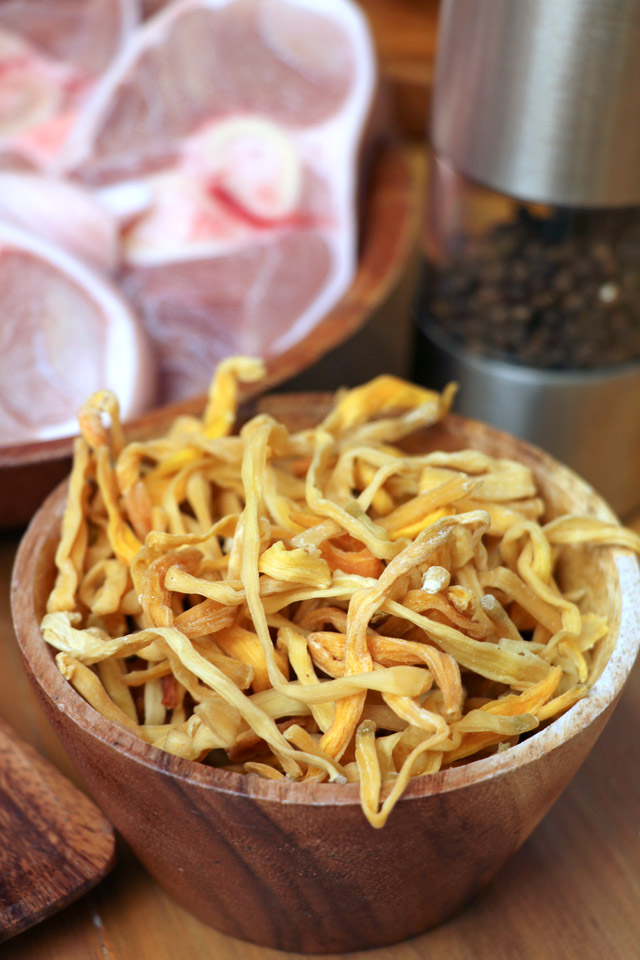 banana blossoms
Estofado vs. Adobo vs. Paksiw na Pata
All three are stewed in vinegar and soy sauce. While Estofado and Adobo can be made using other cuts of pork, Paksiw na Pata uses pork hocks.
Adobo is normally on the savory side and the other two are both sweetened with the addition of sugar, however, I find that Estofado is a little sweeter. Most of the ingredients are the same and the omission of some makes it a completely different dish.
But what makes Estofado distinctly different from other soy-vinegar stews? It is the added fried plantain (saging na saba).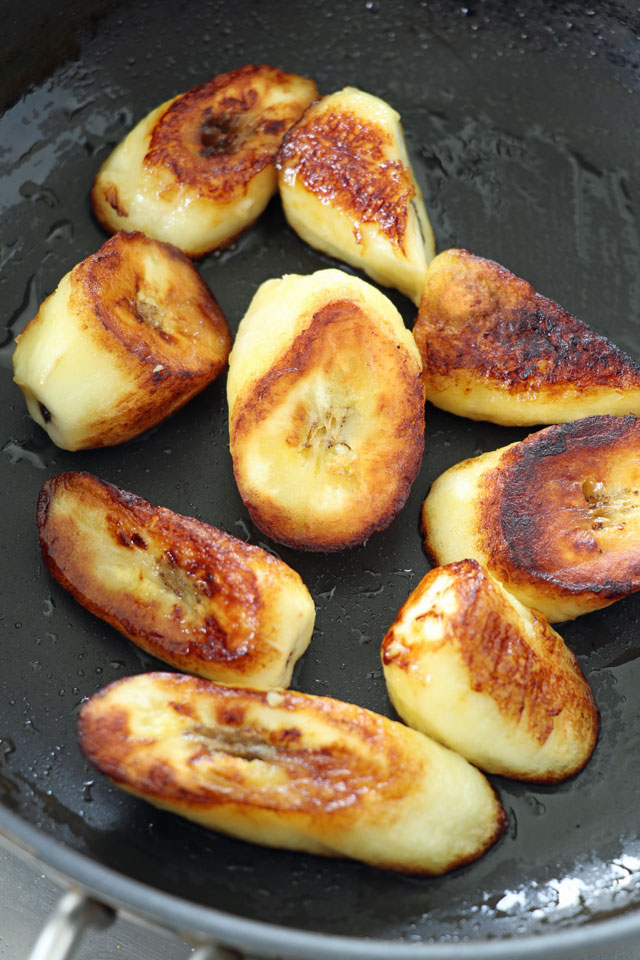 There are several variations of this dish, depending on where you are in the Philippines. Some regions cook it with pineapple instead of saba bananas while others add carrots and potatoes to their Estofado. Some also choose to marinate the meat overnight before stewing it.
What Cut of Pork to Use?
Although you can make Estofado using other kinds of meat, it is commonly prepared with pork.
There are plenty of pork cuts you can choose from. Be sure to use meat with some or lots of fats and collagens as leaner cuts tend to get tough and dry when stewed. Below is what best recommended:
Pork Pata (hocks or knuckles)- They are cheaper cut of meat, bonier with a lot of tendons, ligaments, and fat that turn gelatinous and very tasty after long cooking.
Pork Shoulder - have a good amount of fats and connective tissue and eat as well that is also great for stew.
Pork Belly - It is fatty yet extremely tender and flavorful which makes it also a good cut for slow cooking or stew.
Other similar Filipino dishes to try:
Pork Adobo - stewed in soy sauce and vinegar
Bistek or the Filipino Beef Steak cooked in soy sauce and calamansi or lemon juice topped with lots of onions
Pata Tim - sweet-savory Filipino-Chinese dish of braised pork leg or hock
Hamonado - pork stewed in soy sauce and pineapple juice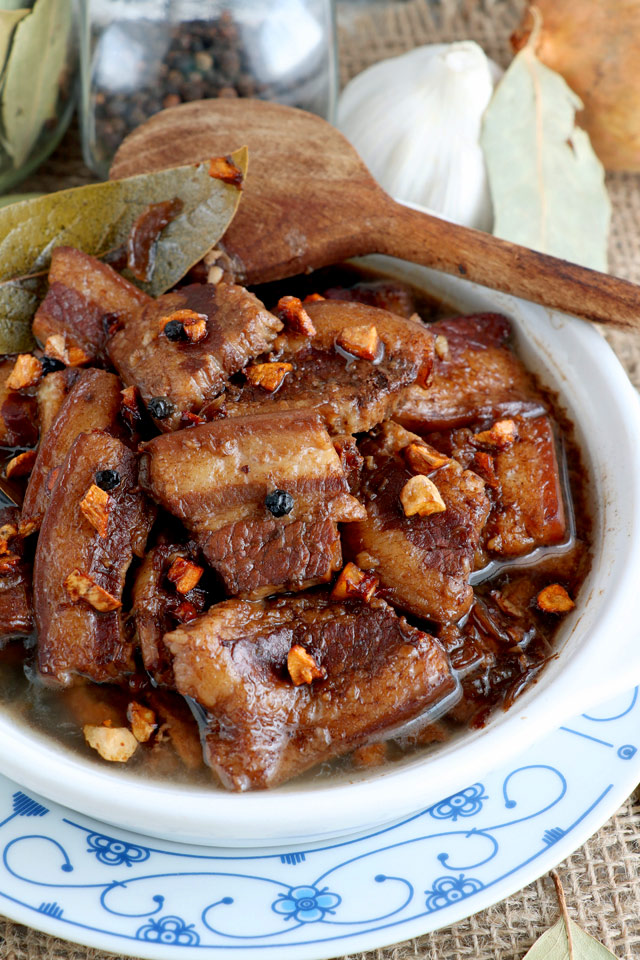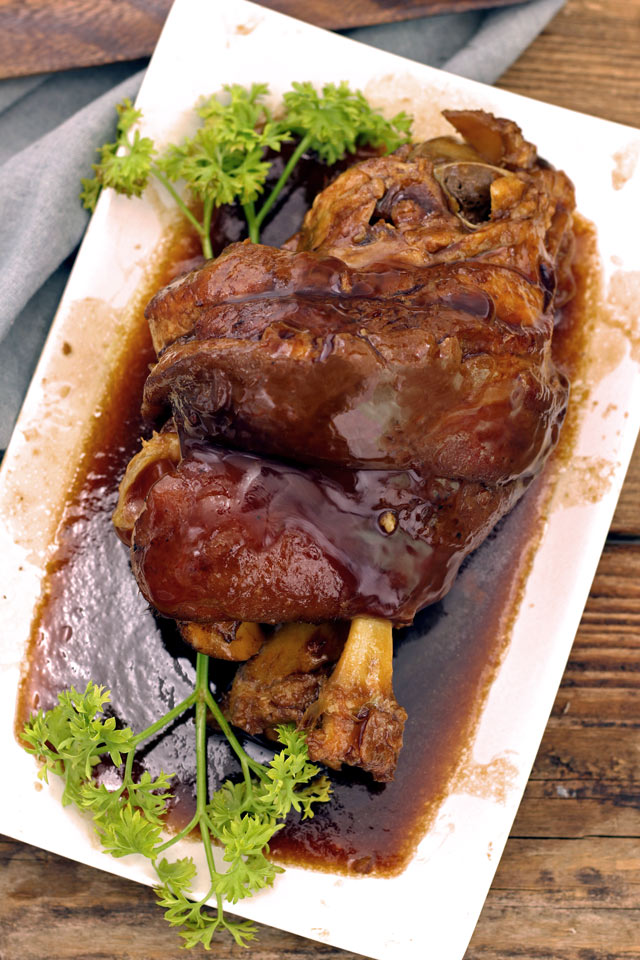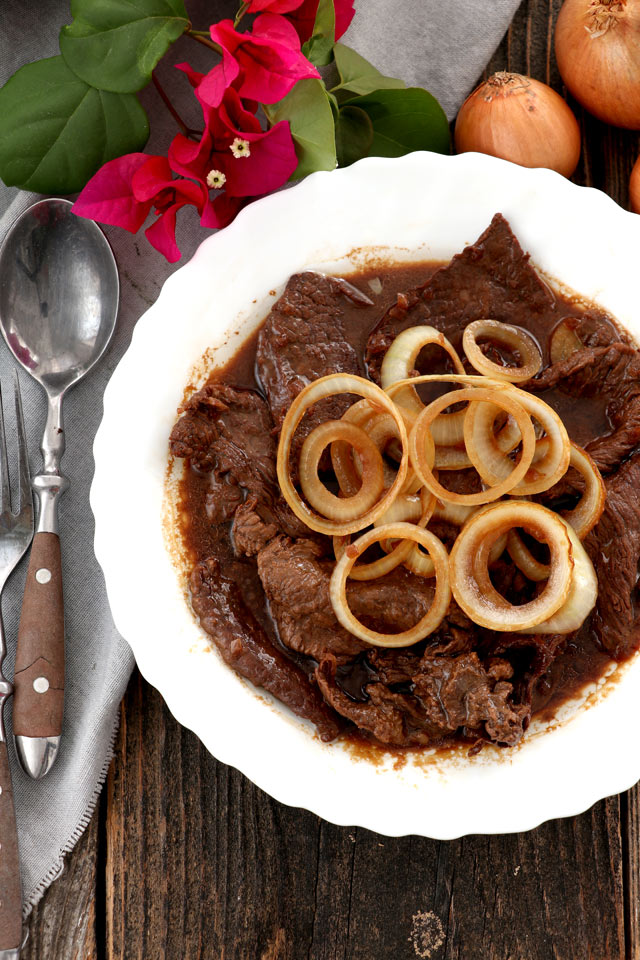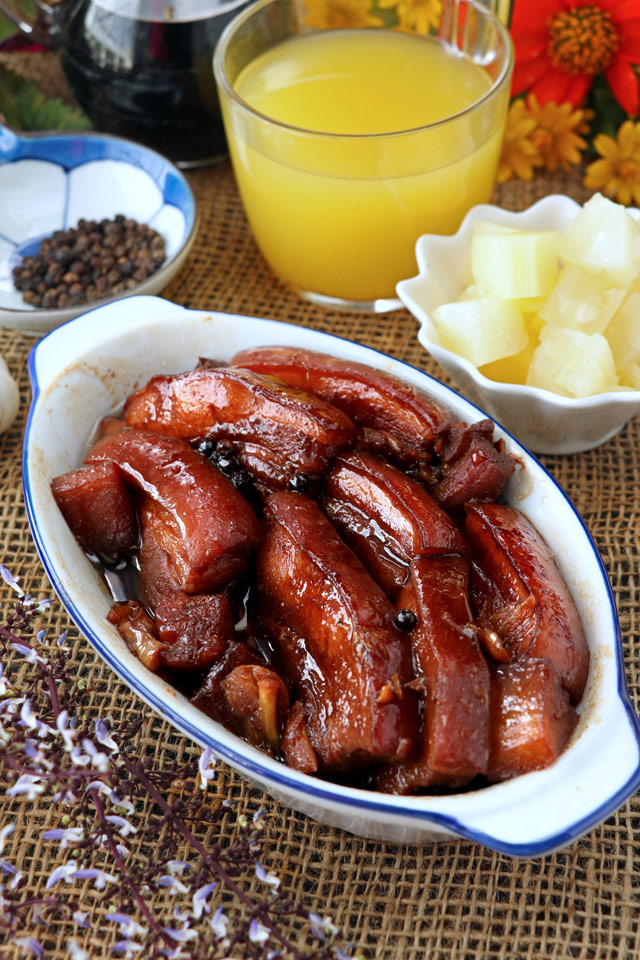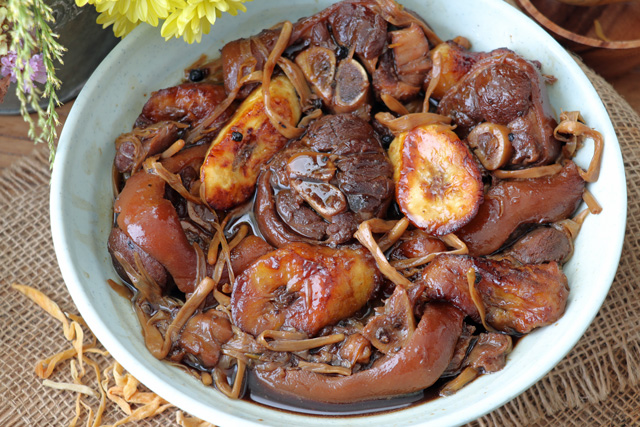 Printable Recipe
Pork Estofado
Pork stewed in soy sauce and vinegar sweetened with caramelized sugar and fried saba (plantains) and banana blossoms.
Ingredients
3

tablespoons

oil

4

pieces

saba bananas

- each cut into 3

1

kilo

pork hock (pata)

cut into smaller sections 2-inch thick

⅔

cup

soy sauce

1

cup

vinegar

1 ½

cup

water

1

teaspoon

peppercorn

6

tablespoons

granulated sugar

-adjust to preferred sweetness

1

tablespoon

water

1

cup

banana blossoms
Instructions
In a large pot, heat oil over medium heat. Fry the slices of saba until sides are browned. Remove from the oil and set aside.

Add the pork hock slices and sear all sides until slightly browned. Add the soy sauce, vinegar, water, and peppercorns and bring to boil over high heat.

Once boiling, lower heat to low and cover the pot. Let it simmer for an hour or until the meat becomes fork-tender. Add more water as needed.

Place sugar and 1 tablespoon of water in a saucepan. Melt over low heat until it turns into a golden caramel. Pour this to the simmering pot of pork hocks. Be careful as it will bubble up while pouring.

Add the banana blossoms. Add the fried bananas and let simmer for another 5 minutes.

Serve while warm with steamed rice.
Nutrition
Calories:
224
kcal
Carbohydrates:
25
g
Protein:
5
g
Fat:
11
g
Saturated Fat:
1
g
Cholesterol:
1
mg
Sodium:
2167
mg
Potassium:
442
mg
Fiber:
4
g
Sugar:
16
g
Vitamin A:
15
IU
Calcium:
25
mg
Iron:
34.5
mg