Everything in this Pork Carnitas Tacos recipe was made from scratch. Soft, freshly made tortillas and savory, spicy Carnitas, the perfect combination to bring your Taco nights to the next level.
In my previous posts, I shared the recipes I use for making homemade Tortillas and the savory, spicy Pork Carnitas. So this post about Pork Carnitas Tacos should not be a surprise at all. What is, is how fast Armin and I were able to devour them! They are just so good.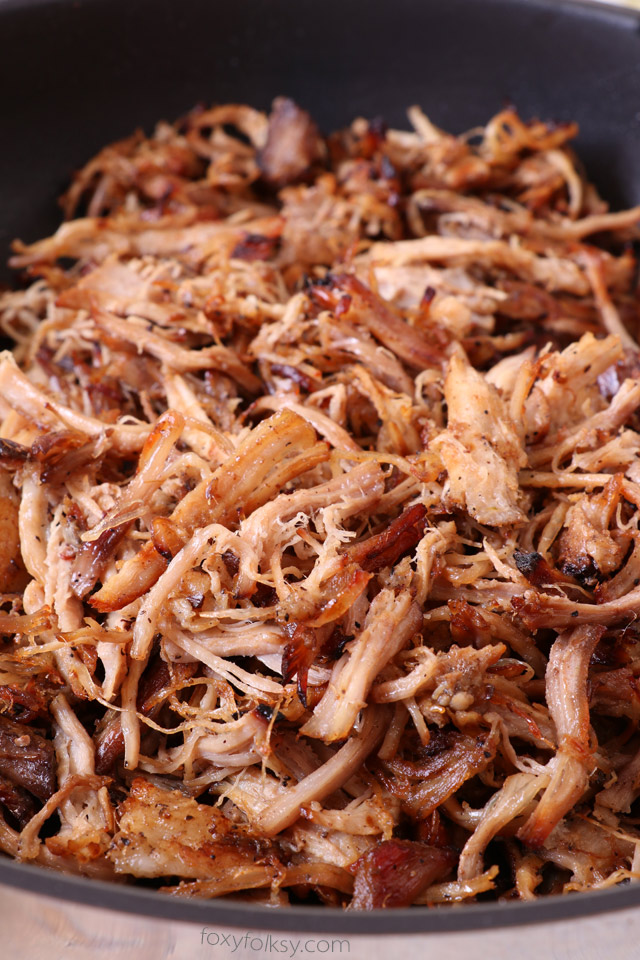 To put it to the test I made a second batch and this time I made more for the whole family. That meant: my parents, my two sisters and their better halves, Armin and I and my two small nephews. It was like a going away treat before my sister, Andrea, and her husband, Jonnel, fly back to Dubai. And it was literally a few hours before their flight, so, what could be a better send off than enjoying good food and over tons of laughy while playing cards with the family.
It was a such a hit that my papa is thinking of starting a food cart business with it! Well, I am not sure about the feasibility of that because we (Armin and I) will possibly be our own best customers.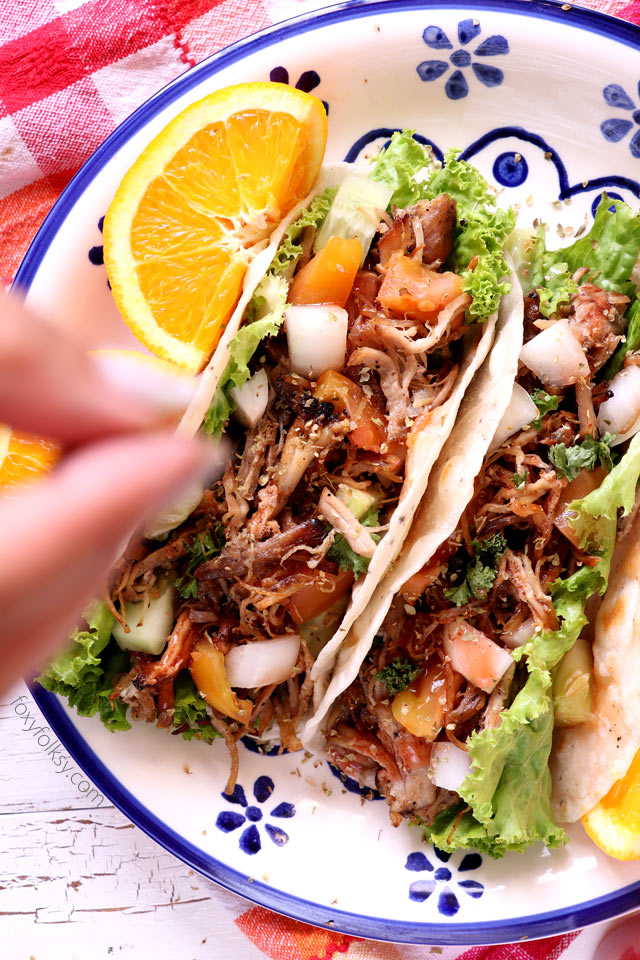 I simply added the usual Tacos veggies like lettuce, onions, tomatoes, and cucumber. Then I sprinkled them with some chopped parsley and dried oregano and a few drops of hot chili sauce. I love how you can put as much or as less as you want with Tacos. You can also add cheese or Nacho cheese sauce. Hhhmmmn...that is an idea and another excuse to make these Pork Carnitas Tacos again.
It is only one sample of the many things you can do with Carnitas and with the tortillas as well and I am planning to do a lot of other delicious things with these two really simple but amazing recipes.
Printable Recipe
Pork Carnitas Tacos
Bring your taco nights to the next level with this Pork Carnitas Tacos recipe. Soft, freshly made tortillas and savory, spicy Pork Carnitas, combined with your favorite taco veggies. Delicious!
Instructions
Wash the green leaf lettuce and cut the base. Pat dry each leaf.

Cut tomatoes into cubes or thin slices. Chop the onions and cut the cucumber into cubes.

Prepare the Pork Carnitas by frying it in hot oil. Only fry one side to get some parts crispy and the other tender and juicy.

If not using freshly made tortillas, warm the tortillas by wrapping them in slightly damp paper towels and heating them in the microwave for 30 seconds to a minute. Alternatively, warm each tortilla in a skillet over high heat for a few seconds each side.

Assemble the tacos starting with the tortilla followed by the lettuce, pulled pork, tomatoes, onions, and cucumber.
Notes
If you want it extra spicy, sprinkle the tacos with some hot chili sauce.
Nutrition
Calories:
70
kcal
Carbohydrates:
1
g
Protein:
10
g
Fat:
2
g
Saturated Fat:
0
g
Cholesterol:
26
mg
Sodium:
39
mg
Potassium:
242
mg
Fiber:
0
g
Sugar:
0
g
Vitamin A:
2310
IU
Vitamin C:
4.2
mg
Calcium:
17
mg
Iron:
0.6
mg