This Pork Carnitas (Mexican Pulled Pork) recipe uses the traditional way of slow cooking without any special kitchen gadget involved. Enjoy every shred of tender, juicy meat packed with delicious flavors.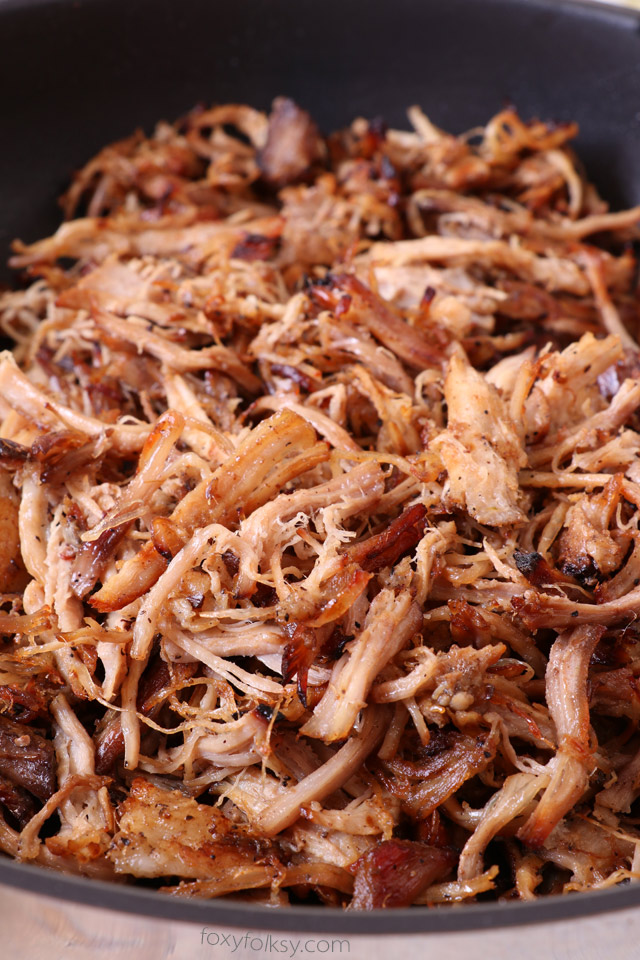 Simply WOW! What else can I say? I love all the bits and pieces of this Pork Carnitas or more commonly known as Mexican Pulled Pork.  The tenderness of the meat and the juiciness from having it slow cooked for several hours letting the flavors seep into every shred of the pork. Then frying it until one side becomes crispy! Delicious!
While buying it, I actually thought that a kilo of pork (that looked a lot more once it was shredded) will be too much for just Armin and me. Well, it did cover three meals but that is because we are (trying hard) to hold back. I bet we could have easily finished the whole thing in one sitting. We made Carnitas Tacos from it using homemade tortillas I did in my last post.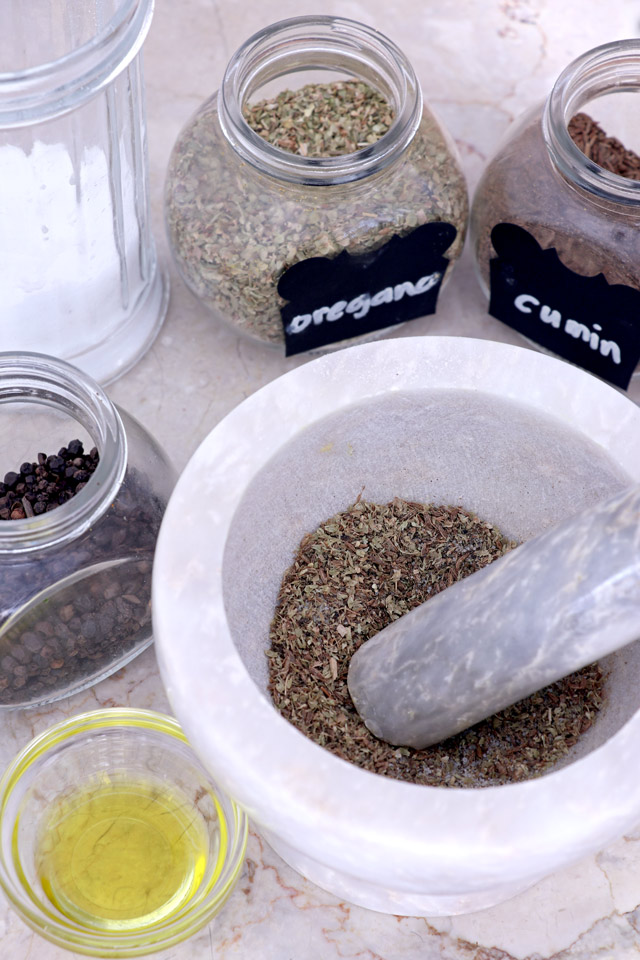 What I also love about it is that it requires really few ingredients. I am now glad that I had the habit of collecting various dried spices. That means I have all that is needed for this recipe like cumin, dried oregano and whole peppercorn ready and waiting on my kitchen shelf. The only thing that I actually needed to buy was the orange and the pork.
I like to grind the spices myself so that the flavors come out fresh and, well, more flavorful. I've found this mortar and pestle made from white marble from a small trade fair in our area that I really love using.  I do not see these things around anymore and I've been searching for it in some local stores and supermarkets. So I was so happy when we stumbled upon it while on our way to buy groceries where the fair was held. The stall was selling all kinds of decorative stuff from marble.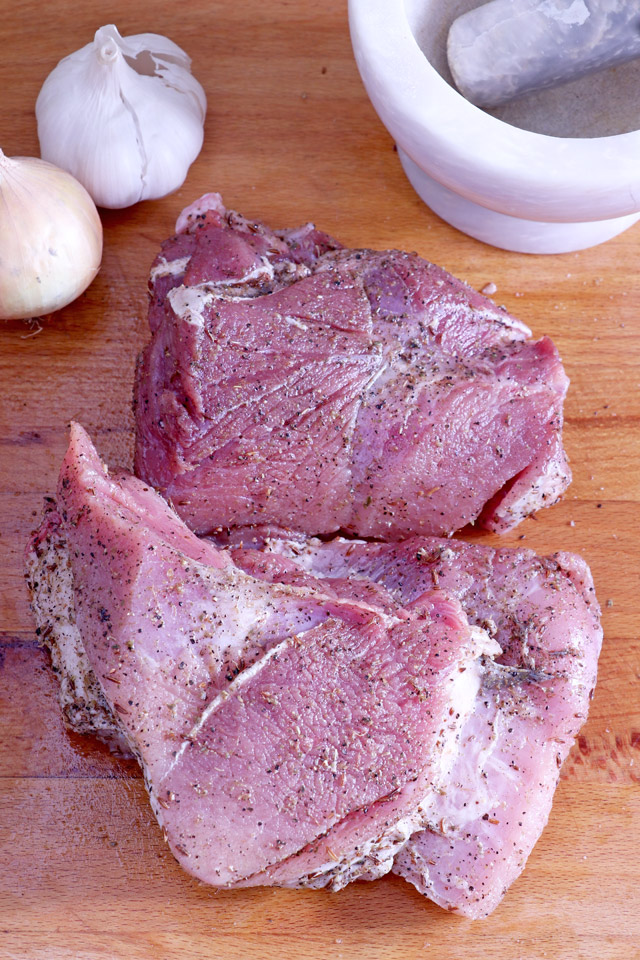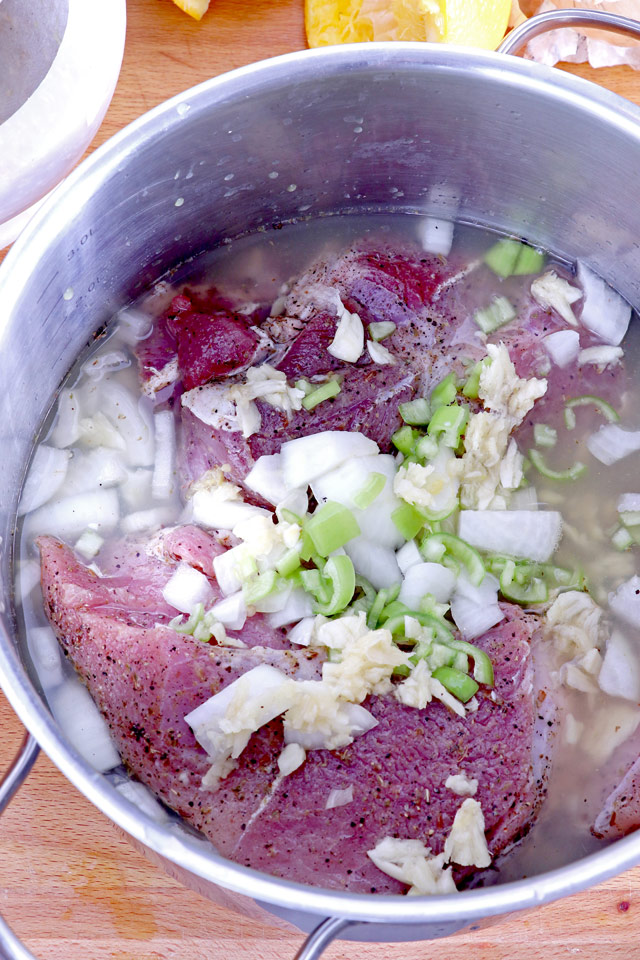 This Pork Carnitas recipe was slow cooked stove top style. I've been juggling the thought of getting me an Instapot  (a pressure cooker with slow cook feature and more) for over a year now and like the Libra that I am, up to now, I am still undecided. Ironic that we actually had one here as a giveaway. My reason is that I do not have space in the kitchen for it at the moment but, hopefully, soon we will.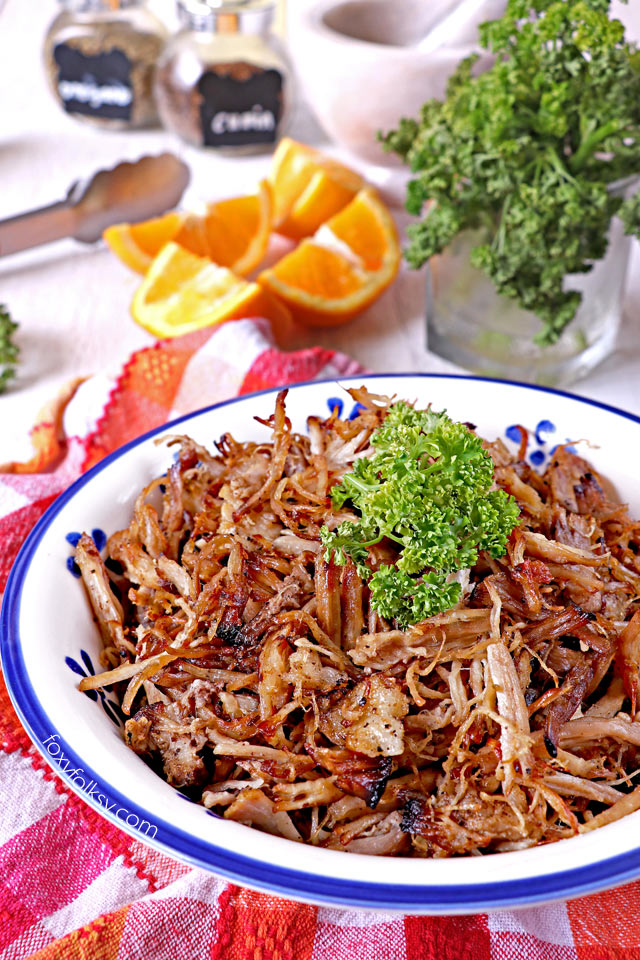 Tips for making this yummy Carnitas (Mexican Pulled Pork)
The ideal cut of pork to use for this recipe is pork shoulder. If you can get a pork butt that comes from the thicker section of the pork shoulder where there is more marbling, then use this. Other cuts you could use is chuck roast. Tender cuts of meat are not advisable as they tend to dry out after long cooking.
Do not fry the meat all over. Just one side should be crisp and browned from frying to keep the other parts tender and juicy.
You can also use other variety of spicy green chili and adjust it according to your taste.
You can skip the step of grinding the spices and use already ground or powdered form.  If you do not have cumin, caraway seeds can also be used or a bit of coriander seeds.
Printable Recipe
Pork Carnitas (Mexican Pulled Pork) without a slow cooker
This Pork Carnitas (Mexican Pulled Pork) recipe uses the traditional way of slow cooking without any special kitchen gadget involved. Enjoy every shred of tender, juicy meat packed with delicious flavors.
Ingredients
1

kilogram

pork shoulder

- skin removed, but not the fat

½

tablespoon

dried oregano

1

teaspoon

cumin

2

teaspoons

salt

1

teaspoon

peppercorn

1

tablespoon

olive oil

1

medium

onion

- chopped

3

cloves

garlic

- crushed

1

jalapeno

or other hot pepper - chopped

1

orange

- juiced

1

cup

water

2

tablespoons

oil

- for frying
Instructions
Wash and pat dry the pork.

Grind together the dried oregano, cumin, peppercorn, and salt. Transfer to a small bowl and mix in olive oil to make the rub. Rub this all over the pork.

Place the pork in a pot with lid. Add the chopped onions, garlic, jalapeno, orange juice, and water. Cover pot and bring to a boil over high heat. Once it starts to boil, lower the temperature to low and slow cook for several hours (3-4 hours) or until meat becomes really tender and can easily be pulled apart.

Remove meat from the pot and let it cool off a bit. Take 2 forks to shred the meat. Set aside the remaining sauce from the pan. This can be used for extra seasoning later. You can also refrigerate the Carnitas for later or next day consumption. Just make sure you cover it so it will not dry out in the fridge.

Fry the Carnitas before serving. In a large skillet, heat oil over high heat. Place the shredded pork evenly and fry for 2-3 minutes without stirring. Drizzle about 5 tablespoons of the leftover sauce over the shredded meat and cook for another 2-3 minutes or until bottom side is slightly browned and crusty and all the sauce are gone. Turn off the heat and turn the meat to warm the other side through.
Nutrition
Calories:
237
kcal
Carbohydrates:
5
g
Protein:
20
g
Fat:
14
g
Saturated Fat:
3
g
Cholesterol:
68
mg
Sodium:
856
mg
Potassium:
434
mg
Fiber:
1
g
Sugar:
2
g
Vitamin A:
75
IU
Vitamin C:
17
mg
Calcium:
43
mg
Iron:
1.7
mg