Try this melt in your mouth Pork Adobo Recipe with a perfect balance of saltiness, and acidity. Slow-cooked and then sauteed in browned garlic for richer and fuller flavors.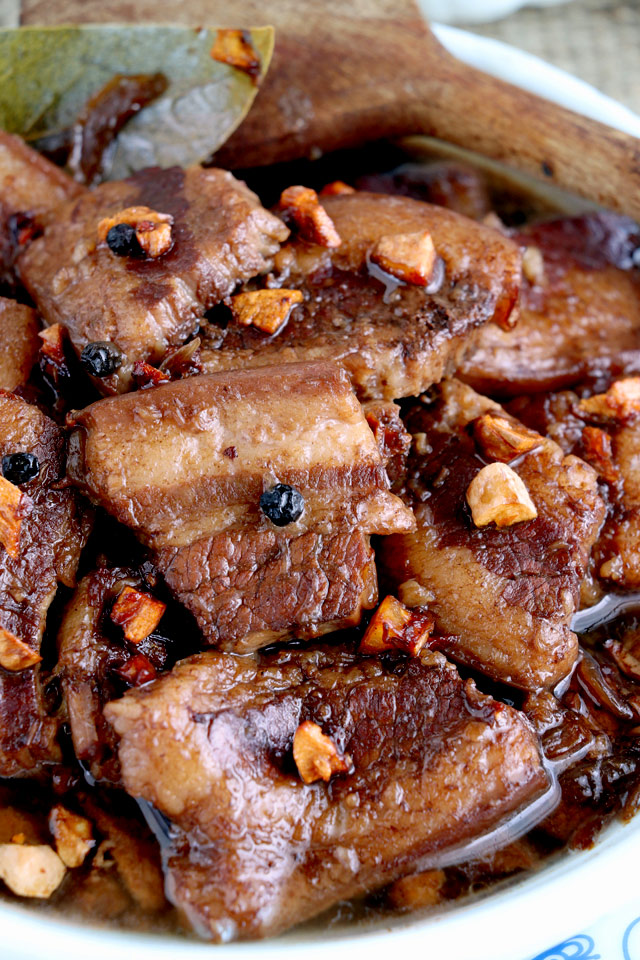 Adobo has become an iconic dish that represents Filipino food worldwide. It is always present and usually takes the top place in all the Filipino food list you can find.
There was even a movie called 'American Adobo'  back in 2002. Which is not about Adobo really but about the lives of five Filipinos living in the USA.
They used the name of the dish as the title in the film as a symbol that reflects the clashing characters and their different struggles in life living abroad.
But despite the conflicts in their characters, in the end, everything ended up well, just like in cooking Adobo that is acidic (vinegar), salty (soy sauce), meaty and full of spices, all ingredients are thrown together to create such a unique and delicious dish.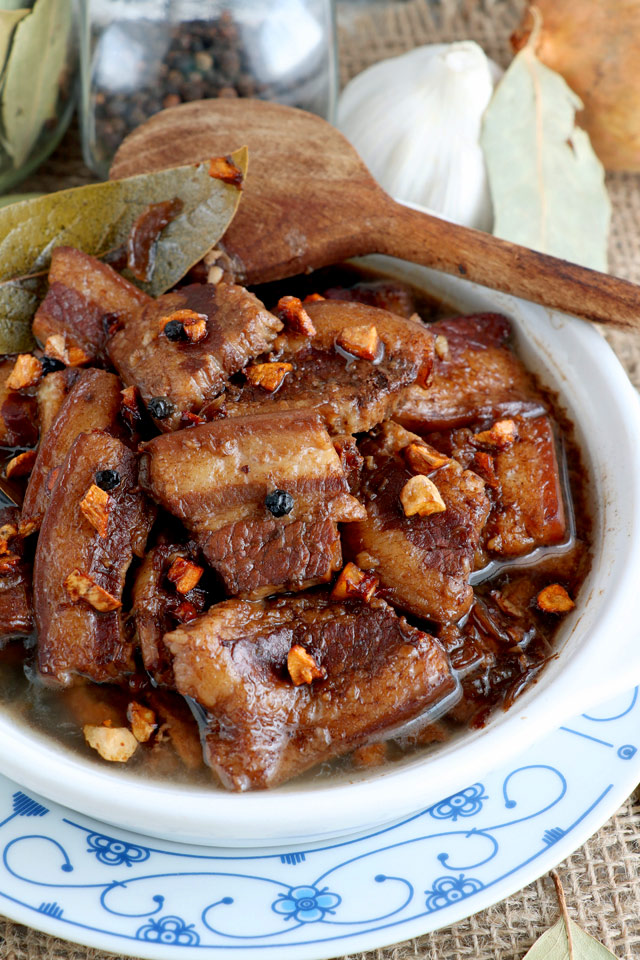 What is Adobo?
Adobo is a way of cooking meat (or vegetable) in a brine solution with vinegar, soy sauce, onions, and peppercorn. Dried bay leaves and garlic are usually added for extra flavor and fragrance.
It also refers to the popular Filipino dish that is cooked using this technique.
Different meat can be used for making this dish. Most common is chicken (Adobong Manok) or Pork (Adobong Baboy). Vegetables like, snake beans, water spinach, and eggplant are also cooked in this manner. So are fishes and squid.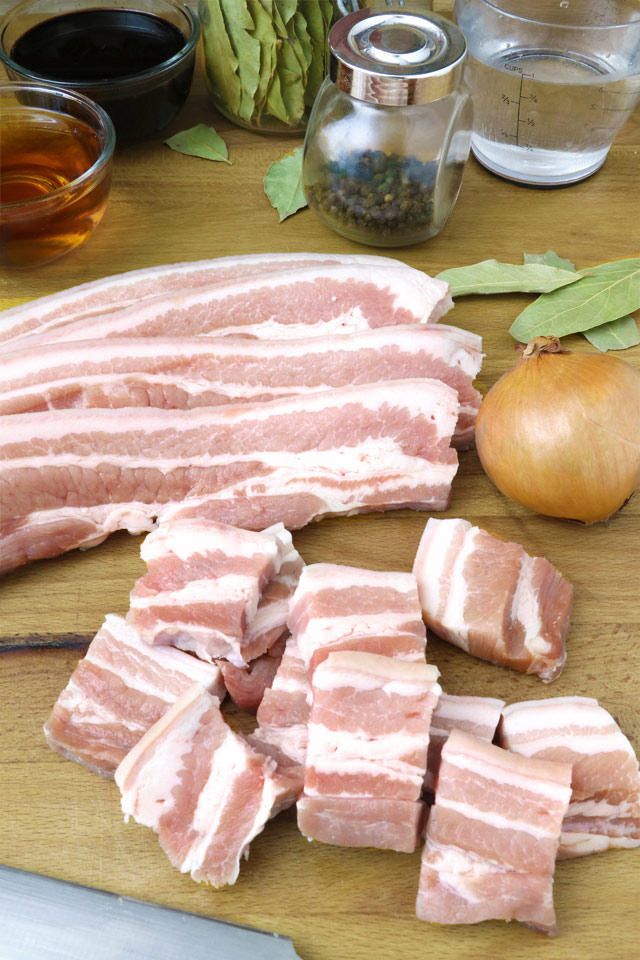 How to make Pork Adobo tastier
My pork Adobo recipe is done a bit different than the others.
However, you will also learn that a lot of them have different ways of cooking Adobo. Some people just boil it and prefers a thinner sauce. Others marinate it in the sauce before cooking it. I, on the other hand, do not marinate but cook it twice!
It is like braising but in reverse.
Simmer the meat in the soy sauce-vinegar solution with onions, peppercorn and bay leaves, low and slow until it becomes fork tender. 

Then separate the meat from the sauce and saute the meat in browned garlic.

The sauce is, finally, added back and simmered until it is reduced to a caramelized sauce.
This is the way my Mama thought me and most of my titas (aunties) and cousins do it the same way.
Browning the garlic and adding it at the end makes the sauce richer with a fuller flavor.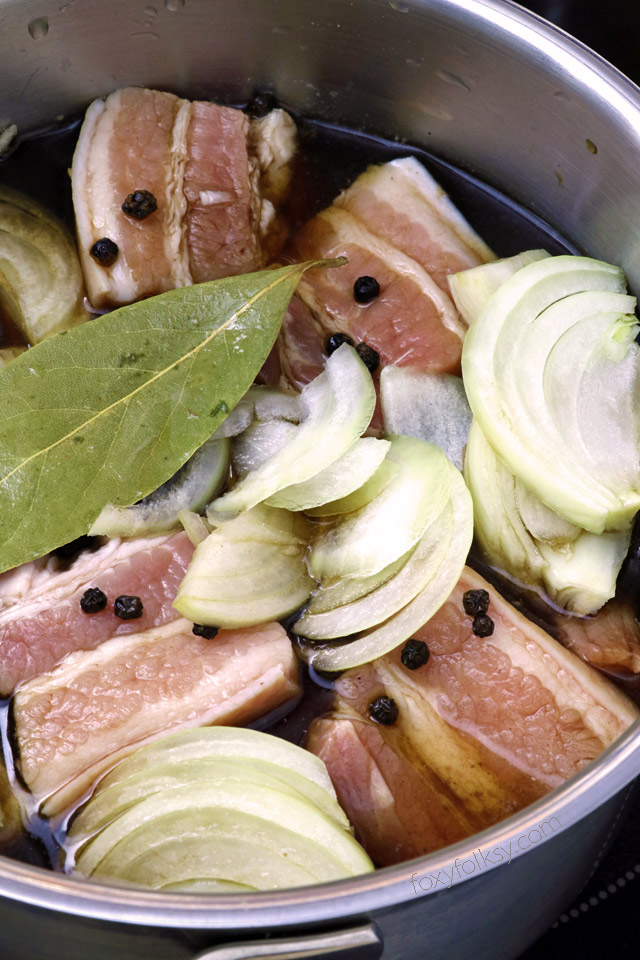 Which cuts to use for pork Adobo
Pork belly -(Liempo) the more popular choice because it is the most flavorful cut because of the fats in it.
Pork shoulder - (Kasim) than pork belly. A tough cut with lots of fat and tissue that make it ideal for slow cooking.
Pork ham - (Pigue) If you want meatier and leaner meat that is also good for slow-cooking.
Pork hocks - (Pata) also great for making this pork Adobo recipe with a good combination of bones, skin, and meat flesh.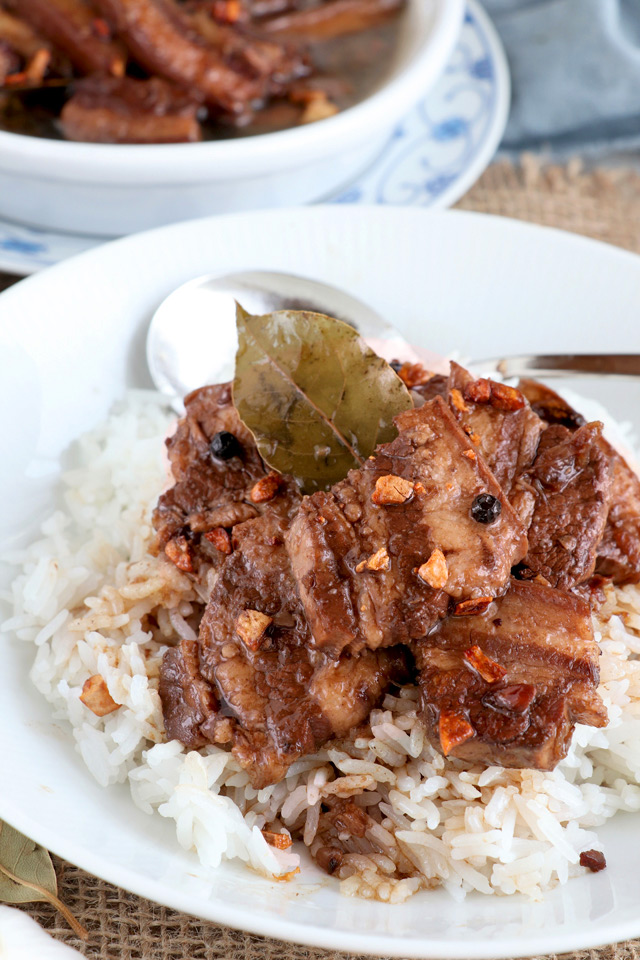 Although it seems that Chicken Adobo is more popular on the international scene, you should also give the pork version a try. You can even mix them if you like. As a Filipino, I cannot say which one is more popular in the Philippines. I think both are equally loved as they are equally delicious. Adobo is Adobo, regardless of the meat you use. 
Other Filipino Pork Dishes to try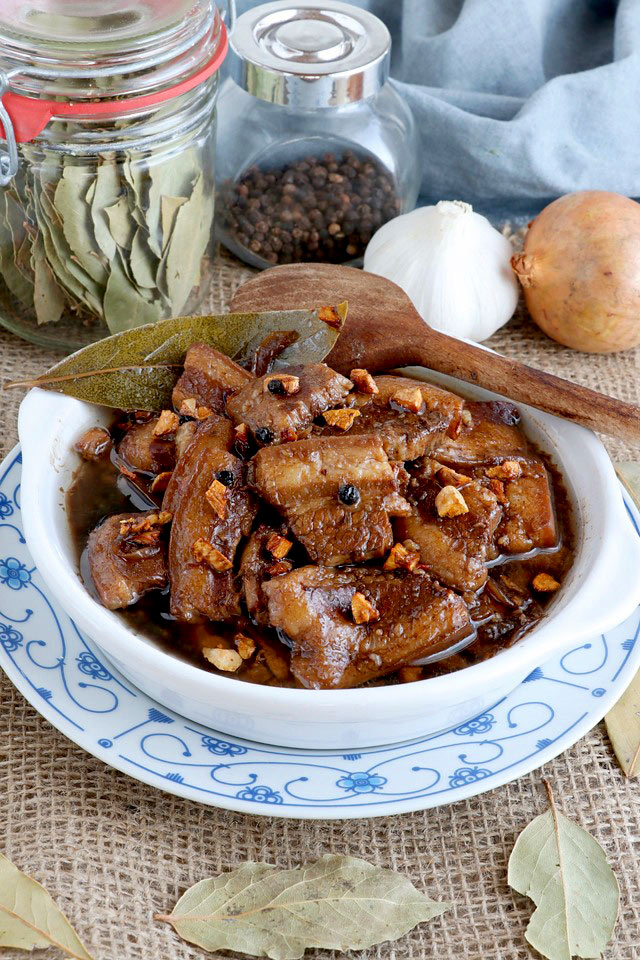 Printable Recipe
Pork Adobo Recipe
Try this melt in your mouth Pork Adobo Recipe with a perfect balance of saltiness, and acidity. Slow-cooked and then sauteed in browned garlic for richer and fuller flavors.
Ingredients
1 ½

pounds

pork belly

- cut into 1x1 or 1x2-inch cubes

⅓

cup

dark soy sauce

½

cup

vinegar

1

cup

water

10-12

pieces

peppercorn

3

pieces

bay leaves

1

teaspoon

brown sugar

- optional

1

big

onion

- chopped coarsely

2

tablespoons

oil

5

cloves

garlic

- minced
Instructions
Place pork belly in a pot. Add the soy sauce, vinegar, water, peppercorn, bay leaves, brown sugar, and onions. Bring to boil over high heat.

Cover the pot with the lid and lower heat to low. Let it cook for about an hour or until the meat is really tender and liquid is reduced to half. Separate meat from the sauce.

In a skillet, heat oil over medium-low and add the minced garlic. Cook garlic until golden. Remove some of the garlic from oil leaving about ½ in the pan and transfer the rest to a small bowl.

Add back the meat to the skillet and cook for a minute or two. Add the sauce again and let it simmer for some minutes until the sauce is reduced some more and becomes thicker.

Transfer the Pork Adobo to a serving dish and top it with the browned garlic. Serve with hot steaming rice.
Nutrition
Calories:
782
kcal
Carbohydrates:
4
g
Protein:
14
g
Fat:
77
g
Saturated Fat:
26
g
Cholesterol:
97
mg
Sodium:
911
mg
Potassium:
323
mg
Fiber:
0
g
Sugar:
1
g
Vitamin A:
60
IU
Vitamin C:
1.7
mg
Calcium:
29
mg
Iron:
1.6
mg