This is my version of no-fuss frozen pineapple margarita. It is very simple and easy to make but so refreshing, especially in this hot summer! Perfect for barbecue parties too! 
I very seldom drink anything with alcohol since I developed allergies or alcohol-intolerance as they call it, but back then (when I was still normal) my favorite cocktail is frozen margarita.
So I thought to make some the other day when Armin and I decided to have an impromptu barbecue. This time, frozen margaritas! It was really good but unfortunately, I can only drink about half of mine because I do not want to risk having swollen lips, eyes and throat…not so pretty!
Fresh Pineapple Margarita Recipe
The ingredients are really simple:
sugar
lemon juice - or lime juice
 tequila or vodka
 ice cubes
frozen pineapple - - cubed
salt or sugar
I use fresh pineapples since they are available to us all year round. But frozen ones or even the ones in jars will do. If you are using fresh, just peel it then cut into cubes and freeze them overnight or for a few hours.
Salted or sweetened rim? Your choice. But I prefer using salt for
The recipe below is good for two (2) but feel free to double or triple it for a bigger crowd.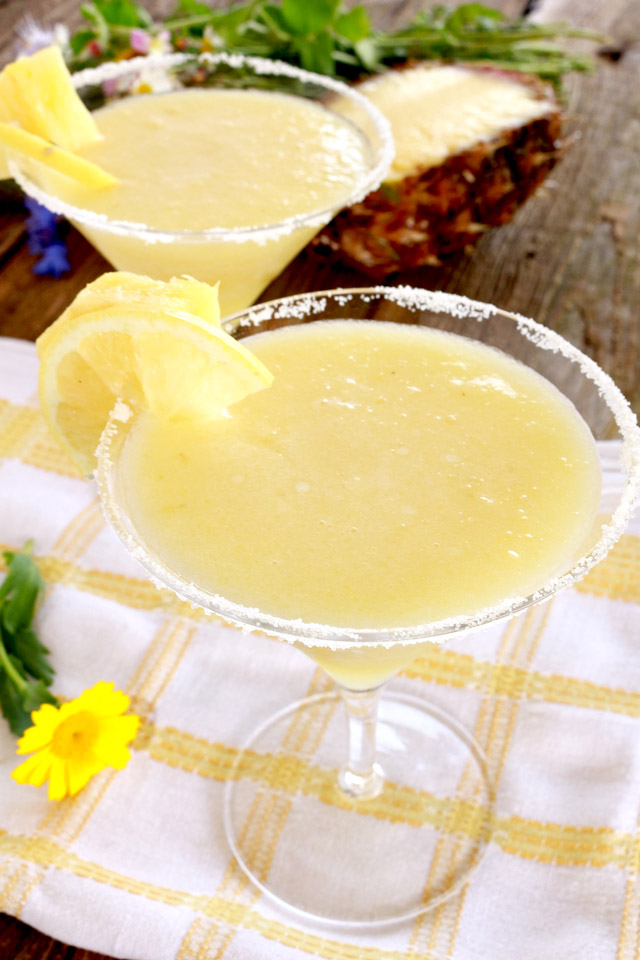 Armin and Tequila
I know that margarita uses tequila, but I used vodka instead because Armin has a strong aversion to tequila that started about some years ago when we were visiting the Philippines.
My sister and brother-in-law also came home from Dubai for their house blessing so it was like a small family reunion. Albeit incomplete, because our brother and our youngest sister were not able to come home.  
It was one of those warm nights when my sisters and I together with hubbies decided to have a drink on the terrace. We girls took it slow but the guys brought it on a full swing early on. Before you know it they finished some bottles of beer, a bottle of Jägermeister and Bacardi and then came the notorious Tequila, all just for the three of them.  Armin, being German, usually knows how to handle his drink. But for the first time since we've been together, I saw him get tipsy! Fortunately, he was a happy drunk, just won't stop laughing and giggling until he fell asleep..hehe!  He was not so happy the next day though and from then on he avoided Tequila like the plague.
You may also like to try our TGI Friday's copycat of  Mango-Lychee-Dalandan Sling! A truly wonderful and refreshing drink from hand-pressed ripe mangoes, lychees, and dalandan with a bit of a kick (gin).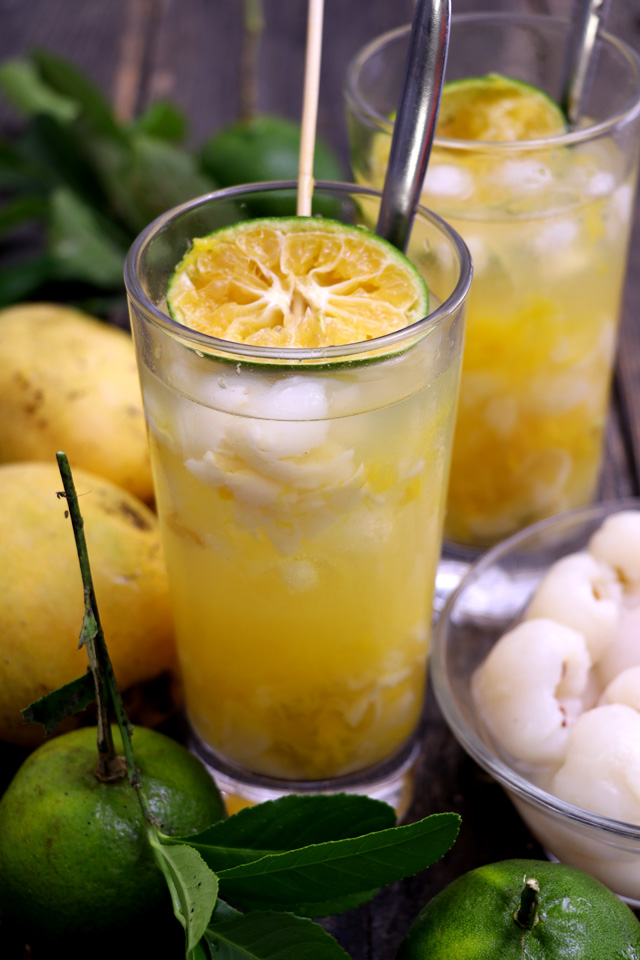 Printable Recipe
Pineapple Margarita
Cool down and refresh this hot summer with this easy to make frozen pineapple margarita!
Ingredients
2

tablespoons

sugar

2

fluid ounces

lemon juice

or lime juice

2

fluid ounces

tequila or vodka

3.5

ounces

ice cubes

7

ounces

frozen pineapple

- cubed

salt or sugar
Instructions
Prepare the glasses to use by running a slice of lemon around the rim of the glasses, and then tip them upside-down in a saucer filled with salt or sugar. Set aside.

Using a blender or a stab mixer, mix together sugar and lemon juice until sugar is dissolved.

Add the vodka, ice and pineapple and pulse until ice and pineapple are finely crushed.

Pour into prepared glasses and enjoy!
Nutrition
Calories:
170
kcal
Carbohydrates:
27
g
Protein:
0
g
Fat:
0
g
Saturated Fat:
0
g
Cholesterol:
0
mg
Sodium:
4
mg
Potassium:
138
mg
Fiber:
1
g
Sugar:
22
g
Vitamin A:
55
IU
Vitamin C:
58.9
mg
Calcium:
13
mg
Iron:
0.3
mg
This post was originally published in July 2015.  Updated in June 2019 but the recipe remains the same.