The classic 'Spaghetti alla Puttanesca' is fairly quick and easy to make.  Using spicy canned tuna makes it even easier. So if you're having a hard time deciding what's for dinner this Pasta Puttanesca with Spicy Tuna is for you.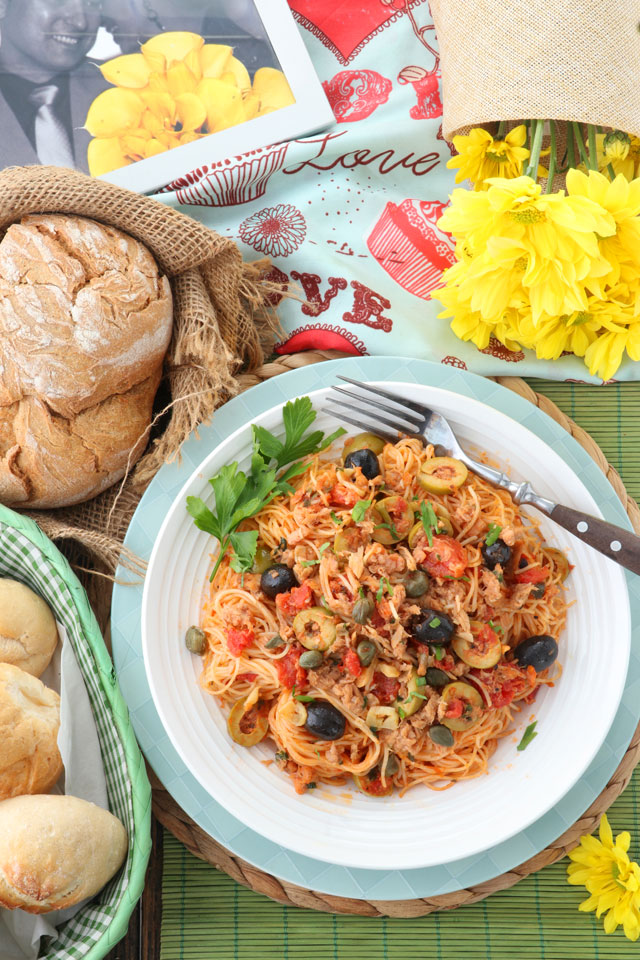 Interesting past of Pasta Puttanesca?
Spaghetti Alla Puttanesca is known to have been invented in Naples, the capital of Campania, Italy in the mid-20th century. Its controversial name, which means "pasta to, of, or relating to a prostitute", begs one to think how it got it in the first place. Debated over the years, a story goes that prostitutes (puttana in Italian) from the Spanish quarters who want to attract customers would entice them with its strong aroma from the spices used. While other say it was invented as a low-cost and quick-to-prepare meal for the prostitutes who want to keep the intervals to the minimum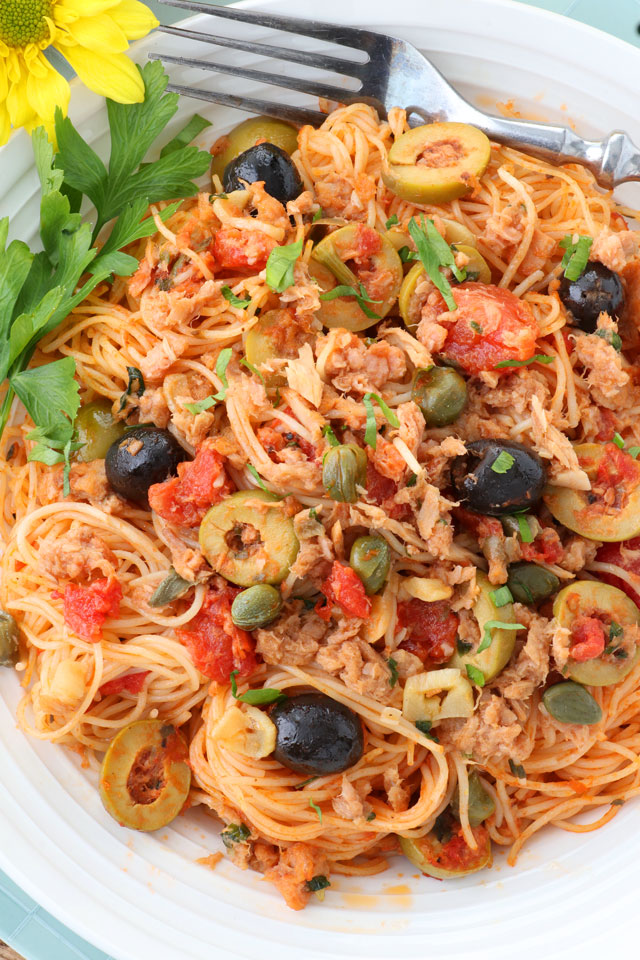 .
While the most accepted story is that it was created by an owner of a famous restaurant in Ischia. When hungry customers came late at night but he didn't have so many fresh ingredients to cook with. They begged him "facci una puttanata qualsiasi" which is a figurative phrase that is similar to "make us any sh*t or garbage". And so he made use of whatever he can find from his pantry for the sauce—tomatoes, capers, and olives. The customers loved it and later on, the tasty dish was further refined and became a part of the menu as "spaghetti alla puttanesca".
What is in it?
Whatever it's history, no one can deny the fantastic taste of this spicy dish. There are different versions of this Italian pasta dish. But the two distinct variants are the one from Naples as the original recipe which does not have any anchovies. The other one is from Lazio that has it.  Garlic is also sometimes omitted with the Neapolitan version.
Anchovies, chili flakes and maybe even garlic, in this case, are optional but tomatoes, olives, and capers are not as this is the fundamental ingredients that set it apart from other pasta sauce. Tuna is also commonly used instead of anchovies. With this recipe, I used spicy canned tuna so I didn't need to add the chili flakes anymore.
You can either add oregano (Naples) or parsley (Lazio) but NOT basil.  Most Italian would also say NEVER  add Parmesan as it will spoil the flavors.
Cooking with Angel Hair Pasta
The pasta noodles are very important to any pasta dish. Don't neglect it just because it's an easy process. Pasta Puttanesca is normally served using spaghetti. Other common pasta noodles that are used are penne and linguine.
For this recipe, we'll be using Capellini or Capelli d'angelo (Angel hair Pasta) This kind of pasta is thinner than the normal spaghetti. It cooks very quickly as it's finer and thus, more light and delicate. This type of pasta is best paired with light sauces, which is why it's perfect for Pasta Puttanesca with Spicy Tuna.
When cooking any pasta, make sure to choose a large pot and add more than enough water so the pasta has room to cook evenly.
Season water with salt all the time.
Bring water to a rolling boil before adding the pasta. This will prevent them from sticking together.
Stirring is the key! Not oil. Stir the pasta while boiling and it won't clump together.
Don't wash the pasta after draining! The starch helps the sauce stick to your pasta.
Add a little olive oil to the drained pasta to stop them from sticking together.
Printable Recipe
Pasta Puttanesca with Spicy Tuna
This Pasta Puttanesca is made with spicy tuna, tomato chunks, olives, garlic, and capers. It is a very aromatic and tasty pasta dish that is done in just a few minutes.
Ingredients
200

grams

capellini or angel hair pasta

-or spaghetti

4-5

tablespoons

olive oil

- plus some for the pasta

4

cloves

garlic

- cut into slices

1

can

(180g) spicy tuna

¼

cup

capers

½

cup

black and/or green olives

¼

cup

parsley

-chopped

1

can

(400g) diced or whole tomatoes

ground pepper

salt
Instructions
Add water to a large pot. Season with 1 Tbsp salt and bring to a rolling boil. Cook pasta in for 3-4 minutes or until al dente. Drain water drizzle pasta with olive oil and toss. Set aside.

Heat a large skillet over medium heat. Add 4 tablespoon of olive oil then toss in the garlic. Cook until limp and aromatic.

Add the capers, olives, and parsley and cook for a minute.

Add the canned spicy tuna and mix well. Cook for another minute or two.

Pour the contents of the canned diced tomatoes with the sauce. Season with salt and pepper. Cook for 2-3 minutes.

Add the cooked pasta and toss until well coated.

Serve the pasta garnished with some chopped parsley on top.
Nutrition
Calories:
459
kcal
Carbohydrates:
47
g
Protein:
21
g
Fat:
21
g
Saturated Fat:
3
g
Cholesterol:
8
mg
Sodium:
857
mg
Potassium:
533
mg
Fiber:
5
g
Sugar:
6
g
Vitamin A:
650
IU
Vitamin C:
15.8
mg
Calcium:
75
mg
Iron:
3.2
mg