Pancit Luglug is a Kapampangan noodle dish made of cornstarch noodles with vibrant orange savory sauce and loads of toppings. Perfect for any occasions or simply as merienda or snack.
What is Pancit Luglug?
Pancit Luglug is the  Kapampangan version of Pancit Palabok. Like it, this saucy noodle dish has all the customary orange sauce and all the trimmings of ground pork, slices of hard-boiled eggs, shrimp, springs of onion, crushed chicharon and sometimes more.
Contrary to popular belief that Pancit Luglug normally uses thick noodles, that is actually not the case. Yes, thin noodles were also used traditionally. Cornstarch noodles is normally used instead of rice noodles.
The term "luglug" means to rinse or to wash. The dish got its local name because of the way it is served. Wherein the (precooked) noodles are placed on a strainer and plunged repeatedly in hot or boiling water before dumping them on a plate to be smothered with the sauce and various toppings.
Pancit Luglug, Pancit Palabok, and Pancit Malabon...
These three are all Filipino favorite noodle dishes and are often mistaken interchangeably as they look very similar. Same orange gravy sauce with lots of toppings and even the way they are cooked are fundamentally the same.
Here are some of their basic similarities and differences: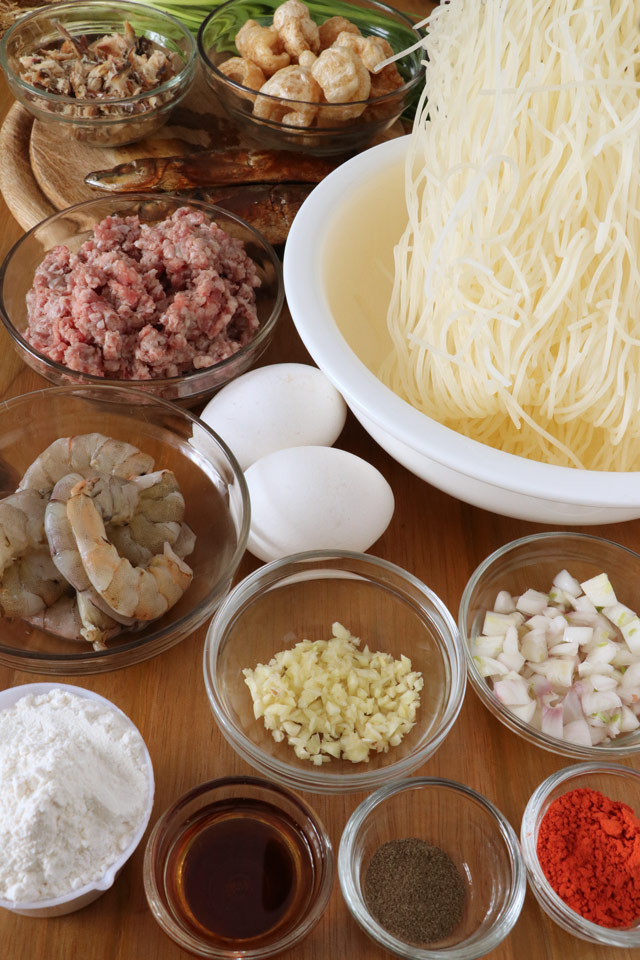 Origin of Name: Pancit Luglug was named after the traditional Kapampangan way of "rinsing" the noodles to cook or reheat it. Pancit Malabon is named after the place where it originated.
Noodle type: Pancit Luglug uses thick or thin cornstarch noodles while and Pancit Palabok normally uses thin rice noodles.  On the other hand, Pancit Malabon uses thick rice or cornstarch noodles.
Sauce and Toppings:  The three noodle dishes have similar sauce and toppings. But Pancit Malabon sauce has additional crab fat to it, sans the ground pork. It also adds some Chinese cabbage for toppings.
Presentation: Pancit Luglug and Pancit Palabok are served with their sauce poured at the top of the noodles. Unlike the two, Pancit Malabon is served with its sauce pre-mixed.
How to cook pancit Luglug?
Normally each main component is cooked separately. Noodles are parboiled and then reheated in hot or boiling water when ready to serve. Shrimp and other toppings that need cooking are also done ahead, the same thing with the sauce.
Once all is prepared, you can either assemble it in a big "bilao", a handwoven, round, flat, basket, that is traditionally used for serving Pancit that is still being used even to this day. Or serve it to individual plates.
First, dip the precooked noodles in boiling water several times using a blanching basket.
Transfer noodles with a plate. Next comes the sauce poured on top of the noodles. Sprinkle some crushed pork rind and shredded smoked fish. Add the shrimp and hard-boiled egg on top and the garnish with brown garlic and green onions. Last but not least, squeeze a calamansi or two before serving.
This elaborately constructed noodle dish should then be tossed together to mix each component and fuse the flavors together.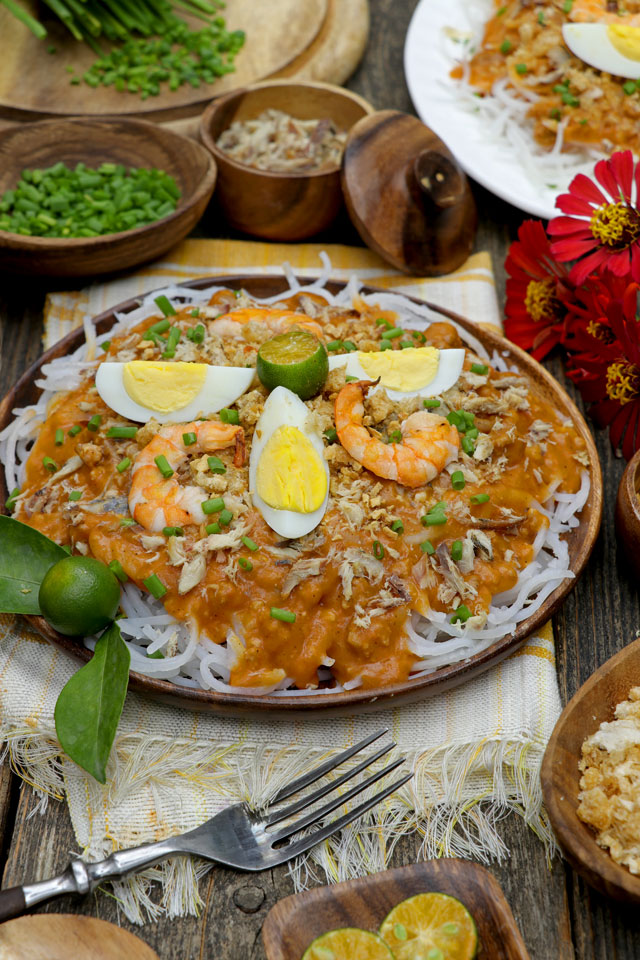 Other Filipino Noodles to Try: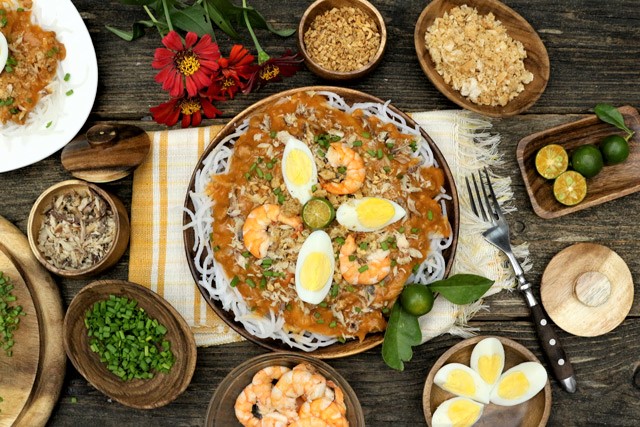 Printable Recipe
Pancit Luglug Easy Recipe
Pancit Luglug is a Kapampangan noodle dish made of cornstarch noodles with vibrant orange savory sauce and loads of toppings. Perfect for any occasions or simply as merienda or snack. 


Ingredients
500

grams

Pancit Luglug noodles

3

tablespoons

oil

12

pieces

large prawns

- shelled and deveined

3

cloves

garlic

-minced

1

medium

onion

-chopped

250

grams

ground pork

4

tablespoons

fish sauce

1

teaspoon

ground pepper

5

cups

water

½

cup

flour

1

tablespoon

Annatto/Achuete powder

1

piece

shrimp cube

1

cup

pork rind (chicharon)

-crushed

1

cup

smoked fish (tinapa)

-shredded

4

pieces

hard-boiled eggs

-each cut into quarters

1

cup

green onions

-chopped

¼

cup

toasted garlic

8

pieces

calamansi

- cut into halves
Instructions
Cook Pancit Luglug noodles as per package instruction. You may also soak the noodles a few minutes before boiling to fasten the process.

In a pot or large skillet, heat oil over medium heat. Add the prawn and cook for a minute or until the color turns opaque and pink. Remove from oil and cut each piece into half, lengthwise and set aside.

In the same oil, saute the garlic and onion until limp and aromatic. Add the ground pork and season with fish sauce and pepper. Cook until no longer pink while stirring and pressing to break up the lumps.

While pork is cooking, take a bowl and dissolve the flour and achuete powder in 1 cup of water. Set aside.

Once the pork is cooked, add 4 cups of water and the shrimp cube. Bring water to a soft boil.

Gradually pour in the flour-achuete mixture into the pot while stirring continuously to avoid lumps to form. Simmer until sauce becomes thick while stirring from time to time to prevent the sauce from burning.

Divide the noodles accordingly into the serving plates. Pour a generous amount of sauce on top of the noodles. Sprinkle with crushed chicharon and shredded tinapa. Add 2 quarters of hard-boiled egg and 3 slices of prawns. Finish off with some toasted garlic and chopped green onions. Serve with calamansi.
Nutrition
Calories:
442
kcal
Carbohydrates:
63
g
Protein:
16
g
Fat:
14
g
Saturated Fat:
3
g
Cholesterol:
46
mg
Sodium:
953
mg
Potassium:
279
mg
Fiber:
1
g
Sugar:
1
g
Vitamin A:
125
IU
Vitamin C:
4.5
mg
Calcium:
48
mg
Iron:
2.5
mg