For all the vegetable lovers out there, this Moroccan Couscous Salad is for you!  A healthy dish loaded with roasted vegetables that will surely excite your taste buds with its range of contrasting flavors.
About Moroccan Couscous
Couscous is a popular dish in many North African countries including Morocco. Though there are various kinds and variants of this dish in the region, "couscous" usually refers to the Moroccan Couscous dish often called the Seven Vegetables Couscous. As a popular local tradition, couscous is prepared and enjoyed by families on Fridays as a communal dish. However, it is also very common dish served during feasts and celebrations and has become an integral part of Moroccan cuisine.
The same dish can be prepared in different ways. Normally cooked on a couscoussier where the vegetables (and meat) are cooked in broth on the bottom pot and the couscous is steamed on the top steamer part. True Moroccan Couscous could take hours to make.
In this recipe, however, we use instant couscous which cooks in 5 minutes. We also opted for roasted vegetables to simplify the process. You can also use whatever vegetables that are in season and although the names indicate a particular number it can be lesser or more.
How to make this Moroccan Couscous?
This side dish is very simple to prepare and cook, as it basically uses the broth-boiled couscous as the foundation, topped with roasted vegetables then mixed along with some dressings and parsley.
Using instant couscous cuts the cooking time dramatically. Once the broth has reached a boiling point along with the seasoning and a dash of oil, just let the couscous absorb the liquid and allow it to sit for several minutes. Fluff several times with a fork to aerate and remove clumps.
For this recipe, instead of oven-roasting the vegetables I roasted it over the stove-top.
Preparing the dressing comes next, the dressing is centered around the taste of grated garlic and lemon juice then topped with parsley. I prefer the balance of tangy flavor of the lemon juice and the slightly bitter taste of parsley. Some people also a bit of harissa for a spicy kick.
Once the couscous and roasted vegetables are prepared, mix them with the dressing and garnish, then toss them together. Then just transfer and serve!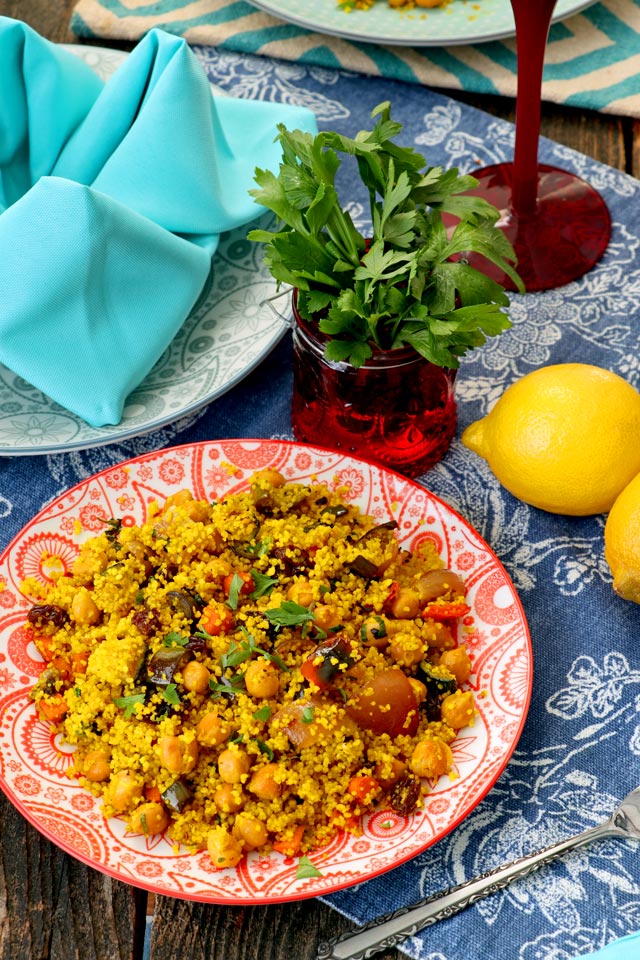 How to roast vegetables on Stovetop?
When preparing your vegetables, make sure to dry them as much as possible. Excess water will cause it to steam instead of being roasted later on.
Cut the vegetables into smaller pieces so that they'll cook faster. For starchy vegetables like potatoes and beans, it's best to cut them into smaller cubes. This ensures they'll be roasted properly along with the rest of the vegetables.
When choosing your pan, avoid a non-stick one as it will prevent your vegetables from browning. Use a large heavy skillet for best results.
Once you've heated the pan enough, pour just enough oil so that it covers the whole thing in a thin coat. It's also better if you use oils with a high smoke point such as extra virgin olive oil or coconut oil as they will help the vegetables to absorb more flavors.
Another thing to avoid is overcrowding the vegetables. Doing so prevents them to caramelized properly and you'd end up with mushy vegetables. Don't cover the pan or else the vegetables will be steamed instead of roasted.  You can stir the vegetables but don't overdo it. Else it will lead to mushy vegetables instead of proper roasted ones. You want them charred.
Printable Recipe
Moroccan Couscous Salad
For all the vegetable lovers out there, this Moroccan Couscous Salad is for you!  A healthy dish loaded with roasted vegetables that will surely excite your taste buds with its range of contrasting flavors.
Ingredients
For the Couscous
1

cup

chicken broth

1

teaspoon

turmeric powder

3

tablespoons

olive oil

¼

cup

raisins

1

cup

instant couscous
For the Dressing
2-3

cloves

garlic

-grated

2-3

tablespoons

lemon juice

2-3

tablespoons

olive oil

1

teaspoon

ground cumin

1

teaspoon

ground coriander

salt

pepper
Vegetables for Roasting
vegetable oil

1

small

eggplant

-cut into cubes

1

small

zucchini

-cut into cubes

1

medium

red bell pepper

- cut into medium dice

1

big

red onion

-chopped

1

medium

carrot

-cut into cubes
Toppings
2

tablespoons

mint

- chopped finely

2

tablespoons

parsley or cilantro

- chopped finely
Instructions
Cook the Couscous
Place chicken broth, turmeric powder and olive oil in a saucepan and bring to a boil over medium-high heat. Once it starts to boil, add the raisins.

Turn off the heat when it reaches a rolling boil. Immediately add the couscous and stir to spread. Let it sit for several minutes to absorb the liquids.

Fluff the couscous using a fork or spoon to loosen.
Make the Dressing
In a small bowl, whish together grated garlic, lemon juice, olive oil, ground cumin and, ground coriander. Season with salt and pepper.
Roasting Vegetables on Stovetop
See NOTE 1 below if you want to roast using oven.

Heat a large heavy skillet or pan over medium-high heat. Coat the entire bottom of the pan with a thin layer of oil.

Once the oil is hot, add the vegetables and spread evenly. Avoid to overcrowed the pan and cook in batches if needed.

Cook without stirring for 3-5 minutes or until some browning occurs. Stir to turn the vegetables and then do the same for the other sides. Turn off heat.
Assembly
Add the cooked couscous to the roasted vegetables and toss to mix. Pour in the dressing, chopped mint, and parsley and give it a good tossing.

Transfer to a serving bowl and top with more parsley if desired.
Notes
NOTE 1: Roasting vegetables in the oven
Preheat oven to 450°F/230°C. Place vegetables on a baking pan and drizzle with 1 Tablespoon olive oil. 
Toss several times to coat evenly. Spread the vegetables around the baking pan in a single layer. 
Roast for 15 minutes or until vegetables are tender and charred.
Nutrition
Calories:
408
kcal
Carbohydrates:
54
g
Protein:
8
g
Fat:
19
g
Saturated Fat:
3
g
Sodium:
242
mg
Potassium:
691
mg
Fiber:
8
g
Sugar:
7
g
Vitamin A:
3840
IU
Vitamin C:
58.1
mg
Calcium:
56
mg
Iron:
2.3
mg