This Filipino Morcon recipe is one of the classics. Thin slices of beef is marinated in savory soy sauce, rolled and seared then cooked long and slow to fork-tender perfection.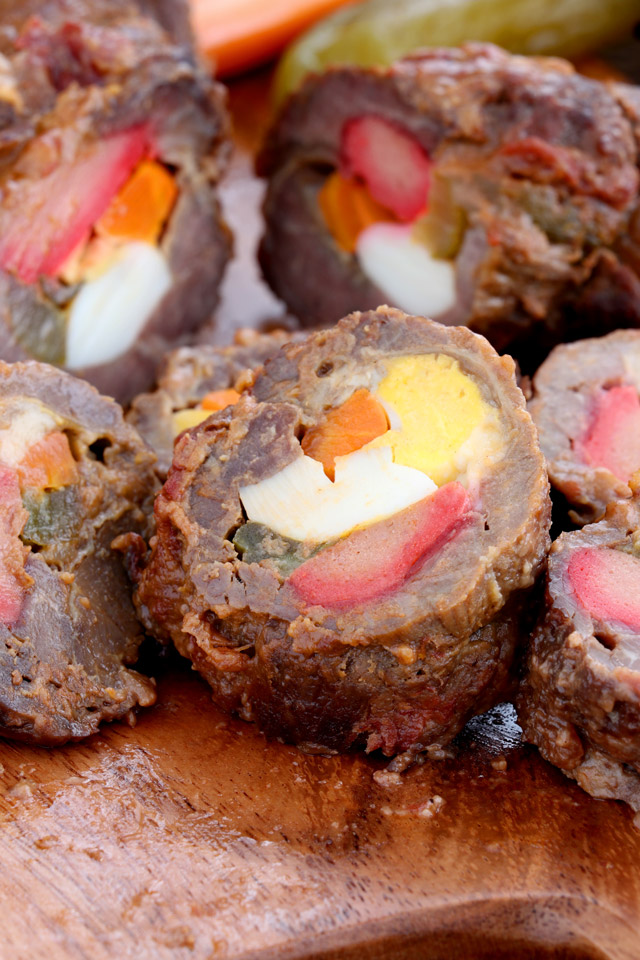 What is Morcon?
Morcon is a special Filipino dish popularly served during holidays and special occasions. This dish is a Filipino-style roulade made from rolled lean beef stuffed with fillings which include but not limited to hard-boiled eggs, sausages, sweet pickles, cheese, and carrots.
While typical Morcon recipes use beef, other variations can be made using chicken and pork. Regardless of your choice of meat,  you will need a lump of large meat cut thin. You can either slice the meat by yourself or ask your butcher to cut it for Morcon.
It is simmered traditionally with tomato sauce, but other recipes would rather cook it with sweetened pineapple juice. Morcon is sliced and served with its sauce.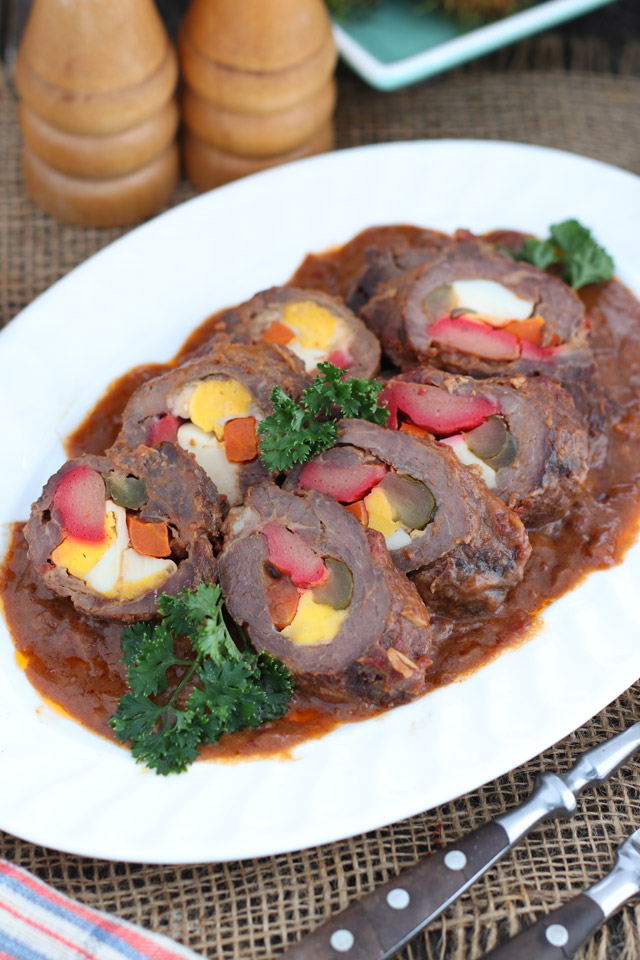 How to cook Morcon?
Preparing and cooking a Morcon may be time-consuming, yet the process involved is very simple.
To make a Morcon, you only need to keep these two cooking techniques in mind:
Marinating. It is done to give additional savory flavor to the beef. Usually, the beef is soaked in soy sauce, pepper, and lemon for about an hour.
Braising . The beef is seared initially in high heat, to brown the surface and enhance the beef flavor. afterwards, it is simmered in the same marinating sauce with tomato chunks or sauce in low heat until it becomes fork-tender. This is done to achieve the desired flavor and meat tenderness, for normally cheaper cuts of beef.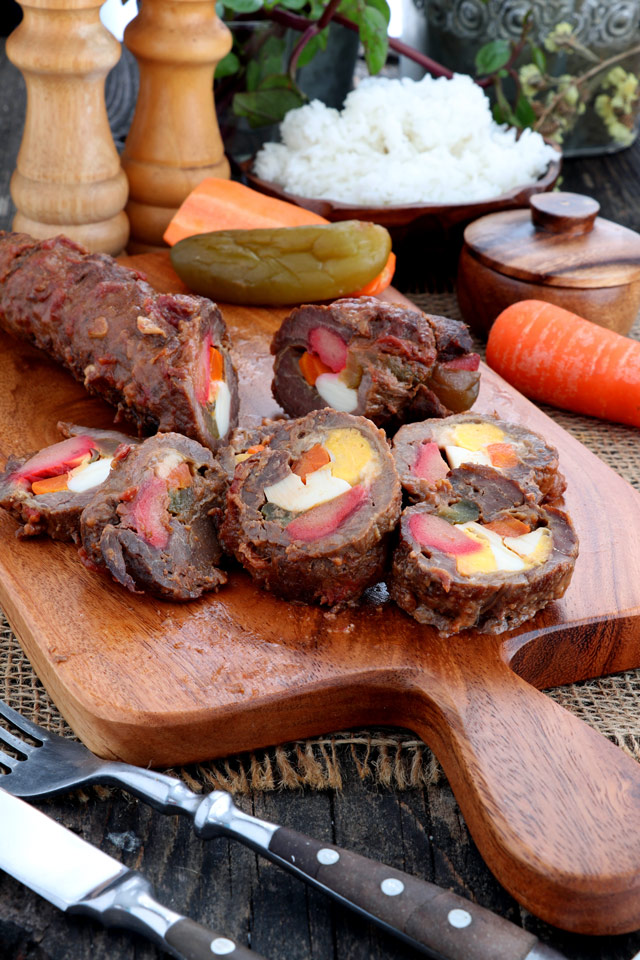 What Cut of Beef to Use?
As already mentioned, Morcon recipe traditionally uses beef. The cut normally used are the lean, somewhat tough but also flavorful. These are the less expensive cuts that benefit from the braising method of cooking.
Here are recommended beef cuts that you can consider:
Beef Brisket: Point or Flat
Beef Round: top or bottom round roast, eye of round, rump roast
Chuck: Shoulder  Roast or Steak, Chuck Eye Roast
These type of beef cuts are best for slow-cooking and braising, and guarantees you a lump of flavorful and tender meat. To make a Morcon, cut the meat with a thickness of half-inch per slices. Cut parallel to the grain while slicing thinly so that you can cut against it after it is rolled.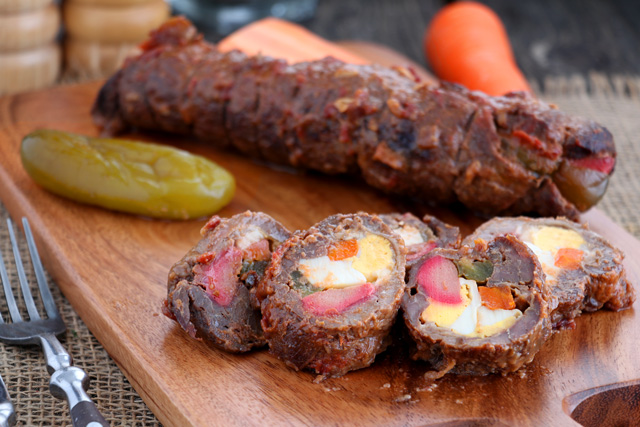 Printable Recipe
Classic Beef Morcon made Easy!
Get this classic Filipino Morcon Recipe with thin slices of beef marinated, rolled and seared then simmered to fork-tender perfection.
Ingredients
2

pounds

beef brisket

- cut thinly about ⅓-inch

½

cup

flour

- for coating

¼

cup

oil

2

cloves

garlic

- minced

1

medium

onion

- chopped

1

can

diced tomato

2

cups

water
MARINADE
½

cup

soy sauce

¼

cup

lemon or calamansi juice
FILLING
2

medium

carrots

- cut into batons, about 1cm thick

4

pieces

hotdogs

2-3

pieces

whole pickles

- cut into long strips, about 1cm thick

3

pieces

hard-boiled eggs

- each cut lengthwise into 4

80

grams

cheese

- - cut into long strips, about 1cm thick
Instructions
Pound each of the beef slices with a mallet to flatten and tenderize. Place beef slices in a bowl and pour in soy sauce and lemon or calamansi juice. Mix well and then cover. Marinate for at least an hour.

Separate the beef pieces from the marinade and squeeze any excess liquid. Reserve the marinade for later.

Lay a piece of beef flat on a cutting board, one long side facing you. Arrange each of the fillings on top of the meat on the end close to you the gently roll the meat to the other end, enclosing the filling inside.

Secure the roll by tying it with kitchen twine at 1-inch intervals. Dredge the roll in flour. Repeat this with the remaining beef slices.


In a large wok or pot, heat oil over high heat. Add the beef roll, 1 or 2 rolls at a time, and sear until brown on all sides. Remove from oil and set aside.

Discard the oil, leaving only about 2 tablespoons. Add the onions and garlic and saute over medium heat until aromatic. Pour in the diced tomatoes and cook for a minute. Add the reserved marinade and 2 cups of water. Bring to a boil.

Once it starts to boil, add the beef rolls in a single row. Turn the heat to low and cover the pot with the lid. Simmer for 1-2 hours or until beef is fork-tender. You may need to add water if it takes longer to cook the beef. Turn the rolls and stir the sauce from time to time to avoid the bottom from burning.

Transfer the beef rolls on a plate and continue to simmer the sauce until reduced into a thick sauce. Season with salt if needed.

Remove the kitchen twine and cut into round slices. Transfer into a serving plate and pour some of the sauce on top before serving.
Nutrition
Calories:
340
kcal
Carbohydrates:
13
g
Protein:
29
g
Fat:
19
g
Saturated Fat:
6
g
Cholesterol:
82
mg
Sodium:
987
mg
Potassium:
596
mg
Fiber:
2
g
Sugar:
3
g
Vitamin A:
2710
IU
Vitamin C:
9.9
mg
Calcium:
108
mg
Iron:
3.5
mg