These Mini S'mores Cakes are the cutest thing. They are so easy to make and are perfect for dessert or as party gifts or giveaways. Made with moist chocolate cake as a base and topped with toasted marshmallow, chocolate chips and bits of graham crackers.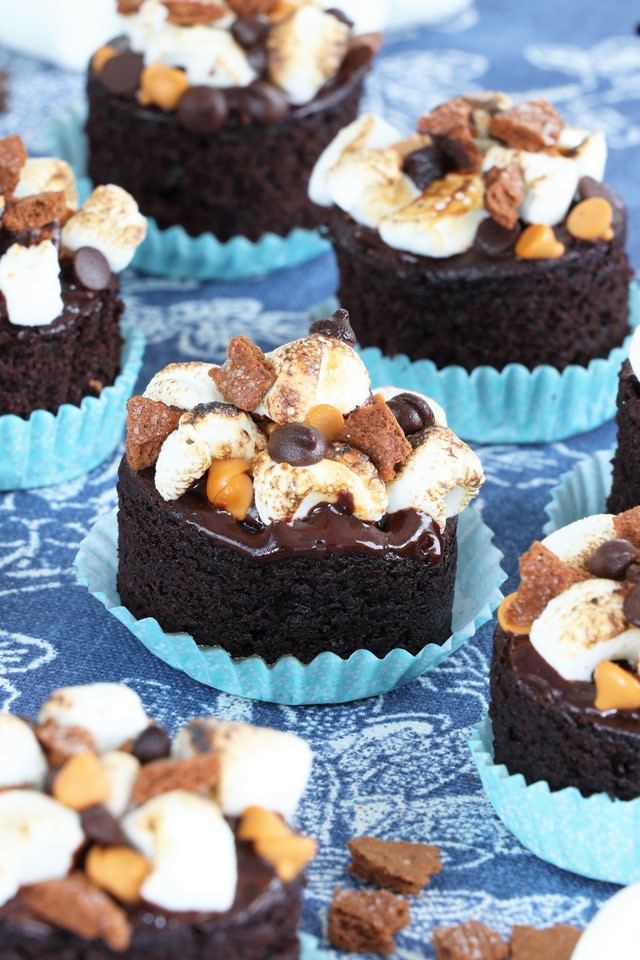 I was arranging groceries the other day and while I was putting a box of devil's food cake mix, the photo at the back of the box caught my eye.
It is a recipe for S'mores Topped Chocolate Cake. Yes, it is from Pillsbury. No, this is not a paid advertisement.
I was intrigued because I've been gathering ideas for my dessert table.
You see, my youngest sister, Dawn, gave birth to the newest member of our family last September. A bouncing baby boy and his name is Jaiden. He is such a cutie and so well behaved...well at least until he gets hungry and gives the loudest shriek you can hear from such a small bundle if not fed right away.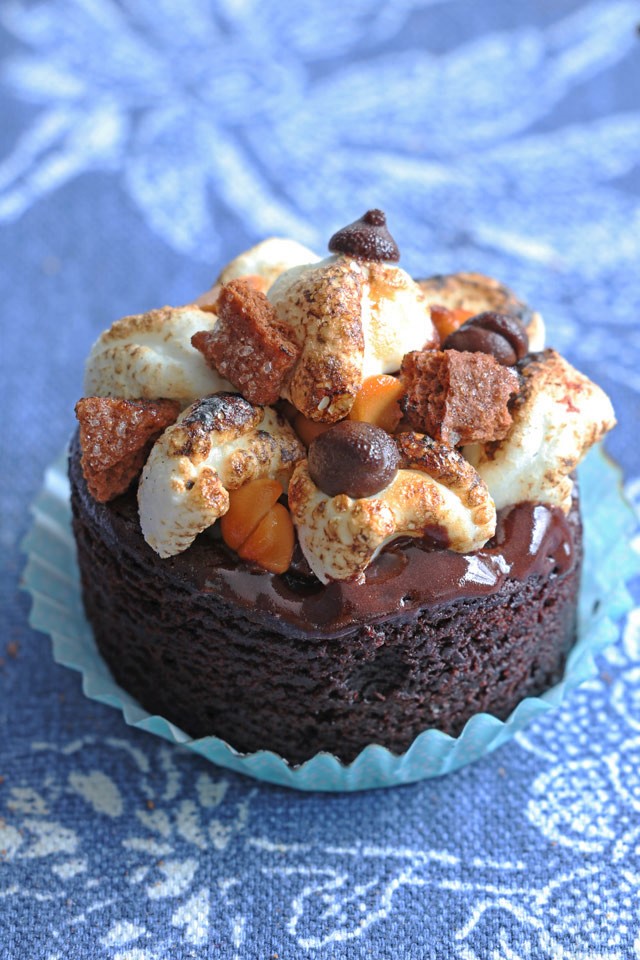 His christening was last Saturday. My other two sisters, Andrea and Glenda, and I helped Dawn to plan and prepare for it.  I also promised her a dessert table and to help with the guest gifts while Glenda and Andrea helped with the DIY backdrop. Yep, we were busy little bees and to think that we also just had an out-of-town wedding a week before when Andrea and Jonnel renewed their vows after ten years of wedding bliss.
I originally thought of making a cake as a centerpiece for the dessert table, but since our family is not so much of cake eaters, Dawn and I decided to forgo a whole cake but rather make mini cakes which will double as giveaways for guests.
So when I saw the photo on the cake box, it just clicked! I didn't use the cake mix though as I decided to use my ever-reliable moist chocolate cake recipe.
As you can see above, I had to improvise a cutter that will fit the gift boxes we bought some days earlier. I was going to use a regular cookie cutter but what I have were either too small, too big or too shallow.
This one I used is the container for the cupcake liners and it was the perfect size.
The recipe also called for a ready-made marshmallow frosting which I do not have so I made my own version using the same ingredients that I will use for the cake and topping, mainly marshmallow, cocoa powder, and sugar.
This frosting will be spread on top of each mini cake so the marshmallows will stick and stay on its place. And of course for added yumminess...
I used a mini kitchen blowtorch to roast the marshmallows but if you do not have one, don't fret, you can also use the broiler function of your oven. Watch them closely though as they can toast very quickly.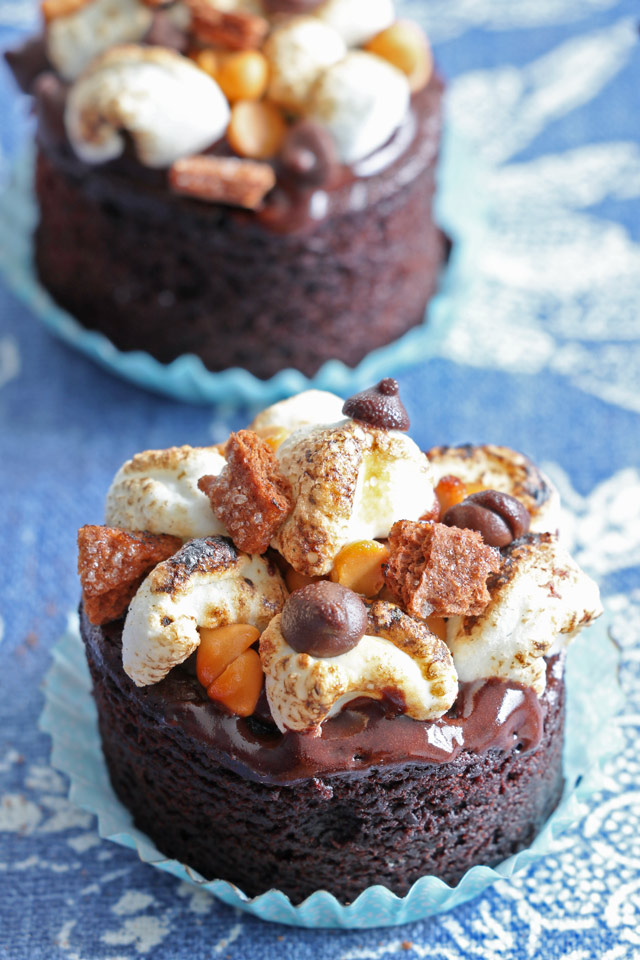 Printable Recipe
Mini S'Mores Cakes
These Mini S'mores Cakes are made with moist chocolate cake and topped with toasted marshmallow, chocolate chips and bits of graham crackers. They are so easy to make and are perfect for dessert or as party gifts or giveaways.

Ingredients
MOIST CHOCOLATE CAKE
2

cups

flour

2

cups

sugar

1

teaspoon

baking powder

2

teaspoons

baking soda

¼

teaspoon

salt

½

cup

cocoa powder

½

cup

vegetable oil

1

cup

boiling water

2

large

eggs

1

cup

milk

1

teaspoon

vanilla
CHOCOLATE MARSHMALLOW FROSTING
4

tablespoons

dutch processed cocoa powder

4

tablespoons

sugar

4

tablespoon

hot water

2

cups

mini marshmallows
TOPPINGS
3-4

cups

mini marshmallows

½

cup

chocolate chips

¼

cup

butter-scotch chips

-optional

3

pieces

graham crackers

- broken into small pieces
Instructions
MOIST CHOCOLATE CAKE
Line and grease a square pan (12x12x1.5 inch) or rectangle pan (14x10x1.5 inch).

In a large bowl, mix all ingredients together, adding the eggs and milk the last. Note that the batter will be runny.

Pour batter into the prepared pan and tap it a bit to even out the batter. Bake in a preheated oven at 350°F/180°C for 20-30 minutes or until the inserted toothpick comes out clean.

Remove from oven and let it cool down for at least an hour.

CHOCOLATE MARSHMALLOW FROSTING
In a bowl, combine the sugar and cocoa powder. Add the hot water and mix well until it forms a thick batter.

Place the marshmallows in a separate bowl and heat in microwave for 10 seconds at high power. Take the bowl out and stir using a spoon. Then heat for another 10 seconds to fully melt marshmallows.

Pour the cocoa batter to the marshmallow fluff and mix until well combined. (see NOTE 2)
ASSEMBLING MINI S'MORES CAKE
Cut the chocolate cake in squares or circles into 30 pieces.

Spread some of the chocolate marshmallow frostings on top of each mini cake using a spoon or spatula.

Arrange marshmallows enough to cover the top. Sprinkle with some pieces of chocolate chips.

Using a blowtorch, toast the marshmallows letting it char a little in some parts while melting the chocolate chips a bit at the same time. Lastly, add bits or pieces of graham crackers on top.
Notes
Note 1. The chocolate cake can be made a day in advance. Cover with fling wrap and place in the fridge.
Note 2. The marshmallow frosting might set if left unused after a while. Be sure to make just before using or rewarm it in the microwave for 10 seconds at a time until spreadable. 
Nutrition
Calories:
181
kcal
Carbohydrates:
33
g
Protein:
2
g
Fat:
5
g
Saturated Fat:
3
g
Cholesterol:
13
mg
Sodium:
116
mg
Potassium:
69
mg
Fiber:
1
g
Sugar:
23
g
Vitamin A:
40
IU
Calcium:
24
mg
Iron:
0.8
mg
Here are some of the pictures of the wedding and christening...